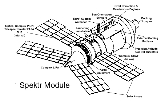 Spektr
Spektr Module

A damaged Spektr
Module statistics
Mission name
Mir

Mir

Mir was a space station operated in low Earth orbit from 1986 to 2001, at first by the Soviet Union and then by Russia. Assembled in orbit from 1986 to 1996, Mir was the first modular space station and had a greater mass than that of any previous spacecraft, holding the record for the...



Launch
May 20, 1995
03:33:22 UTC

Coordinated Universal Time

Coordinated Universal Time is the primary time standard by which the world regulates clocks and time. It is one of several closely related successors to Greenwich Mean Time. Computer servers, online services and other entities that rely on having a universally accepted time use UTC for that purpose...



LC-81/23

Baikonur Cosmodrome Site 81

Site 81 at the Baikonur Cosmodrome is a launch site used, along with Site 200, by Proton rockets. It consists of two launch pads, areas 23 and 24. Area 24 is currently used for Proton-K and Proton-M launches, while Area 23 is currently inactive....


, Baikonur Cosmodrome

Baikonur Cosmodrome

The Baikonur Cosmodrome , also called Tyuratam, is the world's first and largest operational space launch facility. It is located in the desert steppe of Kazakhstan, about east of the Aral Sea, north of the Syr Darya river, near Tyuratam railway station, at 90 meters above sea level...


, LC 81L, USSR
Launch vehicle
Proton-K

Proton-K

The Proton-K, also designated Proton 8K82K after its GRAU index, 8K82K, is a Russian, previously Soviet, carrier rocket derived from the earlier Proton. It was built by Khrunichev, and is launched from sites 81 and 200 at the Baikonur Cosmodrome in Kazakhstan...



Docked
June 1, 1995
00:56:16 UTC

Coordinated Universal Time

Coordinated Universal Time is the primary time standard by which the world regulates clocks and time. It is one of several closely related successors to Greenwich Mean Time. Computer servers, online services and other entities that rely on having a universally accepted time use UTC for that purpose...



Depressurized
June 25, 1997
Re-entry
March 23, 2001
05:50:00 UTC
Time in Orbit
2134 days, 2 hours
Length
9.1 m
Diameter
4.35 m
Mass
43,290 lb (19,640 kg)
For the experimental black metal/black ambient band, see Spektr (band)

Spektr (band)

Spektr is an experimental black metal duo formed in 2000, in Paris, France. They are currently signed to Candlelight Records and have released two full-length albums to date...


.
Spektr
(TKM-O, 77KSO, 11F77O) was the fifth module of the
Mir
Mir
Mir was a space station operated in low Earth orbit from 1986 to 2001, at first by the Soviet Union and then by Russia. Assembled in orbit from 1986 to 1996, Mir was the first modular space station and had a greater mass than that of any previous spacecraft, holding the record for the...
Space Station. The module was designed for remote observation of Earth's environment containing atmospheric and surface research equipment. Spektr also had four solar arrays which generated about half of the station's electrical power.
Development

The Spektr module was originally developed as part of a top-secret military program code-named "Oktant." It was planned to carry experiments with space borne surveillance and test antimissile defense. The surveillance instruments were mounted on the exterior of the module opposite the docking port. Also in this location were two launchers for artificial targets. The heart of the Spektr payload was an experimental
optical telescope
Optical telescope
An optical telescope is a telescope which is used to gather and focus light mainly from the visible part of the electromagnetic spectrum for directly viewing a magnified image for making a photograph, or collecting data through electronic image sensors....
code-named "Pion" (
Peony
Peony
Peony or paeony is a name for plants in the genus Paeonia, the only genus in the flowering plant family Paeoniaceae. They are native to Asia, southern Europe and western North America...
).
Instrument list:
286K binocular radiometer
Astra 2 - monitored atmospheric trace constituents, Mir environment
Balkan 1 lidar - measures upper cloud altitude. Used a 5320 angstrom laser source, provided 4.5 m resolution
EFO 2 photometer
KOMZA - interstellar gas detector
MIRAS absorption spectrometer - measured neutral atmospheric composition
Phaza spectrometer - surface studies. Examined wavelengths between 0.340-285 micrometer, and provides 200 km resolution
Taurus/Grif - monitored Mir's induced X/gamma ray background
VRIZ UV spectroradiometer
These experiments would have been a continuation of the research a top-secret
TKS-M
TKS spacecraft
TKS spacecraft was a Soviet spacecraft design in the late 1960s intended to supply the military Almaz space station. The spacecraft was designed for manned or autonomous cargo resupply use...
module, which docked to
Salyut 7
Salyut 7
Salyut 7 was a space station in low Earth orbit from April 1982 to February 1991. It was first manned in May 1982 with two crew via Soyuz T-5, and last visited in June 1986, by Soyuz T-15. Various crew and modules were used over its lifetime, including a total of 12 manned and 15 unmanned launches...
in 1985. However, with the end of the Cold War and the shrinking of Russia's space budget, the module was stuck on the ground.
In the mid-1990s with the return of US-Russian cooperation in space, NASA agreed to provide funds to complete the Spektr and
Priroda
Priroda
The Priroda module was the seventh and final module of the Mir Space Station. Its primary purpose was to conduct Earth resource experiments through remote sensing and to develop and verify remote sensing methods...
modules in exchange for having 600 to 700 kg of US experiments installed. The Oktava military component was replaced with a conical mounting area for two additional solar arrays. The airlock for the
Oktava
Oktava
Oktava is a Russian microphone manufacturer. It produces a variety of microphones for professional audio and general use. Oktava sells most of its products to the United States and Europe.- History :...
targets to be used instead to expose experiments to the vacuum of space.
Once in orbit, Spektr served as the living quarters for American astronauts until the collision in late June 1997
Collision
On June 25, 1997, the Progress M-34 spacecraft crashed into Spektr while maneuvering for a docking with the
Kvant-1
Kvant-1
Kvant-1 was the second module of the Soviet space station Mir. It was the first addition to the Mir base block and contained scientific instruments for astrophysical observations and materials science experiments....
module. The collision damaged one of Spektr's solar arrays and punctured the hull, depressurizing the module. The module was sealed off from the rest of the station to prevent depressurization of the entire Mir station, but required cutting off the power cables from Spektr's solar panels, which had to be cut manually with fire axes. An internal spacewalk in the Spektr module in August 1997 by cosmonauts Anatoly Solovyov and
Pavel Vinogradov
, from
Soyuz TM-26
Soyuz TM-26
Soyuz TM-26 is a Russian spacecraft that ferried cosmonauts and supplies to the Mir, the Russian space station. It was the 32nd expedition to Mir. It was launched by a Soyuz-U rocket from Baikonur Cosmodrome on August 5, 1997...
, succeeded in restoring those connections by modifying the hatch to allow them to pass through in the closed position.
In a second internal spacewalk in October they connected two of the panels to a computer system to allow them to be controlled remotely and align with the Sun. These modifications allowed power generation to return to approximately 70% of the pre-collision generation capability.
Spektr was left depressurized and isolated from the remainder of the Mir complex.
External links