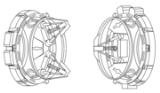 Soyuz TM-16
Crew
Mission highlights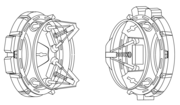 16th expedition to
Mir
Mir
Mir was a space station operated in low Earth orbit from 1986 to 2001, at first by the Soviet Union and then by Russia. Assembled in orbit from 1986 to 1996, Mir was the first modular space station and had a greater mass than that of any previous spacecraft, holding the record for the...
.
First Soyuz without a probe and drogue docking system since 1976. It carried
an APAS-89 androgynous docking unit different from the APAS-75 unit used for ASTP in 1975, yet similar in general principles. Soyuz-TM 16 used it to dock with an androgynous docking port on the Kristall module. This was a test of the docking system in preparation for dockings by space shuttles with Mir.