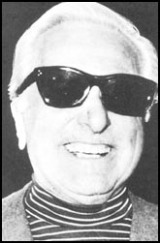 John Roselli
John "Handsome Johnny" Roselli
(born
Filippo Sacco
; July 4, 1905 – August 9, 1976), sometimes spelled
John Rosselli
, was an influential mobster for the
Chicago Outfit
Chicago Outfit
The Chicago Outfit, also known as the Chicago Syndicate or Chicago Mob and sometimes shortened to simply the Outfit, is a crime syndicate based in Chicago, Illinois, USA...
who helped them control Hollywood and the
Las Vegas Strip
Las Vegas Strip
The Las Vegas Strip is an approximately stretch of Las Vegas Boulevard in Clark County, Nevada; adjacent to, but outside the city limits of Las Vegas proper. The Strip lies within the unincorporated townships of Paradise and Winchester...
. Roselli was also involved with the
Central Intelligence Agency
Central Intelligence Agency
The Central Intelligence Agency is a civilian intelligence agency of the United States government. It is an executive agency and reports directly to the Director of National Intelligence, responsible for providing national security intelligence assessment to senior United States policymakers...
(CIA) plot to kill
Cuba
Cuba
The Republic of Cuba is an island nation in the Caribbean. The nation of Cuba consists of the main island of Cuba, the Isla de la Juventud, and several archipelagos. Havana is the largest city in Cuba and the country's capital. Santiago de Cuba is the second largest city...
n leader
Fidel Castro
Fidel Castro
Fidel Alejandro Castro Ruz is a Cuban revolutionary and politician, having held the position of Prime Minister of Cuba from 1959 to 1976, and then President from 1976 to 2008. He also served as the First Secretary of the Communist Party of Cuba from the party's foundation in 1961 until 2011...
in the early 1960s. Some
conspiracy theorists
Conspiracy theory
A conspiracy theory explains an event as being the result of an alleged plot by a covert group or organization or, more broadly, the idea that important political, social or economic events are the products of secret plots that are largely unknown to the general public.-Usage:The term "conspiracy...
believe he was also involved with John Fitzgerald Kennedy's assassination by Lee Harvey Oswald in 1963.
Between July 28 and August 9, 1976, Roselli used the alias John F. Stewart
Early years
Born Filippo Sacco (sometimes spelled
Phillippo
) in
Esperia
Esperia
Esperia is a comune in the Province of Frosinone in the Italian region Lazio, located about southeast of Rome and about 40 km southeast of Frosinone...
,
Frosinone
Province of Frosinone
The Province of Frosinone is a province in the Lazio region of Italy, with 91 comuni . Its capital is the city of Frosinone. It has an area of 3,244 km², and a total population of 489,042 .The Province was established by Royal Decree on 6 December 1926 with territories belonging to Lazio...
,
Italy
Italy
Italy , officially the Italian Republic languages]] under the European Charter for Regional or Minority Languages. In each of these, Italy's official name is as follows:;;;;;;;;), is a unitary parliamentary republic in South-Central Europe. To the north it borders France, Switzerland, Austria and...
on July 4, 1905. His father, Vincenzo Sacco, moved on his own to the United States. Roselli immigrated with his mother, Mariantonia Pascale Sacco and one Caterina Palazzo, to
Somerville, Massachusetts
Somerville, Massachusetts
Somerville is a city in Middlesex County, Massachusetts, United States, located just north of Boston. As of the 2010 census, the city had a total population of 75,754 and was the most densely populated municipality in New England. It is also the 17th most densely populated incorporated place in...
, near
Boston
Boston
Boston is the capital of and largest city in Massachusetts, and is one of the oldest cities in the United States. The largest city in New England, Boston is regarded as the unofficial "Capital of New England" for its economic and cultural impact on the entire New England region. The city proper had...
, in 1911.
In 1922, Roselli committed a
murder
Murder
Murder is the unlawful killing, with malice aforethought, of another human being, and generally this state of mind distinguishes murder from other forms of unlawful homicide...
and fled to
Chicago
Chicago
Chicago is the largest city in the US state of Illinois. With nearly 2.7 million residents, it is the most populous city in the Midwestern United States and the third most populous in the US, after New York City and Los Angeles...
changing his name from Filippo Sacco to John Roselli. The new name was in honor of
Italian Renaissance
Italian Renaissance
The Italian Renaissance began the opening phase of the Renaissance, a period of great cultural change and achievement in Europe that spanned the period from the end of the 13th century to about 1600, marking the transition between Medieval and Early Modern Europe...
sculptor
Cosimo Rosselli
Cosimo Rosselli
Cosimo Rosselli was an Italian painter of the Quattrocento, active mainly in his birthplace of Florence.-Biography:Born in Florence, at the age of fourteen he became a pupil of Neri di Bicci, and in 1460 he worked as assistant to his cousin Bernardo di Stefano Rosselli...
. He became a member of the
Chicago Outfit
Chicago Outfit
The Chicago Outfit, also known as the Chicago Syndicate or Chicago Mob and sometimes shortened to simply the Outfit, is a crime syndicate based in Chicago, Illinois, USA...
and was known by his mob nickname of "Handsome Johnny."
The exact date and reason for Roselli moving to Los Angeles is unknown. Some sources say that
Al Capone
Al Capone
Alphonse Gabriel "Al" Capone was an American gangster who led a Prohibition-era crime syndicate. The Chicago Outfit, which subsequently became known as the "Capones", was dedicated to smuggling and bootlegging liquor, and other illegal activities such as prostitution, in Chicago from the early...
or
Frank Nitti
Frank Nitti
Francesco Raffaele Nitto , also known as Frank "The Enforcer" Nitti, was an Italian American gangster. One of Al Capone's top henchmen, Nitti was in charge of all strong-arm and 'muscle' operations...
sent him west to oversee the Outfit's business interests such as the racing wire and movie extortion scheme. However, Roselli moved to Los Angeles in 1924, before either Capone or Nitti became boss of the Chicago Outfit. He pleaded guilty to bootlegging beer in 1924 (then going by the name "James Roselli"). Roselli began his California criminal career working with Los Angeles mobster
Jack Dragna
Jack Dragna
Jack Ignatius Dragna was an American Mafia member and Black Hander who was active in both Italy and the United States in the 1900s. He was active in bootlegging in California during the Prohibition Era in the United States...
.
Roselli became close friends with film producer
Bryan Foy
, who brought Roselli into the movie business as a producer with Foy's small production company,
Eagle Lion Studios
Eagle-Lion Films
Eagle-Lion Films was a British film production company owned by J. Arthur Rank intended to release British productions in the United States. In 1947 it acquired PRC Pictures, a small American production company, to produce B Pictures to accompany the British releases...
, where Roselli is credited on a number of early gangster movies as a producer. In the 1940s Roselli was involved in the Outfit's multi-million dollar
extortion
Extortion
Extortion is a criminal offence which occurs when a person unlawfully obtains either money, property or services from a person, entity, or institution, through coercion. Refraining from doing harm is sometimes euphemistically called protection. Extortion is commonly practiced by organized crime...
campaign against the motion picture industry.
1940s
In 1942, Roselli was indicted on federal labor racketeering charges along with
George Brown
George Brown (Union official)
George Browne was at one time the president of the International Alliance of Theatrical Stage Employees. In 1943 he was tried and convicted for extortion, as his real loyalties were to the Chicago Outfit, with conspirator Willie Bioff.-References:...
, former president of the International Alliance of Theatrical Stage Employees union, and Willie Bioff, labor racketeer and former
pimp
Pimp
A pimp is an agent for prostitutes who collects part of their earnings. The pimp may receive this money in return for advertising services, physical protection, or for providing a location where she may engage clients...
.
On December 4, 1942 Roselli, a professed U.S.
patriot
Patriotism
Patriotism is a devotion to one's country, excluding differences caused by the dependencies of the term's meaning upon context, geography and philosophy...
, enlisted in the
United States Army
United States Army
The United States Army is the main branch of the United States Armed Forces responsible for land-based military operations. It is the largest and oldest established branch of the U.S. military, and is one of seven U.S. uniformed services...
. He served as a private until he was arrested March 19, 1943.
In 1943, after a year long trial on the racketeering charges, Roselli and several Chicago mobsters were convicted and sentenced to 10 years in prison. However, in 1947 they were paroled after serving only about three-and-a-half years. It was widely assumed that the Outfit's political fixer,
Murray "The Camel" Humphreys
Murray Humphreys
Llewelyn Morris Humphreys , was a Chicago mobster of Welsh descent who was the chief political and labor racketeer in the Chicago Outfit during Prohibition...
, used his influence with President Harry Truman's
Attorney General
Attorney General
In most common law jurisdictions, the attorney general, or attorney-general, is the main legal advisor to the government, and in some jurisdictions he or she may also have executive responsibility for law enforcement or responsibility for public prosecutions.The term is used to refer to any person...
,
Tom C. Clark
Tom C. Clark
Thomas Campbell Clark was United States Attorney General from 1945 to 1949 and an Associate Justice of the Supreme Court of the United States .- Early life and career :...
, to spring Roselli and the other Outfit bosses from prison. After his release, Roselli returned to Hollywood in hopes of becoming a movie producer with Bryan Foy.
The extensive influence The Outfit had over Hollywood is best illustrated in 1948 when boss
Tony Accardo
Tony Accardo
Antonino Joseph Accardo , also known as "Joe Batters" or "Big Tuna", rose from small-time hoodlum to the position of day-to-day boss of the Chicago Outfit in 1947, to ultimately become the final Outfit authority in 1972, until his death...
told Roselli to force powerful
Columbia Pictures
Columbia Pictures
Columbia Pictures Industries, Inc. is an American film production and distribution company. Columbia Pictures now forms part of the Columbia TriStar Motion Picture Group, owned by Sony Pictures Entertainment, a subsidiary of the Japanese conglomerate Sony. It is one of the leading film companies...
president
Harry Cohn
Harry Cohn
Harry Cohn was the American president and production director of Columbia Pictures.-Career:Cohn was born to a working-class German-Jewish family in New York City. In later years, he appears to have disparaged his heritage...
into signing then-unknown actress
Marilyn Monroe
Marilyn Monroe
Marilyn Monroe was an American actress, singer, model and showgirl who became a major sex symbol, starring in a number of commercially successful motion pictures during the 1950s....
to a lucrative multi-year contract. The usually combative Cohn quickly complied without opposition, mainly because Cohn had obtained control of Columbia through mob funds and influence provided by both Accardo and Roselli.
1950s
In the mid 1950s, Roselli shifted his focus away from Hollywood and toward the fast-growing and highly profitable gambling mecca,
Las Vegas, Nevada
Las Vegas, Nevada
Las Vegas is the most populous city in the U.S. state of Nevada and is also the county seat of Clark County, Nevada. Las Vegas is an internationally renowned major resort city for gambling, shopping, and fine dining. The city bills itself as The Entertainment Capital of the World, and is famous...
. By 1956, Roselli had become the Chicago and Los Angeles mob's chief representative in Las Vegas. His job was to ensure that the Chicago mob bosses received their fair share of the burgeoning casino revenues through, "
skimming
Skimming (casinos)
"In May of 1963...the FBI turned over to the Justice Department a two-volume document called "The Skimming Report," which detailed the illegal siphoning off of gambling profits by Las Vegas casinos to avoid taxes." The report documented how pre-tax profits from casinos were being routed to various...
." However, according to the Los Angeles office of the FBI, Roselli was employed as a movie producer at
Monogram Studios
Monogram Pictures
Monogram Pictures Corporation is a Hollywood studio that produced and released films, most on low budgets, between 1931 and 1953, when the firm completed a transition to the name Allied Artists Pictures Corporation. Monogram is considered a leader among the smaller studios sometimes referred to...
.
1960s
After the
Cuban Revolution
Cuban Revolution
The Cuban Revolution was an armed revolt by Fidel Castro's 26th of July Movement against the regime of Cuban dictator Fulgencio Batista between 1953 and 1959. Batista was finally ousted on 1 January 1959, and was replaced by a revolutionary government led by Castro...
in January 1959, Castro closed down all the mob casinos in Cuba and drove out the mobsters. Given that experience, Roselli, Chicago Outfit boss
Sam Giancana
Sam Giancana
Salvatore Giancana , better known as Sam Giancana, was a Sicilian-American mobster and boss of the Chicago Outfit from 1957-1966...
and Tampa boss
Santo Trafficante
Santo Trafficante, Jr.
Santo Trafficante, Jr. was one of the last of the old-time Mafia bosses in the United States. He allegedly controlled organized criminal operations in Florida and Cuba, which had previously been consolidated from several rival gangs by his father, Santo Trafficante, Sr...
would be receptive to overtures on killing Castro.
In 1960, the CIA recruited ex-FBI agent
Robert Maheu
Robert Maheu
Robert Aime Maheu was an American businessman and lawyer, who worked for the FBI, CIA and as the chief executive of Nevada operations for the industrialist Howard Hughes.-Biography:...
, who later became a top aide to billionaire
Howard Hughes
Howard Hughes
Howard Robard Hughes, Jr. was an American business magnate, investor, aviator, engineer, film producer, director, and philanthropist. He was one of the wealthiest people in the world...
in Las Vegas, to approach Roselli. Maheu passed himself off as the representative of international corporations that wanted Castro killed because of their lost gambling operations. Roselli introduced Maheu to two men he referred to as "Sam Gold" plus "Joe." "Sam Gold" was Giancana, "Joe" was
Santo Trafficante, Jr.
Santo Trafficante, Jr.
Santo Trafficante, Jr. was one of the last of the old-time Mafia bosses in the United States. He allegedly controlled organized criminal operations in Florida and Cuba, which had previously been consolidated from several rival gangs by his father, Santo Trafficante, Sr...
, the Tampa, Florida boss and one of the most powerful mobsters in pre-revolution Cuba. The agency gave the mobsters six poison pills to murder Castro. For several months, anti-Castro Cubans tied to the Mafia tried unsuccessfully to put the pills into Castro's food. In 1961, after the failed CIA-sponsored
Bay of Pigs Invasion
Bay of Pigs Invasion
The Bay of Pigs Invasion was an unsuccessful action by a CIA-trained force of Cuban exiles to invade southern Cuba, with support and encouragement from the US government, in an attempt to overthrow the Cuban government of Fidel Castro. The invasion was launched in April 1961, less than three months...
of Cuba, these assassination attempts, which included hit teams of snipers, trained on Roselli's secret CIA base in the
Florida Keys
Florida Keys
The Florida Keys are a coral archipelago in southeast United States. They begin at the southeastern tip of the Florida peninsula, about south of Miami, and extend in a gentle arc south-southwest and then westward to Key West, the westernmost of the inhabited islands, and on to the uninhabited Dry...
, continued with a vengeance, now with CIA legend
William "Wild Bill" King Harvey
William King Harvey
William King "Bill" Harvey was a Central Intelligence Agency officer, best known for his role in Operation Mongoose. He was known as "America's James Bond."...
, taking charge of Roselli's efforts. Many researchers claim that because of the Kennedys' obsession with getting Castro, Attorney General Robert Kennedy, though angry about the CIA's use of one of his prime Mafia targets, chose to continue these efforts until the Cuban Missile Crisis in October, 1962.
The assassination attempts by Roselli were publicized in 1971 by Jack Anderson, a
Washington Post
reporter and acknowledged by the CIA in 2007 when it declassified the Family jewels documents.
In 1963, singer
Frank Sinatra
Frank Sinatra
Francis Albert "Frank" Sinatra was an American singer and actor.Beginning his musical career in the swing era with Harry James and Tommy Dorsey, Sinatra became an unprecedentedly successful solo artist in the early to mid-1940s, after being signed to Columbia Records in 1943. Being the idol of the...
sponsored Roselli for membership in the exclusive Los Angeles Friar's Club. Soon after his acceptance, Roselli discovered an elaborate card-cheating operation run by one of his Las Vegas friends, Maury Friedman and asked for his cut. The cheating was finally discovered in July 1967 by FBI agents tailing Roselli Scores of wealthy men (including millionaire Harry Karl, the husband of actress
Debbie Reynolds
Debbie Reynolds
Debbie Reynolds is an American actress, singer, and dancer.She was initially signed at age 16 by Warner Bros., but her career got off to a slow start. When her contract was not renewed, Metro-Goldwyn-Mayer gave her a small, but significant part in the film Three Little Words , then signed her to...
, plus actor
Zeppo Marx
Zeppo Marx
Herbert Manfred "Zeppo" Marx was an American film star, musician, engineer, theatrical agent and businessman. He was the youngest of the five Marx Brothers. He appeared in the first five Marx Brothers feature films, from 1929 to 1933, but then left the act to start his second career as an...
) were bilked out of millions of dollars. Grant B. Cooper represented some of the defendants in the case, including Roselli. Roselli was eventually convicted and fined $55,000. During the trial, secret grand jury transcripts were discovered on the defense attorney's table. Cooper eventually pled guilty to contempt for possessing the documents.
In 1968, Roselli was tried and convicted of maintaining an illegal residence in the
United States
United States
The United States of America is a federal constitutional republic comprising fifty states and a federal district...
(he'd never acquired lawful US residence or citizenship) then was ordered deported to Italy by the
Immigration and Naturalization Service
Immigration and Naturalization Service
The United States Immigration and Naturalization Service , now referred to as Legacy INS, ceased to exist under that name on March 1, 2003, when most of its functions were transferred from the Department of Justice to three new components within the newly created Department of Homeland Security, as...
. However, Italy refused to accept Roselli, so he remained in the United States.
1970s
On June 24 and September 22, 1975 Roselli testified before the 1975 U.S. Senate Select Committee on Intelligence (SSCIA) led by
Idaho
Idaho
Idaho is a state in the Rocky Mountain area of the United States. The state's largest city and capital is Boise. Residents are called "Idahoans". Idaho was admitted to the Union on July 3, 1890, as the 43rd state....
Senator
Frank Church
Frank Church
Frank Forrester Church III was an American lawyer and politician. A member of the Democratic Party, he served as a United States Senator from Idaho from 1957 to 1981....
about the CIA plan to kill Castro,
Operation Mongoose
Cuban Project
The Cuban Project was a program of Central Intelligence Agency covert operations developed during the early years of the administration of President of the United States John F. Kennedy...
. Shortly before Roselli testified, an unknown gunperson shot and killed Giancana in the basement of his Illinois home. This happened just days before Giancana was to testify before the committee. Giancana's murder supposedly prompted Roselli (whose own power base disappeared with Giancana's death) to permanently leave Los Angeles and Las Vegas for
Miami, Florida
Miami, Florida
Miami is a city located on the Atlantic coast in southeastern Florida and the county seat of Miami-Dade County, the most populous county in Florida and the eighth-most populous county in the United States with a population of 2,500,625...
.
On April 23, 1976 Roselli was called before the committee to testify about a conspiracy to kill President Kennedy. Three months after his first round of testimony on the Kennedy assassination, the Committee wanted to recall Roselli. However, at this point, he had been missing since July 28. On August 3, Senator
Howard Baker
Howard Baker
Howard Henry Baker, Jr. is a former Senate Majority Leader, Republican U.S. Senator from Tennessee, White House Chief of Staff, and a former United States Ambassador to Japan.Known in Washington, D.C...
, a member of the new SSCIA, requested the FBI investigate Roselli's disappearance.
Death
On August 9, Roselli's decomposing body was found in a 55-gallon steel fuel drum floating in Dumfounding Bay near
Miami, Florida
Miami, Florida
Miami is a city located on the Atlantic coast in southeastern Florida and the county seat of Miami-Dade County, the most populous county in Florida and the eighth-most populous county in the United States with a population of 2,500,625...
. Roselli had been strangled and shot, and his legs were sawn off. Some believed that boss Trafficante ordered Roselli's death. According to this theory, Trafficante believed that Roselli had revealed too much about the
Kennedy assassination
John F. Kennedy assassination
John Fitzgerald Kennedy, the thirty-fifth President of the United States, was assassinated at 12:30 p.m. Central Standard Time on Friday, November 22, 1963, in Dealey Plaza, Dallas, Texas...
and Castro murder plots during his Senate testimony, violating the strict
Mafia
Mafia
The Mafia is a criminal syndicate that emerged in the mid-nineteenth century in Sicily, Italy. It is a loose association of criminal groups that share a common organizational structure and code of conduct, and whose common enterprise is protection racketeering...
code of
omertà
Omertà
Omertà is a popular attitude and code of honour and a common definition is the "code of silence". It is common in areas of southern Italy, such as Sicily, Apulia, Calabria, and Campania, where criminal organizations defined as Mafia such as the Cosa Nostra, 'Ndrangheta, Sacra Corona Unita, and...
(silence).
Aftermath
Former
hitman
Hitman
A hitman is a person hired to kill another person.- Hitmen in organized crime :Hitmen are largely linked to the world of organized crime. Hitmen are hired people who kill people for money. Notable examples include Murder, Inc., Mafia hitmen and Richard Kuklinski.- Other cases involving hitmen...
James Files
James Files
James Earl Files is allegedly a former Central Intelligence Agency/Mafia hit man who claims to have been the grassy knoll shooter in Dealey Plaza on the morning of the assassination of U.S. President John F. Kennedy.-Background:...
has claimed that he, Roselli and
Charles "Chuckie" Nicoletti
Charles Nicoletti
Charles "Chuckie" Nicoletti, also known as "The Typewriter" "Chuckie Typewriter" , was a top Chicago Outfit hitman under Outfit boss Sam "Mooney" Giancana before and after Giancana's rise and fall.-Early years:...
fired the fatal shots killing Kennedy at Dallas'
Dealey Plaza
Dealey Plaza
Dealey Plaza , in the historic West End district of downtown Dallas, Texas , is the location of the assassination of John F. Kennedy on November 22, 1963...
on November 22, 1963. However, there is no proof to support this claim.
New York mob boss
Bill Bonanno
Salvatore Bonanno
Salvatore Vincent "Bill" Bonanno was the son of Cosa Nostra boss Joseph Bonanno. Although his father never intended for him to be the underboss of the Bonanno crime family, his appointment to high positions in the syndicate precipitated a "mob war" which led to the Bonanno family's exile to Arizona...
claimed in his autobiography that while he was imprisoned with Roselli, he spoke to him about the Kennedy assassination. Roselli allegedly told Bonanno that he had fired a shot from a storm drain located on Elm Street in Dallas.
Former CIA pilot
"Tosh" Plumlee
William Robert Plumlee
William Robert Plumlee in Panama City, Florida is an American pilot who worked for the CIA. He was known as "Tosh" and also as William H. "Buck" Pearson.-Military service:...
claims to have flown Roselli from Tampa to Dallas, arriving on the morning of November 22, 1963 on a mission to abort the assassination of President Kennedy.
Further reading
Charles Rappleye & Ed Becker, All American Mafioso: The Johnny Roselli Story; Barricade Books, Inc.; 1995 ISBN 1-56980-027-8
External links
The CIA Family Jewels – includes several memos on Roselli's involvement in attempts to assassinate Fidel Castro