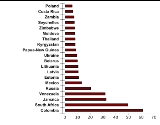 Murder
Murder
is the unlawful killing, with
malice aforethought
Malice aforethought
Malice aforethought is the "premeditation" or "predetermination" that was required as an element of some crimes in some jurisdictions, and a unique element for first-degree or aggravated murder in a few.-Legal history:...
, of another human being, and generally this state of mind distinguishes murder from other forms of unlawful
homicide
Homicide
Homicide refers to the act of a human killing another human. Murder, for example, is a type of homicide. It can also describe a person who has committed such an act, though this use is rare in modern English...
(such as
manslaughter
Manslaughter
Manslaughter is a legal term for the killing of a human being, in a manner considered by law as less culpable than murder. The distinction between murder and manslaughter is said to have first been made by the Ancient Athenian lawmaker Dracon in the 7th century BC.The law generally differentiates...
). As the loss of a human being inflicts enormous grief upon the individuals close to the victim, as well as the fact that the commission of a murder is highly detrimental to the good order within society, most societies both present and in antiquity have considered it a most serious crime worthy of the harshest of punishment.
1862 Indian Wars: In Minnesota, 303 Dakota warriors are found guilty of rape and murder of whites and are sentenced to hang. 38 are ultimately executed and the others reprieved.
1878 John Tunstall is murdered by outlaw Jessie Evans, sparking the Lincoln County War in Lincoln County, New Mexico.
1935 A jury in Flemington, New Jersey finds Bruno Hauptmann guilty of the 1932 kidnapping and murder of the Lindbergh baby, the son of Charles Lindbergh.
1962 Arthur Lucas, convicted of murder, is the last person to be executed in Canada.
1977 The Red Army Faction trial ends, with Andreas Baader, Gudrun Ensslin and Jan-Carl Raspe found guilty of four counts of murder and more than 30 counts of attempted murder.
1981 Vice President Hosni Mubarak is elected as the President of Egypt one week after the assassination murder of the President of Egypt, Anwar Sadat. As of June 1, 2010, Mr. Mubarak is still the President of Egypt, having been re-elected several times.
1985 Serial killer Richard Ramirez, aka the "Night Stalker", commits the first two murders in his Los Angeles, California murder spree.
1992 In New York, Mafia boss John Gotti is convicted of murder and racketeering and is later sentenced to life in prison.
1995 Colin Ferguson is convicted of six counts of murder for the December 1993 Long Island Rail Road shootings and later receives a 200+ year sentence.
1997 In Denver, Colorado, Timothy McVeigh is convicted on 15 counts of murder and conspiracy for his role in the 1995 bombing of the Alfred P. Murrah Federal Building in Oklahoma City, Oklahoma.