 Hickory
Trees in the genus
Carya
(from
Ancient Greek
Ancient Greek
Ancient Greek is the stage of the Greek language in the periods spanning the times c. 9th–6th centuries BC, , c. 5th–4th centuries BC , and the c. 3rd century BC – 6th century AD of ancient Greece and the ancient world; being predated in the 2nd millennium BC by Mycenaean Greek...
κάρυον "
nut
Nut (fruit)
A nut is a hard-shelled fruit of some plants having an indehiscent seed. While a wide variety of dried seeds and fruits are called nuts in English, only a certain number of them are considered by biologists to be true nuts...
") are commonly known as
hickory
, derived from the
Powhatan language
Powhatan language
Powhatan or Virginia Algonquian is an extinct language belonging to the Eastern Algonquian subgroup of the Algonquian languages. It was spoken by the Powhatan people of tidewater Virginia. It became extinct around the 1790s after speakers switched to English. The sole documentary evidence for this...
of
Virginia
Virginia
The Commonwealth of Virginia , is a U.S. state on the Atlantic Coast of the Southern United States. Virginia is nicknamed the "Old Dominion" and sometimes the "Mother of Presidents" after the eight U.S. presidents born there...
. The genus includes 17–19 species of
deciduous
Deciduous
Deciduous means "falling off at maturity" or "tending to fall off", and is typically used in reference to trees or shrubs that lose their leaves seasonally, and to the shedding of other plant structures such as petals after flowering or fruit when ripe...
trees with pinnately compound
leaves
Leaf
A leaf is an organ of a vascular plant, as defined in botanical terms, and in particular in plant morphology. Foliage is a mass noun that refers to leaves as a feature of plants....
and big
nuts
Nut (fruit)
A nut is a hard-shelled fruit of some plants having an indehiscent seed. While a wide variety of dried seeds and fruits are called nuts in English, only a certain number of them are considered by biologists to be true nuts...
. Five or six species are native to
China
China
Chinese civilization may refer to:* China for more general discussion of the country.* Chinese culture* Greater China, the transnational community of ethnic Chinese.* History of China* Sinosphere, the area historically affected by Chinese culture...
,
Indochina
Indochina
The Indochinese peninsula, is a region in Southeast Asia. It lies roughly southwest of China, and east of India. The name has its origins in the French, Indochine, as a combination of the names of "China" and "India", and was adopted when French colonizers in Vietnam began expanding their territory...
, and
India
India
India , officially the Republic of India , is a country in South Asia. It is the seventh-largest country by geographical area, the second-most populous country with over 1.2 billion people, and the most populous democracy in the world...
(
Assam Province
Assam
Assam , also, rarely, Assam Valley and formerly the Assam Province , is a northeastern state of India and is one of the most culturally and geographically distinct regions of the country...
), 11 or 12 are from the
United States
United States
The United States of America is a federal constitutional republic comprising fifty states and a federal district...
, two to four are from
Canada
Canada
Canada is a North American country consisting of ten provinces and three territories. Located in the northern part of the continent, it extends from the Atlantic Ocean in the east to the Pacific Ocean in the west, and northward into the Arctic Ocean...
and four are found in
Mexico
Mexico
The United Mexican States , commonly known as Mexico , is a federal constitutional republic in North America. It is bordered on the north by the United States; on the south and west by the Pacific Ocean; on the southeast by Guatemala, Belize, and the Caribbean Sea; and on the east by the Gulf of...
.
Another Asian species,
beaked hickory
, previously listed as
Carya sinensis
, is now treated in a separate genus,
Annamocarya
Annamocarya
Annamocarya is a genus of flowering plants in the family Juglandaceae, containing only one species, Annamocarya sinensis, native to southwestern China and northern Vietnam...
, as
Annamocarya sinensis
.
Hickory
flower
Flower
A flower, sometimes known as a bloom or blossom, is the reproductive structure found in flowering plants . The biological function of a flower is to effect reproduction, usually by providing a mechanism for the union of sperm with eggs...
s are small, yellow-green
catkin
Catkin
A catkin or ament is a slim, cylindrical flower cluster, with inconspicuous or no petals, usually wind-pollinated but sometimes insect pollinated . They contain many, usually unisexual flowers, arranged closely along a central stem which is often drooping...
s produced in spring. They are
wind-pollinated
Anemophily
Anemophily or wind pollination is a form of pollination whereby pollen is distributed by wind. Anemophilous plants may be either gymnosperms or angiosperms ....
and self-incompatible. The
fruit
Fruit
In broad terms, a fruit is a structure of a plant that contains its seeds.The term has different meanings dependent on context. In non-technical usage, such as food preparation, fruit normally means the fleshy seed-associated structures of certain plants that are sweet and edible in the raw state,...
is a globose or oval
nut
Nut (fruit)
A nut is a hard-shelled fruit of some plants having an indehiscent seed. While a wide variety of dried seeds and fruits are called nuts in English, only a certain number of them are considered by biologists to be true nuts...
, 2 – long and 1.5 – diameter, enclosed in a four-valved husk, which splits open at maturity. The nut shell is thick and bony in most species, and thin in a few, notably
C. illinoinensis
; it is divided into two halves, which split apart when the seed
germinates
Germination
Germination is the process in which a plant or fungus emerges from a seed or spore, respectively, and begins growth. The most common example of germination is the sprouting of a seedling from a seed of an angiosperm or gymnosperm. However the growth of a sporeling from a spore, for example the...
.
Species and classification
In the
APG system
APG system
The APG system of plant classification is the first, now obsolete, version of a modern, mostly molecular-based, system of plant taxonomy that was published in 1998 by the Angiosperm Phylogeny Group. It was superseded in 2003 by a revision, the APG II system, and then in 2009 by a further...
, genus
Carya
(and the whole
Juglandaceae
Juglandaceae
The Juglandaceae, also known as the Walnut Family, is a family of trees, or sometimes shrubs, in the order Fagales. Various members of this family are native to the Americas, Eurasia, and Southeast Asia....
family) has been recently moved to the
Fagales
Fagales
The Fagales are an order of flowering plants, including some of the best known trees. The order name is derived from genus Fagus, Beeches. They belong among the rosid group of dicotyledons...
order.
Asia
North America
Ecology
Hickory is used as a food plant by the
larvae
Caterpillar
Caterpillars are the larval form of members of the order Lepidoptera . They are mostly herbivorous in food habit, although some species are insectivorous. Caterpillars are voracious feeders and many of them are considered to be pests in agriculture...
of some
Lepidoptera
Lepidoptera
Lepidoptera is a large order of insects that includes moths and butterflies . It is one of the most widespread and widely recognizable insect orders in the world, encompassing moths and the three superfamilies of butterflies, skipper butterflies, and moth-butterflies...
species. These include:
The hickory leaf stem gall phylloxera (
Phylloxera

Phylloxera

Grape phylloxera ; originally described in France as Phylloxera vastatrix; equated to the previously described Daktulosphaira vitifoliae, Phylloxera vitifoliae; commonly just called phylloxera is a pest of commercial grapevines worldwide, originally native to eastern North America...


caryaecaulis
) also uses the hickory tree as a food source. Phylloxeridae are related to aphids and have a similarly complex life cycle. Eggs hatch in early spring and the galls quickly form around the developing insects.
Phylloxera
galls may damage weakened or stressed hickories, but are generally harmless. Deformed leaves and twigs can rain down from the tree in the spring as squirrels break off infected tissue and eat the galls, possibly for the protein content or because the galls are fleshy and tasty to the squirrels.
The
banded hickory borer
Banded hickory borer
The banded hickory borer, Knulliana cincta, is a species of longhorn beetle about 15–30 mm in length occurring throughout the eastern half of North America, including Mexico and the Bahamas, with one subspecies extending to the Sonoran Desert. If roughly handled it may start to squeak furiously...
(
Knulliana cincta
) is also found on hickories.
Tryma
Some fruits are borderline and difficult to categorize. Hickory nuts (
Carya
) and walnuts (
Juglans
) in the
Juglandaceae
Juglandaceae
The Juglandaceae, also known as the Walnut Family, is a family of trees, or sometimes shrubs, in the order Fagales. Various members of this family are native to the Americas, Eurasia, and Southeast Asia....
family grow within an outer husk; these fruits are technically
drupe
Drupe
In botany, a drupe is a fruit in which an outer fleshy part surrounds a shell of hardened endocarp with a seed inside. These fruits develop from a single carpel, and mostly from flowers with superior ovaries...
s or drupaceous nuts, and thus not true botanical nuts. "Tryma" is a specialized term for such nut-like drupes.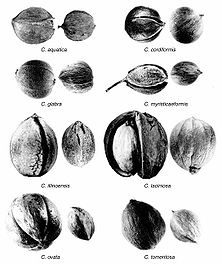 Uses
Hickory
wood
Wood
Wood is a hard, fibrous tissue found in many trees. It has been used for hundreds of thousands of years for both fuel and as a construction material. It is an organic material, a natural composite of cellulose fibers embedded in a matrix of lignin which resists compression...
is very hard, stiff, dense and shock resistant. As stated in the U.S. Forest Service pamphlet on "Important Trees of Eastern Forests", "there are some woods that are stronger than hickory and some that are harder, but the combination of strength, toughness, hardness, and stiffness found in hickory wood is not found in any other commercial wood." It is used for
tool
Tool
A tool is a device that can be used to produce an item or achieve a task, but that is not consumed in the process. Informally the word is also used to describe a procedure or process with a specific purpose. Tools that are used in particular fields or activities may have different designations such...
handles,
bows
Bow (weapon)
The bow and arrow is a projectile weapon system that predates recorded history and is common to most cultures.-Description:A bow is a flexible arc that shoots aerodynamic projectiles by means of elastic energy. Essentially, the bow is a form of spring powered by a string or cord...
,
wheel
Wheel
A wheel is a device that allows heavy objects to be moved easily through rotating on an axle through its center, facilitating movement or transportation while supporting a load, or performing labor in machines. Common examples found in transport applications. A wheel, together with an axle,...
spokes,
cart
Cart
A cart is a vehicle designed for transport, using two wheels and normally pulled by one or a pair of draught animals. A handcart is pulled or pushed by one or more people...
s,
drumsticks
Drum stick
A percussion mallet is an object used to beat drums and other percussion instruments. Some specialized mallets are called beaters, drumsticks.Note: See Rute .-Drum sticks:...
,
lacrosse
Lacrosse
Lacrosse is a team sport of Native American origin played using a small rubber ball and a long-handled stick called a crosse or lacrosse stick, mainly played in the United States and Canada. It is a contact sport which requires padding. The head of the lacrosse stick is strung with loose mesh...
stick handles,
golf club
Golf club (equipment)
A golf club is used to hit a golf ball in a game of golf. Each club is composed of a shaft with a grip and a clubhead. Woods are mainly used for long-distance fairway or tee shots; irons, the most versatile class, are used for a variety of shots; Hybrids that combine design elements of woods and...
shafts (sometimes still called
hickory stick
, even though made of
steel
Steel
Steel is an alloy that consists mostly of iron and has a carbon content between 0.2% and 2.1% by weight, depending on the grade. Carbon is the most common alloying material for iron, but various other alloying elements are used, such as manganese, chromium, vanadium, and tungsten...
or
graphite
Carbon fiber
Carbon fiber, alternatively graphite fiber, carbon graphite or CF, is a material consisting of fibers about 5–10 μm in diameter and composed mostly of carbon atoms. The carbon atoms are bonded together in crystals that are more or less aligned parallel to the long axis of the fiber...
), the bottom of skis, walking sticks and for punitive use as a
switch
Switch (rod)
A switch is a flexible rod, typically used for corporal punishment of the birching type, called switching after it, especially when using a single branch: multiple branches are rather called a rod, a less flexible single rod is rather called a cane, an inflexible one a stick; a paddle is broader...
(like
hazel
Hazel
The hazels are a genus of deciduous trees and large shrubs native to the temperate northern hemisphere. The genus is usually placed in the birch family Betulaceae, though some botanists split the hazels into a separate family Corylaceae.They have simple, rounded leaves with double-serrate margins...
), and especially as a cane-like hickory stick in schools and use by parents.
Paddles
Paddle (spanking)
A spanking paddle is an implement used to strike a person on the buttocks. The act of striking a person with a paddle is known as "paddling". A paddling may be for punishment , or as an initiation or hazing ritual, or for erotic purposes.A paddle has two parts: a handle and a blade...
are often made from hickory.
Baseball
Baseball
Baseball is a bat-and-ball sport played between two teams of nine players each. The aim is to score runs by hitting a thrown ball with a bat and touching a series of four bases arranged at the corners of a ninety-foot diamond...
bats
Baseball bat
A baseball bat is a smooth wooden or metal club used in the game of baseball to hit the ball after the ball is thrown by the pitcher. It is no more than 2.75 inches in diameter at the thickest part and no more than 42 inches in length. It typically weighs no more than 33 ounces , but it...
were formerly made of hickory, but are now more commonly made of
ash
Ash tree
Fraxinus is a genus flowering plants in the olive and lilac family, Oleaceae. It contains 45-65 species of usually medium to large trees, mostly deciduous though a few subtropical species are evergreen. The tree's common English name, ash, goes back to the Old English æsc, while the generic name...
. Hickory is replacing ash as the wood of choice for Scottish
shinty
Shinty
Shinty is a team game played with sticks and a ball. Shinty is now played mainly in the Scottish Highlands, and amongst Highland migrants to the big cities of Scotland, but it was formerly more widespread, being once competitively played on a widespread basis in England and other areas in the...
sticks (also known as camans).
Hickory is also highly prized for
wood-burning stove
Wood-burning stove
For a list of stove types see Stove .A wood-burning stove is a heating appliance capable of burning wood fuel and wood-derived biomass fuel. Generally the appliance consists of a solid metal closed fire chamber, a grate and an adjustable air control...
s, because of its high energy content. Hickory wood is also a preferred type for smoking
cured
Curing (food preservation)
Curing refers to various food preservation and flavoring processes, especially of meat or fish, by the addition of a combination of salt, nitrates, nitrite or sugar. Many curing processes also involve smoking, the process of flavoring, or cooking...
meats. In the
Southern United States
Southern United States
The Southern United States—commonly referred to as the American South, Dixie, or simply the South—constitutes a large distinctive area in the southeastern and south-central United States...
, hickory is popular for cooking
barbecue
Barbecue
Barbecue or barbeque , used chiefly in the United States, Canada, the United Kingdom, New Zealand and Australia is a method and apparatus for cooking meat, poultry and occasionally fish with the heat and hot smoke of a fire, smoking wood, or hot coals of...
, as hickory grows abundantly in the region, and adds flavor to the meat. Hickory is sometimes used for
wood flooring
Wood flooring
Wood flooring is any product manufactured from timber that is designed for use as flooring, either structural or aesthetic. Bamboo flooring is often considered a wood floor, although it is made from a grass rather than a timber....
due to its durability and character.
A
bark
Bark
Bark is the outermost layers of stems and roots of woody plants. Plants with bark include trees, woody vines and shrubs. Bark refers to all the tissues outside of the vascular cambium and is a nontechnical term. It overlays the wood and consists of the inner bark and the outer bark. The inner...
extract from shagbark hickory is also used in an edible syrup similar to
maple syrup
Maple syrup
Maple syrup is a syrup usually made from the xylem sap of sugar maple, red maple, or black maple trees, although it can also be made from other maple species such as the bigleaf maple. In cold climates, these trees store starch in their trunks and roots before the winter; the starch is then...
, with a slightly bitter, smoky taste.
The
nuts
Nut (fruit)
A nut is a hard-shelled fruit of some plants having an indehiscent seed. While a wide variety of dried seeds and fruits are called nuts in English, only a certain number of them are considered by biologists to be true nuts...
of some species are palatable, while others are bitter and only suitable for animal feed. Shagbark and shellbark hickory, along with
pecan
Pecan
The pecan , Carya illinoinensis, is a species of hickory, native to south-central North America, in Mexico from Coahuila south to Jalisco and Veracruz, in the United States from southern Iowa, Illinois, Missouri, and Indiana east to western Kentucky, southwestern Ohio, North Carolina, South...
, are regarded by some as the finest nut trees.
When cultivated for their nuts, clonal (grafted) trees of the same
cultivar
Cultivar
A cultivar'Cultivar has two meanings as explained under Formal definition. When used in reference to a taxon, the word does not apply to an individual plant but to all those plants sharing the unique characteristics that define the cultivar. is a plant or group of plants selected for desirable...
cannot pollinate each other because of their self-incompatibility. Two or more cultivars must be planted together for successful
pollination
Pollination
Pollination is the process by which pollen is transferred in plants, thereby enabling fertilisation and sexual reproduction. Pollen grains transport the male gametes to where the female gamete are contained within the carpel; in gymnosperms the pollen is directly applied to the ovule itself...
. Seedlings (grown from hickory nuts) will usually have sufficient genetic variation.
External links