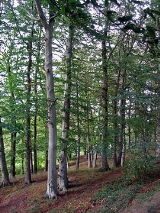 Fagales
The
Fagales
are an
order
Order (biology)
In scientific classification used in biology, the order is# a taxonomic rank used in the classification of organisms. Other well-known ranks are life, domain, kingdom, phylum, class, family, genus, and species, with order fitting in between class and family...
of
flowering plant
Flowering plant
The flowering plants , also known as Angiospermae or Magnoliophyta, are the most diverse group of land plants. Angiosperms are seed-producing plants like the gymnosperms and can be distinguished from the gymnosperms by a series of synapomorphies...
s, including some of the best known
tree
Tree
A tree is a perennial woody plant. It is most often defined as a woody plant that has many secondary branches supported clear of the ground on a single main stem or trunk with clear apical dominance. A minimum height specification at maturity is cited by some authors, varying from 3 m to...
s. The order name is derived from
genus
Genus
In biology, a genus is a low-level taxonomic rank used in the biological classification of living and fossil organisms, which is an example of definition by genus and differentia...
Fagus
Beech
Beech is a genus of ten species of deciduous trees in the family Fagaceae, native to temperate Europe, Asia and North America.-Habit:...
, Beeches. They belong among the rosid group of
dicotyledon
Dicotyledon
The dicotyledons, also known as dicots, are a group of flowering plants whose seed typically has two embryonic leaves or cotyledons. There are around 199,350 species within this group...
s. The families and genera currently included are as follows:
The older
Cronquist system
Cronquist system
The Cronquist system is a taxonomic classification system of flowering plants. It was developed by Arthur Cronquist in his texts An Integrated System of Classification of Flowering Plants and The Evolution and Classification of Flowering Plants .Cronquist's system places flowering plants into two...
only included four families (Betulaceae, Corylaceae, Fagaceae, Ticodendraceae; Corylaceae now being included within Betulaceae); this arrangement is followed by, for example, the World checklist of selected plant families (see external link below). The other families were split into three different orders, placed among the Hamamelidae. The Casuarinales comprised the single family Casuarinaceae, the Juglandales comprised the Juglandaceae and Rhoipteleaceae, and the Myricales comprised the remaining forms (plus
Balanops
Balanops
Balanops is a genus of flowering plants. The nine species are trees or shrubs, found in New Caledonia, Fiji and northern Queensland.The genus by itself constitutes the family Balanopaceae...
). The change is due to studies suggesting that the Myricales, so defined, are paraphyletic to the other two groups.
External links