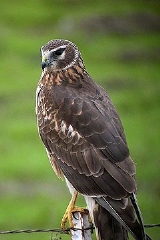 Hen Harrier
The
Hen Harrier
or
Northern Harrier
(in
North America
North America
North America is a continent wholly within the Northern Hemisphere and almost wholly within the Western Hemisphere. It is also considered a northern subcontinent of the Americas...
) is a
bird of prey
Bird of prey
Birds of prey are birds that hunt for food primarily on the wing, using their keen senses, especially vision. They are defined as birds that primarily hunt vertebrates, including other birds. Their talons and beaks tend to be relatively large, powerful and adapted for tearing and/or piercing flesh....
. It breeds throughout the northern parts of the
northern hemisphere
Northern Hemisphere
The Northern Hemisphere is the half of a planet that is north of its equator—the word hemisphere literally means "half sphere". It is also that half of the celestial sphere north of the celestial equator...
in
Canada
Canada
Canada is a North American country consisting of ten provinces and three territories. Located in the northern part of the continent, it extends from the Atlantic Ocean in the east to the Pacific Ocean in the west, and northward into the Arctic Ocean...
and the northernmost
USA
United States
The United States of America is a federal constitutional republic comprising fifty states and a federal district...
, and in northern
Eurasia
Eurasia
Eurasia is a continent or supercontinent comprising the traditional continents of Europe and Asia ; covering about 52,990,000 km2 or about 10.6% of the Earth's surface located primarily in the eastern and northern hemispheres...
. This species is
polytypic
Polytypic
In zoology, polytypic refers to a taxonomic unit with more than one subgroup at the next lower level.-See also:*Linnaean taxonomy*monotypic*monotypic habitat...
, with two
subspecies
Subspecies
Subspecies in biological classification, is either a taxonomic rank subordinate to species, ora taxonomic unit in that rank . A subspecies cannot be recognized in isolation: a species will either be recognized as having no subspecies at all or two or more, never just one...
.
Marsh Hawk
is a historical name for the American form.
It
migrates
Bird migration
Bird migration is the regular seasonal journey undertaken by many species of birds. Bird movements include those made in response to changes in food availability, habitat or weather. Sometimes, journeys are not termed "true migration" because they are irregular or in only one direction...
to more southerly areas in winter. Eurasian birds move to southern Europe and southern temperate Asia, and American breeders to the southernmost USA, Mexico, and
Central America
Central America
Central America is the central geographic region of the Americas. It is the southernmost, isthmian portion of the North American continent, which connects with South America on the southeast. When considered part of the unified continental model, it is considered a subcontinent...
. In the mildest regions, such as France,
Great Britain
Great Britain
Great Britain or Britain is an island situated to the northwest of Continental Europe. It is the ninth largest island in the world, and the largest European island, as well as the largest of the British Isles...
, and the southern US, Hen Harriers may be present all year, but the higher ground is largely deserted in winter.
Description
The Hen Harrier is 45–55 cm long with a 97–118 cm wingspan. It resembles other
harriers
Harrier (bird)
A harrier is any of the several species of diurnal hawks forming the Circinae sub-family of the Accipitridae family of birds of prey. Harriers characteristically hunt by flying low over open ground, feeding on small mammals, reptiles, or birds....
in having distinct male and female plumages. The sexes also differ in weight, with males weighing an average of 350 g and females an average of 530 g.
The male of the nominate race,
C. c. cyaneus
(Linnaeus, 1766), breeds in Europe and Asia, is mainly grey above and white below except for the upper breast, which is grey like the upperparts, and the rump, which is white; the wings are grey with black wingtips. The female is brown above with white upper tail coverts, hence females, and the similar juveniles, are often called "ringtails". Their underparts are buff streaked with brown.
The female gives a whistled
piih-eh
when receiving food from the male, and her alarm call is
chit-it-it-it-it-et-it
. The male calls
chek-chek-chek
, with a more bouncing
chuk-uk-uk-uk
during his display flight
Northern Harrier
C. c. hudsonius
(Linnaeus, 1766), the Northern Harrier, breeds in North America and is sometimes considered a distinct species
C. hudsonius
. The male's plumage is darker grey than that of
C. c. cyaneus
and the female is also darker and more rufous in colour.
Behaviour
This medium-sized
raptor
Bird of prey
Birds of prey are birds that hunt for food primarily on the wing, using their keen senses, especially vision. They are defined as birds that primarily hunt vertebrates, including other birds. Their talons and beaks tend to be relatively large, powerful and adapted for tearing and/or piercing flesh....
breeds on
moorland
Moorland
Moorland or moor is a type of habitat, in the temperate grasslands, savannas, and shrublands biome, found in upland areas, characterised by low-growing vegetation on acidic soils and heavy fog...
,
bog
Bog
A bog, quagmire or mire is a wetland that accumulates acidic peat, a deposit of dead plant material—often mosses or, in Arctic climates, lichens....
s and (in Europe)
farm
Farm
A farm is an area of land, or, for aquaculture, lake, river or sea, including various structures, devoted primarily to the practice of producing and managing food , fibres and, increasingly, fuel. It is the basic production facility in food production. Farms may be owned and operated by a single...
land. The nest is on the ground. Four to six whitish
eggs
Egg (biology)
An egg is an organic vessel in which an embryo first begins to develop. In most birds, reptiles, insects, molluscs, fish, and monotremes, an egg is the zygote, resulting from fertilization of the ovum, which is expelled from the body and permitted to develop outside the body until the developing...
are laid.
In winter, the Hen Harrier is a bird of open country, and will then roost communally, often with
Merlins
Merlin (bird)
The Merlin is a small species of falcon from the Northern Hemisphere. A bird of prey once known colloquially as a pigeon hawk in North America, the Merlin breeds in the northern Holarctic; some migrate to subtropical and northern tropical regions in winter.-European and North American...
and
Marsh Harrier
Marsh harrier
The marsh harriers are birds of prey of the harrier subfamily. They are medium-sized raptors and the largest and broadest-winged harriers. Most of them are associated with marshland and dense reedbeds...
s. There is now an accepted record of
transatlantic vagrancy
Vagrancy (biology)
Vagrancy is a phenomenon in biology whereby individual animals appear well outside their normal range; individual animals which exhibit vagrancy are known as vagrants. The term accidental is sometimes also used...
by the American subspecies, with a juvenile being recorded in Scilly,
Great Britain
Great Britain
Great Britain or Britain is an island situated to the northwest of Continental Europe. It is the ninth largest island in the world, and the largest European island, as well as the largest of the British Isles...
from October 1982 to June 1983.
This is a typical harrier, with long wings held in a shallow V in its low, contour-hugging, flight. Hen Harriers hunt small
mammal
Mammal
Mammals are members of a class of air-breathing vertebrate animals characterised by the possession of endothermy, hair, three middle ear bones, and mammary glands functional in mothers with young...
s and
bird
Bird
Birds are feathered, winged, bipedal, endothermic , egg-laying, vertebrate animals. Around 10,000 living species and 188 families makes them the most speciose class of tetrapod vertebrates. They inhabit ecosystems across the globe, from the Arctic to the Antarctic. Extant birds range in size from...
s, surprising them as they drift low over fields and moors. This harrier tend to be a very vocal bird while it glides over its hunting ground.
Status
This species has a large range, with an estimated global extent 1–20 million km², and a population estimated at 1.3 million individuals. There is evidence of a population decline, but the species is not believed to approach the thresholds for the population decline criterion of the
IUCN Red List
IUCN Red List
The IUCN Red List of Threatened Species , founded in 1963, is the world's most comprehensive inventory of the global conservation status of biological species. The International Union for Conservation of Nature is the world's main authority on the conservation status of species...
(i.e., declining more than 30% in ten years or three generations). It is therefore classified as "least concern".
Problems in the United Kingdom
In the
UK
United Kingdom
The United Kingdom of Great Britain and Northern IrelandIn the United Kingdom and Dependencies, other languages have been officially recognised as legitimate autochthonous languages under the European Charter for Regional or Minority Languages...
, the Hen Harrier suffers illegal persecution by
gamekeeper
Gamekeeper
A gamekeeper is a person who manages an area of countryside to make sure there is enough game for shooting, or fish for angling, and who actively manages areas of woodland, moorland, waterway or farmland for the benefit of game birds, deer, fish and wildlife in general.Typically, a gamekeeper is...
s and their employers on shooting estates, particularly those managed for
Red Grouse
Red grouse
The Red Grouse is a medium sized bird of the grouse family which is found in heather moorland in Great Britain and Ireland. It is usually classified as a subspecies of the Willow Grouse but is sometimes considered to be a separate species Lagopus scoticus...
shooting, resulting in local and regional extinction in many areas, particularly in England where only 20 pairs survive despite abundant suitable habitat capable of holding several hundred pairs. Because of this they are now very rare in many parts of the UK, and under threat in many more areas.
This problem received a high profile in October 2007 when police investigating the killing of two Hen Harriers on the
Queen
Elizabeth II of the United Kingdom
Elizabeth II is the constitutional monarch of 16 sovereign states known as the Commonwealth realms: the United Kingdom, Canada, Australia, New Zealand, Jamaica, Barbados, the Bahamas, Grenada, Papua New Guinea, the Solomon Islands, Tuvalu, Saint Lucia, Saint Vincent and the Grenadines, Belize,...
's estate at
Sandringham
Sandringham House
Sandringham House is a country house on of land near the village of Sandringham in Norfolk, England. The house is privately owned by the British Royal Family and is located on the royal Sandringham Estate, which lies within the Norfolk Coast Area of Outstanding Natural Beauty.-History and current...
in
Norfolk
Norfolk
Norfolk is a low-lying county in the East of England. It has borders with Lincolnshire to the west, Cambridgeshire to the west and southwest and Suffolk to the south. Its northern and eastern boundaries are the North Sea coast and to the north-west the county is bordered by The Wash. The county...
interviewed Prince Harry and a friend during their investigation. No charges were brought as police were unable to obtain sufficient evidence to prosecute.
Since the assumed threat to Red Grouse is the main reason for the persecution of this species in the UK, a project funded by
Scottish Natural Heritage
Scottish Natural Heritage
Scottish Natural Heritage is a Scottish public body. It is responsible for Scotland's natural heritage, especially its natural, genetic and scenic diversity. It advises the Scottish Government and acts as a government agent in the delivery of conservation designations, i.e...
, the
Game & Wildlife Conservation Trust
Game & Wildlife Conservation Trust
The Game & Wildlife Conservation Trust is a British charitable organisation, principally associated with the shooting industry, promoting game and wildlife management as an essential part of nature conservation...
, the RSPB and
Natural England
Natural England
Natural England is the non-departmental public body of the UK government responsible for ensuring that England's natural environment, including its land, flora and fauna, freshwater and marine environments, geology and soils, are protected and improved...
was launched at Langholm Moor in Scotland from 2007. The Langholm Moor Demonstration Project (LMDP), a 10-year investigation, costing £3 million, is intended to see whether grouse and raptors can live side-by-side harmoniously.
A similar project, the Joint Raptor Study (also referred to as the 'JRS' or 'the Langholm Study') was run on Langholm from 1992 to 1997. The study made many findings and a host of peer reviewed papers were published on the work, in addition to the final report. Among the most often quoted findings were that long term declines in red grouse populations were "extremely unlikely" to be due to raptor predation and were attributed to habitat degradation/loss, and that raptor predation was the most likely explanation for the failure of grouse stocks to recover at Langholm once the population had fallen to a low level. The project ended in 1997, although a follow up supplementary feeding trial was run by the same team in 1998 and 1999. Grouse shooting on the moor was abandoned for the 1998 season onwards.
Forestry and Hen Harriers
The Hen Harrier is a bird of open habitats such as heather moorland and extensive agriculture. However, much of its range, particularly in Ireland and parts of western Britain, has been (and continues to be) afforested, predominantly with non-native conifers such as Sitka Spruce (Picea sitchensis) from North America (Barton et al. 2006, Fielding et al. 2009). Hen Harriers nest and forage in commercial forestry when it is young, before the canopy closes (typically at between 9–12 and years old), but do not make much use of thicket and subsequent growth stages (Madders 2000, O'Donoghue 2004), which typically comprise between two thirds and three quarters of the commercial growth cycle. Where forests replace habitats that were used by Hen Harriers they will therefore tend to reduce overall habitat availability (O'Flynn, 1983). However, where afforestation takes place in areas that were previously underutilised by Hen Harriers, it may increase the value of such areas to this species in the long-term (Wilson et al. 2009, Haworth & Fielding 2009). Areas dominated by forestry may remain suitable to Hen Harriers provided that a mosaic of age classes is maintained within the forest, such that areas of young, pre-thicket forest are always available.
External links