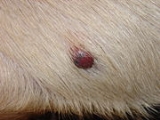 Hemangiosarcoma
Hemangiosarcoma
is a rare, rapidly growing, highly invasive variety of
cancer
Cancer
Cancer , known medically as a malignant neoplasm, is a large group of different diseases, all involving unregulated cell growth. In cancer, cells divide and grow uncontrollably, forming malignant tumors, and invade nearby parts of the body. The cancer may also spread to more distant parts of the...
. It is a
sarcoma
Sarcoma
A sarcoma is a cancer that arises from transformed cells in one of a number of tissues that develop from embryonic mesoderm. Thus, sarcomas include tumors of bone, cartilage, fat, muscle, vascular, and hematopoietic tissues...
arising from the lining of blood vessels; that is, blood-filled channels and spaces are commonly observed microscopically. A frequent cause of death is the rupturing of this tumor, causing the patient to rapidly bleed to death.
The term
angiosarcoma
Angiosarcoma
Angiosarcoma is a malignant neoplasm of endothelial-type cells that line vessel walls. This may be in reference to blood or lymphatic vessels ....
, when used without modifier, usually refers to hemangiosarcoma. However,
glomangiosarcoma
Glomangiosarcoma
Glomangiosarcoma is a low grade tumor of the soft tissue. They rarely metastasize, but metastases are possible. It is also known as "malignant glomus tumor". Positive staining for vimentin has been reported....
(8710/3) and
lymphangiosarcoma
Lymphangiosarcoma
Lymphangiosarcoma is a rare malignant tumor which occurs in long-standing cases of primary or secondary lymphedema. It involves either the upper or lower lymphedemateous extremities but is most common in upper extremities.-Signs and Symptoms:...
(9170/3) are distinct conditions. Hemangiosarcomas are commonly associated with toxic exposure to
thorium dioxide
Thorium dioxide
Thorium dioxide , also called thorium oxide is a white, crystalline powder. It was formerly known as thoria or thorina. It is produced mainly as a by-product of lanthanide and uranium production.[1]...
(Thorotrast),
vinyl chloride
Vinyl chloride
Vinyl chloride is the organochloride with the formula H2C:CHCl. It is also called vinyl chloride monomer, VCM or chloroethene. This colorless compound is an important industrial chemical chiefly used to produce the polymer polyvinyl chloride . At ambient pressure and temperature, vinyl chloride...
, and
arsenic
Arsenic
Arsenic is a chemical element with the symbol As, atomic number 33 and relative atomic mass 74.92. Arsenic occurs in many minerals, usually in conjunction with sulfur and metals, and also as a pure elemental crystal. It was first documented by Albertus Magnus in 1250.Arsenic is a metalloid...
.
Stewart-Treves syndrome
Stewart-Treves syndrome
Stewart-Treves syndrome refers to an angiosarcoma arising from chronic lymphedema . It typically occurs as a complication of long-lasting lymphedema of the arm after mastectomy and/or radiotherapy for breast cancer. It can rarely occur on the leg...
is a form of hemangiosarcoma due to
lymphedema
Lymphedema
Lymphedema , also known as lymphatic obstruction, is a condition of localized fluid retention and tissue swelling caused by a compromised lymphatic system....
, usually following
mastectomy
Mastectomy
Mastectomy is the medical term for the surgical removal of one or both breasts, partially or completely. Mastectomy is usually done to treat breast cancer; in some cases, women and some men believed to be at high risk of breast cancer have the operation prophylactically, that is, to prevent cancer...
and radiotherapy for
breast cancer
Breast cancer
Breast cancer is cancer originating from breast tissue, most commonly from the inner lining of milk ducts or the lobules that supply the ducts with milk. Cancers originating from ducts are known as ductal carcinomas; those originating from lobules are known as lobular carcinomas...
.
Hemangiosarcoma in dogs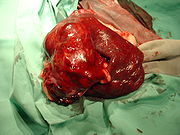 Hemangiosarcoma is quite common in
dog
Dog
The domestic dog is a domesticated form of the gray wolf, a member of the Canidae family of the order Carnivora. The term is used for both feral and pet varieties. The dog may have been the first animal to be domesticated, and has been the most widely kept working, hunting, and companion animal in...
s, and more so in certain breeds of dogs including German Shepherds and
Golden Retriever
Golden Retriever
The Golden Retriever is a medium-sized breed of dog. They were historically developed as gundogs to retrieve shot waterfowl such as ducks and upland game birds during hunting and shooting parties. As such, they were bred to have a soft mouth to retrieve game undamaged and have an instinctive love...
s. It also occurs in cats, but is much rarer. Dogs with hemangiosarcoma rarely show clinical signs until the tumor has become very large and has metastasized. Typically, clinical signs are due to hypovolemia after the tumor ruptures, causing extensive bleeding. Owners of the affected dogs often discover that the dog has hemangiosarcoma only after the dog collapses.
The tumor most often appears on the
spleen
Spleen
The spleen is an organ found in virtually all vertebrate animals with important roles in regard to red blood cells and the immune system. In humans, it is located in the left upper quadrant of the abdomen. It removes old red blood cells and holds a reserve of blood in case of hemorrhagic shock...
, right
heart
Heart
The heart is a myogenic muscular organ found in all animals with a circulatory system , that is responsible for pumping blood throughout the blood vessels by repeated, rhythmic contractions...
base, or
liver
Liver
The liver is a vital organ present in vertebrates and some other animals. It has a wide range of functions, including detoxification, protein synthesis, and production of biochemicals necessary for digestion...
, although varieties also appear on or under the skin or in other locations. It is the most common tumor of the heart, and occurs in the
right atrium
Right atrium
The right atrium is one of four chambers in the hearts of mammals and archosaurs...
. Here it can cause right-sided heart failure, arrhythmias,
pericardial effusion
Pericardial effusion
Pericardial effusion is an abnormal accumulation of fluid in the pericardial cavity. Because of the limited amount of space in the pericardial cavity, fluid accumulation will lead to an increased intrapericardial pressure and this can negatively affect heart function...
, and
cardiac tamponade
Cardiac tamponade
Cardiac tamponade, also known as pericardial tamponade, is an emergency condition in which fluid accumulates in the pericardium ....
. Hemangiosarcoma of the spleen or
liver
Liver
The liver is a vital organ present in vertebrates and some other animals. It has a wide range of functions, including detoxification, protein synthesis, and production of biochemicals necessary for digestion...
is the most common tumor to cause hemorrhage in the
abdomen
Abdomen
In vertebrates such as mammals the abdomen constitutes the part of the body between the thorax and pelvis. The region enclosed by the abdomen is termed the abdominal cavity...
. Hemangiosarcoma of the
skin
Skin
-Dermis:The dermis is the layer of skin beneath the epidermis that consists of connective tissue and cushions the body from stress and strain. The dermis is tightly connected to the epidermis by a basement membrane. It also harbors many Mechanoreceptors that provide the sense of touch and heat...
usually appears as a small red or bluish-black lump. It can also occur under the skin. It is suspected that in the skin, hemangiosarcoma is caused by
sun
Sunlight
Sunlight, in the broad sense, is the total frequency spectrum of electromagnetic radiation given off by the Sun. On Earth, sunlight is filtered through the Earth's atmosphere, and solar radiation is obvious as daylight when the Sun is above the horizon.When the direct solar radiation is not blocked...
exposure. Occasionally, hemangiosarcoma of the skin can be a metastasis from visceral hemangiosarcoma. Other sites the tumor may occur include
bone
Bone
Bones are rigid organs that constitute part of the endoskeleton of vertebrates. They support, and protect the various organs of the body, produce red and white blood cells and store minerals. Bone tissue is a type of dense connective tissue...
, the
kidney
Kidney
The kidneys, organs with several functions, serve essential regulatory roles in most animals, including vertebrates and some invertebrates. They are essential in the urinary system and also serve homeostatic functions such as the regulation of electrolytes, maintenance of acid–base balance, and...
, the
bladder
Urinary bladder
The urinary bladder is the organ that collects urine excreted by the kidneys before disposal by urination. A hollow muscular, and distensible organ, the bladder sits on the pelvic floor...
,
muscle
Muscle
Muscle is a contractile tissue of animals and is derived from the mesodermal layer of embryonic germ cells. Muscle cells contain contractile filaments that move past each other and change the size of the cell. They are classified as skeletal, cardiac, or smooth muscles. Their function is to...
, the
mouth
Mouth
The mouth is the first portion of the alimentary canal that receives food andsaliva. The oral mucosa is the mucous membrane epithelium lining the inside of the mouth....
, and the
central nervous system
Central nervous system
The central nervous system is the part of the nervous system that integrates the information that it receives from, and coordinates the activity of, all parts of the bodies of bilaterian animals—that is, all multicellular animals except sponges and radially symmetric animals such as jellyfish...
.
Clinical features
Presenting complaints and clinical signs are usually related to the site of origin of the primary tumor or to the presence of metastases, spontaneous tumor rupture, coagulopathies, or cardiac arrhythmias. More than 50% of patients are presented because of acute collapse after spontaneous rupture of the primary tumor or its metastases. Some episodes of collapse are a result of ventricular arrhythmias, which are relatively common in dogs with splenic or cardiac HSA.
Most common clinical signs of visceral hemangiosarcoma include loss of appetite, arrhythmias, weight loss, weakness, lethargy, collapse, pale mucous membranes, and/or sudden death. An enlarged abdomen is often seen due to hemorrhage. Metastasis is most commonly to the liver,
omentum
Omentum
Omentum may refer to:* greater omentum* lesser omentum...
,
lung
Lung
The lung is the essential respiration organ in many air-breathing animals, including most tetrapods, a few fish and a few snails. In mammals and the more complex life forms, the two lungs are located near the backbone on either side of the heart...
s, or
brain
Brain
The brain is the center of the nervous system in all vertebrate and most invertebrate animals—only a few primitive invertebrates such as sponges, jellyfish, sea squirts and starfishes do not have one. It is located in the head, usually close to primary sensory apparatus such as vision, hearing,...
.
A retrospective study published in 1999 by Ware, et al, found a five times greater risk of cardiac hemangiosarcoma in spayed vs. intact female dogs and a 2.4 times greater risk of hemangiosarcoma in neutered dogs as compared to intact males.
Clinicopathologic findings
Hemangiosarcoma can cause
anemia
Anemia
Anemia is a decrease in number of red blood cells or less than the normal quantity of hemoglobin in the blood. However, it can include decreased oxygen-binding ability of each hemoglobin molecule due to deformity or lack in numerical development as in some other types of hemoglobin...
, thrombocytopenia (low
platelet
Platelet
Platelets, or thrombocytes , are small,irregularly shaped clear cell fragments , 2–3 µm in diameter, which are derived from fragmentation of precursor megakaryocytes. The average lifespan of a platelet is normally just 5 to 9 days...
count), and
disseminated intravascular coagulation
Disseminated intravascular coagulation
Disseminated intravascular coagulation , also known as disseminated intravascular coagulopathy or consumptive coagulopathy, is a pathological activation of coagulation mechanisms that happens in response to a variety of diseases. DIC leads to the formation of small blood clots inside the blood...
(DIC).
HSAs usually cause a wide variety of hematologic and hemostatic abnormalities, including anemia; thrombocytopenia; presence of nRBC, schistocytes, and acanthocytes in the blood smear; and leukocytosis with neutrophilia, left shift, and monocytosis.
A definitive diagnosis requires biopsy and histopathology.
Treatments
Treatment includes
chemotherapy
Chemotherapy
Chemotherapy is the treatment of cancer with an antineoplastic drug or with a combination of such drugs into a standardized treatment regimen....
and, where practical, removal of the tumor with the affected organ, such as with a
splenectomy
Splenectomy
A splenectomy is a surgical procedure that partially or completely removes the spleen.-Indications:The spleen, similar in structure to a large lymph node, acts as a blood filter. Current knowledge of its purpose includes the removal of old red blood cells and platelets, and the detection and fight...
. Splenectomy alone gives an average survival time of 1–3 months. The addition of
chemotherapy
Chemotherapy
Chemotherapy is the treatment of cancer with an antineoplastic drug or with a combination of such drugs into a standardized treatment regimen....
, primarily consisting of the drug
doxorubicin
Doxorubicin
Doxorubicin INN is a drug used in cancer chemotherapy. It is an anthracycline antibiotic, closely related to the natural product daunomycin, and like all anthracyclines, it works by intercalating DNA....
, alone or in combination with other drugs, can increase the average survival time to 5–7 months.
Visceral hemangiosarcoma is usually fatal even with treatment, and usually within weeks or, at best, months. In the skin, it can be cured in most cases with complete surgical removal as long as there is not visceral involvement.
External links