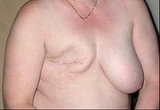 Mastectomy
Mastectomy
is the medical term for the surgical removal of one or both
breast
Breast
The breast is the upper ventral region of the torso of a primate, in left and right sides, which in a female contains the mammary gland that secretes milk used to feed infants.Both men and women develop breasts from the same embryological tissues...
s, partially or completely. Mastectomy is usually done to treat
breast cancer
Breast cancer
Breast cancer is cancer originating from breast tissue, most commonly from the inner lining of milk ducts or the lobules that supply the ducts with milk. Cancers originating from ducts are known as ductal carcinomas; those originating from lobules are known as lobular carcinomas...
; in some cases, women and some men believed to be at high risk of breast cancer have the operation prophylactically, that is, to prevent cancer rather than treat it. It is also the medical procedure carried out to remove breast cancer tissue in males. Alternatively, certain patients can choose to have a
wide local excision
Wide local excision
A wide local excision is a surgical procedure to remove a small area of diseased or problematic tissue with a margin of normal tissue. This procedure is commonly performed on the breast and to skin lesions, but can be used on any area of the body....
, also known as a
lumpectomy
Lumpectomy
Lumpectomy is a common surgical procedure designed to remove a discrete lump, usually a benign tumor or breast cancer, from an affected man or woman's breast...
, an operation in which a small volume of breast tissue containing the
tumor
Tumor
A tumor or tumour is commonly used as a synonym for a neoplasm that appears enlarged in size. Tumor is not synonymous with cancer...
and some surrounding healthy tissue is removed to conserve the breast. Both mastectomy and lumpectomy are what are referred to as "local therapies" for breast cancer, targeting the area of the tumor, as opposed to systemic therapies such as
chemotherapy
Chemotherapy
Chemotherapy is the treatment of cancer with an antineoplastic drug or with a combination of such drugs into a standardized treatment regimen....
, hormonal therapy, or immunotherapy.
Traditionally, in the case of breast cancer, the whole breast was removed. Currently the decision to do the mastectomy is based on various factors including breast size, number of lesions, biologic aggressiveness of a breast cancer, the availability of adjuvant radiation, and the willingness of the patient to accept higher rates of tumor recurrences after lumpectomy and radiation. Outcome studies comparing mastectomy to lumpectomy with radiation have suggested that routine radical mastectomy surgeries will not always prevent later distant secondary tumors arising from micro-metastases prior to discovery, diagnosis, and operation.
Rates
Mastectomy rates vary tremendously worldwide, as was documented by the 2004 'Intergroup
Exemestane
Exemestane
Exemestane is a drug used to treat breast cancer. It is a member of the class of drugs known as aromatase inhibitors. Some breast cancers require estrogen to grow. Those cancers have estrogen receptors , and are called ER-positive. They may also be called estrogen-responsive,...
Study', an analysis of surgical techniques used in an international trial of adjuvant treatment among 4,700 women with early breast cancer in 37 countries. The mastectomy rate was highest in central and eastern Europe at 77%. The USA had the second highest rate of mastectomy with 56%, western and northern Europe averaged 46%, southern Europe 42% and Australia and New Zealand 34%.
Indications
Despite the increased ability to offer breast-conservation techniques to patients with breast cancer, there exist certain groups who may be better served by traditional mastectomy procedures including:
Types
There are a variety of types of mastectomy in use, and the type that a patient decides to undergo (or whether he or she will decide instead to have a lumpectomy) depends on factors such as size, location, and behavior of the tumor (if there is one), whether or not the surgery is prophylactic, and whether or not the patient intends to undergo reconstructive surgery.
History
Mastectomy for breast cancer was performed at least as early as 548 AD, when it was proposed by the court physician Aëtius of Amida to Theodora. She declined the surgery, and died a few months later.
See also
External links