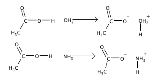 Acid
An
acid
is a substance which reacts with a
base
Base (chemistry)
For the term in genetics, see base A base in chemistry is a substance that can accept hydrogen ions or more generally, donate electron pairs. A soluble base is referred to as an alkali if it contains and releases hydroxide ions quantitatively...
. Commonly, acids can be identified as tasting sour, reacting with metals such as
calcium
Calcium
Calcium is the chemical element with the symbol Ca and atomic number 20. It has an atomic mass of 40.078 amu. Calcium is a soft gray alkaline earth metal, and is the fifth-most-abundant element by mass in the Earth's crust...
, and bases like
sodium carbonate
Sodium carbonate
Sodium carbonate , Na2CO3 is a sodium salt of carbonic acid. It most commonly occurs as a crystalline heptahydrate, which readily effloresces to form a white powder, the monohydrate. Sodium carbonate is domestically well-known for its everyday use as a water softener. It can be extracted from the...
. Aqueous acids have a
pH
PH
In chemistry, pH is a measure of the acidity or basicity of an aqueous solution. Pure water is said to be neutral, with a pH close to 7.0 at . Solutions with a pH less than 7 are said to be acidic and solutions with a pH greater than 7 are basic or alkaline...
of less than 7, where an acid of lower pH is typically stronger, and turn blue
litmus paper
Litmus
Litmus or litmus test may refer to:* Litmus test, a common pH test* Litmus , a test case management tool maintained by Mozilla* "Litmus" , an episode in the first season of the television series...
red. Chemicals or substances having the property of an acid are said to be
acidic
.
Common examples of acids include
acetic acid
Acetic acid
Acetic acid is an organic compound with the chemical formula CH3CO2H . It is a colourless liquid that when undiluted is also called glacial acetic acid. Acetic acid is the main component of vinegar , and has a distinctive sour taste and pungent smell...
(in
vinegar
Vinegar
Vinegar is a liquid substance consisting mainly of acetic acid and water, the acetic acid being produced through the fermentation of ethanol by acetic acid bacteria. Commercial vinegar is produced either by fast or slow fermentation processes. Slow methods generally are used with traditional...
),
sulfuric acid
Sulfuric acid
Sulfuric acid is a strong mineral acid with the molecular formula . Its historical name is oil of vitriol. Pure sulfuric acid is a highly corrosive, colorless, viscous liquid. The salts of sulfuric acid are called sulfates...
(used in
car batteries
Car battery
An automotive battery is a type of rechargeable battery that supplies electric energy to an automobile. Usually this refers to an SLI battery to power the starter motor, the lights, and the ignition system of a vehicle's engine...
), and
tartaric acid
Tartaric acid
Tartaric acid is a white crystalline diprotic organic acid. It occurs naturally in many plants, particularly grapes, bananas, and tamarinds; is commonly combined with baking soda to function as a leavening agent in recipes, and is one of the main acids found in wine. It is added to other foods to...
(used in baking).