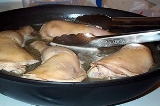 Poaching (cooking)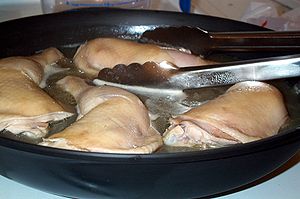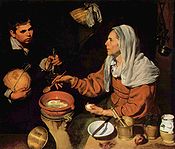 Poaching
is the process of gently
simmering
Simmering
Simmering is a food preparation technique in which foods are cooked in hot liquids kept at or just below the boiling point of water , but higher than poaching temperature...
food in liquid, generally
milk
Milk
Milk is a white liquid produced by the mammary glands of mammals. It is the primary source of nutrition for young mammals before they are able to digest other types of food. Early-lactation milk contains colostrum, which carries the mother's antibodies to the baby and can reduce the risk of many...
,
stock
Stock (food)
Stock is a flavoured water preparation. It forms the basis of many dishes, particularly soups and sauces.- Preparation :Stock is made by simmering various ingredients in water, including some or all of the following...
or
wine
Wine
Wine is an alcoholic beverage, made of fermented fruit juice, usually from grapes. The natural chemical balance of grapes lets them ferment without the addition of sugars, acids, enzymes, or other nutrients. Grape wine is produced by fermenting crushed grapes using various types of yeast. Yeast...
.
Utilization
Poaching is particularly suitable for delicate food, such as
eggs
Egg (food)
Eggs are laid by females of many different species, including birds, reptiles, amphibians, and fish, and have probably been eaten by mankind for millennia. Bird and reptile eggs consist of a protective eggshell, albumen , and vitellus , contained within various thin membranes...
,
poultry
Poultry
Poultry are domesticated birds kept by humans for the purpose of producing eggs, meat, and/or feathers. These most typically are members of the superorder Galloanserae , especially the order Galliformes and the family Anatidae , commonly known as "waterfowl"...
,
fish
Fish
Fish are a paraphyletic group of organisms that consist of all gill-bearing aquatic vertebrate animals that lack limbs with digits. Included in this definition are the living hagfish, lampreys, and cartilaginous and bony fish, as well as various extinct related groups...
and
fruit
Fruit
In broad terms, a fruit is a structure of a plant that contains its seeds.The term has different meanings dependent on context. In non-technical usage, such as food preparation, fruit normally means the fleshy seed-associated structures of certain plants that are sweet and edible in the raw state,...
, which might easily fall apart or dry out. For this reason, it is important to keep the heat low and to keep the poaching time to a bare minimum, which will also preserve the flavor of the food.
Poaching liquid
The poaching liquid is called court bouillon and a classical court bouillon consists of an acid (wine, lemon juice) and aromatics (
bouquet garni
Bouquet garni
The bouquet garni is a bundle of herbs usually tied together with string and mainly used to prepare soup, stock, and various stews. The bouquet is cooked with the other ingredients, but is removed prior to consumption....
and
mirepoix
Mirepoix (cuisine)
A mirepoix is a combination of celery , onions, and carrots. Mirepoix, either raw, roasted or sautéed with butter, is the flavor base for a wide number of dishes, such as stocks, soups, stews and sauces...
). The liquid should ideally be around 160–185 °F (71.1–85 C), but when poaching chicken, it is vital that the chicken reach an internal temperature of at least 165 °F (73.9 °C) in the core, in order to be ingested safely.
Typical Preparation
Poached egg
Poached egg
A poached egg is an egg that has been cooked by poaching, that is, in water.-Preparation:The egg is cracked into a bowl of any size, and then gently slid into a pan of simmering water and cooked until the egg white has mostly solidified, but the yolk remains soft...
s are generally cooked in water and vinegar, fish in white wine, poultry in stock and fruit in red wine. Typically an egg is poached just to the point where the white is no longer runny and the yolk is beginning to harden around the edges.
External links