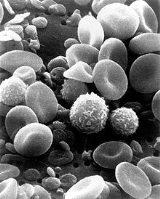 White blood cell
White blood cells
, or
leukocytes
(also spelled "leucocytes",
leuco-
Ancient Greek
Ancient Greek
Ancient Greek is the stage of the Greek language in the periods spanning the times c. 9th–6th centuries BC, , c. 5th–4th centuries BC , and the c. 3rd century BC – 6th century AD of ancient Greece and the ancient world; being predated in the 2nd millennium BC by Mycenaean Greek...
"white"), are
cells
Cell (biology)
The cell is the basic structural and functional unit of all known living organisms. It is the smallest unit of life that is classified as a living thing, and is often called the building block of life. The Alberts text discusses how the "cellular building blocks" move to shape developing embryos....
of the
immune system
Immune system
An immune system is a system of biological structures and processes within an organism that protects against disease by identifying and killing pathogens and tumor cells. It detects a wide variety of agents, from viruses to parasitic worms, and needs to distinguish them from the organism's own...
involved in defending the body against both
infectious disease
Infectious disease
Infectious diseases, also known as communicable diseases, contagious diseases or transmissible diseases comprise clinically evident illness resulting from the infection, presence and growth of pathogenic biological agents in an individual host organism...
and foreign materials. Five different and diverse types of leukocytes exist, but they are all produced and derived from a multipotent cell in the
bone marrow
Bone marrow
Bone marrow is the flexible tissue found in the interior of bones. In humans, bone marrow in large bones produces new blood cells. On average, bone marrow constitutes 4% of the total body mass of humans; in adults weighing 65 kg , bone marrow accounts for approximately 2.6 kg...
known as a hematopoietic stem cell. They live for about 3 to 4 days in the average human body.