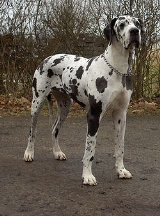 Great Dane
The
Great Dane
also known as
German Mastiff
or
Danish Hound
, is a
breed
Dog breed
Dog breeds are groups of closely related and visibly similar domestic dogs, which are all of the subspecies Canis lupus familiaris, having characteristic traits that are selected and maintained by humans, bred from a known foundation stock....
of domestic dog (
Canis lupus familiaris
) known for its giant size. The Great Dane is one of the world's tallest dog breeds; the current world record holder, measuring 109 cm (42.9 in) from paw to shoulder; 220 cm (7.2 ft) from head to tail, is
George
Giant George
Giant George is a blue Great Dane currently recognised as the world's tallest living dog, and the tallest dog ever by Guinness World Records. There were originally conflicting media reports regarding his height, but the official measurement showed that he was three quarters of an inch taller than...
.
Appearance
As described by the
American Kennel Club
American Kennel Club
The American Kennel Club is a registry of purebred dog pedigrees in the United States. Beyond maintaining its pedigree registry, this kennel club also promotes and sanctions events for purebred dogs, including the Westminster Kennel Club Dog Show, an annual event which predates the official...
, "
The Great Dane combines, in its regal appearance, dignity, strength and elegance with great size and a powerful, well-formed, smoothly muscled body. It is one of the giant working breeds, but is unique in that its general conformation must be so well balanced that it never appears clumsy, and shall move with a long reach and powerful drive.
"
The Great Dane is a short haired breed with a strong galloping figure. In the ratio between length and height, the Great Dane should be
square
Square (geometry)
In geometry, a square is a regular quadrilateral. This means that it has four equal sides and four equal angles...
. The male dog should not be less than 30 in (76.2 cm) at the shoulders, a female 28 in (71.1 cm). Danes under minimum height are disqualified.
From year to year, the tallest living dog is typically a Great Dane. Previous record holders include
Gibson
Gibson (Great Dane)
Gibson was a Harlequin Great Dane living in Grass Valley, California, United States recognized by the Guinness Book of World Records as the "World's Tallest Dog" in 2004, displacing "Harvey", the previous record holder....
and
Titan
Titan (dog)
Titan is an American male white Great Dane who is the previous holder of the Guinness World Record as the world's tallest dog. His official height is 107.3 cm from the floor to his shoulder. The previous holder was another Great Dane, Gibson who measured 107.2 cm , and died in August 2009...
, however the current record holder is a blue Great Dane named
Giant George
Giant George
Giant George is a blue Great Dane currently recognised as the world's tallest living dog, and the tallest dog ever by Guinness World Records. There were originally conflicting media reports regarding his height, but the official measurement showed that he was three quarters of an inch taller than...
who stands 43 in (109.2 cm) at the shoulder. He is also the tallest dog on record (according Guinness World Records), beating the previous holder who was a brindle Great Dane named Shamgret Danzas, who stood 42.5 in (108 cm) at the shoulder.
The minimum weight for a Great Dane over eighteen months is 120 lb (54.4 kg) for males, 100 lb (45.4 kg) for females. Unusually, the American Kennel Club dropped the minimum weight requirement from its standard. The male should appear more massive throughout than the female, with a larger frame and heavier bone.
Great Danes have naturally floppy, triangular ears. In the past, when Great Danes were commonly used to hunt boars, cropping of the ears was performed to make injuries to the dogs' ears less likely during hunts. Now that Danes are primarily
companion animals
Companion dog
Companion dog usually describes a dog that does not work, providing only companionship as a pet, rather than usefulness by doing specific tasks. Many of the toy dog breeds are used only for the pleasure of their company, not as workers...
, cropping is sometimes still done for traditional and cosmetic reasons. In the 1930s when Great Danes had their ears cropped, after the surgery two devices called
Easter Bonnets
were fitted to their ears to make them stand up. Today, the practice is common in the
United States
United States
The United States of America is a federal constitutional republic comprising fifty states and a federal district...
and much less common in
Europe
Europe
Europe is, by convention, one of the world's seven continents. Comprising the westernmost peninsula of Eurasia, Europe is generally 'divided' from Asia to its east by the watershed divides of the Ural and Caucasus Mountains, the Ural River, the Caspian and Black Seas, and the waterways connecting...
. In some European countries such as the
United Kingdom
United Kingdom
The United Kingdom of Great Britain and Northern IrelandIn the United Kingdom and Dependencies, other languages have been officially recognised as legitimate autochthonous languages under the European Charter for Regional or Minority Languages...
,
Ireland
Ireland
Ireland is an island to the northwest of continental Europe. It is the third-largest island in Europe and the twentieth-largest island on Earth...
,
Denmark
Denmark
Denmark is a Scandinavian country in Northern Europe. The countries of Denmark and Greenland, as well as the Faroe Islands, constitute the Kingdom of Denmark . It is the southernmost of the Nordic countries, southwest of Sweden and south of Norway, and bordered to the south by Germany. Denmark...
,
Germany
Germany
Germany , officially the Federal Republic of Germany , is a federal parliamentary republic in Europe. The country consists of 16 states while the capital and largest city is Berlin. Germany covers an area of 357,021 km2 and has a largely temperate seasonal climate...
, parts of
Australia
Australia
Australia , officially the Commonwealth of Australia, is a country in the Southern Hemisphere comprising the mainland of the Australian continent, the island of Tasmania, and numerous smaller islands in the Indian and Pacific Oceans. It is the world's sixth-largest country by total area...
, and in
New Zealand
New Zealand
New Zealand is an island country in the south-western Pacific Ocean comprising two main landmasses and numerous smaller islands. The country is situated some east of Australia across the Tasman Sea, and roughly south of the Pacific island nations of New Caledonia, Fiji, and Tonga...
, the practice is banned, or controlled to only be performed by
veterinary surgeons
Veterinarian
A veterinary physician, colloquially called a vet, shortened from veterinarian or veterinary surgeon , is a professional who treats disease, disorder and injury in animals....
.
Coat colors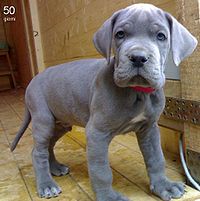 There are six show-acceptable
coat colors
Coat (dog)
The coat of the domestic dog refers to the hair that covers its body. A dog's coat may be a double coat, made up of a soft undercoat and a coarser topcoat, or a single coat, which lacks an undercoat...
for Great Danes:
Fawn

Fawn (colour)

Fawn is a light yellowish brown colour that is usually used in reference to a dog's coat colour.The first recorded use of fawn as a colour name in English was in 1789.-Fawn in animal breeds:Dog Breeds...


: The color is yellow gold with a black mask

Melanistic mask

A melanistic mask is a dog coat pattern that gives the appearance of a mask on the dog's face. The hairs on the muzzle, and sometimes entire face or ears, are colored by eumelanin instead of pheomelanin pigment. Eumelanin is typically black, but may instead be brown, dark gray, or light gray-brown...


. Black should appear on the eye rims and eyebrows, and may appear on the ears.
Brindle

Brindle

Brindle is a coat coloring pattern in animals, particularly dogs, cats, cattle, guinea pigs, crested geckos and, rarely, horses. It is sometimes described as "tiger striped", although the brindle pattern is more subtle than that of a tiger's coat...


: The color is fawn and black in a chevron stripe pattern. Often also they are referred to as having a tiger

Tiger

The tiger is the largest cat species, reaching a total body length of up to and weighing up to . Their most recognizable feature is a pattern of dark vertical stripes on reddish-orange fur with lighter underparts...


-stripe pattern.
Blue

Blue

Blue is a colour, the perception of which is evoked by light having a spectrum dominated by energy with a wavelength of roughly 440–490 nm. It is considered one of the additive primary colours. On the HSV Colour Wheel, the complement of blue is yellow; that is, a colour corresponding to an equal...


: The color is a pure steel blue. White markings at the chest and toes are not desirable and considered faults.
Black

Black

Black is the color of objects that do not emit or reflect light in any part of the visible spectrum; they absorb all such frequencies of light...


: The color is a glossy black. White markings at the chest and toes are not desirable and considered faults.
Harlequin: The base color is pure white with black torn patches irregularly and well distributed over the entire body; a pure white neck is preferred. The black patches should never be large enough to give the appearance of a blanket, nor so small as to give a stippled or dappled effect. Eligible, but less desirable, are a few small grey patches (this grey is consistent with a Merle marking) or a white base with single black hairs showing through, which tend to give a salt and pepper or dirty effect. (Have the same link to deafness and blindness as Merle and white danes.)
Mantle

Mantle

A mantle is an ecclesiastical garment in the form of a very full cape which extends to the floor, joined at the neck, that is worn over the outer garments....


(in some countries referred to as Bostons due to the similar coloration and pattern as a Boston Terrier

Boston Terrier

The Boston Terrier is a breed of dog originating in the United States of America. This "American Gentleman" was accepted in 1893 by the American Kennel Club as a non-sporting breed. Color and markings are important when distinguishing this breed to the AKC standard. They should be either black,...


): The color is black and white with a solid black blanket extending over the body; black skull with white muzzle; white blaze is optional; whole white collar preferred; a white chest; white on part or whole of forelegs and hind legs; white tipped black tail. A small white marking in the black blanket is acceptable, as is a break in the white collar
Other colors occur occasionally but are not acceptable for conformation showing, and they are not pursued by breeders who intend to breed show dogs. These colors include white, fawnequin, merle, merlequin, fawn mantle, and others. Some breeders may attempt to charge more for puppies of these "rare" colors. However, the breeding of white and merle Danes is particularly controversial, as these colors may be associated with genes that produce deafness. Although they cannot be shown, white or merle Danes can usually still be registered as pedigree dogs.
Temperament
The Great Dane's large and imposing appearance belies its friendly nature; the breed is often referred to as a gentle giant. Great Danes are generally well-disposed toward other dogs, other non-canine pets, and humans. They generally do not exhibit a high
prey drive
Prey drive
Prey drive is the instinctive inclination of a carnivore to pursue and capture prey.In dog training, prey drive can be used as an advantage because dogs with strong prey drive are also willing to pursue moving objects such as toys, which can then be used to encourage certain kinds of behavior, such...
. The Great Dane is a very gentle and loving animal with proper care and training. They are also very needy. Some may find them frightening because of their huge structure and loud bark, but they generally have no intention of harming people.
Exercise
Like most dogs, Great Danes require daily walks to remain healthy. However it is important not to over exercise this breed, particularly when young. Great Dane puppies grow very large, very fast, which puts them at risk of joint and bone problems. Because of a puppy's natural energy, Dane owners often take steps to minimize activity while the dog is still growing.
Given their large size, Great Danes continue to grow (mostly gaining weight) longer than most dogs. Even at one year of age a Great Dane will continue to grow for several more months.
Health
Great Danes, like most giant dogs, have a fairly slow
metabolism
Metabolism
Metabolism is the set of chemical reactions that happen in the cells of living organisms to sustain life. These processes allow organisms to grow and reproduce, maintain their structures, and respond to their environments. Metabolism is usually divided into two categories...
. This results in less energy and less food consumption per pound of dog than in small breeds. Great Danes have some health problems that are common to large breeds, including
gastric dilatation-volvulus (GDV)
Bloat
Bloat is a medical condition in which the stomach becomes overstretched by excessive gas content. It is also commonly referred to as torsion, gastric torsion, and gastric dilatation-volvulus when the stomach is also twisted. The word bloat is often used as a general term to cover gas distension...
(a painful distending and twisting of the stomach). This is a critical condition that can affect Great Danes and other deep-chested breeds, and which may cause death if not quickly addressed. Drinking large amounts of fluid in a short period of time can provoke GDV in Great Danes, as well as other larger breeds of dogs. It is a commonly recommended practice for Great Danes to have their stomachs tacked (
Gastropexy
Canine gastropexy
Canine gastropexy is a surgical procedure performed on large breed dogs to prevent "gastric dilatation", commonly known as torsion bloat. Torsion bloat is a life-threatening condition in which the stomach flips over and expands, trapping air and gases in the stomach...
) to the right abdominal wall if the dog or its relatives have a history of GDV, though some veterinary surgeons will not do the operation if the actual sickness has not occurred. Elevated food dishes are often believed to help prevent GDV by regulating the amount of air that is inhaled while eating, although one study suggests that they may increase the risk. Refraining from exercise or activity immediately before and after meals may also reduce risk, although this has not been validated with research. Signs that GDV may have occurred include, but are not limited to, visible distension (enlargement of the abdomen) and repeated retching that resembles repetitive non-productive attempts to vomit. GDV is a condition that is distinct from another condition referred to as bloat; though, bloat may precede the development of GDV. GDV is a surgical emergency; immediate veterinary evaluation should be sought if a dog demonstrates signs of this condition.
Breed clubs health surveys in the UK and US put the average life span of Great Danes at 6.5 to 7 years.
Dilated cardiomyopathy
Dilated cardiomyopathy
Dilated cardiomyopathy or DCM is a condition in which the heart becomes weakened and enlarged and cannot pump blood efficiently. The decreased heart function can affect the lungs, liver, and other body systems....
(DCM) and many congenital heart diseases are also commonly found in the Great Dane, leading to its
nickname
Nickname
A nickname is "a usually familiar or humorous but sometimes pointed or cruel name given to a person or place, as a supposedly appropriate replacement for or addition to the proper name.", or a name similar in origin and pronunciation from the original name....
of the Heartbreak breed, in conjunction with its shorter lifespan. Great Danes also suffer from several genetic disorders that are specific to the breed. For example, if a Great Dane lacks color (is white) near its eyes or ears then that organ may not develop and usually the dog will be either blind, deaf, or both.
History
According to Barbara Stein, "The breed originated in Germany, probably from a cross between the
English mastiff
English Mastiff
The English Mastiff, referred to by virtually all Kennel Clubs simply as the Mastiff, is a breed of large dog perhaps descended from the ancient Alaunt through the Pugnaces Britanniae. Distinguishable by enormous size, massive head, and a limited range of colors, but always displaying a black mask,...
and the
Irish Wolfhound
Irish Wolfhound
The Irish wolfhound is a breed of domestic dog , specifically a sighthound. The name originates from its purpose rather than from its appearance...
." However, other sources maintain that the breed originated in
Denmark
Denmark
Denmark is a Scandinavian country in Northern Europe. The countries of Denmark and Greenland, as well as the Faroe Islands, constitute the Kingdom of Denmark . It is the southernmost of the Nordic countries, southwest of Sweden and south of Norway, and bordered to the south by Germany. Denmark...
and still others report the question as controversial and unsettled. In 1749
Georges-Louis Leclerc, Comte de Buffon
Georges-Louis Leclerc, Comte de Buffon
Georges-Louis Leclerc, Comte de Buffon was a French naturalist, mathematician, cosmologist, and encyclopedic author.His works influenced the next two generations of naturalists, including Jean-Baptiste Lamarck and Georges Cuvier...
used the name "le Grand Danois," (translated by
William Smellie
William Smellie (encyclopedist)
William Smellie was a Scottish master printer, naturalist, antiquary, editor and encyclopedist. He was friends with Robert Burns, whose assessment is engraved on Smellie's tombstone: "Here lies a man who did honour to human nature"...
as "Great Dane"). Up until that time the hound was referred to in England as "Danish dog." According to Jacob Nicolay Wilse the Danes called the dog "large hound," a terminology continued well in to the 20th century. As late as in the 1780 Germany the hound is referred to as "Grosser Dänischer Jagdhund" (Large Danish Hunting Hound). At the first dog exhibition, held in
Hamburg
Hamburg
-History:The first historic name for the city was, according to Claudius Ptolemy's reports, Treva.But the city takes its modern name, Hamburg, from the first permanent building on the site, a castle whose construction was ordered by the Emperor Charlemagne in AD 808...
14–20 July 1863, eight dogs were called "Dänische Dogge" and seven "Ulmer Doggen."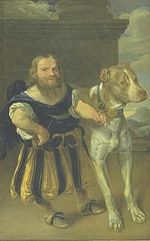 Great Danes in popular culture
The legendary Manchester United goalkeeper Peter Schmeichel

Peter Schmeichel

Peter Bolesław Schmeichel MBE is a retired Danish professional footballer who played as a goalkeeper, and was voted the "World's Best Goalkeeper" in 1992 and 1993...


had been nicknamed as "the Great Dane".
The Great Dane was named the state dog of Pennsylvania

Pennsylvania

The Commonwealth of Pennsylvania is a U.S. state that is located in the Northeastern and Mid-Atlantic regions of the United States. The state borders Delaware and Maryland to the south, West Virginia to the southwest, Ohio to the west, New York and Ontario, Canada, to the north, and New Jersey to...


in 1965.
Scooby-Doo

Scooby-Doo (character)

Scoobert "Scooby" Doo is the eponymous character and the protagonist in the Scooby-Doo animated television series created by the popular American animation company Hanna-Barbera...


, the famous Hanna-Barbera

Hanna-Barbera

Hanna-Barbera Productions, Inc. was an American animation studio that dominated North American television animation during the second half of the 20th century...


character, was based on a Great Dane by animation designer Iwao Takamoto

Iwao Takamoto

Iwao Takamoto was a Japanese-American animator, television producer, and film director. He was most famous as being a production and character designer for Hanna-Barbera Productions shows such as Scooby-Doo....


. Takamoto based his illustrations on sketches given to him by a Hanna-Barbera employee who bred this dog. Scooby closely resembles a Great Dane, although his tail is longer than the breed's, bearing closer resemblance to a cat's tail.
The athletic teams of the University at Albany

University at Albany, SUNY

The State University of New York at Albany, also known as University at Albany, State University of New York, SUNY Albany or simply UAlbany, is a public university located in Albany, Guilderland, and East Greenbush, New York, United States; is the senior campus of the State University of New York ...


have been known as the Great Danes

Albany Great Danes

The Albany Great Danes are the intercollegiate athletic programs of the University at Albany, SUNY. The University's intercollegiate athletics date back to the late 1890s, but its development was hampered for several decades by inadequate facilities, uncertain financial support, and the relatively...


since 1965. Damien The Great Dane has been the mascot since that time. In 2003, the school added Lil' D, a smaller Great Dane, to help Damien entertain the crowds.
In a recent study funded by investment billionaire Warren Buffet and conducted by ASPCA the most popular name for bitch (female) Great Danes is Adele.
Brutus in The Ugly Dachshund

The Ugly Dachshund

The Ugly Dachshund is a 1966 Walt Disney Productions feature film starring Dean Jones and Suzanne Pleshette in a story about a Great Dane who believes he's a dachshund. Based on a 1938 novel by Gladys Bronwyn Stern, the film was written by Albert Aley and directed by Norman Tokar...


, a Great Dane raised by a Dachshund mother.
Marmaduke

Marmaduke

Marmaduke is a newspaper comic strip drawn by Brad Anderson from 1954 to the present day. The strip was created by Anderson, with help from Phil Leeming and later Dorothy Leeming , and Paul Anderson. The strip revolves around the Winslow family and their Great Dane, Marmaduke...


is a newspaper comic strip drawn by Brad Anderson from 1954 to the present day. The strip revolves around the Winslow family and their Great Dane, Marmaduke.
Singer, the main but tragic hero of The Guardian

The Guardian (novel)

The Guardian is the 7th novel by American writer Nicholas Sparks.The book is a love story/thriller about a Great Dane named Singer and a widow named Julie trying to find a new life partner. Among those she considers are Mike, an old friend of hers, and Richard, a successful manager. The reader...


, a novel by Nicholas Sparks

Nicholas Sparks (author)

Nicholas Charles Sparks is an internationally-bestselling American novelist and screenwriter. He has 16 published novels, with thematic ideas that include cancer, death and love. Six have been adapted to film, including Message in a Bottle, A Walk to Remember, The Notebook, Nights in Rodanthe,...


.
Elmer

Elmer the Great Dane

Elmer the Great Dane is a Walter Lantz character in the Oswald the Lucky Rabbit cartoon series. The character's name is most likely a reference to Elmer, the Great, a 1933 film.-Concept:...


, a Great Dane in Oswald the Lucky Rabbit

Oswald the Lucky Rabbit

Oswald the Lucky Rabbit is an anthropomorphic rabbit and animated cartoon character created by Ub Iwerks and Walt Disney for films distributed by Universal Pictures in the 1920s and 1930s...


by Walter Lantz

Walter Lantz

Walter Benjamin Lantz was an American cartoonist, animator, film producer, and director, best known for founding Walter Lantz Productions and creating Woody Woodpecker.-Early years and start in animation:...



In each film version

Film adaptation

Film adaptation is the transfer of a written work to a feature film. It is a type of derivative work.A common form of film adaptation is the use of a novel as the basis of a feature film, but film adaptation includes the use of non-fiction , autobiography, comic book, scripture, plays, and even...


of Sir Arthur Conan Doyle

Arthur Conan Doyle

Sir Arthur Ignatius Conan Doyle DL was a Scottish physician and writer, most noted for his stories about the detective Sherlock Holmes, generally considered a milestone in the field of crime fiction, and for the adventures of Professor Challenger...


's "The Hound of the Baskervilles

The Hound of the Baskervilles

The Hound of the Baskervilles is the third of four crime novels by Sir Arthur Conan Doyle featuring the detective Sherlock Holmes. Originally serialised in The Strand Magazine from August 1901 to April 1902, it is set largely on Dartmoor in Devon in England's West Country and tells the story of an...


", a Great Dane was cast as the cursed hellhound

Hellhound

A hellhound is a supernatural dog, found in folklore. A wide variety of ominous or hellish supernatural dogs occur in mythologies around the world, similar to the ubiquitous dragon...


that kills the Baskerville family.
Danny from One Hundred and One Dalmatians

One Hundred and One Dalmatians

One Hundred and One Dalmatians, often abbreviated as 101 Dalmatians, is a 1961 American animated film produced by Walt Disney and based on the novel The Hundred and One Dalmatians by Dodie Smith...


and 101 Dalmatians II: Patch's London Adventure

101 Dalmatians II: Patch's London Adventure

101 Dalmatians II: Patch's London Adventure is a 2003 American direct-to-video animated film released by Walt Disney Home Entertainment on January 21, 2003. The film is the sequel to the 1961 Disney animated film One Hundred and One Dalmatians...


is a Great Dane.
Einstein from Oliver & Company

Oliver & Company

Oliver & Company is a 1988 American animated film in which a homeless kitten named Oliver joins a gang of dogs to survive on the 1980s New York City streets. The film was produced by Walt Disney Feature Animation and became the twenty-seventh animated feature released in the Walt Disney Animated...


is a Great Dane.
Tiger and Talbot from The Sword in the Stone

The Sword in the Stone

The Sword in the Stone is a novel by T. H. White, published in 1939, initially a stand-alone work but now the first part of a tetralogy The Once and Future King. A fantasy of the boyhood of King Arthur, it is a sui generis work which combines elements of legend, history, fantasy and comedy...


is a Great Dane.
Schmeichel from Coronation Street

Coronation Street

Coronation Street is a British soap opera set in Weatherfield, a fictional town in Greater Manchester based on Salford. Created by Tony Warren, Coronation Street was first broadcast on 9 December 1960...


is a Great Dane.
Ace the Bat-Hound, from the Batman Beyond cartoon, was depicted as a Great Dane mix.
Just Nuisance

Just Nuisance

Just Nuisance was the only dog ever to be officially enlisted in the Royal Navy. He was a Great Dane who from 1939-44 served at HMS Afrikander, a Royal Navy shore establishment in Simon's Town, South Africa...


a Great Dane who was the only dog to be officially enlisted in the Royal Navy. Done mainly as a morale booster for World War 2 enlisted troops, Nuisance proved to be a lasting legacy of the small Cape Town

Cape Town

Cape Town is the second-most populous city in South Africa, and the provincial capital and primate city of the Western Cape. As the seat of the National Parliament, it is also the legislative capital of the country. It forms part of the City of Cape Town metropolitan municipality...


suburn of Simons Town
External links