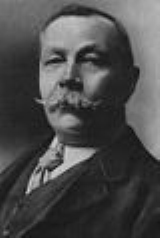 Arthur Conan Doyle
Sir Arthur Ignatius Conan Doyle
DL
Deputy Lieutenant
In the United Kingdom, a Deputy Lieutenant is one of several deputies to the Lord Lieutenant of a lieutenancy area; an English ceremonial county, Welsh preserved county, Scottish lieutenancy area, or Northern Irish county borough or county....
(22 May 1859 – 7 July 1930) was a Scottish physician and writer, most noted for his stories about the
detective
Detective fiction
Detective fiction is a sub-genre of crime fiction and mystery fiction in which an investigator , either professional or amateur, investigates a crime, often murder.-In ancient literature:...
Sherlock Holmes
Sherlock Holmes
Sherlock Holmes is a fictional detective created by Scottish author and physician Sir Arthur Conan Doyle. The fantastic London-based "consulting detective", Holmes is famous for his astute logical reasoning, his ability to take almost any disguise, and his use of forensic science skills to solve...
, generally considered a milestone in the field of
crime fiction
Crime fiction
Crime fiction is the literary genre that fictionalizes crimes, their detection, criminals and their motives. It is usually distinguished from mainstream fiction and other genres such as science fiction or historical fiction, but boundaries can be, and indeed are, blurred...
, and for the adventures of
Professor Challenger
Professor Challenger
George Edward Challenger, better known as Professor Challenger, is a fictional character in a series of science fiction stories by Sir Arthur Conan Doyle...
. He was a prolific writer whose other works include science fiction stories, plays, romances, poetry, non-fiction, historical novels and humours ('Exploits of Brigadier E.Gerard').
Arthur Conan Doyle was born the third of ten siblings on 22 May 1859 in
Edinburgh
Edinburgh
Edinburgh is the capital city of Scotland, the second largest city in Scotland, and the eighth most populous in the United Kingdom. The City of Edinburgh Council governs one of Scotland's 32 local government council areas. The council area includes urban Edinburgh and a rural area...
, Scotland.
The highest morality may prove also to be the highest wisdom when the half-told story comes to be finished.

The Boer War (1902)
I should dearly love that the world should be ever so little better for my presence. Even on this small stage we have our two sides, and something might be done by throwing all one's weight on the scale of breadth, tolerance, charity, temperance, peace, and kindliness to man and beast. We can't all strike very big blows, and even the little ones count for something.