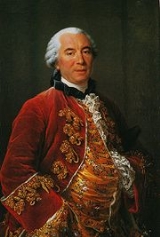 Georges-Louis Leclerc, Comte de Buffon
Georges-Louis Leclerc, Comte de Buffon
(ʒɔʁʒ lwi ləklɛʁ kɔ̃t də byfɔ̃; 7 September 1707 – 16 April 1788) was a
French
French people
The French are a nation that share a common French culture and speak the French language as a mother tongue. Historically, the French population are descended from peoples of Celtic, Latin and Germanic origin, and are today a mixture of several ethnic groups...
naturalist
Natural history
Natural history is the scientific research of plants or animals, leaning more towards observational rather than experimental methods of study, and encompasses more research published in magazines than in academic journals. Grouped among the natural sciences, natural history is the systematic study...
,
mathematician
Mathematician
A mathematician is a person whose primary area of study is the field of mathematics. Mathematicians are concerned with quantity, structure, space, and change....
,
cosmologist
Cosmology
Cosmology is the discipline that deals with the nature of the Universe as a whole. Cosmologists seek to understand the origin, evolution, structure, and ultimate fate of the Universe at large, as well as the natural laws that keep it in order...
, and encyclopedic author.
His works influenced the next two generations of
naturalist
Naturalist
Naturalist may refer to:* Practitioner of natural history* Conservationist* Advocate of naturalism * Naturalist , autobiography-See also:* The American Naturalist, periodical* Naturalism...
s, including
Jean-Baptiste Lamarck
Jean-Baptiste Lamarck
Jean-Baptiste Pierre Antoine de Monet, Chevalier de la Marck , often known simply as Lamarck, was a French naturalist...
and
Georges Cuvier
Georges Cuvier
Georges Chrétien Léopold Dagobert Cuvier or Jean Léopold Nicolas Frédéric Cuvier , known as Georges Cuvier, was a French naturalist and zoologist...
. Buffon published thirty-six
quarto
Quarto
Quarto could refer to:* Quarto, a size or format of a book in which four leaves of a book are created from a standard size sheet of paper* For specific information about quarto texts of William Shakespeare's works, see:...
volumes of his
Histoire naturelle
during his lifetime; with additional volumes based on his notes and further research being published in the two decades following his death.
It has been said that "Truly, Buffon was the father of all thought in natural history in the second half of the 18th century".
Buffon held the position of
intendant
(director) at the Jardin du Roi, now called the
Jardin des Plantes
Jardin des Plantes
The Jardin des Plantes is the main botanical garden in France. It is one of seven departments of the Muséum national d'histoire naturelle. It is situated in the 5ème arrondissement, Paris, on the left bank of the river Seine and covers 28 hectares .- Garden plan :The grounds of the Jardin des...
; it is the French equivalent of Kew Gardens.
He was born at
Montbard
Montbard
Montbard is a commune and subprefecture of the Côte-d'Or department in the Bourgogne region in eastern France.Montbard is a small industrial town on the river Brenne. The Forges de Buffon, ironworks established by Buffon, are located in the nearby village of Buffon...
,
Côte-d'Or
Côte-d'Or
Côte-d'Or is a department in the eastern part of France.- History :Côte-d'Or is one of the original 83 departments created during the French Revolution on 4 March 1790. It was formed from part of the former province of Burgundy.- Geography :...
.