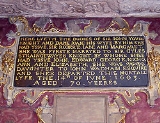 Monumental inscription
A
monumental inscription
is an inscription, typically carved in stone, on a
grave marker
Headstone
A headstone, tombstone, or gravestone is a marker, usually stone, that is placed over a grave. In most cases they have the deceased's name, date of birth, and date of death inscribed on them, along with a personal message, or prayer.- Use :...
,
cenotaph
Cenotaph
A cenotaph is an "empty tomb" or a monument erected in honour of a person or group of people whose remains are elsewhere. It can also be the initial tomb for a person who has since been interred elsewhere. The word derives from the Greek κενοτάφιον = kenotaphion...
,
memorial plaque
Commemorative plaque
A commemorative plaque, or simply plaque, is a plate of metal, ceramic, stone, wood, or other material, typically attached to a wall, stone, or other vertical surface, and bearing text in memory of an important figure or event...
,
church monument
Church monument
A church monument is an architectural or sculptural memorial to a dead person or persons, located within a Christian church. It can take various forms, from a simple wall tablet to a large and elaborate structure which may include an effigy of the deceased person and other figures of familial or...
or other
memorial
Monument
A monument is a type of structure either explicitly created to commemorate a person or important event or which has become important to a social group as a part of their remembrance of historic times or cultural heritage, or simply as an example of historic architecture...
.
The purpose of monumental inscriptions is to serve as
memorial
Memorial
A memorial is an object which serves as a focus for memory of something, usually a person or an event. Popular forms of memorials include landmark objects or art objects such as sculptures, statues or fountains, and even entire parks....
s to the dead. Those on gravestones are normally placed there by members of the deceased's family. Those on memorial plaques inside a religious building are normally placed there by the wider community. The graves of those killed in wars and other armed conflicts are often placed together in military
cemeteries
Cemetery
A cemetery is a place in which dead bodies and cremated remains are buried. The term "cemetery" implies that the land is specifically designated as a burying ground. Cemeteries in the Western world are where the final ceremonies of death are observed...
in the country where the conflict took place; they are also remembered on
war memorial
War memorial
A war memorial is a building, monument, statue or other edifice to celebrate a war or victory, or to commemorate those who died or were injured in war.-Historic usage:...
s in their own country.
Monumental inscriptions are important to genealogists and family historians, providing information on the subjects life and death, including dates. Family connections can sometimes be resolved as members of the same family may be buried together.
Many old gravestones are now illegible due to weathering, but individuals and
family history
Family history
Family history is the systematic narrative and research of past events relating to a specific family, or specific families.- Introduction :...
societies may have recorded their inscriptions and published them, either online, on microfiche or in book form. In
England
England
England is a country that is part of the United Kingdom. It shares land borders with Scotland to the north and Wales to the west; the Irish Sea is to the north west, the Celtic Sea to the south west, with the North Sea to the east and the English Channel to the south separating it from continental...
, the
Society of Genealogists
Society of Genealogists
The Society of Genealogists is a UK-based educational charity, founded in 1911 to "promote, encourage and foster the study, science and knowledge of genealogy". The Society's Library is the largest specialist genealogical library outside North America. Membership is open to any adult who agrees to...
has a large collection. The
Commonwealth War Graves Commission
Commonwealth War Graves Commission
The Commonwealth War Graves Commission is an intergovernmental organisation of six independent member states whose principal function is to mark, record and maintain the graves, and places of commemoration, of Commonwealth of Nations military service members who died in the two World Wars...
has an
online
ONLINE
ONLINE is a magazine for information systems first published in 1977. The publisher Online, Inc. was founded the year before. In May 2002, Information Today, Inc. acquired the assets of Online Inc....
database
Database
A database is an organized collection of data for one or more purposes, usually in digital form. The data are typically organized to model relevant aspects of reality , in a way that supports processes requiring this information...
of
British
United Kingdom
The United Kingdom of Great Britain and Northern IrelandIn the United Kingdom and Dependencies, other languages have been officially recognised as legitimate autochthonous languages under the European Charter for Regional or Minority Languages...
and
Commonwealth
Commonwealth of Nations
The Commonwealth of Nations, normally referred to as the Commonwealth and formerly known as the British Commonwealth, is an intergovernmental organisation of fifty-four independent member states...
war grave
War grave
A war grave is a burial place for soldiers or civilians who died during military campaigns or operations. The term does not only apply to graves: ships sunk during wartime are often considered to be war graves, as are military aircraft that crash into water...
s and inscriptions.
See also
External links