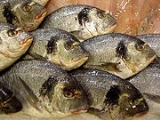 Gilt-head bream
The
gilt-head bream
(
Sparus aurata
) is a fish of the bream family
Sparidae
Sparidae
The Sparidae is a family of fish, included in the order Perciformes. The fish of the family are commonly called sea breams and porgies . The sheepshead, scup, and red sea bream are species in this family. They are found in shallow temperate and tropical waters and are bottom-dwelling carnivores....
found in the
Mediterranean Sea
Mediterranean Sea
The Mediterranean Sea is a sea connected to the Atlantic Ocean surrounded by the Mediterranean region and almost completely enclosed by land: on the north by Anatolia and Europe, on the south by North Africa, and on the east by the Levant...
and the eastern coastal regions of the North Atlantic Ocean. It commonly reaches about 35 centimetres (1.1 ft) in length, but may reach 70 centimetres (2.3 ft) and weigh up to about 17 kilograms (37.5 lb).
The gilt-head bream is generally considered the best-tasting of the breams and has given the whole family of Sparidae its name.
Biology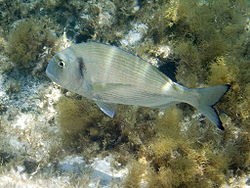 It is typically found at depths of 0–30 m (0–98.4 ft), but may occur to 150 metres (492.1 ft)., seen singly or in small groups near
seagrass
Seagrass
Seagrasses are flowering plants from one of four plant families , all in the order Alismatales , which grow in marine, fully saline environments.-Ecology:...
or over sandy bottoms, but sometimes in estuaries during the spring.
It mainly feeds on
shellfish
Shellfish
Shellfish is a culinary and fisheries term for exoskeleton-bearing aquatic invertebrates used as food, including various species of molluscs, crustaceans, and echinoderms. Although most kinds of shellfish are harvested from saltwater environments, some kinds are found only in freshwater...
, but also some plant material.
Cuisine
The fish is widely used in Mediterranean cooking, under a variety of names: