 Georgia Department of Transportation
The
Georgia Department of Transportation
(
GDOT
) is the organization in charge of developing and maintaining all state and federal roadways in the
U.S. state
U.S. state
A U.S. state is any one of the 50 federated states of the United States of America that share sovereignty with the federal government. Because of this shared sovereignty, an American is a citizen both of the federal entity and of his or her state of domicile. Four states use the official title of...
of
Georgia
Georgia (U.S. state)
Georgia is a state located in the southeastern United States. It was established in 1732, the last of the original Thirteen Colonies. The state is named after King George II of Great Britain. Georgia was the fourth state to ratify the United States Constitution, on January 2, 1788...
. In addition to
highway
Highway
A highway is any public road. In American English, the term is common and almost always designates major roads. In British English, the term designates any road open to the public. Any interconnected set of highways can be variously referred to as a "highway system", a "highway network", or a...
s, the department also has a limited role in developing public transportation and
general aviation
General aviation
General aviation is one of the two categories of civil aviation. It refers to all flights other than military and scheduled airline and regular cargo flights, both private and commercial. General aviation flights range from gliders and powered parachutes to large, non-scheduled cargo jet flights...
programs. GDOT is headquartered in
downtown
Downtown Atlanta
Downtown Atlanta is the first and largest of the three financial districts in the city of Atlanta. Downtown Atlanta is the location of many corporate or regional headquarters, city, county, state and federal government facilities, sporting facilities, and is the central tourist attraction of the city...
Atlanta and is part of the executive branch of
state government
Government of Georgia (U.S. state)
The state government of Georgia is the U.S. state governmental body established by the Georgia State Constitution. It is a republican government with three branches: the legislature, executive, and judiciary...
.
GDOT has broken up the state of Georgia into seven districts in order to facilitate regional development. Each district is responsible for the planning, design, construction and maintenance of the state and federal highways in their region.
Highway system

The state of Georgia has 1,244 miles of interstate highway within its borders. Georgia's major
Interstate Highway
Interstate Highway System
The Dwight D. Eisenhower National System of Interstate and Defense Highways, , is a network of limited-access roads including freeways, highways, and expressways forming part of the National Highway System of the United States of America...
s are
I-95
Interstate 95
Interstate 95 is the main highway on the East Coast of the United States, running parallel to the Atlantic Ocean from Maine to Florida and serving some of the most populated urban areas in the country, including Boston, Providence, New Haven, New York City, Newark, Philadelphia, Baltimore,...
,
I-75
Interstate 75
Interstate 75 is a major north–south Interstate Highway in the Great Lakes and Southeastern regions of the United States. It travels from State Road 826 and State Road 924 in Hialeah, Florida to Sault Ste. Marie, Michigan, at the Ontario, Canada, border...
,
I-16
Interstate 16
Interstate 16 , also known as Jim Gillis Historic Savannah Parkway or State Route 404 , is an intrastate Interstate Highway located entirely within the state of Georgia, United States...
,
I-85
Interstate 85
Interstate 85 is a major interstate highway in the Southeastern United States. Its current southern terminus is at an interchange with Interstate 65 in Montgomery, Alabama; its northern terminus interchanges with Interstate 95 in Petersburg, Virginia, near Richmond...
,
I-20
Interstate 20
Interstate 20 is a major east–west Interstate Highway in the Southern United States. I‑20 runs 1,535 miles from near Kent, Texas, at Interstate 10 to Florence, South Carolina, at Interstate 95...
. Other important interstate highways are
I-24
Interstate 24
Interstate 24 is an Interstate Highway in the Midwestern and Southeastern United States. It runs diagonally from Interstate 57 to Chattanooga, Tennessee, at Interstate 75....
and
I-59
Interstate 59
Interstate 59 is an Interstate Highway in the southern United States. Its southern terminus is near Slidell, Louisiana, a suburb of New Orleans, at an intersection with Interstate 10 and Interstate 12, its northern terminus is at Wildwood, Georgia, at an intersection with Interstate 24.The road's...
.
I-285
Interstate 285
Interstate 285 is an Interstate Highway loop encircling Atlanta, Georgia, for . I-285 is also known as unsigned State Route 407 and is colloquially referred to as the Perimeter. Suburban sprawl has made it one of the most heavily traveled roadways in the United States, and portions of the highway...
is Atlanta's perimeter route and
I-575
Interstate 575
Interstate 575 is an Interstate Highway spur route in the United States, which branches off Interstate 75 in Kennesaw and connects the metro Atlanta area with the north Georgia mountains. I-575 is also the unsigned State Route 417 and is cosigned as SR 5...
connects with counties in north Georgia on I-75. The Georgia Department of Transportation maintains only 16 percent of the roads in the state. The other 84 percent are the responsibility of the counties and cities; 75 percent of those roads are county roads.
The
Freeing the Freeways
program is a project which involved widening some of the freeways in Atlanta. The project took 17 years to create, cost $1.5 billion, and doubled Atlanta's freeway lane miles from 900 to 1851 mi (1,448.4 to 2,978.9 km). One freeway that was involved in the project was the I-75/I-85
Downtown Connector
Downtown Connector
In Atlanta, Georgia, the Downtown Connector or 75/85 is the concurrent section of Interstate 75 and Interstate 85 through the core of the city. Beginning at the I-85/Langford Parkway interchange, the Downtown Connector runs generally due north, meeting the east-west Interstate 20 in the middle....
. Another project was the construction of the
Tom Moreland Interchange
Tom Moreland Interchange
Tom Moreland Interchange, colloquially known as Spaghetti Junction, is the intersection of Interstate 85 and Interstate 285, along with several access roads, in northern DeKalb County, Georgia, just northeast of Atlanta, Georgia, USA...
.
Railroads
Major freight railroads in Georgia include CSX and Norfolk Southern. Passenger service in Georgia is available on two
Amtrak
Amtrak
The National Railroad Passenger Corporation, doing business as Amtrak , is a government-owned corporation that was organized on May 1, 1971, to provide intercity passenger train service in the United States. "Amtrak" is a portmanteau of the words "America" and "track". It is headquartered at Union...
routes: the
Crescent
Crescent (Amtrak)
The Crescent is a passenger train operated by Amtrak in the eastern part of the United States. It runs daily from Pennsylvania Station in New York City to New Orleans Union Passenger Terminal in New Orleans, Louisiana as train 19 and returns, on the same route, as train 20. Most of the route of...
, which runs from New York to Washington, D.C., through north Georgia and Atlanta to New Orleans and the other runs from New York to the Georgia coast and from there to Florida.
Air transportation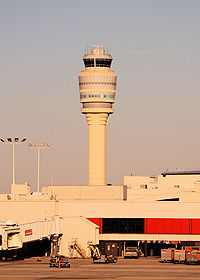 Georgia's principal airport is
Hartsfield-Jackson Atlanta International Airport
Hartsfield-Jackson Atlanta International Airport
Hartsfield–Jackson Atlanta International Airport , known locally as Atlanta Airport, Hartsfield Airport, and Hartsfield–Jackson, is located seven miles south of the central business district of Atlanta, Georgia, United States...
(ATL), the world's busiest passenger airport. Georgia has one hundred seven public-use airports, nine of which are commercial-aviation airports and ninety-eight which are general-aviation airports. Two of the state's important airports are
Savannah/Hilton Head International Airport
Savannah/Hilton Head International Airport
"Savannah/Hilton Head International Airport , formerly Savannah International Airport, Travis Field and Chatham Field, is a joint civil-military airport located northwest of Savannah, Georgia just off Interstate 95, between Savannah and the city of Pooler, Georgia...
, which serves over 1,700,000 passengers each year and DeKalb Peachtree Airport in
Chamblee, Georgia
Chamblee, Georgia
As of the 2010 Census Chamblee had a population of 9,892. The racial and ethnic composition of the population was 45.0% white , 7.0% black or African American , 2.1% Native American , 1.8% Vietnamese, 1.6% Asian Indian, 4.6% other Asian, 33.5% from some other race and...
.
Origins
An act of the Legislature created the
State Highway Department
on August 16, 1916. Two years later, in 1918, the creation of the State Highway Department was followed by creation of the
Georgia State Highway Commission
, which made surveys and oversaw plans for road projects in Georgia. Finally, in 1972, it was followed by the creation of the Georgia Department of Transportation.
Department management
Georgia DOT is governed by a 13-member State Transportation Board that is elected by the
Georgia General Assembly
Georgia General Assembly
The Georgia General Assembly is the state legislature of the U.S. state of Georgia. It is bicameral, being composed of the Georgia House of Representatives and the Georgia Senate....
for a five-year term and is headed by a commissioner chosen from among the board members. The board's powers include designating which public roads are encompassed within the state highway system; approving long-range transportation plans; overseeing the administration of construction contracts; and authorizing lease agreements. Offices within the board, other than Commissioner, are Deputy Commissioner; Chief Engineer and Treasurer.
The Georgia Department of Transportation has several different divisions. They include:
Division of Administration
Chief Engineer
Communications Division
Division of Construction
Division of Equal Employment Opportunity
Division of Field Districts
Division of Information Technology
Division Legal Services
Division of Operations
Division of Planning, Data & Intermodal Development
Division of Preconstruction
Special Staff
Treasurer
Possible reorganization
In February 2009, Governor
Sonny Perdue
Sonny Perdue
George Ervin "Sonny" Perdue III, was the 81st Governor of Georgia. Upon his inauguration in January 2003, he became the first Republican governor of Georgia since Benjamin F. Conley served during Reconstruction in the 1870s....
,
Lieutenant Governor
Lieutenant Governor of Georgia
The Lieutenant Governor of Georgia is a constitutional officer of the state, elected to a 4-year term by popular vote. Unlike some states, the lieutenant governor is elected on a separate ticket from the state Governor....
Casey Cagle
Casey Cagle
Lowell S. "Casey" Cagle is an American politician currently serving as the 11th Lieutenant Governor of Georgia. He is a member of the Republican Party, a conservative, and a former member of the General Assembly in the U.S. state of Georgia. In 2006, Cagle defeated political activist Ralph...
, and Speaker of the House
Glenn Richardson
Glenn Richardson
Glenn Richardson is the former Speaker of the Georgia House of Representatives, in the U.S. state of Georgia. Following a suicide attempt, he announced in 2009 that he would resign as Speaker effective Jan. 1, 2010, and he resigned as a member of the House on Jan...
announced a plan that would remove almost all authority from GDOT and the legislature and put it under themselves in a new State Transportation Authority. This would merge the
Georgia Regional Transportation Authority
Georgia Regional Transportation Authority
The Georgia Regional Transportation Authority or GRTA is a government agency in the U.S. state of Georgia...
(GRTA) and
State Road and Tollway Authority
State Road and Tollway Authority
The State Road and Tollway Authority is a government agency of the U.S. state of Georgia. It is responsible for financing transportation initiatives and operating the state's only current toll road, the Georgia 400 extension. SRTA collects tolls on the southern portion of the expressway, at a...
(SRTA) together, leaving GDOT only to maintain roads. (Eliminating GDOT entirely would require an
amendment
Constitutional amendment
A constitutional amendment is a formal change to the text of the written constitution of a nation or state.Most constitutions require that amendments cannot be enacted unless they have passed a special procedure that is more stringent than that required of ordinary legislation...
to the state constitution.) On February 26, the GDOT board retaliated against chairwoman Gena Evans (who had been picked by Perdue) by firing her.
The state previously had a system under the governor rather than the legislature, in which he could (and often did) withhold highway funds from
electoral district
Electoral district
An electoral district is a distinct territorial subdivision for holding a separate election for one or more seats in a legislative body...
s represented by his political opponents. This system of
political corruption
Political corruption
Political corruption is the use of legislated powers by government officials for illegitimate private gain. Misuse of government power for other purposes, such as repression of political opponents and general police brutality, is not considered political corruption. Neither are illegal acts by...
and
payback
Payback
Payback may refer to:*Payback period, the period of time required for the return on an investment*Revenge*Operation Payback, an ongoing hacker operation*Payback , a 1999 film, starring Mel Gibson; remake of the 1967 film Point Blank...
was
reform
Reform
Reform means to put or change into an improved form or condition; to amend or improve by change of color or removal of faults or abuses, beneficial change, more specifically, reversion to a pure original state, to repair, restore or to correct....
ed in 1963.
External links