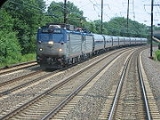 Amtrak
The National Railroad Passenger Corporation,
doing business as
Doing business as
The phrase "doing business as" is a legal term used in the United States, meaning that the trade name, or fictitious business name, under which the business or operation is conducted and presented to the world is not the legal name of the legal person who actually own it and are responsible for it...
Amtrak , is a
government-owned corporation
Government-owned corporation
A government-owned corporation, state-owned company, state-owned entity, state enterprise, publicly owned corporation, government business enterprise, or parastatal is a legal entity created by a government to undertake commercial activities on behalf of an owner government...
that was organized on May 1, 1971, to provide
intercity
Inter-city rail
Inter-city rail services are express passenger train services that cover longer distances than commuter or regional trains.There is no precise definition of inter-city rail. Its meaning may vary from country to country...
passenger train service in the United States. "Amtrak" is a portmanteau of the words "America" and "track". It is headquartered at
Union Station
Union Station (Washington, D.C.)
Washington Union Station is a train station and leisure destination visited by 32 million people each year in the center of Washington, D.C. The train station is served by Amtrak, MARC and Virginia Railway Express commuter rail services as well as by Washington Metro subway trains and local buses...
in Washington, D.C.
All of Amtrak's
preferred stock
Preferred stock
Preferred stock, also called preferred shares, preference shares, or simply preferreds, is a special equity security that has properties of both an equity and a debt instrument and is generally considered a hybrid instrument...
is owned by the U.S. federal government. The members of its board of directors are appointed by the President of the United States and are subject to confirmation by the
United States Senate
United States Senate
The United States Senate is the upper house of the bicameral legislature of the United States, and together with the United States House of Representatives comprises the United States Congress. The composition and powers of the Senate are established in Article One of the U.S. Constitution. Each...
.