 Gentofte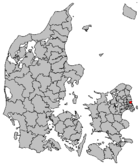 Gentofte Kommune
is a municipality (
Danish
Danish language
Danish is a North Germanic language spoken by around six million people, principally in the country of Denmark. It is also spoken by 50,000 Germans of Danish ethnicity in the northern parts of Schleswig-Holstein, Germany, where it holds the status of minority language...
,
kommune
) in the Capital Region of Denmark (
Region Hovedstaden
) on the east coast of the island of Zealand (
Sjælland
) in eastern
Denmark
Denmark
Denmark is a Scandinavian country in Northern Europe. The countries of Denmark and Greenland, as well as the Faroe Islands, constitute the Kingdom of Denmark . It is the southernmost of the Nordic countries, southwest of Sweden and south of Norway, and bordered to the south by Germany. Denmark...
. The municipality covers an area of 26 km² (10.04 sq mi), and has a total population of 68,913 (2008). Its mayor is Hans Toft, a member of the
Conservative People's Party
Conservative People's Party (Denmark)
The Conservative People's Party , also known as Conservatives is a Danish political party.-History:The party was founded 1915 based mostly on its predecessor, Højre , but also on the Free Conservatives and a moderate faction of Venstre , the liberals.The party has participated in several coalition...
(
Det Konservative Folkeparti
)
political party
Politics of Denmark
The Politics of Denmark takes place in a framework of a parliamentary, representative democratic, constitutional monarchy, in which the Prime Minister is the head of government, and of a multi-party system...
. Toft has served as mayor since 1993.
The municipality is an
amalgamation
Amalgamation (politics)
A merger or amalgamation in a political or administrative sense is the combination of two or more political or administrative entities such as municipalities , counties, districts, etc. into a single entity. This term is used when the process occurs within a sovereign entity...
of seven formerly independent towns, all close to one another. The site of its municipal council is the town of
Charlottenlund
Charlottenlund
Charlottenlund is a minor palace near Copenhagen in Denmark. In its original baroque form it was built between 1731 and 1733 on the foundations of a palace named Gyldenlund. The palace was named after Charlotte Amalie, the daughter of Frederick IV of Denmark and the sister of Christian VI of...
. The other towns are Dyssegård, Gentofte,
Hellerup
Hellerup
Hellerup is a Danish town of Region Hovedstaden, located in the Gentofte Municipality in Denmark. It is bordered to the east by the sound Øresund and to the South by Copenhagen and counted among the most affluent areas in Denmark....
, Jægersborg,
Klampenborg
Klampenborg
Klampenborg is a northern suburb to Copenhagen, Denmark. It is located in Gentofte Municipality, directly on Øresund, between Taarbæk and Skovshoved. Like other neighbourhoods along the Øresund coast, Klampenborg is an affluent area with many large houses....
, Ordrup, and
Vangede
Vangede
Vangede is a suburb 8 km northwest of central Copenhagen. The city is primarily made up of one and two family houses and two and three story apartment buildings. The suburb is connected with the S-train with 2 stations Vangede and Dyssegård.-Notable people:...
.
Neighboring municipalities are
Lyngby-Taarbæk
Lyngby-Taarbæk
Lyngby-Taarbæk Kommune is a municipality in Region Hovedstaden near Copenhagen on the east coast of the island of Zealand in eastern Denmark. The municipality covers an area of 39 km², and has a total population of 51,449 . Its mayor as of 2010 is Søren P...
to the north,
Gladsaxe
Gladsaxe
Gladsaxe Kommune is a municipality near Copenhagen in Region Hovedstaden on the island of Zealand in eastern Denmark. The municipality covers an area of 25 km², and has a total population of 62,562...
to the west, and
Copenhagen
Copenhagen
Copenhagen is the capital and largest city of Denmark, with an urban population of 1,199,224 and a metropolitan population of 1,930,260 . With the completion of the transnational Øresund Bridge in 2000, Copenhagen has become the centre of the increasingly integrating Øresund Region...
to the south. To the east is the
Øresund
Oresund
The Sound , is the strait that separates the Danish island Zealand from the southern Swedish province of Scania. Its width is just at the narrowest point between Helsingør, Denmark, and Helsingborg, Sweden...
, the
strait
Strait
A strait or straits is a narrow, typically navigable channel of water that connects two larger, navigable bodies of water. It most commonly refers to a channel of water that lies between two land masses, but it may also refer to a navigable channel through a body of water that is otherwise not...
that separates Zealand from
Sweden
Sweden
Sweden , officially the Kingdom of Sweden , is a Nordic country on the Scandinavian Peninsula in Northern Europe. Sweden borders with Norway and Finland and is connected to Denmark by a bridge-tunnel across the Öresund....
.
Gentofte municipality was not merged with other municipalities in the 1 January 2007 nationwide
Kommunalreformen
("The Municipal Reform" of 2007).
Demography
Population of Gentofte
(from 1971 January 1 and from 1801 to 1921 February 1)
:
15.1.1769: 1.056
1.7.1787 : 1.526
1801 : 1.962
1840 : 2.750
1850 : 3.072
1860 : 3.660
1870 : 4.158
1880 : 5.106
1890 : 7.449
1901 : 14.470
1911 : 24.691
1921 : 34.451
5.11.1930:47.848
5.11.1940:76.457
7.11.1950:87.803
26.9.1960:88.308
9.11.1970:77.744
1971 : 77.683
1972 : 76.365
1973 : 74.673
1974 : 72.694
1975 : 71.634
1976 : 70.253
1977 : 68.873
1978 : 68.223
1979 : 67.667
1980 : 67.300
1981 : 66.782
1982 : 66.564
1983 : 66.902
1984 : 67.112
1985 : 66.767
1986 : 66.283
1987 : 66.011
1988 : 65.467
1989 : 65.032
1990 : 65.303
1991 : 65.696
1992 : 66.077
1993 : 65.986
1994 : 66.251
1995 : 66.508
1996 : 66.706
1997 : 66.986
1998 : 67.402
1999 : 67.709
2000 : 67.957
2001 : 68.094
2002 : 68.213
2003 : 68.314
2004 : 68.704
2005 : 68.991
2006 : 68.623
2007 : 68.672
2008 : 68.913
2009 : 70.000
>
Attractions
Famous residents of the municipality
Arne Jacobsen
Arne Jacobsen
Arne Emil Jacobsen, usually known as Arne Jacobsen, was a Danish architect and designer. He is remembered for contributing so much to architectural Functionalism as well as for the worldwide success he enjoyed with simple but effective chair designs.-Early life and education:Arne Jacobsen was born...
(1902–1971), the noted architect and furniture designer, who built extensively in Gentofte and lived on Strandvejen.
Metallica
Metallica
Metallica is an American heavy metal band from Los Angeles, California. Formed in 1981 when James Hetfield responded to an advertisement that drummer Lars Ulrich had posted in a local newspaper. The current line-up features long-time lead guitarist Kirk Hammett and bassist Robert Trujillo ...
drummer
Drummer
A drummer is a musician who is capable of playing drums, which includes but is not limited to a drum kit and accessory based hardware which includes an assortment of pedals and standing support mechanisms, marching percussion and/or any musical instrument that is struck within the context of a...
Lars Ulrich
Lars Ulrich
Lars Ulrich is a Danish drummer, and one of the founding members of the American thrash metal band Metallica. He was born in Gentofte, Denmark to an upper-middle class family. A tennis player in his youth, Ulrich moved to Los Angeles, California at age sixteen to pursue his training; though rather...
is probably Gentofte's most famous native, at least among younger generations.
Writer
Writer
A writer is a person who produces literature, such as novels, short stories, plays, screenplays, poetry, or other literary art. Skilled writers are able to use language to portray ideas and images....
Dan Turèll
Dan Turèll
Dan Turèll , affectionately nicknamed "Onkel Danny" , was a popular Danish writer with notable influence on Danish literature.-Overview:...
(b. 1946, d. 1993) lived in the
Vangede
Vangede
Vangede is a suburb 8 km northwest of central Copenhagen. The city is primarily made up of one and two family houses and two and three story apartment buildings. The suburb is connected with the S-train with 2 stations Vangede and Dyssegård.-Notable people:...
part of Gentofte from 1955–1964 and again from 1966 - 1969. He documented these years in his 1975 book "Vangede billeder" ("Vangede pictures").
Composer
Per Nørgård
Per Nørgård
Per Nørgård is a Danish composer.-Biography:Nørgård studied with Vagn Holmboe at the Royal Danish Academy of Music in Copenhagen, and subsequently with Nadia Boulanger in Paris. To begin with, he was strongly influenced by the Nordic styles of Jean Sibelius, Carl Nielsen and Vagn Holmboe...
(b. 1932) was born in Gentofte.
Movie critic Ole Michelsen is a resident, and his daughter, model and actress Katrine Michelsen, was born and died in Gentofte.
Shipping tycoon
Mærsk Mc-Kinney Møller
Mærsk Mc-Kinney Møller
Arnold Mærsk Mc-Kinney Møller, is a Danish shipping magnate.-Personal life:Møller is the son of Arnold Peter Møller – founder of the A.P. Moller – Maersk Group – and an American, Chastine Estelle Roberta McKinney. He was married to his high-school sweetheart Emma Neergaard Rasmussen from 1940...
also has his residence in the municipality.
External links