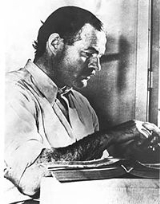 Writer
A
writer
is a person who produces
literature
Literature
Literature is the art of written works, and is not bound to published sources...
, such as
novel
Novel
A novel is a book of long narrative in literary prose. The genre has historical roots both in the fields of the medieval and early modern romance and in the tradition of the novella. The latter supplied the present generic term in the late 18th century....
s,
short stories
Short story
A short story is a work of fiction that is usually written in prose, often in narrative format. This format tends to be more pointed than longer works of fiction, such as novellas and novels. Short story definitions based on length differ somewhat, even among professional writers, in part because...
,
plays
Play (theatre)
A play is a form of literature written by a playwright, usually consisting of scripted dialogue between characters, intended for theatrical performance rather than just reading. There are rare dramatists, notably George Bernard Shaw, who have had little preference whether their plays were performed...
,
screenplay
Screenplay
A screenplay or script is a written work that is made especially for a film or television program. Screenplays can be original works or adaptations from existing pieces of writing. In them, the movement, actions, expression, and dialogues of the characters are also narrated...
s,
poetry
Poetry
Poetry is a form of literary art in which language is used for its aesthetic and evocative qualities in addition to, or in lieu of, its apparent meaning...
, or other literary art. Skilled writers are able to use language to portray
idea
Idea
In the most narrow sense, an idea is just whatever is before the mind when one thinks. Very often, ideas are construed as representational images; i.e. images of some object. In other contexts, ideas are taken to be concepts, although abstract concepts do not necessarily appear as images...
s and
image
Image
An image is an artifact, for example a two-dimensional picture, that has a similar appearance to some subject—usually a physical object or a person.-Characteristics:...
s.