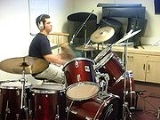 Drummer
A
drummer
is a
musician
Musician
A musician is an artist who plays a musical instrument. It may or may not be the person's profession. Musicians can be classified by their roles in performing music and writing music.Also....* A person who makes music a profession....
who is capable of playing
drums
Drum
The drum is a member of the percussion group of musical instruments, which is technically classified as the membranophones. Drums consist of at least one membrane, called a drumhead or drum skin, that is stretched over a shell and struck, either directly with the player's hands, or with a...
, which includes but is not limited to a
drum kit
Drum kit
A drum kit is a collection of drums, cymbals and often other percussion instruments, such as cowbells, wood blocks, triangles, chimes, or tambourines, arranged for convenient playing by a single person ....
("drum set" or "trap set", including but not limited to
cymbals
Cymbal
Cymbals are a common percussion instrument. Cymbals consist of thin, normally round plates of various alloys; see cymbal making for a discussion of their manufacture. The greater majority of cymbals are of indefinite pitch, although small disc-shaped cymbals based on ancient designs sound a...
) and accessory based hardware which includes an assortment of pedals and standing support mechanisms,
marching percussion
Marching percussion
Marching percussion instruments are specially designed to be played while moving. This is achieved by attaching the drum to a special harness worn by the drummer. The drums are designed and tuned for maximum articulation and projection of sound, as marching activities are almost always outdoors or...
and/or any musical instrument that is struck within the context of a wide assortment of musical genres. The term percussionist applies to a musician who performs struck musical instruments of numerous diverse shapes, sizes and applications. Most contemporary western ensembles bands for
Rock
Rock music
Rock music is a genre of popular music that developed during and after the 1960s, particularly in the United Kingdom and the United States. It has its roots in 1940s and 1950s rock and roll, itself heavily influenced by rhythm and blues and country music...
,
Pop
Pop music
Pop music is usually understood to be commercially recorded music, often oriented toward a youth market, usually consisting of relatively short, simple songs utilizing technological innovations to produce new variations on existing themes.- Definitions :David Hatch and Stephen Millward define pop...
,
Jazz
Jazz
Jazz is a musical style that originated at the beginning of the 20th century in African American communities in the Southern United States. It was born out of a mix of African and European music traditions. From its early development until the present, jazz has incorporated music from 19th and 20th...
, R&B etc. include a drummer within the context of its music based ensemble for purposes including but not limited to timekeeping, and artist based applications deemed appropriate towards the elevation of a prescribed music based aesthetic. Most drummers of this particular designation work within the context of a larger contingent (aka rhythm section) that may also include, keyboard (a percussion instrument) and/or guitar, auxiliary percussion (often of non western origin) and bass (bass viol or electric). Said ensembles may also include melodic based mallet percussion including but not limited to: vibraphone, marimba and/or xylophone. The rhythm section, being the core metronomic foundation with which other melodic instruments, including voices, may present the harmonic/melodic portion of the material.
Military
Before motorized transport became widespread, drummers played a key role in
military
Military
A military is an organization authorized by its greater society to use lethal force, usually including use of weapons, in defending its country by combating actual or perceived threats. The military may have additional functions of use to its greater society, such as advancing a political agenda e.g...
conflicts. The drum cadences provided set a steady marching pace, and elevated troop
morale
Morale
Morale, also known as esprit de corps when discussing the morale of a group, is an intangible term used to describe the capacity of people to maintain belief in an institution or a goal, or even in oneself and others...
on the battlefield. In some armies drums also assisted in combat by keeping cadence for firing and loading drills with muzzle loading guns. Military drummers were also employed on the parade field, when troops passed in review, and in various ceremonies including ominous
drum roll
Drum roll
A drum roll is a technique the percussionist employs to produce a sustained sound on a percussion instrument. Rolls are used by composers to sustain the sound and create other effects, the most common of which is using a roll to build anticipation.- Snare drum roll :The most common snare drum roll...
s accompanying disciplinary punishments. Children often served as
drummer boys
Drummer boy (military)
Drummer boys were children recruited as military drummers for use on the battlefield.Armies regularly recruited young boys for this service, well into the nineteenth century...
(percussion related battlefield support) well into the nineteenth century.
Drummers are no longer employed in battle, but their ceremonial duties continue. Typically buglers (wind instrument)and drummers mass under a sergeant-drummer and during marches alternately perform with the regiment and/or battalion ensembles.
Military based musical percussion traditions were not limited exclusively to the western world. When Emir
Osman I
Osman I
Osman I or Othman I or El-Gazi Sultan Osman Ghazi, or Osman Bey or I. Osman, Osman Gazi Han), nicknamed "Kara" for his courage, was the leader of the Ottoman Turks, and the founder of the dynasty that established and ruled the Ottoman Empire...
was appointed commander of the Turkish army on the Byzantine border in the late 13th century, he was symbolically installed via a handover of musical instruments by the Seldjuk sultan. During the
Ottoman Empire
Ottoman Empire
The Ottoman EmpireIt was usually referred to as the "Ottoman Empire", the "Turkish Empire", the "Ottoman Caliphate" or more commonly "Turkey" by its contemporaries...
, size of a military band reflected the rank of its commander in chief: the largest reserved for the Sultan (viz. his Grand Vizier when taking the field). It included various percussion instruments, often adopted in European military music (as 'Janissary music') The
pitched bass drum
Bass drum
Bass drums are percussion instruments that can vary in size and are used in several musical genres. Three major types of bass drums can be distinguished. The type usually seen or heard in orchestral, ensemble or concert band music is the orchestral, or concert bass drum . It is the largest drum of...
is still known in some languages as the Turkish Drum. Alternatively, in old English, Tabert is champion of the people, or great leader, i.e. a great drummer.
Military forces especially those of the British Commonwealth, battalions or regiments often consisted of a "pipes and drums" band ("the band') consisting of bagpipes and drummers. These bands are often employed as stretcher bearers or medics on the battlefield.
Parades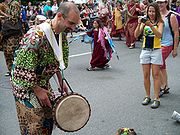 Is a genre of marching ensemble descended from it military drummers and can be arranged as a performance of a drum, a group of drummers, and as a part of a larger
marching band
Marching band
Marching band is a physical activity in which a group of instrumental musicians generally perform outdoors and incorporate some type of marching with their musical performance. Instrumentation typically includes brass, woodwinds, and percussion instruments...
. Their uniforms will often have a military
style
Music genre
A music genre is a categorical and typological construct that identifies musical sounds as belonging to a particular category and type of music that can be distinguished from other types of music...
and a fancy hat. In recent times, it is more common to see drummers in parades wearing costumes with an African,
Asian
Culture of Asia
The culture of Asia is human civilization in Asia. It features different kinds of cultural heritage of many nationalities, societies, and ethnic groups in the region, traditionally called a continent from a Western-centric perspective, of Asia...
,
Latin
Latin
Latin is an Italic language originally spoken in Latium and Ancient Rome. It, along with most European languages, is a descendant of the ancient Proto-Indo-European language. Although it is considered a dead language, a number of scholars and members of the Christian clergy speak it fluently, and...
,
Native American
Indigenous peoples of the Americas
The indigenous peoples of the Americas are the pre-Columbian inhabitants of North and South America, their descendants and other ethnic groups who are identified with those peoples. Indigenous peoples are known in Canada as Aboriginal peoples, and in the United States as Native Americans...
, or tribal look and sound.
Popular culture
Beginning in the 20th century, drummers achieved an elevated distinction as stars of the entertainment industry with swing era drummer
Gene Krupa
Gene Krupa
Gene Krupa was an American jazz and big band drummer and composer, known for his highly energetic and flamboyant style.-Biography:...
often portrayed among the best known among the varied show business related genres. Krupa's ongoing popularity created a fortuitous stereotype, evolved during rock music eras, where drummers were often portrayed as glamorous personas sitting behind large drum kits on gargantuan arena stages, although Krupa's periodic legal troubles did create the occasional perception of drummers as less than responsible within the context of prescribed behaviors, a stereotype with as many detractors as supporters.