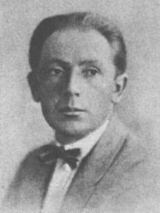 Friedrich Wilhelm Murnau
Friedrich Wilhelm "F. W." Murnau
(December 28, 1888 – March 11, 1931) was one of the most influential
German
Germany
Germany , officially the Federal Republic of Germany , is a federal parliamentary republic in Europe. The country consists of 16 states while the capital and largest city is Berlin. Germany covers an area of 357,021 km2 and has a largely temperate seasonal climate...
film director
Film director
A film director is a person who directs the actors and film crew in filmmaking. They control a film's artistic and dramatic nathan roach, while guiding the technical crew and actors.-Responsibilities:...
s of the
silent era
Silent film
A silent film is a film with no synchronized recorded sound, especially with no spoken dialogue. In silent films for entertainment the dialogue is transmitted through muted gestures, pantomime and title cards...
, and a prominent figure in the expressionist movement in German cinema during the 1920s. Although some of Murnau's films have been
lost
Lost film
A lost film is a feature film or short film that is no longer known to exist in studio archives, private collections or public archives such as the Library of Congress, where at least one copy of all American films are deposited and catalogued for copyright reasons...
, most still survive.
Early years
He was born as
Friedrich Wilhelm Plumpe
in
Bielefeld
Bielefeld
Bielefeld is an independent city in the Ostwestfalen-Lippe Region in the north-east of North Rhine-Westphalia, Germany. With a population of 323,000, it is also the most populous city in the Regierungsbezirk Detmold...
,
Province of Westphalia
Province of Westphalia
The Province of Westphalia was a province of the Kingdom of Prussia and the Free State of Prussia from 1815 to 1946.-History:Napoleon Bonaparte founded the Kingdom of Westphalia, which was a client state of the First French Empire from 1807 to 1813...
. He attended the University of Heidelberg and studied
art history
Art history
Art history has historically been understood as the academic study of objects of art in their historical development and stylistic contexts, i.e. genre, design, format, and style...
. He took the name "Murnau" from the town in Germany named
Murnau am Staffelsee
Murnau am Staffelsee
Murnau am Staffelsee is a market town in the district of Garmisch-Partenkirchen, in the Oberbayern region of Bavaria, Germany.Murnau is situated on the edge of the Bavarian alps, approx. 70 km south of Munich. Directly to its west is the Staffelsee lake.-History:Murnau was first documented in...
. Openly gay, the 6'11 (210cm) director was said to have an icy, imperious disposition and an obsession with film. He was a combat pilot during
World War I
World War I
World War I , which was predominantly called the World War or the Great War from its occurrence until 1939, and the First World War or World War I thereafter, was a major war centred in Europe that began on 28 July 1914 and lasted until 11 November 1918...
and directed his first film
Der Knabe in Blau
('The Boy in Blue') in 1919.
German films
Murnau's most famous film is
Nosferatu
, a 1922 adaptation of
Bram Stoker
Bram Stoker
Abraham "Bram" Stoker was an Irish novelist and short story writer, best known today for his 1897 Gothic novel Dracula...
's
Dracula
Dracula
Dracula is an 1897 novel by Irish author Bram Stoker.Famous for introducing the character of the vampire Count Dracula, the novel tells the story of Dracula's attempt to relocate from Transylvania to England, and the battle between Dracula and a small group of men and women led by Professor...
for which Stoker's widow sued for
copyright infringement
Copyright infringement
Copyright infringement is the unauthorized or prohibited use of works under copyright, infringing the copyright holder's exclusive rights, such as the right to reproduce or perform the copyrighted work, or to make derivative works.- "Piracy" :...
. Murnau lost the lawsuit and all prints of the film were ordered to be destroyed, but bootleg prints survived.
The vampire
Count Orlok
Count Orlok is a fictional character portrayed by Max Schreck in the silent movie Nosferatu, eine Symphonie des Grauens...
, played by German stage actor
Max Schreck
Max Schreck
Friedrich Gustav Max Schreck was a German actor. He is most often remembered today for his lead role in the film Nosferatu .-Early life:Max Schreck was born in Berlin-Friedenau, on 6 September 1879....
, resembled a rat which was known to carry the plague. The origins of the word are from Stoker's novel, where it is used by the Romanian townsfolk to refer to
Count Dracula
Count Dracula
Count Dracula is a fictional character, the titular antagonist of Bram Stoker's 1897 Gothic horror novel Dracula and archetypal vampire. Some aspects of his character have been inspired by the 15th century Romanian general and Wallachian Prince Vlad III the Impaler...
and presumably, other
undead
Undead
Undead is a collective name for fictional, mythological, or legendary beings that are deceased and yet behave as if alive. Undead may be incorporeal, such as ghosts, or corporeal, such as vampires and zombies...
.
Nearly as important as
Nosferatu
in Murnau's filmography was
The Last Laugh
("Der Letzte Mann", German "The Last Man") (1924), written by
Carl Mayer
Carl Mayer
Carl Mayer was an Austrian screenplay writer who wrote or co-wrote the screenplays to The Cabinet of Dr. Caligari , The Haunted Castle , Der Letzte Mann , Tartuffe , Sunrise and 4 Devils , the last five being films directed by F. W...
(a very prominent figure of the
Kammerspielfilm
movement) and starring
Emil Jannings
Emil Jannings
Emil Jannings was a German actor. He was not only the first actor to win the Academy Award for Best Actor, but also the first person to be presented an Oscar...
. The film introduced the subjective point of view camera, where the camera "sees" from the eyes of a character and uses visual style to convey a character's psychological state. It also anticipated the
cinéma vérité
Cinéma vérité
Cinéma vérité is a style of documentary filmmaking, combining naturalistic techniques with stylized cinematic devices of editing and camerawork, staged set-ups, and the use of the camera to provoke subjects. It is also known for taking a provocative stance toward its topics.There are subtle yet...
movement in its subject matter. The film also used the "
Unchained Camera Technique
Unchained camera technique
The "unchained camera technique" was an innovation by filmmaker F.W. Murnau that allowed for filmmakers to get shots from cameras in motion enabling them to use pan shots, tracking shots, tilts, crane shots etc....
", a mix of tracking shots, pans, tilts, and
zooms
Zoom lens
A zoom lens is a mechanical assembly of lens elements for which the focal length can be varied, as opposed to a fixed focal length lens...
. Also, unlike the majority of Murnau's other works,
The Last Laugh
is considered a
Kammerspielfilm
with Expressionist elements. Unlike expressionist films,
Kammerspielfilme
are categorized by their
chamber play
Chamber play
A chamber play is play of usually three acts which can be performed with a small cast and practically no sets or costumes in a small space. The form became popular in the early 20th century, with leading exponents being Max Reinhardt and August Strindberg., first it was adapted to cinema in 1920s,...
influence, involving a lack of intricate set designs and story lines / themes regarding social injustice towards the
working class
Working class
Working class is a term used in the social sciences and in ordinary conversation to describe those employed in lower tier jobs , often extending to those in unemployment or otherwise possessing below-average incomes...
es.
Murnau's last German film was the big budget
Faust
Faust (1926 film)
Faust is a silent film produced in 1926 by UFA, directed by F.W. Murnau, starring Gösta Ekman as Faust, Emil Jannings as Mephisto, Camilla Horn as Gretchen/Marguerite, Frida Richard as her mother, Wilhelm Dieterle as her brother and Yvette Guilbert as Marthe Schwerdtlein, her aunt...
(1926) with
Gösta Ekman
Gösta Ekman (senior)
Gösta Ekman, Sr. , born Frans Gösta Viktor Ekman, was a Swedish actor. Generally spoken of as Swedish theatre's most legendary stage actor, Gösta Ekman enjoyed a prolific stage career during his short life, becoming the first real star of Swedish theatre...
as the
title character
Faust
Faust is the protagonist of a classic German legend; a highly successful scholar, but also dissatisfied with his life, and so makes a deal with the devil, exchanging his soul for unlimited knowledge and worldly pleasures. Faust's tale is the basis for many literary, artistic, cinematic, and musical...
, Emil Jannings as
Mephisto
Mephistopheles
Mephistopheles is a demon featured in German folklore...
and
Camilla Horn
Camilla Horn
Camilla Horn was a former German dancer and a film star of the silent and sound era. She starred in several Hollywood films of the late 1920s and in a few British and Italian productions.-Biography:...
as Gretchen. Murnau's film draws on older traditions of the legendary tale of
Faust
Faust
Faust is the protagonist of a classic German legend; a highly successful scholar, but also dissatisfied with his life, and so makes a deal with the devil, exchanging his soul for unlimited knowledge and worldly pleasures. Faust's tale is the basis for many literary, artistic, cinematic, and musical...
as well as on Goethe's
classic version
Goethe's Faust
Johann Wolfgang von Goethe's Faust is a tragic play in two parts: and . Although written as a closet drama, it is the play with the largest audience numbers on German-language stages...
. The film is well-known for a sequence in which the giant, winged figure of Mephisto hovers over a town sowing the seeds of plague.
Nosferatu
(music by Hans Erdmann) and
Faust
(music by Werner Richard Heymann) were two of the first films to feature original film scores.
Hollywood
Murnau emigrated to Hollywood in 1926, where he joined the
Fox Studio
20th Century Fox
Twentieth Century Fox Film Corporation — also known as 20th Century Fox, or simply 20th or Fox — is one of the six major American film studios...
and made
Sunrise
Sunrise (film)
Sunrise: A Song of Two Humans, also known as Sunrise, is a 1927 American silent film directed by German film director F. W. Murnau. The story was adapted by Carl Mayer from the short story "Die Reise nach Tilsit" by Hermann Sudermann.Sunrise won an Academy Award for Unique and Artistic Production...
(1927), a movie often cited by film scholars as one of the greatest films of all time. Filmed in the Fox
Movietone
Movietone sound system
The Movietone sound system is a sound-on-film method of recording sound for motion pictures that guarantees synchronization between sound and picture. It achieves this by recording the sound as a variable-density optical track on the same strip of film that records the pictures...
sound-on-film
Sound-on-film
Sound-on-film refers to a class of sound film processes where the sound accompanying picture is physically recorded onto photographic film, usually, but not always, the same strip of film carrying the picture. Sound-on-film processes can either record an analog sound track or digital sound track,...
system (music and sound effects only),
Sunrise
was not a financial success, but received several Oscars at the very first
Academy Awards
Academy Awards
An Academy Award, also known as an Oscar, is an accolade bestowed by the American Academy of Motion Picture Arts and Sciences to recognize excellence of professionals in the film industry, including directors, actors, and writers...
ceremony in 1929. In winning the Academy Award for Unique and Artistic Production it shared what is now the
Best Picture
Academy Award for Best Picture
The Academy Award for Best Picture is one of the Academy Awards of Merit presented annually by the Academy of Motion Picture Arts and Sciences to artists working in the motion picture industry. The Best Picture category is the only category in which every member of the Academy is eligible not only...
award with the movie
Wings
Wings (film)
Wings is a silent film about World War I fighter pilots, produced by Lucien Hubbard, directed by William A. Wellman and released by Paramount Pictures. Wings was the first film, and the only silent film, to win the Academy Award for Best Picture. Wings stars Clara Bow, Charles "Buddy" Rogers, and...
.
Murnau's next two films, the (now lost)
Four Devils
(1928) and
City Girl
City Girl
City Girl is an American 1930 silent film directed by F.W. Murnau. Along with Sunrise: A Song of Two Humans, 4 Devils and Tabu, these mark Murnau's Hollywood productions. The director wanted the film to be called Our Daily Bread....
(1930), were modified to adapt to the new era of
sound film
Sound film
A sound film is a motion picture with synchronized sound, or sound technologically coupled to image, as opposed to a silent film. The first known public exhibition of projected sound films took place in Paris in 1900, but decades would pass before sound motion pictures were made commercially...
and were not well received. Their poor receptions disillusioned Murnau, and he quit Fox to journey for a while in the
South Pacific
Oceania
Oceania is a region centered on the islands of the tropical Pacific Ocean. Conceptions of what constitutes Oceania range from the coral atolls and volcanic islands of the South Pacific to the entire insular region between Asia and the Americas, including Australasia and the Malay Archipelago...
.
Together with
documentary film
Documentary film
Documentary films constitute a broad category of nonfictional motion pictures intended to document some aspect of reality, primarily for the purposes of instruction or maintaining a historical record...
pioneer Robert Flaherty, Murnau travelled to
Bora Bora
Bora Bora
The commune of Bora-Bora is made up of the island of Bora Bora proper with its surrounding islets emerging from the coral reef, 29.3 km² in total, and of the atoll of Tupai , located north of Bora Bora...
to realize the film
Tabu
Tabu (film)
Tabu is a 1931 film directed by F.W. Murnau. The film is split into two chapters, the first called "Paradise" depicts the lives of two lovers on a South Seas island until they are forced to escape the island when the girl is chosen as a holy maid to the gods...
in 1931. Flaherty left after artistic disputes with Murnau who had to finish the movie on his own. The movie was censored in the
United States
United States
The United States of America is a federal constitutional republic comprising fifty states and a federal district...
for images of bare-breasted
Polynesia
Polynesia
Polynesia is a subregion of Oceania, made up of over 1,000 islands scattered over the central and southern Pacific Ocean. The indigenous people who inhabit the islands of Polynesia are termed Polynesians and they share many similar traits including language, culture and beliefs...
n women. The film was originally shot by cinematographer
Floyd Crosby
Floyd Crosby
Floyd Delafield Crosby, A.S.C. was an American cinematographer.Crosby was born and raised in West Philadelphia, the son of Julia Floyd and Frederick Van Schoonhoven Crosby...
as half-talkie, half-silent, before being fully restored as a silent film — Murnau's preferred medium.
Death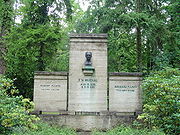 Murnau did not live to see the premiere of his last film. He died in an automobile accident in
Santa Barbara, California
Santa Barbara, California
Santa Barbara is the county seat of Santa Barbara County, California, United States. Situated on an east-west trending section of coastline, the longest such section on the West Coast of the United States, the city lies between the steeply-rising Santa Ynez Mountains and the Pacific Ocean...
on 11 March 1931. Murnau was entombed on Southwest Cemetery (Südwest-Kirchhof Stahnsdorf) in
Stahnsdorf
Stahnsdorf
Stahnsdorf is a municipality in the Potsdam-Mittelmark district, in Brandenburg, Germany.-Geography:It is situated 20 km southwest of Berlin , and 12 km east of Potsdam.-History:...
near
Berlin
Berlin
Berlin is the capital city of Germany and is one of the 16 states of Germany. With a population of 3.45 million people, Berlin is Germany's largest city. It is the second most populous city proper and the seventh most populous urban area in the European Union...
. Only 11 people attended the funeral. Among them were Robert Flaherty,
Emil Jannings
Emil Jannings
Emil Jannings was a German actor. He was not only the first actor to win the Academy Award for Best Actor, but also the first person to be presented an Oscar...
,
Greta Garbo
Greta Garbo
Greta Garbo , born Greta Lovisa Gustafsson, was a Swedish film actress. Garbo was an international star and icon during Hollywood's silent and classic periods. Many of Garbo's films were sensational hits, and all but three were profitable...
and
Fritz Lang
Fritz Lang
Friedrich Christian Anton "Fritz" Lang was an Austrian-American filmmaker, screenwriter, and occasional film producer and actor. One of the best known émigrés from Germany's school of Expressionism, he was dubbed the "Master of Darkness" by the British Film Institute...
, who delivered the funeral speech. Garbo also commissioned a
death mask
Death mask
In Western cultures a death mask is a wax or plaster cast made of a person's face following death. Death masks may be mementos of the dead, or be used for creation of portraits...
of Murnau, which she kept on her desk during her years in Hollywood.
Legacy
In 2000, director
E. Elias Merhige
E. Elias Merhige
Edmund Elias Merhige, known as E. Elias Merhige, is an American film director born in Brooklyn.Merhige is best known to mainstream audiences for the 2000 film Shadow of the Vampire, and to underground audiences for the cult-classic 1991 film Begotten.As he says in his audio commentary to the...
released
Shadow of the Vampire
Shadow of the Vampire
Shadow of the Vampire is a 2000 horror film directed by E. Elias Merhige and written by Steven Katz, and starring John Malkovich, Willem Dafoe, and Udo Kier. The film is a fictionalized account of the making of the classic vampire film Nosferatu, eine Symphonie des Grauens, directed by F. W....
, a fictionalization of the making of
Nosferatu
. Murnau is portrayed by
John Malkovich
John Malkovich
John Gavin Malkovich is an American actor, producer, director and fashion designer with his label Technobohemian. Over the last 25 years of his career, Malkovich has appeared in more than 70 motion pictures. For his roles in Places in the Heart and In the Line of Fire, he received Academy Award...
. In the film, Murnau is so dedicated to making the film genuine that he actually hires a real
vampire
Vampire
Vampires are mythological or folkloric beings who subsist by feeding on the life essence of living creatures, regardless of whether they are undead or a living person...
(
Willem Dafoe
Willem Dafoe
Willem Dafoe is an American film, stage, and voice actor, and a founding member of the experimental theatre company The Wooster Group...
) to play Count Orlok.
Filmography
Der Knabe in Blau

The Boy in Blue (1919 film)

The Boy in Blue is a 1919 silent German drama film directed by F. W. Murnau. It was Murnau's debut film. The film is now considered to be a lost film....


(The Boy in Blue, released 28 June 1919)
Satanas (released around 30 January 1920 but made in 1919)
Der Bucklige und die Tänzerin

The Hunchback and the Dancer

The Hunchback and the Dancer is a 1920 silent German horror film directed by F. W. Murnau. The film is considered to be lost.-Cast:* Sascha Gura - Gina* John Gottowt - James Wilton* Paul Biensfeldt - Smith* Henri Peters-Arnolds - Percy...


(The Hunchback and the Dancer, released 8 July 1920)
Der Janus-Kopf

The Head of Janus

The Head of Janus was a 1920 horror silent film directed by F. W. Murnau. The film was an unauthorized adaptation of Robert Louis Stevenson's novel The Strange Case of Dr Jekyll and Mr Hyde, but the source material went unrecognized by the German media due to changes in the characters'...


(Dr. Jekyll and Mr. Hyde / The Head of Janus, released 17 September 1920)
Abend - Nacht - Morgen (Evening - Night - Morning, released October 1920)
Sehnsucht

Sehnsucht (1920 film)

Desire was a 1921 silent film directed by F. W. Murnau and starring Conrad Veidt. It tells the story of a male dancer who falls in love with a grand duchess, only to be arrested, and his subsequent attempt to find the duchess...


(Desire: The Tragedy of a Dancer, released 18 October 1920)
Der Gang in die Nacht

Journey Into the Night

Journey Into the Night is a 1921 silent German drama film directed by F. W. Murnau. Prints of the film still survive.-Cast:* Olaf Fønss - Dr. Eigil Börne* Erna Morena - Helene* Conrad Veidt - Der Maler* Gudrun Bruun-Stefenssen - Lily...


(Journey Into the Night, released 13 December 1920)
Schloß Vogelöd (The Haunted Castle / Castle Vogeloed, released April 1921)
Marizza

Marizza

Marizza is a 1922 silent German drama film directed by F. W. Murnau. The film is considered to be lost.-Cast:* Tzwetta Tzatschewa - Marizza* Adele Sandrock - Mrs...


(released 20 January 1922 but filmed in 1921)
Nosferatu, eine Symphonie des Grauens (Nosferatu, a Symphony of Horror, released 5 March 1922)
Der brennende Acker

Der Brennende Acker

The Burning Soil is a 1922 silent film directed by F.W. Murnau. It was made the same year as Murnau's Nosferatu and released in Germany around the same time...


(The Burning Soil, released 16 March 1922)
Phantom

Phantom (1922 film)

Phantom is a silent film that was directed by F. W. Murnau the same year Murnau directed Nosferatu. It is an example of German Expressionist film and has a surreal, dreamlike quality.-Plot summary:The film is told in an extended flashback...


(released 29 October 1922)
Die Austreibung (The Expulsion, released 23 October 1923)
Die Finanzen des Großherzogs (The Grand Duke's Finances, released 7 January 1924)
Der letzte Mann (The Last Laugh, released 23 December 1924)
Herr Tartüff (Tartuffe, released 25 January 1926)
Faust

Faust (1926 film)

Faust is a silent film produced in 1926 by UFA, directed by F.W. Murnau, starring Gösta Ekman as Faust, Emil Jannings as Mephisto, Camilla Horn as Gretchen/Marguerite, Frida Richard as her mother, Wilhelm Dieterle as her brother and Yvette Guilbert as Marthe Schwerdtlein, her aunt...


(released 14 October 1926)
Sunrise

Sunrise (film)

Sunrise: A Song of Two Humans, also known as Sunrise, is a 1927 American silent film directed by German film director F. W. Murnau. The story was adapted by Carl Mayer from the short story "Die Reise nach Tilsit" by Hermann Sudermann.Sunrise won an Academy Award for Unique and Artistic Production...


(released 23 September 1927, won a special Oscar for "Unique Artistic Presentation" at the first Academy Awards

Academy Awards

An Academy Award, also known as an Oscar, is an accolade bestowed by the American Academy of Motion Picture Arts and Sciences to recognize excellence of professionals in the film industry, including directors, actors, and writers...


)
4 Devils

4 Devils

4 Devils was a 1928 American silent drama film directed by German film director F. W. Murnau.-Preservation status:...


(released 3 October 1928, is generally regarded as one of his best works and is a highly sought-after lost film

Lost film

A lost film is a feature film or short film that is no longer known to exist in studio archives, private collections or public archives such as the Library of Congress, where at least one copy of all American films are deposited and catalogued for copyright reasons...


)
City Girl / Our Daily Bread

City Girl

City Girl is an American 1930 silent film directed by F.W. Murnau. Along with Sunrise: A Song of Two Humans, 4 Devils and Tabu, these mark Murnau's Hollywood productions. The director wanted the film to be called Our Daily Bread....


(released 19 May 1930)
Tabu

Tabu (film)

Tabu is a 1931 film directed by F.W. Murnau. The film is split into two chapters, the first called "Paradise" depicts the lives of two lovers on a South Seas island until they are forced to escape the island when the girl is chosen as a holy maid to the gods...


(released 18 March 1931)
External links
Friedrich-Wilhelm-Murnau-Foundation, the legal successor to UFA

Universum Film AG

Universum Film AG, better known as UFA or Ufa, is a film company that was the principal film studio in Germany, home of the German film industry during the Weimar Republic and through World War II, and a major force in world cinema from 1917 to 1945...


, Bavaria, Terra, Tobis, and Berlin-Film
F. W. MURNAU at internettrash.com
F.W. Murnau at filmportal.de