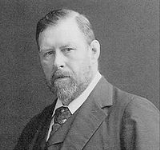 Bram Stoker
Abraham "Bram" Stoker
was an
Irish
Irish people
The Irish people are an ethnic group who originate in Ireland, an island in northwestern Europe. Ireland has been populated for around 9,000 years , with the Irish people's earliest ancestors recorded having legends of being descended from groups such as the Nemedians, Fomorians, Fir Bolg, Tuatha...
novelist and short story writer, best known today for his 1897
Gothic
Gothic fiction
Gothic fiction, sometimes referred to as Gothic horror, is a genre or mode of literature that combines elements of both horror and romance. Gothicism's origin is attributed to English author Horace Walpole, with his 1764 novel The Castle of Otranto, subtitled "A Gothic Story"...
novel
Dracula
Dracula
Dracula is an 1897 novel by Irish author Bram Stoker.Famous for introducing the character of the vampire Count Dracula, the novel tells the story of Dracula's attempt to relocate from Transylvania to England, and the battle between Dracula and a small group of men and women led by Professor...
. During his lifetime, he was better known as personal assistant of actor
Henry Irving
Henry Irving
Sir Henry Irving , born John Henry Brodribb, was an English stage actor in the Victorian era, known as an actor-manager because he took complete responsibility for season after season at the Lyceum Theatre, establishing himself and his company as...
and business manager of the Lyceum Theatre in London, which Irving owned.
Stoker was born on 8 November 1847 at 15 Marino Crescent, Clontarf, on the northside of Dublin, Ireland. His parents were Abraham Stoker (1799–1876), from Dublin, and Charlotte Mathilda Blake Thornley (1818–1901), who came from
Ballyshannon
Ballyshannon
Ballyshannon is a town in County Donegal, Ireland. It is located where the N3 and N15 cross the River Erne, and claims to be the oldest town in Ireland.-Location:...
,
County Donegal
County Donegal
County Donegal is a county in Ireland. It is part of the Border Region and is also located in the province of Ulster. It is named after the town of Donegal. Donegal County Council is the local authority for the county...
.
I am Dracula, and I bid you welcome, Mr. Harker, to my house. Come in, the night air is chill, and you must need to eat and rest.

Dracula to Jonathan Harker
We are in Transylvania, and Transylvania is not England. Our ways are not your ways, and there shall be to you many strange things.

Dracula to Jonathan Harker
Listen to them - children of the night. What music they make.

Dracula referring to the howling of the wolves to Jonathan Harker.
No man knows till he has suffered from the night how sweet and dear to his heart and eye the morning can be.

Jonathan Harker
Despair has its own calms.

Jonathan Harker
Nothing is too small. I counsel you, put down in record even your doubts and surmises. Hereafter it may be of interest to you to see how true you guess. We learn from failure, not from success!

Professor Van Helsing to Dr. Seward
Oh, friend John, it is a strange world, a sad world, a world full of miseries, and woes, and troubles. And yet when King Laugh come, he make them all dance to the tune he play.

Professor Van Helsing to Dr. Seward
I have always thought that a wild animal never looks so well as when some obstacle of pronounced durability is between us. A personal experience has intensified rather than diminished that idea.

The Keeper in the Zoological Gardens