 Franz Stuck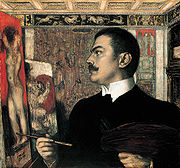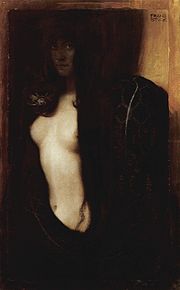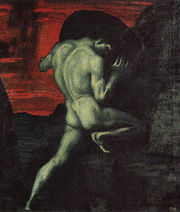 Franz Stuck
Franz Ritter von

Ritter

Ritter is a designation used as a title of nobility in German-speaking areas. Traditionally it denotes the second lowest rank within the nobility, standing above "Edler" and below "Freiherr"...


Stuck
after 1906, was a
German
Germany
Germany , officially the Federal Republic of Germany , is a federal parliamentary republic in Europe. The country consists of 16 states while the capital and largest city is Berlin. Germany covers an area of 357,021 km2 and has a largely temperate seasonal climate...
symbolist
Symbolism (arts)
Symbolism was a late nineteenth-century art movement of French, Russian and Belgian origin in poetry and other arts. In literature, the style had its beginnings with the publication Les Fleurs du mal by Charles Baudelaire...
/
Art Nouveau
Art Nouveau
Art Nouveau is an international philosophy and style of art, architecture and applied art—especially the decorative arts—that were most popular during 1890–1910. The name "Art Nouveau" is French for "new art"...
painter
Painting
Painting is the practice of applying paint, pigment, color or other medium to a surface . The application of the medium is commonly applied to the base with a brush but other objects can be used. In art, the term painting describes both the act and the result of the action. However, painting is...
, sculptor,
engraver
Engraving
Engraving is the practice of incising a design on to a hard, usually flat surface, by cutting grooves into it. The result may be a decorated object in itself, as when silver, gold, steel, or glass are engraved, or may provide an intaglio printing plate, of copper or another metal, for printing...
, and
architect
Architect
An architect is a person trained in the planning, design and oversight of the construction of buildings. To practice architecture means to offer or render services in connection with the design and construction of a building, or group of buildings and the space within the site surrounding the...
.
Life and career
Stuck was born at
Tettenweis
Tettenweis
Tettenweis is a municipality in the district of Passau in Bavaria in Germany....
, in
Bavaria
Bavaria
Bavaria, formally the Free State of Bavaria is a state of Germany, located in the southeast of Germany. With an area of , it is the largest state by area, forming almost 20% of the total land area of Germany...
. From an early age he displayed an affinity for
drawing
Drawing
Drawing is a form of visual art that makes use of any number of drawing instruments to mark a two-dimensional medium. Common instruments include graphite pencils, pen and ink, inked brushes, wax color pencils, crayons, charcoal, chalk, pastels, markers, styluses, and various metals .An artist who...
and
caricature
Caricature
A caricature is a portrait that exaggerates or distorts the essence of a person or thing to create an easily identifiable visual likeness. In literature, a caricature is a description of a person using exaggeration of some characteristics and oversimplification of others.Caricatures can be...
. To begin his artistic education he relocated in 1878 to
Munich
Munich
Munich The city's motto is "" . Before 2006, it was "Weltstadt mit Herz" . Its native name, , is derived from the Old High German Munichen, meaning "by the monks' place". The city's name derives from the monks of the Benedictine order who founded the city; hence the monk depicted on the city's coat...
, where he would settle for life. From 1881 to 1885 Stuck attended the Munich Academy.
He first became well known by cartoons for
Fliegende Blätter
, and vignette designs for programmes and book decoration. In 1889 he exhibited his first paintings at the
Munich Glass Palace
Glaspalast (Munich)
The Glaspalast was a glass and iron exhibition building in Munich modeled after The Crystal Palace in London. The Glaspalast opened for the Erste Allgemeine Deutsche Industrieausstellung on July 15, 1854.-Construction:The Glaspalast was ordered by Maximilian II, King of Bavaria, built by MAN AG...
, winning a gold medal for
The Guardian of Paradise
.
In 1892 Stuck co-founded the Munich Secession, and also executed his first sculpture,
Athlete
. The next year he won further acclaim with the critical and public success of what is now his most famous work, the painting
The Sin
. Also during 1893, Stuck was awarded a gold medal for painting at the
World's Columbian Exposition
World's Columbian Exposition
The World's Columbian Exposition was a World's Fair held in Chicago in 1893 to celebrate the 400th anniversary of Christopher Columbus's arrival in the New World in 1492. Chicago bested New York City; Washington, D.C.; and St...
in Chicago, and was appointed to a royal professorship. In 1895 he began teaching painting at the Munich Academy.
In 1897 Stuck married an
American
United States
The United States of America is a federal constitutional republic comprising fifty states and a federal district...
widow, Mary Lindpainter, and began work designing his own residence and studio, the Villa Stuck. His designs for the villa included everything from layout to interior decorations; for his
furniture
Furniture
Furniture is the mass noun for the movable objects intended to support various human activities such as seating and sleeping in beds, to hold objects at a convenient height for work using horizontal surfaces above the ground, or to store things...
Stuck received another gold medal at the
1900 Paris World Exposition
Exposition Universelle (1900)
The Exposition Universelle of 1900 was a world's fair held in Paris, France, from April 15 to November 12, 1900, to celebrate the achievements of the past century and to accelerate development into the next...
.
Having attained much fame by this time, Stuck was ennobled on December 9, 1905 and would receive further public honours from around Europe during the remainder of his life. He continued to be well respected among young artists as professor at the Munich Academy, even after his artistic styles became unfashionable. Notable students of his over the years include
Paul Klee
Paul Klee
Paul Klee was born in Münchenbuchsee, Switzerland, and is considered both a German and a Swiss painter. His highly individual style was influenced by movements in art that included expressionism, cubism, and surrealism. He was, as well, a student of orientalism...
,
Hans Purrmann
Hans Purrmann
Hans Marsilius Purrmann was a German artist. He was born in Speyer where he also grew up. He completed an apprenticeship as a scene painter and interior decorator, and subsequently studied in Karlsruhe and Munich before going to Paris in 1906. It was here he became a student and later a friend of...
,
Wassily Kandinsky
Wassily Kandinsky
Wassily Wassilyevich Kandinsky was an influential Russian painter and art theorist. He is credited with painting the first purely-abstract works. Born in Moscow, Kandinsky spent his childhood in Odessa. He enrolled at the University of Moscow, studying law and economics...
, and
Josef Albers
Josef Albers
Josef Albers was a German-born American artist and educator whose work, both in Europe and in the United States, formed the basis of some of the most influential and far-reaching art education programs of the 20th century....
.
Franz von Stuck died on August 30, 1928; his funeral address memorialized him as "the last prince of art of Munich's great days". He is buried in the
Munich Waldfriedhof
Munich Waldfriedhof
The Munich Waldfriedhof is one of 29 cemeteries of Munich in Bavaria, Germany. It is one of the larger and more famous burial sites of the city due to its park like design and tombs of notable personalities. The Waldfriedhof is widely considered the first woodland cemetery.-Description:The Munich...
next to his wife Mary.
Style
Stuck's subject matter was primarily from mythology, inspired by the work of
Arnold Böcklin
Arnold Böcklin
Arnold Böcklin was a Swiss symbolist painter.-Life and art:He was born at Basel. His father, Christian Frederick Böcklin , was descended from an old family of Schaffhausen, and engaged in the silk trade. His mother, Ursula Lippe, was a native of the same city...
. Large forms dominate most of his paintings and indicate his proclivities for sculpture. His seductive female nudes are a prime example of popular Symbolist content. Stuck paid much attention to the frames for his paintings and generally designed them himself with such careful use of panels, gilt carving and inscriptions that the frames must be considered as an integral part of the overall piece.
Legacy
The number of Stuck's pupils who achieved great success served to enhance the teacher's own fame. Yet by the time of his death, Stuck's importance as an artist in his own right had almost been forgotten: his art seemed old-fashioned and irrelevant to a generation which had endured
World War I
World War I
World War I , which was predominantly called the World War or the Great War from its occurrence until 1939, and the First World War or World War I thereafter, was a major war centred in Europe that began on 28 July 1914 and lasted until 11 November 1918...
. Stuck's reputation languished until the late 1960s when a renewed interest in Art Nouveau brought him to attention once more. In 1968 the Villa Stuck was opened to the public; it is now a museum.
External links