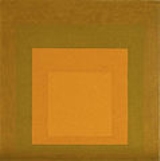 Josef Albers
Josef Albers
was a
German
Germany
Germany , officially the Federal Republic of Germany , is a federal parliamentary republic in Europe. The country consists of 16 states while the capital and largest city is Berlin. Germany covers an area of 357,021 km2 and has a largely temperate seasonal climate...
-born
American
United States
The United States of America is a federal constitutional republic comprising fifty states and a federal district...
artist and educator whose work, both in Europe and in the United States, formed the basis of some of the most influential and far-reaching art education programs of the 20th century.
Life
Albers was born in
Bottrop
Bottrop
Bottrop is a city in west central Germany, on the Rhine-Herne Canal, in North Rhine-Westphalia. Located in the Ruhr industrial area, Bottrop adjoins Essen, Oberhausen, Gladbeck and Dorsten. The city had been a coal-mining and rail center and contains factories producing coal-tar derivatives,...
,
Westphalia
Province of Westphalia
The Province of Westphalia was a province of the Kingdom of Prussia and the Free State of Prussia from 1815 to 1946.-History:Napoleon Bonaparte founded the Kingdom of Westphalia, which was a client state of the First French Empire from 1807 to 1813...
,
Germany
German Empire
The German Empire refers to Germany during the "Second Reich" period from the unification of Germany and proclamation of Wilhelm I as German Emperor on 18 January 1871, to 1918, when it became a federal republic after defeat in World War I and the abdication of the Emperor, Wilhelm II.The German...
. He studied art in
Berlin
Berlin
Berlin is the capital city of Germany and is one of the 16 states of Germany. With a population of 3.45 million people, Berlin is Germany's largest city. It is the second most populous city proper and the seventh most populous urban area in the European Union...
, Essen, and
Munich
Munich
Munich The city's motto is "" . Before 2006, it was "Weltstadt mit Herz" . Its native name, , is derived from the Old High German Munichen, meaning "by the monks' place". The city's name derives from the monks of the Benedictine order who founded the city; hence the monk depicted on the city's coat...
, before enrolling as a student in the basic course of
Johannes Itten
Johannes Itten
Johannes Itten was a Swiss expressionist painter, designer, teacher, writer and theorist associated with the Bauhaus school...
at the prestigious
Weimar
Weimar
Weimar is a city in Germany famous for its cultural heritage. It is located in the federal state of Thuringia , north of the Thüringer Wald, east of Erfurt, and southwest of Halle and Leipzig. Its current population is approximately 65,000. The oldest record of the city dates from the year 899...
Bauhaus
Bauhaus
', commonly known simply as Bauhaus, was a school in Germany that combined crafts and the fine arts, and was famous for the approach to design that it publicized and taught. It operated from 1919 to 1933. At that time the German term stood for "School of Building".The Bauhaus school was founded by...
in 1920. The director and founder of the Bauhaus,
Walter Gropius
Walter Gropius
Walter Adolph Georg Gropius was a German architect and founder of the Bauhaus School who, along with Ludwig Mies van der Rohe and Le Corbusier, is widely regarded as one of the pioneering masters of modern architecture....
, asked him in 1923 to teach in the preliminary course 'Werklehre' of the Department of Design to introduce newcomers to the principles of handicrafts, because Albers came from that background and had appropriate practice and knowledge. In 1925, Albers was promoted to Professor, the year the Bauhaus moved to
Dessau
Dessau
Dessau is a town in Germany on the junction of the rivers Mulde and Elbe, in the Bundesland of Saxony-Anhalt. Since 1 July 2007, it is part of the merged town Dessau-Roßlau. Population of Dessau proper: 77,973 .-Geography:...
. At this time, he married
Anni Albers
Anni Albers
Annelise Albers was a German-American textile artist and printmaker. She is perhaps the best known textile artist of the 20th century.-Life:...
(née Fleischmann) who was also a student there. His work in Dessau included designing furniture and working with glass. As a younger art teacher, he was teaching at the Bauhaus with artists including
Oskar Schlemmer
Oskar Schlemmer
Oskar Schlemmer was a German painter, sculptor, designer and choreographer associated with the Bauhaus school. In 1923 he was hired as Master of Form at the Bauhaus theatre workshop, after working some time at the workshop of sculpture...
,
Wassily Kandinsky
Wassily Kandinsky
Wassily Wassilyevich Kandinsky was an influential Russian painter and art theorist. He is credited with painting the first purely-abstract works. Born in Moscow, Kandinsky spent his childhood in Odessa. He enrolled at the University of Moscow, studying law and economics...
and
Paul Klee
Paul Klee
Paul Klee was born in Münchenbuchsee, Switzerland, and is considered both a German and a Swiss painter. His highly individual style was influenced by movements in art that included expressionism, cubism, and surrealism. He was, as well, a student of orientalism...
. Klee was the so-called form master who taught the formal aspects in the glass workshops where Albers was the crafts master; they cooperated for several years.
With the closure of the Bauhaus under
Nazi
Nazism
Nazism, the common short form name of National Socialism was the ideology and practice of the Nazi Party and of Nazi Germany...
pressure in 1933, Albers emigrated to the United States; in November 1933, he joined the faculty of
Black Mountain College
Black Mountain College
Black Mountain College, a school founded in 1933 in Black Mountain, North Carolina, was a new kind of college in the United States in which the study of art was seen to be central to a liberal arts education, and in which John Dewey's principles of education played a major role...
,
North Carolina
North Carolina
North Carolina is a state located in the southeastern United States. The state borders South Carolina and Georgia to the south, Tennessee to the west and Virginia to the north. North Carolina contains 100 counties. Its capital is Raleigh, and its largest city is Charlotte...
, where he ran the painting program until 1949. At Black Mountain, his students included
Robert Rauschenberg
Robert Rauschenberg
Robert Rauschenberg was an American artist who came to prominence in the 1950s transition from Abstract Expressionism to Pop Art. Rauschenberg is well-known for his "Combines" of the 1950s, in which non-traditional materials and objects were employed in innovative combinations...
,
Cy Twombly
Cy Twombly
Edwin Parker "Cy" Twombly, Jr. was an American artist well known for his large-scale, freely scribbled, calligraphic-style graffiti paintings, on solid fields of mostly gray, tan, or off-white colors...
,
Ray Johnson
Ray Johnson
Raymond Edward Johnson , known primarily as a collagist and correspondence artist, was a seminal figure in the history of Neo-Dada and early Pop art...
and
Susan Weil
Susan Weil
Susan Weil is an American artist best known for her experimental three-dimensional paintings, which combine figurative illustration with explorations of movement and space. In the late 1940s Weil was involved in a relationship with Robert Rauschenberg...
. He also invited important American artists as
Willem de Kooning
Willem de Kooning
Willem de Kooning was a Dutch American abstract expressionist artist who was born in Rotterdam, the Netherlands....
, to teach in the summer seminar. Weil remarked that, as a teacher, Albers was "his own academy" and said that Albers claimed that "when you're in school, you're not an artist, you're a student", though he was very supportive of self-expression when one became an artist and began his or her journey. Albers produced many
woodcut
Woodcut
Woodcut—occasionally known as xylography—is a relief printing artistic technique in printmaking in which an image is carved into the surface of a block of wood, with the printing parts remaining level with the surface while the non-printing parts are removed, typically with gouges...
s and leaf studies at this time.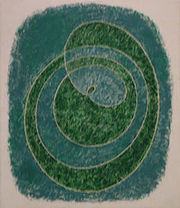 In 1950, Albers left Black Mountain to head the Department of Design at
Yale University
Yale University
Yale University is a private, Ivy League university located in New Haven, Connecticut, United States. Founded in 1701 in the Colony of Connecticut, the university is the third-oldest institution of higher education in the United States...
in
New Haven, Connecticut
New Haven, Connecticut
New Haven is the second-largest city in Connecticut and the sixth-largest in New England. According to the 2010 Census, New Haven's population increased by 5.0% between 2000 and 2010, a rate higher than that of the State of Connecticut, and higher than that of the state's five largest cities, and...
. While at Yale, Albers worked to expand the nascent graphic design program (then called "graphic arts"), hiring designers
Alvin Eisenman
Alvin Eisenman
Alvin Eisenman was an influential American graphic designer and educator throughout the last half of the 20th century. He is most notable for founding and heading Yale University's graduate program in graphic design beginning in 1951 — the first graduate program in graphic design in the United States...
,
Herbert Matter
Herbert Matter
Herbert Matter was a Swiss-born American photographer and graphic designer known for his pioneering use of photomontage in commercial art...
and
Alvin Lustig
Alvin Lustig
Alvin Lustig was an American graphic designer and typeface designer. He studied at Los Angeles City College, Art Center, and independently with Frank Lloyd Wright and Jean Charlot. He began designing for books in 1937. In 1944 he became Director of Visual Research for Look Magazine. He also...
. Albers worked at Yale until he retired from teaching in 1958. In 1962, as a fellow at Yale, he received a grant from the Graham Foundation for an exhibit and lecture on his work. At Yale,
Richard Anuszkiewicz
Richard Anuszkiewicz
Richard Anuszkiewicz is an American painter, printmaker, and sculptor.-Life and work:Richard Anuszkiewicz trained at the Cleveland Institute of Art in Cleveland, Ohio , and then with Josef Albers at the Yale University School of Art and Architecture in New Haven, Connecticut where he earned his...
and
Eva Hesse
Eva Hesse
Eva Hesse , was a German-born American sculptor, known for her pioneering work in materials such as latex, fiberglass, and plastics. -Early life:Hesse was born into a family of observant Jews in Hamburg, Germany...
were notable students. Albers also collaborated with Yale professor and architect
King-lui Wu
King-lui Wu
King-lui Wu was a Chinese-American architect and professor at Yale University from 1945–1988.- Life and work :King-lui Wu was born in Guangzhou , China in 1918. Wu's father was a businessman, but despising the work, he also pursued painting and poetry writing...
in creating decorative designs for some of Wu's projects. Among these were distinctive geometric fireplaces for the Rouse (1954) and DuPont (1959) houses, the façade of
Manuscript Society
Manuscript Society
Manuscript Society is a senior secret society at Yale University in New Haven, Connecticut. Toward the end of each junior year, 16 undergraduates are "tapped" to be inducted into the society, which meets twice weekly for dinner and discussion...
, one of Yale's secret senior groups (1962), and a design for the Mt. Bethel Baptist Church (1973). Also, at this time he worked on his structural constellation pieces. In 1963, he published
Interaction of Color
which presented his theory that colors were governed by an internal and deceptive logic. Also during this time, he created the abstract album covers of band leader
Enoch Light
Enoch Light
Enoch Henry Light was a classical violinist, bandleader, and recording engineer. As A&R chief and vice-president of Grand Award Records, he founded Command Records in 1959. Light's name was prominent on many albums both as musician and producer...
's Command LP records. He was elected a Fellow of the
American Academy of Arts and Sciences
American Academy of Arts and Sciences
The American Academy of Arts and Sciences is an independent policy research center that conducts multidisciplinary studies of complex and emerging problems. The Academy's elected members are leaders in the academic disciplines, the arts, business, and public affairs.James Bowdoin, John Adams, and...
in 1973. Albers continued to paint and write, staying in New Haven with his wife, textile artist
Anni Albers
Anni Albers
Annelise Albers was a German-American textile artist and printmaker. She is perhaps the best known textile artist of the 20th century.-Life:...
, until his death in 1976.

Accomplished as a designer, photographer, typographer, printmaker and poet, Albers is best remembered for his work as an
abstract
Abstract art
Abstract art uses a visual language of form, color and line to create a composition which may exist with a degree of independence from visual references in the world. Western art had been, from the Renaissance up to the middle of the 19th century, underpinned by the logic of perspective and an...
painter and theorist. He favored a very disciplined approach to composition. Most famous of all are the hundreds of paintings and prints that make up the series
Homage to the Square.
In this rigorous series, begun in 1949, Albers explored chromatic interactions with flat colored squares arranged concentrically. Painting usually on
Masonite
Masonite
Masonite is a type of hardboard invented by William H. Mason.-History:Masonite was invented in 1924 in Laurel, Mississippi, by William H. Mason. Mass production started in 1929. In the 1930s and 1940s Masonite was used for many applications including doors, roofing, walls, desktops, and canoes...
, he used a palette knife with oil colors and often recorded colors used on the back of his works.
In 1971 (nearly five years before his death), Albers founded the Josef and Anni Albers Foundation, a non-profit organization he hoped would further "the revelation and evocation of vision through art." Today, this organization not only serves as the office Estate of both Josef Albers and his wife
Anni Albers
Anni Albers
Annelise Albers was a German-American textile artist and printmaker. She is perhaps the best known textile artist of the 20th century.-Life:...
, but also supports exhibitions and publications focused on Albers works. The official Foundation building is located in Bethany, Connecticut, and "includes a central research and archival storage center to accommodate the Foundation's art collections, library and archives, and offices, as well as residence studios for visiting artists." The U.S. copyright representative for the Josef and Anni Albers Foundation is the
Artists Rights Society
Artists Rights Society
Artists Rights Society is a copyright, licensing, and monitoring organization for visual artists in the United States. Founded in 1987, ARS represents the intellectual property rights interests of over 50,000 visual artists and estates of visual artists from around the world .- Member Artists &...
. The executive director of the foundation is Nicholas Fox Weber, an author of fourteen books. The Josef and Anni Albers Foundation is represented by The
Pace Gallery
Pace Gallery
The Pace Gallery is a New York City-based exhibition space. It was founded in 1960 in Boston by Arne Glimcher.-PaceWildenstein:From 1993 until April 1, 2010, the gallery became "PaceWildenstein," a joint business venture between the Pace Gallery and Wildenstein & Co....
, New York.
Style
Albers's work represents a transition between traditional European art and the new American art. It incorporated European influences from the constructivists and the Bauhaus movement, and its intensity and smallness of scale were typically European. But his influence fell heavily on American artists of the late 1950s and the 1960s. "
Hard-edge
Hard-edge painting
Hard-edge painting is painting in which abrupt transitions are found between color areas. Color areas are often of one unvarying color. The Hard-edge painting style is related to Geometric abstraction, Op Art, Post-painterly Abstraction, and Color Field painting.-History of the term:The term was...
" abstract painters drew on his use of patterns and intense colors, while
Op
Op art
Op art, also known as optical art, is a style of visual art that makes use of optical illusions."Optical art is a method of painting concerning the interaction between illusion and picture plane, between understanding and seeing." Op art works are abstract, with many of the better known pieces made...
artists and
conceptual art
Conceptual art
Conceptual art is art in which the concept or idea involved in the work take precedence over traditional aesthetic and material concerns. Many of the works, sometimes called installations, of the artist Sol LeWitt may be constructed by anyone simply by following a set of written instructions...
ists further explored his interest in perception.
See also
External links
Josef Albers Guggenheim Museum

Solomon R. Guggenheim Museum

The Solomon R. Guggenheim Museum is a well-known museum located on the Upper East Side of Manhattan in New York City, United States. It is the permanent home to a renowned collection of Impressionist, Post-Impressionist, early Modern, and contemporary art and also features special exhibitions...



Archives of American Art

Archives of American Art

The Archives of American Art is the largest collection of primary resources documenting the history of the visual arts in the United States. More than 16 million items of original material are housed in the Archives' research centers in Washington, D.C...


collection:
Works By Josef Albers
|AGE OF DEATH=88 years old