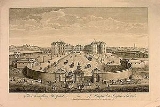 Foundling Hospital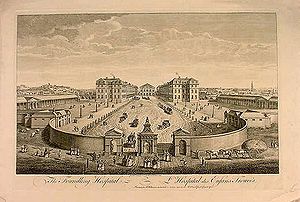 The
Foundling Hospital
in
London
London
London is the capital city of :England and the :United Kingdom, the largest metropolitan area in the United Kingdom, and the largest urban zone in the European Union by most measures. Located on the River Thames, London has been a major settlement for two millennia, its history going back to its...
,
England
England
England is a country that is part of the United Kingdom. It shares land borders with Scotland to the north and Wales to the west; the Irish Sea is to the north west, the Celtic Sea to the south west, with the North Sea to the east and the English Channel to the south separating it from continental...
was founded in 1741 by the
philanthropic
Philanthropy
Philanthropy etymologically means "the love of humanity"—love in the sense of caring for, nourishing, developing, or enhancing; humanity in the sense of "what it is to be human," or "human potential." In modern practical terms, it is "private initiatives for public good, focusing on quality of...
sea captain
Captain (nautical)
A sea captain is a licensed mariner in ultimate command of the vessel. The captain is responsible for its safe and efficient operation, including cargo operations, navigation, crew management and ensuring that the vessel complies with local and international laws, as well as company and flag...
Thomas Coram
. It was a children's home established for the "education and maintenance of exposed and deserted young children." The word "
hospital
Hospital
A hospital is a health care institution providing patient treatment by specialized staff and equipment. Hospitals often, but not always, provide for inpatient care or longer-term patient stays....
" was used in a more general sense than it is today, simply indicating the institution's "hospitality" to those less fortunate.
Early history
The first children were admitted to the Foundling Hospital on 25 March 1741, into a temporary house located in
Hatton Garden
Hatton Garden
Hatton Garden is a street and area near Holborn in London, England. It is most famous for being London's jewellery quarter and centre of the UK diamond trade, but the area is also now home to a diverse range of media and creative businesses....
. At first, no questions were asked about child or parent, but a distinguishing token was put on each child by the parent. These were often marked coins, trinkets, pieces of cotton or ribbon, verses written on scraps of paper. Clothes, if any, were carefully recorded. One entry in the record reads, "Paper on the breast, clout on the head." The applications became too numerous, and a system of balloting with red, white and black balls was adopted. Children were seldom taken after they were twelve months old.
On reception, children were sent to
wet nurses
Wet nurse
A wet nurse is a woman who is used to breast feed and care for another's child. Wet nurses are used when the mother is unable or chooses not to nurse the child herself. Wet-nursed children may be known as "milk-siblings", and in some cultures the families are linked by a special relationship of...
in the countryside, where they stayed until they were about four or five years old. At sixteen girls were generally
apprenticed
Apprenticeship
Apprenticeship is a system of training a new generation of practitioners of a skill. Apprentices or protégés build their careers from apprenticeships...
as
servants
Maid
A maidservant or in current usage housemaid or maid is a female employed in domestic service.-Description:Once part of an elaborate hierarchy in great houses, today a single maid may be the only domestic worker that upper and even middle-income households can afford, as was historically the case...
for four years; at fourteen, boys were apprenticed into variety of occupations, typically for seven years. There was a small benevolent fund for adults.
In September 1742, the stone of the new Hospital was laid in the area known as
Bloomsbury
Bloomsbury
-Places:* Bloomsbury is an area in central London.* Bloomsbury , related local government unit* Bloomsbury, New Jersey, New Jersey, USA* Bloomsbury , listed on the NRHP in Maryland...
, lying north of Great Ormond Street and west of Gray's Inn Lane. The Hospital was designed by Theodore Jacobsen as a plain brick building with two wings and a
chapel
Chapel
A chapel is a building used by Christians as a place of fellowship and worship. It may be part of a larger structure or complex, such as a church, college, hospital, palace, prison or funeral home, located on board a military or commercial ship, or it may be an entirely free-standing building,...
, built around an open
courtyard
Courtyard
A court or courtyard is an enclosed area, often a space enclosed by a building that is open to the sky. These areas in inns and public buildings were often the primary meeting places for some purposes, leading to the other meanings of court....
. The western wing was finished in October 1745. An eastern wing was added in 1752 "in order that the girls might be kept separate from the boys". The new Hospital was described as "the most imposing single monument erected by eighteenth century benevolence" and became London's most popular charity.
In 1756, the
House of Commons
House of Commons of Great Britain
The House of Commons of Great Britain was the lower house of the Parliament of Great Britain between 1707 and 1801. In 1707, as a result of the Acts of Union of that year, it replaced the House of Commons of England and the third estate of the Parliament of Scotland, as one of the most significant...
resolved that all children offered should be received, that local receiving places should be appointed all over the country, and that the funds should be publicly guaranteed. A basket was accordingly hung outside the hospital; the maximum age for admission was raised from two to twelve months, and a flood of children poured in from
country workhouses
Poor Law
The English Poor Laws were a system of poor relief which existed in England and Wales that developed out of late-medieval and Tudor-era laws before being codified in 1587–98...
. In less than four years 14,934 children were presented, and a vile trade grew up among
vagrants
Vagrancy (people)
A vagrant is a person in poverty, who wanders from place to place without a home or regular employment or income.-Definition:A vagrant is "a person without a settled home or regular work who wanders from place to place and lives by begging;" vagrancy is the condition of such persons.-History:In...
, who sometimes became known as "Coram Men", of promising to carry children from the country to the hospital, an undertaking which they often did not perform or performed with great cruelty. Of these 15,000, only 4,400 survived to be apprenticed out. The total expense was about £500,000, which alarmed the House of Commons. After throwing out a
bill
Bill (proposed law)
A bill is a proposed law under consideration by a legislature. A bill does not become law until it is passed by the legislature and, in most cases, approved by the executive. Once a bill has been enacted into law, it is called an act or a statute....
which proposed to raise the necessary funds by fees from a general system of
parochial
Parish
A parish is a territorial unit historically under the pastoral care and clerical jurisdiction of one parish priest, who might be assisted in his pastoral duties by a curate or curates - also priests but not the parish priest - from a more or less central parish church with its associated organization...
registration, they came to the conclusion that the indiscriminate admission should be discontinued. The hospital, being thus thrown on its own resources, adopted a system of receiving children only with considerable sums (e.g., £100), which sometimes led to the children being reclaimed by the parent. This practice was finally stopped in 1801; and it henceforth became a fundamental rule that no money was to be received. The committee of inquiry had to be satisfied of the previous good character and present necessity of the mother, and that the father of the child had deserted both mother and child, and that the reception of the child would probably replace the mother in the course of virtue and in the way of an honest livelihood. At that time, illegitimacy carried deep stigma, especially for the mother but also for the child. All the children at the Foundling Hospital were those of unmarried women, and they were all first children of their mothers. The principle was in fact that laid down by
Henry Fielding
Henry Fielding
Henry Fielding was an English novelist and dramatist known for his rich earthy humour and satirical prowess, and as the author of the novel Tom Jones....
in
The History of Tom Jones, a Foundling
The History of Tom Jones, a Foundling
The History of Tom Jones, a Foundling, often known simply as Tom Jones, is a comic novel by the English playwright and novelist Henry Fielding. First published on 28 February 1749, Tom Jones is among the earliest English prose works describable as a novel...
: "Too true I am afraid it is that many women have become abandoned and have sunk to the last degree of vice [i.e.
prostitution
Prostitution
Prostitution is the act or practice of providing sexual services to another person in return for payment. The person who receives payment for sexual services is called a prostitute and the person who receives such services is known by a multitude of terms, including a "john". Prostitution is one of...
] by being unable to retrieve the first slip."
There were some unfortunate incidents, such as the case of
Elizabeth Brownrigg
Elizabeth Brownrigg
Elizabeth Brownrigg was an 18th century murderess. Her victim, Mary Clifford, was one of her domestic servants, who died from cumulative injuries and associated infected wounds...
(1720–1767), a severely abusive Fetters Lane
midwife
Midwifery
Midwifery is a health care profession in which providers offer care to childbearing women during pregnancy, labour and birth, and during the postpartum period. They also help care for the newborn and assist the mother with breastfeeding....
who mercilessly whipped and otherwise maltreated her adolescent female apprentice domestic servants, leading to the death of one, Mary Clifford, from her injuries, neglect and infected wounds. After the Foundling Hospital authorities investigated, Brownrigg was convicted of murder and sentenced to hang at
Tyburn
Tyburn, London
Tyburn was a village in the county of Middlesex close to the current location of Marble Arch in present-day London. It took its name from the Tyburn or Teo Bourne 'boundary stream', a tributary of the River Thames which is now completely covered over between its source and its outfall into the...
. Thereafter, the Foundling Hospital instituted more thorough investigation of its prospective apprentice masters and mistresses.
Music
The musical service, which was originally sung by the blind children only, was made fashionable by the generosity of
George Frideric Handel
George Frideric Handel
George Frideric Handel was a German-British Baroque composer, famous for his operas, oratorios, anthems and organ concertos. Handel was born in 1685, in a family indifferent to music...
, who frequently had the
Messiah
Messiah (Handel)
Messiah is an English-language oratorio composed in 1741 by George Frideric Handel, with a scriptural text compiled by Charles Jennens from the King James Bible and the Book of Common Prayer. It was first performed in Dublin on 13 April 1742, and received its London premiere nearly a year later...
performed there, and who bequeathed to the hospital a fair copy (full score) of his greatest
oratorio
Oratorio
An oratorio is a large musical composition including an orchestra, a choir, and soloists. Like an opera, an oratorio includes the use of a choir, soloists, an ensemble, various distinguishable characters, and arias...
. Handel's involvement had begun on 1 May 1750 when he directed a performance of the
Messiah
to mark the presentation of the
organ
Pipe organ
The pipe organ is a musical instrument that produces sound by driving pressurized air through pipes selected via a keyboard. Because each organ pipe produces a single pitch, the pipes are provided in sets called ranks, each of which has a common timbre and volume throughout the keyboard compass...
to the chapel. That first performance was a great success and Handel was elected a Governor of the Hospital on the following day, a position he accepted. In 1774
Dr Charles Burney
Charles Burney
Charles Burney FRS was an English music historian and father of authors Frances Burney and Sarah Burney.-Life and career:...
and a Signor Giardini made an unsuccessful attempt to form in connection with the hospital a public music school, in imitation of the
Pio Ospedale della Pietà
Ospedale della Pietà
The Ospedale della Pietà was a convent, orphanage, and music school in Venice.Like other Venetian ospedali, the Pietà was established as a hostel for Crusaders...
in
Venice
Venice
Venice is a city in northern Italy which is renowned for the beauty of its setting, its architecture and its artworks. It is the capital of the Veneto region...
,
Italy
Italy
Italy , officially the Italian Republic languages]] under the European Charter for Regional or Minority Languages. In each of these, Italy's official name is as follows:;;;;;;;;), is a unitary parliamentary republic in South-Central Europe. To the north it borders France, Switzerland, Austria and...
. In 1847, however, a successful juvenile band was started. The educational effects of music were found excellent, and the hospital supplied many musicians to the best
army and navy bands
Military band
A military band originally was a group of personnel that performs musical duties for military functions, usually for the armed forces. A typical military band consists mostly of wind and percussion instruments. The conductor of a band commonly bears the title of Bandmaster or Director of Music...
.
Art
The early connection between the hospital and the eminent painters of the reign of
George II
George II of Great Britain
George II was King of Great Britain and Ireland, Duke of Brunswick-Lüneburg and Archtreasurer and Prince-elector of the Holy Roman Empire from 11 June 1727 until his death.George was the last British monarch born outside Great Britain. He was born and brought up in Northern Germany...
is of interest. The exhibitions of pictures at the Foundling Hospital, which were organized by the
Dilettante Society
Dilettante Society
The Dilettante Society or Dilettanti is a society of noblemen and scholars which sponsors the study of ancient Greek and Roman art, and the creation of new work in the style.-History:...
, led to the formation of the
Royal Academy
Royal Academy
The Royal Academy of Arts is an art institution based in Burlington House on Piccadilly, London. The Royal Academy of Arts has a unique position in being an independent, privately funded institution led by eminent artists and architects whose purpose is to promote the creation, enjoyment and...
in 1768.
William Hogarth
William Hogarth
William Hogarth was an English painter, printmaker, pictorial satirist, social critic and editorial cartoonist who has been credited with pioneering western sequential art. His work ranged from realistic portraiture to comic strip-like series of pictures called "modern moral subjects"...
, who was childless, had a long association with the Hospital and was a founding Governor. He designed the children's uniforms and the
coat of arms
Coat of arms
A coat of arms is a unique heraldic design on a shield or escutcheon or on a surcoat or tabard used to cover and protect armour and to identify the wearer. Thus the term is often stated as "coat-armour", because it was anciently displayed on the front of a coat of cloth...
, and he and his wife Jane fostered foundling children. Hogarth also decided to set up a permanent
art exhibition
Art exhibition
Art exhibitions are traditionally the space in which art objects meet an audience. The exhibit is universally understood to be for some temporary period unless, as is rarely true, it is stated to be a "permanent exhibition". In American English, they may be called "exhibit", "exposition" or...
in the new buildings, encouraging other artists to produce work for the hospital. Indeed, several contemporary English artists decorated the walls of the hospital with their works, including
Sir Joshua Reynolds
Joshua Reynolds
Sir Joshua Reynolds RA FRS FRSA was an influential 18th-century English painter, specialising in portraits and promoting the "Grand Style" in painting which depended on idealization of the imperfect. He was one of the founders and first President of the Royal Academy...
,
Thomas Gainsborough
Thomas Gainsborough
Thomas Gainsborough was an English portrait and landscape painter.-Suffolk:Thomas Gainsborough was born in Sudbury, Suffolk. He was the youngest son of John Gainsborough, a weaver and maker of woolen goods. At the age of thirteen he impressed his father with his penciling skills so that he let...
,
Richard Wilson
Richard Wilson (painter)
Richard Wilson was a Welsh landscape painter, and one of the founder members of the Royal Academy in 1768. Wilson has been described as '...the most distinguished painter Wales has ever produced and the first to appreciate the aesthetic possibilities of his country.' He is considered to be the...
and
Francis Hayman
Francis Hayman
Francis Hayman was an English painter and illustrator who became one of the founding members of the Royal Academy in 1768 and later its first librarian....
.
Hogarth painted a portrait of Thomas Coram for the hospital. He also donated his "Moses Brought Before Pharaoh's Daughter". His painting "March of the Guards to Finchley" was also obtained by the hospital after Hogarth donated lottery tickets for a sale of his works, and the hospital won it. Another noteworthy piece is
Roubiliac
Louis-François Roubiliac
Louis-François Roubiliac was a French sculptor who worked in England, one of the four most prominent sculptors in London working in the rococo style, "probably the most accomplished sculptor ever to work in England", according to Margaret Whinney.-Works:Roubiliac was largely employed for portrait...
's bust of Handel. The chapel's altar-piece was originally "Adoration of the Magi" by Casali, but deemed to look too
Catholic
Catholic
The word catholic comes from the Greek phrase , meaning "on the whole," "according to the whole" or "in general", and is a combination of the Greek words meaning "about" and meaning "whole"...
by the Hospital's
Anglican
Church of England
The Church of England is the officially established Christian church in England and the Mother Church of the worldwide Anglican Communion. The church considers itself within the tradition of Western Christianity and dates its formal establishment principally to the mission to England by St...
governors, it was replaced by
Benjamin West
Benjamin West
Benjamin West, RA was an Anglo-American painter of historical scenes around and after the time of the American War of Independence...
's picture of
Christ
Jesus
Jesus of Nazareth , commonly referred to as Jesus Christ or simply as Jesus or Christ, is the central figure of Christianity...
presenting a little child. The hospital also owns several paintings illustrating life in the institution by Emma Brownlow, daughter of the hospital's administrator. The Foundling Hospital art collection can today be seen at the
Foundling Museum
Foundling Museum
The Foundling Museum in London tells the story of the Foundling Hospital, Britain's first home for abandoned children. The museum houses the nationally important Foundling Hospital Art Collection as well as the Gerald Coke Handel Collection, the world's greatest privately amassed collection of...
.
Relocation
In the 1920s, the Hospital decided to move to a healthier location in the countryside. A proposal to turn the buildings over for university use fell through, and they were eventually sold to a property developer called James White in 1926. He hoped to transfer
Covent Garden Market
Covent Garden
Covent Garden is a district in London on the eastern fringes of the West End, between St. Martin's Lane and Drury Lane. It is associated with the former fruit and vegetable market in the central square, now a popular shopping and tourist site, and the Royal Opera House, which is also known as...
to the site, but the local residents successfully opposed that plan. In the end, the original Hospital building was demolished. The children were moved to
Redhill, Surrey
Redhill, Surrey
Redhill is a town in the borough of Reigate and Banstead, Surrey, England and is part of the London commuter belt. Redhill and the adjacent town of Reigate form a single urban area.-History:...
, where an old convent was used to lodge them, and then in 1935 to the new purpose-built Foundling Hospital in
Berkhamsted
Berkhamsted
-Climate:Berkhamsted experiences an oceanic climate similar to almost all of the United Kingdom.-Castle:...
,
Hertfordshire
Hertfordshire
Hertfordshire is a ceremonial and non-metropolitan county in the East region of England. The county town is Hertford.The county is one of the Home Counties and lies inland, bordered by Greater London , Buckinghamshire , Bedfordshire , Cambridgeshire and...
. When, in the 1950s, British law moved away from institutionalisation of children toward more family-oriented solutions, such as
adoption
Adoption
Adoption is a process whereby a person assumes the parenting for another and, in so doing, permanently transfers all rights and responsibilities from the original parent or parents...
and
foster care
Foster care
Foster care is the term used for a system in which a minor who has been made a ward is placed in the private home of a state certified caregiver referred to as a "foster parent"....
, the Foundling Hospital ceased most of its operations. The Berkhamsted buildings were sold to
Hertfordshire County Council
Hertfordshire County Council
Hertfordshire County Council is the upper-tier local authority for the non-metropolitan county of Hertfordshire, in England, the United Kingdom. It currently consists of 77 councillors, and is controlled by the Conservative Party, which has 55 councillors, 17 Liberal Democrats, versus 3 Labour...
for use as a school and the Foundling Hospital changed its name to the
Thomas Coram Foundation for Children
Thomas Coram Foundation for Children
The Thomas Coram Foundation for Children is a large children's charity in London which uses the working name Coram ....
and currently uses the working name Coram.
Today
The Foundling Hospital still has a legacy on the original site. Seven acres (28,000 m²) of it were purchased for use as a playground for children with financial support from the newspaper proprietor Lord Rothermere. This area is often used by children who are in- or out-patients at the nearby
Great Ormond Street Hospital
Great Ormond Street Hospital
Great Ormond Street Hospital for Children is a children's hospital located in London, United Kingdom...
, and is owned by a separate charity called
Coram's Fields
Coram's Fields
Coram's Fields is a large urban open space in the London borough of Camden in central London, England. It occupies seven acres in Bloomsbury and includes a children's playground, sand pits, a duck pond, a pets corner, café and nursery...
. The Foundling Hospital itself bought back 2.5 acres (10,000 m²) of land in 1937 and built a new headquarters and a children's centre on the site. Although smaller, the building is in a similar style to the original Foundling Hospital and important aspects of the interior architecture were recreated there. It now houses the
Foundling Museum
Foundling Museum
The Foundling Museum in London tells the story of the Foundling Hospital, Britain's first home for abandoned children. The museum houses the nationally important Foundling Hospital Art Collection as well as the Gerald Coke Handel Collection, the world's greatest privately amassed collection of...
, an independent charity, where the art collection can be seen. The original charity still exists as one of London's largest children's charities, the
Thomas Coram Foundation for Children
Thomas Coram Foundation for Children
The Thomas Coram Foundation for Children is a large children's charity in London which uses the working name Coram ....
(now using the working name Coram) and operates in adjacent buildings, constructed in the 1950s.
The Foundling Hospital in fiction
The Foundling Hospital is the setting for
Jamila Gavin's
Jamila Gavin
Jamila Gavin is a British writer born in Mussoorie, India in the foothills of the Himalayas.Her father was Indian and her mother English...
novel
Coram Boy
Coram Boy
Coram Boy is a very successful children's novel by Jamila Gavin. Published in 2000, it won Gavin a Whitbread Children's Book Award. The story follows a wide range of characters, from the rich Alexander Ashbrook to Toby, a young boy saved from an African slave ship, as their lives become closely...
. It also appears in three books by
Jacqueline Wilson
Jacqueline Wilson
Dame Jacqueline Wilson, DBE, FRSL is an award-winning English author, known for her vast and diverse work in children's literature. Her novels have been adapted numerous times for television, and commonly deal with such challenging themes as adoption, divorce and mental illness...
,
Hetty Feather
Hetty Feather
Hetty Feather is a book by best selling author, Jacqueline Wilson. It is about a young girl who is abandoned by her mother at the Foundling Hospital as a baby and follows her story as she lives in a foster home before returning to the Foundling Hospital as young child...
,Sapphire Battersea and
The Lottie Project
The Lottie Project
The Lottie Project is a children's novel by English author Jacqueline Wilson. It is illustrated by Nick Sharrat. The book is different from most Jaqueline Wilson books, as they are mostly told by characters who are not popular in school and are usually bullied by the popular students.-Plot...
.
See also
Abandonment

Abandonment

The term abandonment has a multitude of uses, legal and extra-legal. This "signpost article" provides a guide to the various legal and quasi-legal uses of the word and includes links to articles that deal with each of the distinct concepts at greater length...



Thomas Coram Foundation for Children

Thomas Coram Foundation for Children

The Thomas Coram Foundation for Children is a large children's charity in London which uses the working name Coram ....



External links