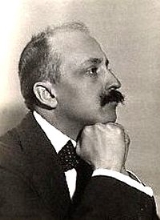 Filippo Tommaso Marinetti
Filippo Tommaso Emilio Marinetti
(22 December 1876 – 2 December 1944) was an Italian
poet
Poet
A poet is a person who writes poetry. A poet's work can be literal, meaning that his work is derived from a specific event, or metaphorical, meaning that his work can take on many meanings and forms. Poets have existed since antiquity, in nearly all languages, and have produced works that vary...
and editor, the founder of the
Futurist
Futurism (art)
Futurism was an artistic and social movement that originated in Italy in the early 20th century. It emphasized and glorified themes associated with contemporary concepts of the future, including speed, technology, youth and violence, and objects such as the car, the airplane and the industrial city...
movement, and a
fascist
Fascism
Fascism is a radical authoritarian nationalist political ideology. Fascists seek to rejuvenate their nation based on commitment to the national community as an organic entity, in which individuals are bound together in national identity by suprapersonal connections of ancestry, culture, and blood...
ideologue.
Childhood and adolescence
Emilio Angelo Carlo Marinetti (some documents give his name as "Filippo Achille Emilio Marinetti") spent the first years of his life in
Alexandria
Alexandria
Alexandria is the second-largest city of Egypt, with a population of 4.1 million, extending about along the coast of the Mediterranean Sea in the north central part of the country; it is also the largest city lying directly on the Mediterranean coast. It is Egypt's largest seaport, serving...
,
Egypt
Egypt
Egypt , officially the Arab Republic of Egypt, Arabic: , is a country mainly in North Africa, with the Sinai Peninsula forming a land bridge in Southwest Asia. Egypt is thus a transcontinental country, and a major power in Africa, the Mediterranean Basin, the Middle East and the Muslim world...
, where his father (Enrico Marinetti) and his mother (Amalia Grolli) lived together
more uxorio
(as if married).
His love for literature developed during his school years. At age seventeen he started his first school magazine,
Papyrus
; the Jesuits threatened to expel him for publicizing
Emile Zola
Émile Zola
Émile François Zola was a French writer, the most important exemplar of the literary school of naturalism and an important contributor to the development of theatrical naturalism...
's scandalous novels in the school.
He studied in Egypt and
Paris
Paris
Paris is the capital and largest city in France, situated on the river Seine, in northern France, at the heart of the Île-de-France region...
, where he obtained a baccalaureat degree in 1894 at the Sorbonne. He obtained a degree in law at
Pavia
Pavia
Pavia , the ancient Ticinum, is a town and comune of south-western Lombardy, northern Italy, 35 km south of Milan on the lower Ticino river near its confluence with the Po. It is the capital of the province of Pavia. It has a population of c. 71,000...
University, graduating in 1899.
He decided not to be a lawyer but to develop a literary career. He experimented with every type of literature (
poetry
Poetry
Poetry is a form of literary art in which language is used for its aesthetic and evocative qualities in addition to, or in lieu of, its apparent meaning...
, narrative,
theatre
Theatre
Theatre is a collaborative form of fine art that uses live performers to present the experience of a real or imagined event before a live audience in a specific place. The performers may communicate this experience to the audience through combinations of gesture, speech, song, music or dance...
,
words in liberty
), signing everything "Filippo Tommaso Marinetti".
Futurism
Marinetti is known best as the author of the
Futurist Manifesto
Futurist Manifesto
The Futurist Manifesto, written by the Italian poet Filippo Tommaso Marinetti, was published in the Italian newspaper Gazzetta dell'Emilia in Bologna on 5 February 1909, then in French as "Manifeste du futurisme" in the newspaper Le Figaro on 20 February 1909...
, which he wrote in 1908. It was published in French on the front page of the most prestigious French daily newspaper,
Le Figaro
Le Figaro
Le Figaro is a French daily newspaper founded in 1826 and published in Paris. It is one of three French newspapers of record, with Le Monde and Libération, and is the oldest newspaper in France. It is also the second-largest national newspaper in France after Le Parisien and before Le Monde, but...
, on 20 February 1909. In
The Founding and Manifesto of Futurism
, Marinetti declared that "Art [...] can be nothing but violence, cruelty, and injustice." Since that text proclaims the unity of life and art, Marinetti understood violence not only as a means of producing an aesthetic effect, but also as being inherent to life itself. George Sorel, who influenced the entire political spectrum from anarchism to Fascism, also argued for the importance of violence. Futurism had both anarchist and Fascist elements; Marinetti later became an active supporter of
Benito Mussolini
Benito Mussolini
Benito Amilcare Andrea Mussolini was an Italian politician who led the National Fascist Party and is credited with being one of the key figures in the creation of Fascism....
.
A lover of speed, Marinetti had a minor car accident outside
Milan
Milan
Milan is the second-largest city in Italy and the capital city of the region of Lombardy and of the province of Milan. The city proper has a population of about 1.3 million, while its urban area, roughly coinciding with its administrative province and the bordering Province of Monza and Brianza ,...
in 1908 when he veered into a ditch to avoid two cyclists. He referred to the accident in the Futurist Manifesto: the Marinetti who was helped out of the ditch was a new man, determined to end the pretense and decadence of the prevailing Liberty style. He discussed a new and strongly revolutionary programme with his friends, in which they should end every artistic relationship with the past, "destroy the museums, the libraries, every type of academy". Together, he wrote, "We will glorify war—the world's only hygiene—
militarism
Militarism
Militarism is defined as: the belief or desire of a government or people that a country should maintain a strong military capability and be prepared to use it aggressively to defend or promote national interests....
,
patriotism
Patriotism
Patriotism is a devotion to one's country, excluding differences caused by the dependencies of the term's meaning upon context, geography and philosophy...
, the destructive gesture of freedom-bringers, beautiful ideas worth dying for, and scorn for woman".
The Futurist Manifesto was read and debated all across Europe, but Marinetti's first 'Futurist' works were not as successful. In April, the opening night of his drama Le Roi Bombance (The Feasting King), written in 1905, was interrupted by loud, derisive whistling by the audience... and by Marinetti himself, who thus introduced another element of Futurism, "the desire to be heckled". Marinetti did, however, fight a duel with a critic he considered too harsh.
His drama
La donna è mobile
(Poupées électriques), presented in
Turin
Turin
Turin is a city and major business and cultural centre in northern Italy, capital of the Piedmont region, located mainly on the left bank of the Po River and surrounded by the Alpine arch. The population of the city proper is 909,193 while the population of the urban area is estimated by Eurostat...
was also not successful. Nowadays, the play is remembered mainly through a later version, named
Elettricità sessuale
(Sexual Electricity), and mainly for the appearance onstage of humanoid automatons, ten years before the Czech novelist
Josef Čapek
Josef Capek
Josef Čapek was a Czech artist who was best known as a painter, but who was also noted as a writer and a poet. He invented the word robot, which was introduced into literature by his brother, Karel Čapek.- Biography :...
would invent the term "
robot
Robot
A robot is a mechanical or virtual intelligent agent that can perform tasks automatically or with guidance, typically by remote control. In practice a robot is usually an electro-mechanical machine that is guided by computer and electronic programming. Robots can be autonomous, semi-autonomous or...
".
In 1910, his first novel
Mafarka il futurista
was cleared of all charges by an obscenity trial. That year, Marinetti discovered some allies in three young painters, (
Umberto Boccioni
Umberto Boccioni
Umberto Boccioni was an Italian painter and sculptor. Like other Futurists, his work centered on the portrayal of movement , speed, and technology. He was born in Reggio Calabria, Italy.-Biography:...
,
Carlo Carrà
Carlo Carrà
Carlo Carrà was an Italian painter, a leading figure of the Futurist movement that flourished in Italy during the beginning of the 20th century. In addition to his many paintings, he wrote a number of books concerning art. He taught for many years in the city of Milan.-Biography:Carrà was born in...
,
Luigi Russolo
Luigi Russolo
Luigi Russolo was an Italian Futurist painter and composer, and the author of the manifesto The Art of Noises . He is often regarded as one of the first noise music experimental composers with his performances of "noise concerts" in 1913-14 and then again after World War I, notably in Paris in 1921...
), who adopted Futurist philosophy. Together with them (and with poets such as
Aldo Palazzeschi
Aldo Palazzeschi
Aldo Palazzeschi was the pen name of Aldo Giurlani, an Italian novelist, poet, journalist and essayist.-Biography:...
), Marinetti began a series of Futurist Evenings, theatrical spectacles in which Futurists declaimed their manifestos in front of a crowd that, some of whom attended the performances in order to throw vegetables at them.
The most successful "happening"' of that period was the publicization of the "Manifesto Against Past-Loving
Venice
Venice
Venice is a city in northern Italy which is renowned for the beauty of its setting, its architecture and its artworks. It is the capital of the Veneto region...
" in Venice. In the flier, Marinetti demands "fill(ing) the small, stinking canals with the rubble from the old, collapsing and leprous palaces" to "prepare for the birth of an industrial and militarized Venice, capable of dominating the great Adriatic, a great Italian lake".
In 1911, the
Italo-Turkish War
Italo-Turkish War
The Italo-Turkish or Turco-Italian War was fought between the Ottoman Empire and the Kingdom of Italy from September 29, 1911 to October 18, 1912.As a result of this conflict, Italy was awarded the Ottoman provinces of Tripolitania, Fezzan, and...
began and Marinetti departed for
Libya
Libya
Libya is an African country in the Maghreb region of North Africa bordered by the Mediterranean Sea to the north, Egypt to the east, Sudan to the southeast, Chad and Niger to the south, and Algeria and Tunisia to the west....
as war correspondent for a French newspaper. His articles were eventually collected and published in
The Battle Of Tripoli
. He also made a number of visits to London, which he considered 'the Futurist city par excellence', and where a number of exhibitions, lectures and demonstrations of Futurist music were staged. However, although a number of artists, including
Wyndham Lewis
Wyndham Lewis
Percy Wyndham Lewis was an English painter and author . He was a co-founder of the Vorticist movement in art, and edited the literary magazine of the Vorticists, BLAST...
, were interested in the new movement, only one British convert was made, the young artist C.R.W. Nevinson. Nevertheless, Futurism was an important influence upon Lewis's Vorticist philosophy.
About the same time he worked on a very anti-
Roman Catholic
Roman Catholic Church
The Catholic Church, also known as the Roman Catholic Church, is the world's largest Christian church, with over a billion members. Led by the Pope, it defines its mission as spreading the gospel of Jesus Christ, administering the sacraments and exercising charity...
and anti-
Austrian
Austria-Hungary
Austria-Hungary , more formally known as the Kingdoms and Lands Represented in the Imperial Council and the Lands of the Holy Hungarian Crown of Saint Stephen, was a constitutional monarchic union between the crowns of the Austrian Empire and the Kingdom of Hungary in...
verse-novel,
Le monoplan du Pape
(
The Pope's Aeroplane
, 1912) and edited an anthology of futurist poets. But his attempts to renew the style of poetry did not satisfy him. So much so that in his foreword to the anthology, he declared a new revolution: it was time to be done with traditional syntax and to use "words in freedom" (
parole in libertà
). His sound-poem
Zang Tumb Tumb
Zang Tumb Tumb
"Zang Tumb Tumb" is a sound poem and concrete poem written by Filippo Tommaso Marinetti, an Italian futurist. It appeared in excerpts in journals between 1912 and 1914, when it was published as an artist's book in Milan. It is an account of the Battle of Adrianople, which he witnessed as a reporter...
exemplifies words in freedom. Recordings can be heard of Marinetti reading some of his sound poems:
Battaglia, Peso + Odore (1912)
Dune, parole in libertà (1914)
La Battaglia di Adrianopoli (1926) (recorded 1935)
Marriage
After an extended courtship, in 1926 Marinetti married Benedetta Cappa (1897–1977), a writer and painter in her own right, and a pupil of
Giacomo Balla
Giacomo Balla
Giacomo Balla was an Italian painter.-Biography:Born in Turin, in the Piedmont region of Italy, the son of an industrial chemist, as a child Giacomo Balla studied music....
. Born in Rome, she had joined the Futurists in 1917. They'd met in 1919, moved in together in Rome by 1924, and chose to marry only to avoid legal complications on a lecture tour of Brazil. They would have three daughters: Vittoria, Ala, and Luce.
Cappa and Marinetti collaborated on a genre of mixed-media assemblages in the mid-1920s they called
tattilismo
("Tactilism"), and she was a strong proponent and practitioner of the
aeropittura
Aeropittura
Aeropittura was a major expression of the second generation of Italian Futurism, from 1929 through the early 1940s. The technology and excitement of flight, directly experienced by most aeropainters, offered aeroplanes and aerial landscape as new subject matter.Aeropainting was surprisingly...
movement after its inception in 1929. She also produced three experimental novels. Cappa's major public work is likely a series of five murals at the Palermo Post Office (1926–1934) for the Fascist public-works architect
Angiolo Mazzoni
Angiolo Mazzoni
Angiolo Mazzoni was a prolific state architect and engineer of the Italian Fascist government of the 1920s and 1930s.Mazzoni designed hundreds of public buildings, post offices and train stations during the Interwar period in Italy...
.
Marinetti and Fascism
In early 1918 he founded the
Partito Politico Futurista
or Futurist Political Party, which only a year later was resigned to
Benito Mussolini
Benito Mussolini
Benito Amilcare Andrea Mussolini was an Italian politician who led the National Fascist Party and is credited with being one of the key figures in the creation of Fascism....
's
Fasci Italiani di Combattimento
Fasci Italiani di Combattimento
The Fasci Italiani di Combattimento were an Italian fascio organization, created by Benito Mussolini in 1919. After World War I had ended, he reconstituted the Milan fascio, renaming it Fasci Italiani di Combattimento. In 1921, this fascio would be transformed into the Partito Nazionale Fascista,...
. Marinetti was one of the first affiliates of the Italian Fascist Party. In 1919 he co-wrote with
Alceste De Ambris
Alceste De Ambris
Alceste De Ambris , was an Italian syndicalist, the brother of Amilcare De Ambris. De Ambris had a major part to play in the agrarian strike actions of 1908.-Life:De Ambris was born in Licciana Nardi, province of Massa-Carrara....
the
Fascist Manifesto
Fascist manifesto
The Manifesto of the Italian Fasci of Combat was the initial declaration of the political stance of the founders of Italian Fascism. The Manifesto that was written by national syndicalist Alceste De Ambris and Futurist movement leader Filippo Tommaso Marinetti.-Origins of Italian Fascism:The...
, the original manifesto of
Italian Fascism
Italian Fascism
Italian Fascism also known as Fascism with a capital "F" refers to the original fascist ideology in Italy. This ideology is associated with the National Fascist Party which under Benito Mussolini ruled the Kingdom of Italy from 1922 until 1943, the Republican Fascist Party which ruled the Italian...
. He opposed Fascism's later exaltation of existing institutions, terming them "reactionary," and, after walking out of the 1920 Fascist party congress in disgust, withdrew from politics for three years. However, he remained a notable force in developing the party philosophy throughout the regime's existence. For example, at the end of the
Congress of Fascist Culture
that was held in
Bologna
Bologna
Bologna is the capital city of Emilia-Romagna, in the Po Valley of Northern Italy. The city lies between the Po River and the Apennine Mountains, more specifically, between the Reno River and the Savena River. Bologna is a lively and cosmopolitan Italian college city, with spectacular history,...
on 30 March 1925,
Giovanni Gentile
Giovanni Gentile
Giovanni Gentile was an Italian neo-Hegelian Idealist philosopher, a peer of Benedetto Croce. He described himself as 'the philosopher of Fascism', and ghostwrote A Doctrine of Fascism for Benito Mussolini. He also devised his own system of philosophy, Actual Idealism.- Life and thought :Giovanni...
addressed
Sergio Panunzio
Sergio Panunzio
Sergio Panunzio was an Italian theoretician of revolutionary syndicalism. In the 1920s, he became a major theoretician of Italian Fascism....
on the need to define Fascism more purposefully by way of Marinetti's opinion, stating, "Great spiritual movements make recourse to precision when their primitive inspirations—what F. T. Marinetti identified this morning as artistic, that is to say, the creative and truly innovative ideas, from which the movement derived its first and most potent impulse—have lost their force. We today find ourselves at the very beginning of a new life and we experience with joy this obscure need that fills our hearts—this need that is our inspiration, the genius that governs us and carries us with it."
During the Fascist regime Marinetti sought to make Futurism the official state art of Italy but failed to do so. Mussolini was personally uninterested in art and chose to give patronage to numerous styles in order to keep artists loyal to the regime. Opening the exhibition of art by the
Novecento Italiano
Novecento Italiano
Novecento Italiano was an Italian artistic movement founded in Milan in 1922 by Anselmo Bucci , Leonardo Dudreville , Achille Funi, Gian Emilio Malerba , Piero Marussig, Ubaldo Oppi and Mario Sironi...
group in 1923, he said: "I declare that it is far from my idea to encourage anything like a state art. Art belongs to the domain of the individual. The state has only one duty: not to undermine art, to provide humane conditions for artists, to encourage them from the artistic and national point of view." Mussolini's mistress,
Margherita Sarfatti
Margherita Sarfatti
Margherita Sarfatti was a Jewish Italian journalist, art critic, patron, collector, socialite, and one of Benito Mussolini's mistresses.-Biography:...
, successfully promoted the rival Novecento Group, and even persuaded Marinetti to be part of its board.
In Fascist Italy, modern art was tolerated and even approved by the Fascist hierarchy. Towards the end of the 1930s, some Fascist ideologues (for example, the ex-Futurist Soffici) wished to import the concept of "
degenerate art
Degenerate art
Degenerate art is the English translation of the German entartete Kunst, a term adopted by the Nazi regime in Germany to describe virtually all modern art. Such art was banned on the grounds that it was un-German or Jewish Bolshevist in nature, and those identified as degenerate artists were...
" from Germany to Italy and condemned modernism, although their demands were ignored by the regime. In 1938, hearing that
Adolf Hitler
Adolf Hitler
Adolf Hitler was an Austrian-born German politician and the leader of the National Socialist German Workers Party , commonly referred to as the Nazi Party). He was Chancellor of Germany from 1933 to 1945, and head of state from 1934 to 1945...
wanted to include Futurism in a traveling exhibition of degenerate art, Marinetti persuaded Mussolini to refuse to let it enter Italy. During the same year he protested publicly against anti-Semitism.
Marinetti made numerous attempts to ingratiate himself with the regime, becoming less radical and avant garde with each. He relocated from Milan to Rome. He became an academician despite his condemnation of academies, saying, "It is important that Futurism be represented in the Academy." He married despite his condemnation of marriage, promoted religious art after the Lateran Treaty of 1929 and even reconciled himself to the Catholic Church, declaring that
Jesus
Jesus
Jesus of Nazareth , commonly referred to as Jesus Christ or simply as Jesus or Christ, is the central figure of Christianity...
was a Futurist.
There were other contradictions in his character: despite his nationalism, he was international, educated in Egypt and France, writing his first poems in French, publishing the Futurist Manifesto in a French newspaper and traveling to promote his ideas.
Marinetti volunteered for active service in the
Second Italo-Abyssinian War
Second Italo-Abyssinian War
The Second Italo–Abyssinian War was a colonial war that started in October 1935 and ended in May 1936. The war was fought between the armed forces of the Kingdom of Italy and the armed forces of the Ethiopian Empire...
and the Second World War, serving on the
Eastern Front
Eastern Front (World War II)
The Eastern Front of World War II was a theatre of World War II between the European Axis powers and co-belligerent Finland against the Soviet Union, Poland, and some other Allies which encompassed Northern, Southern and Eastern Europe from 22 June 1941 to 9 May 1945...
, despite his advanced age.
He died of
cardiac arrest
Cardiac arrest
Cardiac arrest, is the cessation of normal circulation of the blood due to failure of the heart to contract effectively...
in
Bellagio
Bellagio
Bellagio is a comune in the Province of Como in the Italian region Lombardy, located on Lake Como. It has long been famous for its setting at the intersection of the three branches of the Y-shaped lake, which is also known as Lario....
on 2 December 1944 while working on a collection of poems praising the wartime achievements of the
Decima Flottiglia MAS
Decima Flottiglia MAS
The Decima Flottiglia MAS was an Italian commando frogman unit of the Regia Marina created during the Fascist regime.The acronym MAS also refers to various light torpedo boats used by the Regia Marina during World...
.
Writings
Marinetti, Filippo Tommaso: Mafarka the Futurist. An African novel, Middlesex University Press, 1998, ISBN 1898253102
Marinetti, Filippo Tommaso: Selected Poems and Related Prose, Yale University Press, 2002, ISBN 0300041039
Marinetti, Filippo Tommaso: Critical Writings, ed. by Günter Berghaus, New York : Farrar, Straus, and Giroux, 2006, 549p., ISBN 0374260834, pocket edition 2008: ISBN 0374531072
Carlo Schirru, Per un'analisi interlinguistica d'epoca: Grazia Deledda e contemporanei, Rivista Italiana di Linguistica e di Dialettologia, Fabrizio Serra editore, Pisa-Roma, Anno XI, 2009, pp. 9–32
External links