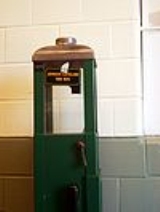 Fare
A
fare
is the
fee
Fee
A fee is the price one pays as remuneration for services. Fees usually allow for overhead, wages, costs, and markup.Traditionally, professionals in Great Britain received a fee in contradistinction to a payment, salary, or wage, and would often use guineas rather than pounds as units of account...
paid by a passenger allowing him or her to make use of a
public transport
Public transport
Public transport is a shared passenger transportation service which is available for use by the general public, as distinct from modes such as taxicab, car pooling or hired buses which are not shared by strangers without private arrangement.Public transport modes include buses, trolleybuses, trams...
system:
rail
Rail transport
Rail transport is a means of conveyance of passengers and goods by way of wheeled vehicles running on rail tracks. In contrast to road transport, where vehicles merely run on a prepared surface, rail vehicles are also directionally guided by the tracks they run on...
,
bus
Bus
A bus is a road vehicle designed to carry passengers. Buses can have a capacity as high as 300 passengers. The most common type of bus is the single-decker bus, with larger loads carried by double-decker buses and articulated buses, and smaller loads carried by midibuses and minibuses; coaches are...
,
taxi
Taxicab
A taxicab, also taxi or cab, is a type of vehicle for hire with a driver, used by a single passenger or small group of passengers, often for a non-shared ride. A taxicab conveys passengers between locations of their choice...
, etc. In the case of
air
Airline
An airline provides air transport services for traveling passengers and freight. Airlines lease or own their aircraft with which to supply these services and may form partnerships or alliances with other airlines for mutual benefit...
transport, the term
airfare
is often used.
Uses
The fare paid is a contribution to the operational costs of the transport system involved, either partial (as is frequently the case with publicly supported systems) or total. The portion of operating costs covered by fares - the
farebox recovery ratio
Farebox recovery ratio
The farebox recovery ratio of a passenger transportation system is the proportion of the amount of revenue generated through fares by its paying customers as a fraction of the cost of its total operating expenses....
- typically varies from 30%-60% in N America and Europe, with some rail systems in Asia over 100%.
The rules regarding how and when fares are to be paid and for how long they remain valid are many and varied. Rail and bus systems usually require the payment of fares on or before boarding. In the case of taxis and other
vehicles for hire
Vehicle for hire
thumb|190px|[[Taxicab]]s in [[New York City]]thumb|190px|right|[[Cycle rickshaw|Velotaxi]] in [[New York City]]A vehicle for hire is a vehicle providing shared transportation, which transports one or more passengers between locations of the passengers' choice .Vehicles for hire can be distinguished...
, payment is normally made at the end of the ride.
Some systems allow
free transfers
Free transfer (transport)
A free transfer is a term used in public transportation, it refers to allowing a rider to switch from one vehicle to another without paying an additional fare. This can be done by having both vehicles stop within the same fare control area, by issuing the rider a special ticket or by using an...
: that is to say that a single payment permits travel within a particular geographical zone or time period. Such an arrangement is helpful for people who need to transfer from one route to another in order to reach their destination. Sometimes transfers are valid in one direction only, requiring a new fare to be paid for the return trip.
In the United Kingdom, certain
Train Operating Companies
, such as
South West Trains
South West Trains
South West Trains is a British train operating company providing, under franchise, passenger rail services, mostly out of Waterloo station, to the southwest of London in the suburbs and in the counties of Surrey, Hampshire, Dorset, Devon, Somerset, Berkshire, and Wiltshire and on the Isle of Wight...
and
Southern
Southern (train operating company)
Southern is a train operating company in the United Kingdom. Officially named Southern Railway Ltd., it is a subsidiary of Govia, a joint venture between transport groups Go-Ahead Group and Keolis, and has operated the South Central rail franchise since October 2000 and the Gatwick Express service...
, have Revenue Protection Inspectors who can issue penalty fares to passengers who travel without a valid ticket. This is currently a minimum of £20 or twice the single fare for the journey made.
In Canada, the
Toronto Transit Commission
Toronto Transit Commission
-Island Ferry:The ferry service to the Toronto Islands was operated by the TTC from 1927 until 1962, when it was transferred to the Metro Parks and Culture department. Since 1998, the ferry service is run by Toronto Parks and Recreation.-Gray Coach:...
charges $500 for people evading the $3.00 CDN fare.
Farebox

A device used to collect fares and tickets on streetcars, trains and buses upon entry, replacing the need for a separate conductor. Nearly all major metropolitan transit agencies in the United States and Canada use a farebox to collect or validate fare payment. The first farebox was invented by
Tom Loftin Johnson
Tom L. Johnson
Thomas Loftin Johnson , better known as Tom L. Johnson, was an American politician of the Democratic Party from the late 19th and early 20th centuries. He headed relief efforts after the Johnstown, Pennsylvania floods of 1889, was a U.S. Representative from 1891–1895 and the 35th mayor of...
in 1880 and was used on streetcars built by the
St. Louis Car Company
St. Louis Car Company
The St. Louis Car Company was a major United States manufacturer of railroad passenger cars, streetcars, trolleybuses and locomotives that existed from 1887–1973, based in St. Louis, Missouri.-History:...
. Early models would catch coins and then sort them once the fare was accepted or "rung up". Later models after World War II had a counting function that would allow the fares to be added together so that a total per shift could be maintained by the transit revenue department.
Fareboxes did not change again until around 1984, when fares in many larger cities reached $1.00 and the first dollar bill accepting farebox was put into service. In 2006, new fareboxes had the capability of accepting cash, credit, or smartcard transactions, and issuing day passes and transfers for riders. GFI Genfare is currently is one of the largest manufacturers of fareboxes in North America.
Fare structure
Fare structure is the system set up to determine how much is to be paid by various passengers using a transit vehicle at any given time.
Linked trip
A linked trip is a trip from the origin to the destination on the transit system. Even if a passenger must make several transfers during a journey, the trip is counted as one linked trip on the system.
See also
Manual fare collection

Manual fare collection

Manual fare collection is the practice of collecting fares manually . "Fare collection" generally refers to the collection of fares in the transport industry in return for a ticket or passes to travel...



Ticket systems on public transport
Ticket

Ticket (admission)

A ticket is a voucher that indicates that one has paid for admission to an event or establishment such as a theatre, movie theater, amusement park, zoo, museum, concert, or other attraction, or permission to travel on a vehicle such as an airliner, train, bus, or boat, typically because one has...



Zero-fare
Free travel pass

Free travel pass

A free travel pass is the privilege of a certain class of passengers to use a public transport service without paying a fare or presenting a ticket...



Toll road

Toll road

A toll road is a privately or publicly built road for which a driver pays a toll for use. Structures for which tolls are charged include toll bridges and toll tunnels. Non-toll roads are financed using other sources of revenue, most typically fuel tax or general tax funds...



Toll bridge

Toll bridge

A toll bridge is a bridge over which traffic may pass upon payment of a toll, or fee.- History :The practice of collecting tolls on bridges probably harks back to the days of ferry crossings where people paid a fee to be ferried across stretches of water. As boats became impractical to carry large...



Proof-of-payment

Proof-of-payment

Proof-of-payment or POP is an honor-based fare collection approach used on many public transportation systems. Instead of checking each passenger as they enter a fare control zone, proof-of-payment requires that each passenger carry a ticket or pass proving that they have paid the fare. Ticket...