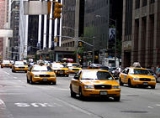 Vehicle for hire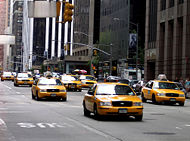 A
vehicle for hire
is a
vehicle
Vehicle
A vehicle is a device that is designed or used to transport people or cargo. Most often vehicles are manufactured, such as bicycles, cars, motorcycles, trains, ships, boats, and aircraft....
providing
shared transport
Shared transport
Shared transport is a term for describing a demand-driven vehicle-sharing arrangement, in which travelers share a vehicle either simultaneously or over time Shared transport is a term for describing a demand-driven vehicle-sharing arrangement, in which travelers share a vehicle either...
ation, which transports one or more passengers between locations of the passengers' choice (or close to it).
Vehicles for hire can be distinguished from conventional modes of public transportation in that vehicle for hire passengers are more or less free to choose their starting and ending locations (point of origin and destination), whereas in other modes, the passenger must choose from a limited selection of locations designated by the service provider. This mode should also be distinguished from
hiring
Renting
Renting is an agreement where a payment is made for the temporary use of a good, service or property owned by another. A gross lease is when the tenant pays a flat rental amount and the landlord pays for all property charges regularly incurred by the ownership from landowners...
a vehicle for driving oneself (see
car rental
Car rental
A car rental or car hire agency is a company that rents automobiles for short periods of time for a fee...
and
carsharing
Carsharing
Car sharing or Carsharing is a model of car rental where people rent cars for short periods of time, often by the hour. They are attractive to customers who make only occasional use of a vehicle, as well as others who would like occasional access to a vehicle of a different type than they use...
).
The most common vehicle for hire around the world is the
taxicab
Taxicab
A taxicab, also taxi or cab, is a type of vehicle for hire with a driver, used by a single passenger or small group of passengers, often for a non-shared ride. A taxicab conveys passengers between locations of their choice...
; other vehicles for hire include
limousine
Limousine
A limousine is a luxury sedan or saloon car, especially one with a lengthened wheelbase or driven by a chauffeur. The chassis of a limousine may have been extended by the manufacturer or by an independent coachbuilder. These are called "stretch" limousines and are traditionally black or white....
s,
party bus
Party bus
A party bus is a large motor vehicle usually derived from a conventional bus or coach, but modified and designed to carry 10 or more people purely for recreational purposes generally involving some kind of celebration, such as a birthday or graduation...
es,
rickshaws
Cycle rickshaw
The cycle rickshaw is a small-scale local means of transport; it is also known by a variety of other names such as velotaxi, pedicab, bikecab, cyclo, becak, trisikad, or trishaw or, simply, rickshaw which also refers to auto rickshaws, and the, now uncommon, rickshaws pulled by a person on foot...
,
auto rickshaw
Auto rickshaw
An auto rickshaw or three-wheeler is a usually three-wheeled cabin cycle for private use and as a vehicle for hire. It is a motorized version of the traditional pulled rickshaw or cycle rickshaw...
s,
motorcycle taxi
Motorcycle taxi
A motorcycle taxi is a licensed form of transport in some countries. Typically, they will carry one passenger , who rides as the pillion, behind the motorcycle operator.-Cambodia:...
s, velotaxis (pedicabs), horse-drawn
carriage
Carriage
A carriage is a wheeled vehicle for people, usually horse-drawn; litters and sedan chairs are excluded, since they are wheelless vehicles. The carriage is especially designed for private passenger use and for comfort or elegance, though some are also used to transport goods. It may be light,...
s (including
hackney carriage
Hackney carriage
A hackney or hackney carriage is a carriage or automobile for hire...
s and caleches), and
water taxi
Water taxi
A water taxi or water bus, also known as a commuter boat, is a watercraft used to provide public transport, usually but not always in an urban environment. Service may be scheduled with multiple stops, operating in a similar manner to a bus, or on demand to many locations, operating in a similar...
s. However, aircraft can also be chartered (see
Air charter
Air charter
Air charter is the business of renting an entire aircraft as opposed to individual aircraft seats...
).
Jitney
Share taxi
A share taxi is a mode of transport that falls between taxis and conventional buses. These informal vehicles for hire are found throughout the world. They are smaller than buses, and usually take passengers on a fixed or semi-fixed route without timetables, usually leaving when all seats are filled...
s,
paratransit
Paratransit
Paratransit is an alternative mode of flexible passenger transportation that does not follow fixed routes or schedules. Typically mini-buses are used to provide paratransit service, but also share taxis and jitneys are important providers....
, share taxis,
demand responsive transport
Demand responsive transport
Demand Responsive Transport or Demand-Responsive Transit or Demand Responsive Service or Dial-a-ride or Flexible Transport Services is "an advanced, user-oriented form of public transport characterised by flexible routing and scheduling of small/medium vehicles operating in shared-ride mode...
,
public light bus
Public light bus
A Public light bus is a common public mode of transport in Hong Kong. It mainly serves the area that standard Hong Kong bus lines cannot reach as efficiently. It is also colloquially known as a minibus or a van, defined as a kind of share taxi....
es and shuttle buses are hybrids - halfway between taxicabs and
bus
Bus
A bus is a road vehicle designed to carry passengers. Buses can have a capacity as high as 300 passengers. The most common type of bus is the single-decker bus, with larger loads carried by double-decker buses and articulated buses, and smaller loads carried by midibuses and minibuses; coaches are...
es - and operate along somewhat fixed routes, with some flexibility in where passengers may be picked up or dropped off. Some of these routes may be very long, as in
New Zealand
New Zealand
New Zealand is an island country in the south-western Pacific Ocean comprising two main landmasses and numerous smaller islands. The country is situated some east of Australia across the Tasman Sea, and roughly south of the Pacific island nations of New Caledonia, Fiji, and Tonga...
.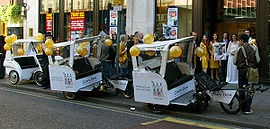 Shuttle services are also offered from many
airport
Airport
An airport is a location where aircraft such as fixed-wing aircraft, helicopters, and blimps take off and land. Aircraft may be stored or maintained at an airport...
s around the world: they take multiple independent passengers, like a bus, and usually run between two fixed areas (typically an
airport
Airport
An airport is a location where aircraft such as fixed-wing aircraft, helicopters, and blimps take off and land. Aircraft may be stored or maintained at an airport...
and a downtown or hotel area), but will often pick up and drop off passengers anywhere reasonable within those areas, like a taxi. In
Hong Kong
Hong Kong
Hong Kong is one of two Special Administrative Regions of the People's Republic of China , the other being Macau. A city-state situated on China's south coast and enclosed by the Pearl River Delta and South China Sea, it is renowned for its expansive skyline and deep natural harbour...
, small
van
Van
A van is a kind of vehicle used for transporting goods or groups of people.In British English usage, it can be either specially designed or based on a saloon or sedan car, the latter type often including derivatives with open backs...
s provide goods services within the territory.