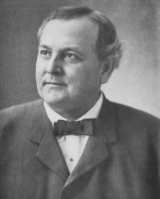 Tom L. Johnson
Thomas Loftin Johnson
better known as
Tom L. Johnson
, was an
American
United States
The United States of America is a federal constitutional republic comprising fifty states and a federal district...
politician
Politician
A politician, political leader, or political figure is an individual who is involved in influencing public policy and decision making...
of the Democratic Party from the late 19th and early 20th centuries. He headed relief efforts after the
Johnstown, Pennsylvania floods
Johnstown Flood
The Johnstown Flood occurred on May 31, 1889. It was the result of the catastrophic failure of the South Fork Dam situated upstream of the town of Johnstown, Pennsylvania, USA, made worse by several days of extremely heavy rainfall...
of 1889, was a U.S. Representative from 1891–1895 and the 35th
mayor
of
Cleveland, Ohio
Cleveland, Ohio
Cleveland is a city in the U.S. state of Ohio and is the county seat of Cuyahoga County, the most populous county in the state. The city is located in northeastern Ohio on the southern shore of Lake Erie, approximately west of the Pennsylvania border...
between 1901 and 1909. In 1903, he was the Democratic nominee for Governor of Ohio.
Biography
Johnson was born in
Georgetown, Kentucky
Georgetown, Kentucky
Georgetown is a city in Scott County, Kentucky, United States. The population was 29,098 at the 2010 census. The original settlement of Lebanon, founded by Rev. Elijah Craig, was renamed in 1790 in honor of President George Washington. It is the home of Georgetown College, a private liberal arts...
. His early formal education was very limited.
Johnson's first employment was with a street-railway company, where he rapidly rose to positions of responsibility. He invented a pay-box for trolleys and became wealthy from licensing the patent. He began investing in street railways in Indianapolis, Cleveland, and Detroit. He made these lines profitable by the introduction of through
fare
Fare
A fare is the fee paid by a passenger allowing him or her to make use of a public transport system: rail, bus, taxi, etc. In the case of air transport, the term airfare is often used.-Uses:...
s and
transfer
Transfer (public transit)
A transfer allows the rider of a public transportation vehicle who pays for a single-trip fare to continue the trip on another bus or train. Depending on the network, there may or may not be an additional fee for the transfer...
s. Johnson then became principal owner and president of the Detroit City Railways after leaving Congress in 1895. Later he sold his stake in DCR in 1899 and moved to Cleveland to reenter politics. Johnson was an advocate of
Henry George
Henry George
Henry George was an American writer, politician and political economist, who was the most influential proponent of the land value tax, also known as the "single tax" on land...
's
single tax
Georgism
Georgism is an economic philosophy and ideology that holds that people own what they create, but that things found in nature, most importantly land, belong equally to all...
. Today, a statue of Johnson stands in Cleveland's Public Square depicting him holding Henry George's book, "
Progress and Poverty
Progress and Poverty
Progress and Poverty: An Inquiry into the Cause of Industrial Depressions and of Increase of Want with Increase of Wealth: The Remedy was written by Henry George in 1879...
."
Though opposed to the free coinage of silver, he supported
Bryan
William Jennings Bryan
William Jennings Bryan was an American politician in the late-19th and early-20th centuries. He was a dominant force in the liberal wing of the Democratic Party, standing three times as its candidate for President of the United States...
in 1896 and 1900, and the state convention which he controlled unanimously endorsed the Kansas City platform. He also advocated public ownership of
public utilities
Public utility
A public utility is an organization that maintains the infrastructure for a public service . Public utilities are subject to forms of public control and regulation ranging from local community-based groups to state-wide government monopolies...
. He retired from public service in 1910.
Today, Johnson is considered a great influence in the
progressive
Progressivism in the United States
Progressivism in the United States is a broadly based reform movement that reached its height early in the 20th century and is generally considered to be middle class and reformist in nature. It arose as a response to the vast changes brought by modernization, such as the growth of large...
movement in the United States that took place in the early 20th century. Tom Johnson advanced a program of lower streetcar fares, public baths, milk and meat inspection standards, and an expanded park system. These reforms, along with his goal to make government more efficient, granted him great adulation among his constituents.
Evaluations
According to the inscription on a statue of Johnson in Cleveland,
Lincoln Steffens
Lincoln Steffens
-Biography:Steffens was born April 6, 1866, in San Francisco. He grew up in a wealthy family and attended a military academy. He studied in France and Germany after graduating from the University of California....
called him "The best Mayor of the best-governed city in the United States."
In
The American Mayor: The Best and Worst Big-City Leaders
(Penn State Press, 1999), Melvin G. Holli, in consultation with a panel of experts, placed Johnson among the ten best, next to Fiorello H. La Guardia of
New York City
New York City
New York is the most populous city in the United States and the center of the New York Metropolitan Area, one of the most populous metropolitan areas in the world. New York exerts a significant impact upon global commerce, finance, media, art, fashion, research, technology, education, and...
.
Family
His brother, Albert, was the financial backer and organizer of the
Players League
Players League
The Players' National League of Professional Base Ball Clubs, popularly known as the Players' League , was a short-lived but star-studded professional American baseball league of the 19th century...
, a one-year experimental major baseball league which sought to treat players as partners, rather than laborers.
External links