 Facadism

Façadism
is the practice of demolishing a
building
Building
In architecture, construction, engineering, real estate development and technology the word building may refer to one of the following:...
but leaving its
facade
Facade
A facade or façade is generally one exterior side of a building, usually, but not always, the front. The word comes from the French language, literally meaning "frontage" or "face"....
intact for the purposes of building new structures in it or around it.
While there are aesthetic and historical reasons for preserving building facades, the practice of facadism is often seen as a compromise between property developers who need to develop properties for modern uses and standards and
preservationist
Preservationist
Preservationist is generally understood to mean historic preservationist: one who advocates to preserve architecturally or historically significant buildings, structures, objects or sites from demolition or degradation...
s who wish to preserve buildings of historical interest. It can be regarded as a compromise between
historic preservation
Historic preservation
Historic preservation is an endeavor that seeks to preserve, conserve and protect buildings, objects, landscapes or other artifacts of historical significance...
and
demolition
Demolition
Demolition is the tearing-down of buildings and other structures, the opposite of construction. Demolition contrasts with deconstruction, which involves taking a building apart while carefully preserving valuable elements for re-use....
- and thus has been lauded as well as decried.
There is sometimes a blurred line between
renovation
Renovation
Renovation is the process of improving a structure. Two prominent types of renovations are commercial and residential.-Process:The process of a renovation, however complex, can usually be broken down into several processes...
,
adaptive reuse
Adaptive reuse
Adaptive reuse refers to the process of reusing an old site or building for a purpose other than which it was built or designed for. Along with brownfield reclamation, adaptive reuse is seen by many as a key factor in land conservation and the reduction of urban sprawl...
and
facadism
. Sometimes buildings renovated to such an extent that they are "skinned", preserving the exterior shell and additionally used for purposes other than what they were originally intended. While this is equivalent to facadism, the difference is typically retention of roof and or floor structures, maintaining a credible link to the original building. In contrast, facadism typically involves retaining only one or two street facing walls for purely
aesthetic
Aesthetics
Aesthetics is a branch of philosophy dealing with the nature of beauty, art, and taste, and with the creation and appreciation of beauty. It is more scientifically defined as the study of sensory or sensori-emotional values, sometimes called judgments of sentiment and taste...
and decorative purposes.
__toc__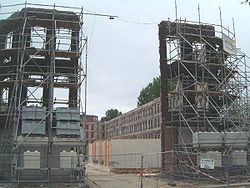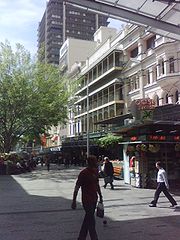 Criticism
The practice is derided by many preservationists because it is seen as destructive and
vandalistic
Vandalism
Vandalism is the behaviour attributed originally to the Vandals, by the Romans, in respect of culture: ruthless destruction or spoiling of anything beautiful or venerable...
, where a building is essentially destroyed save for its most superficial details.
Due to speculative development and sometimes long
property cycle
Property Cycle
A property cycle can be seen as a logical sequence of recurrent events reflected in demographic, economic and emotional factors that affect supply and demand for property subsequently influencing the property market....
s, buildings can remain as hollow facades suspended by scaffolding for long periods of time. This is regarded by many people as blight and the transparency of the building's derelict state during this time can highlight the superficiality of this kind of historic preservation.
As the original buildings are used only for ornament, some argue that they are reduced to a
folly
Folly
In architecture, a folly is a building constructed primarily for decoration, but either suggesting by its appearance some other purpose, or merely so extravagant that it transcends the normal range of garden ornaments or other class of building to which it belongs...
or something that is mock historic.
Some architects criticise the "stuck on" effect that historical buildings can have when the new buildings are designed poorly or insensitively, particularly in cases where taller buildings are constructed behind historical buildings without sufficient setback. There can be a very wide contrast between old and new styles (such as
modern architecture
Modern architecture
Modern architecture is generally characterized by simplification of form and creation of ornament from the structure and theme of the building. It is a term applied to an overarching movement, with its exact definition and scope varying widely...
and
Victorian architecture
Victorian architecture
The term Victorian architecture refers collectively to several architectural styles employed predominantly during the middle and late 19th century. The period that it indicates may slightly overlap the actual reign, 20 June 1837 – 22 January 1901, of Queen Victoria. This represents the British and...
). This is sometimes used as a stylistic expression (particularly in
Postmodern architecture
Postmodern architecture
Postmodern architecture began as an international style the first examples of which are generally cited as being from the 1950s, but did not become a movement until the late 1970s and continues to influence present-day architecture...
), but can sometimes denigrate both the old and new building in the process.
Distribution and control measures
Despite being highly controversial and denounced by many preservationists as vandalism, facadism is used as the demand for new development is overwhelming community desires for preservation. Facadism appears often in cities where there is a strong pressure of new development.
While the controversial practice of facadism is encouraged by governments in some cities (such as
Toronto
Toronto
Toronto is the provincial capital of Ontario and the largest city in Canada. It is located in Southern Ontario on the northwestern shore of Lake Ontario. A relatively modern city, Toronto's history dates back to the late-18th century, when its land was first purchased by the British monarchy from...
,
Sydney
Sydney
Sydney is the most populous city in Australia and the state capital of New South Wales. Sydney is located on Australia's south-east coast of the Tasman Sea. As of June 2010, the greater metropolitan area had an approximate population of 4.6 million people...
and
Brisbane
Brisbane
Brisbane is the capital and most populous city in the Australian state of Queensland and the third most populous city in Australia. Brisbane's metropolitan area has a population of over 2 million, and the South East Queensland urban conurbation, centred around Brisbane, encompasses a population of...
), it is actively discouraged in others (such as
Paris
Paris
Paris is the capital and largest city in France, situated on the river Seine, in northern France, at the heart of the Île-de-France region...
and
Melbourne
Melbourne
Melbourne is the capital and most populous city in the state of Victoria, and the second most populous city in Australia. The Melbourne City Centre is the hub of the greater metropolitan area and the Census statistical division—of which "Melbourne" is the common name. As of June 2009, the greater...
).
Architectural
podium
Podium
A podium is a platform that is used to raise something to a short distance above its surroundings. It derives from the Greek πόδι In architecture a building can rest on a large podium. Podia can also be used to raise people, for instance the conductor of an orchestra stands on a podium as do many...
s are often seen by some architects as a solution to this problem and these are allowed for as part of planning frameworks in urban heritage areas.
International policies
The practice of facadism conflicts with ICOMOS international charters. The
Venice Charter
Venice Charter
The Venice Charter for the Conservation and Restoration of Monuments and Sites is a treaty that gives an international framework for the preservation and restoration of ancient buildings...
, article 7, states that: A monument is inseparable from the history to which it bears witness and from the setting in which it occurs. The moving of all or part of a monument cannot be allowed except where the safeguarding of that monument demands it or where it is justified by national or international interest of paramount importance.
Melbourne
In the rapidly growing city of Melbourne, facadism has existed as early as the 1930s. The Old Commerce building at the
University of Melbourne
University of Melbourne
The University of Melbourne is a public university located in Melbourne, Victoria. Founded in 1853, it is the second oldest university in Australia and the oldest in Victoria...
is a prominent example of a building which has been relocated and "stuck on" a newer building.
With the introduction of heritage controls, several large buildings have been completely "skinned". These include the T&G buildings on Collins Street and the Savoy Hotel on Spencer Street.
In the late 1990s, the practice was discouraged with the introduction of a 10 metre policy which advocated for the retention of at least 10 metres of the front of the building. This helped to retain context and the integrity of important transitions and relationships such as entrances as well as complex roof structures.
The Olderfleet group of buildings (which includes the Rialto and Winfield) and the 1 Collins Street development are seen as well executed examples of this preservation policy.
However implementation, which applied only to heritage registered buildings and laxed in subsequent years allowing several horrific examples of facadism to appear particularly with heritage buildings of only local significance causing the Melbourne City Council to rethink the policy. For example, the heritage registered Carlton & United Breweries site is a large site on
Swanston Street, Melbourne
Swanston Street, Melbourne
Swanston Street is a major thoroughfare in the centre of Melbourne, Australia. It is historically one of the main streets of central Melbourne, laid out in 1837 as part of the Hoddle Grid, the layout of major streets that makes up the central business district...
which has contained hollow suspended facades for almost three decades.
Brisbane
In Brisbane, mock historicism is encouraged by the Brisbane City Council. A notable example is the Myer Centre which features extensive facadism of several buildings including the Hotel Carlton (1885), New York Hotel (1860) and Newspaper House. Other buildings which are facaded include the final design includes the facade of the Queensland Country Life Building (1888).
See also