 European Capital of Culture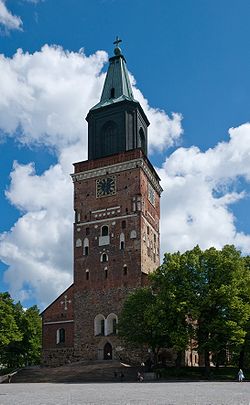 The
European Capital of Culture
is a city designated by the
European Union for a period of one calendar year during which it organises a series of cultural events with a strong European dimension.
Preparing a European Capital of Culture can be an opportunity for the city to generate considerable cultural, social and economic benefits and it can help foster urban regeneration, change the city's image and raise its visibility and profile on an international scale.
In 1985, former actress
Melina Mercouri
Melina Mercouri
Melina Mercouri , born as Maria Amalia Mercouri was a Greek actress, singer and politician.As an actress she made her film debut in Stella and met international success with her performances in Never on Sunday, Phaedra, Topkapi and Promise at Dawn...
, then Greece's Minister of Culture, and her French counterpart Jack Lang came up with the idea of designating an annual Capital of Culture to bring Europeans closer together by highlighting the richness and diversity of European cultures and raising awareness of their common history and values.
The Commission of the European Union manages the title and each year the Council of Ministers of the European Union formally designates European Capitals of Culture: more than 40 cities have been designated so far.
An international panel of cultural experts is in charge of assessing the proposals of cities for the title according to criteria specified by the European Union.
A 2004 study conducted by Robert Palmer for the
European Commission
European Commission
The European Commission is the executive body of the European Union. The body is responsible for proposing legislation, implementing decisions, upholding the Union's treaties and the general day-to-day running of the Union....
, demonstrated that the choice of European Capital of Culture served as a catalyst for the cultural development and the transformation of the city. Consequently, the beneficial socio-economic development and impact for the chosen city are now also considered in determining the chosen cities.
History
The European Capital of Culture programme was initially called the European City of Culture and was conceived in 1983 by
Melina Mercouri
Melina Mercouri
Melina Mercouri , born as Maria Amalia Mercouri was a Greek actress, singer and politician.As an actress she made her film debut in Stella and met international success with her performances in Never on Sunday, Phaedra, Topkapi and Promise at Dawn...
, then serving as
Greek
Greece
Greece , officially the Hellenic Republic , and historically Hellas or the Republic of Greece in English, is a country in southeastern Europe....
Minister
Minister (government)
A minister is a politician who holds significant public office in a national or regional government. Senior ministers are members of the cabinet....
of
Culture
Culture
Culture is a term that has many different inter-related meanings. For example, in 1952, Alfred Kroeber and Clyde Kluckhohn compiled a list of 164 definitions of "culture" in Culture: A Critical Review of Concepts and Definitions...
. Mercouri believed that at the time, culture was not given the same attention as politics and economics and a project for promoting European cultures within the member states should be pursued. The European City of Culture programme was launched in the summer of 1985 with
Athens
Athens
Athens , is the capital and largest city of Greece. Athens dominates the Attica region and is one of the world's oldest cities, as its recorded history spans around 3,400 years. Classical Athens was a powerful city-state...
being the first title-holder. During the
German
Germany
Germany , officially the Federal Republic of Germany , is a federal parliamentary republic in Europe. The country consists of 16 states while the capital and largest city is Berlin. Germany covers an area of 357,021 km2 and has a largely temperate seasonal climate...
Presidency of 1999, the European City of Culture programme was renamed the European Capital of Culture.
List of European Cities/Capitals of Culture
According to the official
EU
European Union
The European Union is an economic and political union of 27 independent member states which are located primarily in Europe. The EU traces its origins from the European Coal and Steel Community and the European Economic Community , formed by six countries in 1958...
website. The cities and countries from 2020–2029 are not yet finalised.
2012:  Portugal Guimarães

Guimarães

Guimarães Municipality is located in northwestern Portugal in the province of Minho and in the Braga District. It contains the city of Guimarães.The present Mayor is António Magalhães Silva, elected by the Socialist Party.-Parishes:-Economy:...


,  Slovenia Maribor

Maribor

Maribor is the second largest city in Slovenia with 157,947 inhabitants . Maribor is also the largest and the capital city of Slovenian region Lower Styria and the seat of the Municipality of Maribor....



2013:  France Marseille

Marseille

Marseille , known in antiquity as Massalia , is the second largest city in France, after Paris, with a population of 852,395 within its administrative limits on a land area of . The urban area of Marseille extends beyond the city limits with a population of over 1,420,000 on an area of...


,  Slovakia Košice

Košice

Košice is a city in eastern Slovakia. It is situated on the river Hornád at the eastern reaches of the Slovak Ore Mountains, near the border with Hungary...



2014:  Sweden Umeå

Umeå

- Transport :The road infrastructure in Umeå is well-developed, with two European highways passing through the city. About 4 km from the city centre is the Umeå City Airport...


,  Latvia Riga

Riga

Riga is the capital and largest city of Latvia. With 702,891 inhabitants Riga is the largest city of the Baltic states, one of the largest cities in Northern Europe and home to more than one third of Latvia's population. The city is an important seaport and a major industrial, commercial,...



2015:  Belgium Mons

Mons

Mons is a Walloon city and municipality located in the Belgian province of Hainaut, of which it is the capital. The Mons municipality includes the old communes of Cuesmes, Flénu, Ghlin, Hyon, Nimy, Obourg, Baudour , Jemappes, Ciply, Harmignies, Harveng, Havré, Maisières, Mesvin, Nouvelles,...


,  Czech Republic Plzeň
2017: ,
2018: ,
2019: ,
2020: , ,
2021: , ,
2022: , ,
2023: , ,
2024: , ,
2025: , ,
Cities that have shown interest within their countries to bid for becoming European Capital of Culture:
2017:: Nicosia official website Nicosia, Pafos official website Pafos, Limassol
2019:: Sofia, Plovdiv

Plovdiv

Plovdiv is the second-largest city in Bulgaria after Sofia with a population of 338,153 inhabitants according to Census 2011. Plovdiv's history spans some 6,000 years, with traces of a Neolithic settlement dating to roughly 4000 BC; it is one of the oldest cities in Europe...


, Varna

Varna

Varna is the largest city and seaside resort on the Bulgarian Black Sea Coast and third-largest in Bulgaria after Sofia and Plovdiv, with a population of 334,870 inhabitants according to Census 2011...


, Burgas, Ruse
2020:: http://www.agenda.ro/news/news/27060/timisoara-capitala-culturala-europeana-in-2021-poate-in-2020.htmlTimişoara

Timisoara

Timișoara is the capital city of Timiș County, in western Romania. One of the largest Romanian cities, with an estimated population of 311,586 inhabitants , and considered the informal capital city of the historical region of Banat, Timișoara is the main social, economic and cultural center in the...


], Cluj-Napoca

Cluj-Napoca

Cluj-Napoca , commonly known as Cluj, is the fourth most populous city in Romania and the seat of Cluj County in the northwestern part of the country. Geographically, it is roughly equidistant from Bucharest , Budapest and Belgrade...


, Iași

Iasi

Iași is the second most populous city and a municipality in Romania. Located in the historical Moldavia region, Iași has traditionally been one of the leading centres of Romanian social, cultural, academic and artistic life...



See also
American Capital of Culture

American Capital of Culture

The non-governmental organization American Capital of Culture Organization selects one city in the Americas annually to serve as the American Capital of Culture for a period of one year...


– a similar initiative among the America

Americas

The Americas, or America , are lands in the Western hemisphere, also known as the New World. In English, the plural form the Americas is often used to refer to the landmasses of North America and South America with their associated islands and regions, while the singular form America is primarily...


n countries
Arab Capital of Culture – a similar initiative among Arab

Arab

Arab people, also known as Arabs , are a panethnicity primarily living in the Arab world, which is located in Western Asia and North Africa. They are identified as such on one or more of genealogical, linguistic, or cultural grounds, with tribal affiliations, and intra-tribal relationships playing...


countries
Europalia

Europalia

Europalia is a major international arts festival held every two years to celebrate one invited country's cultural heritage. Europalia was established in Brussels in 1969, and from the beginning Europalia was designed to be a multidisciplinary cultural festival....



Sources
García, B. (2005) "De-constructing the City of Culture: The long term cultural legacies of Glasgow 1990", in: Review Issue of Urban Studies (vol. 42, No. 5/6, pp. 1–28).
García, B. (2004) "Cultural Policy in European Cities: Lessons from Experience, Prospects for the Future", in: Special edition on Cultural Policy and Regeneration, Local Economy (vol 19, No. 4, pp. 312–326).
García, B. (2004) "Urban Regeneration, Arts Programming and Major events: Glasgow 1990, Sydney 2000 and Barcelona 2004", in: Gibson, L. & Stevenson, D. (Eds) Special Issue of the International Journal of Cultural Policy: Urban Space and the Uses of Culture (vol 10, No. 1, pp. 103–118).
External links
Current cities
Past cities
Future cities
Potential European Capitals of Culture