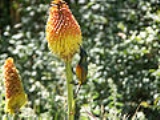 Endemic (ecology)

Endemism
is the ecological state of being unique to a defined geographic location, such as an island, nation or other defined zone, or
habitat
Habitat (ecology)
A habitat is an ecological or environmental area that is inhabited by a particular species of animal, plant or other type of organism...
type; organisms that are
indigenous
Indigenous (ecology)
In biogeography, a species is defined as native to a given region or ecosystem if its presence in that region is the result of only natural processes, with no human intervention. Every natural organism has its own natural range of distribution in which it is regarded as native...
to a place are not endemic to it if they are also found elsewhere. For example, all species of
lemur
Lemur
Lemurs are a clade of strepsirrhine primates endemic to the island of Madagascar. They are named after the lemures of Roman mythology due to the ghostly vocalizations, reflective eyes, and the nocturnal habits of some species...
are endemic to the island of
Madagascar
Madagascar
The Republic of Madagascar is an island country located in the Indian Ocean off the southeastern coast of Africa...
; none are native elsewhere. The extreme opposite of endemism is
cosmopolitan distribution
Cosmopolitan distribution
In biogeography, a taxon is said to have a cosmopolitan distribution if its range extends across all or most of the world in appropriate habitats. For instance, the killer whale has a cosmopolitan distribution, extending over most of the world's oceans. Other examples include humans, the lichen...
.
Physical, climatic, and biological factors can contribute to endemism. The
Orange-breasted Sunbird
Orange-breasted Sunbird
The Orange-breasted Sunbird, Anthobaphes violacea, is the only member of the bird genus Anthobaphes although it is sometimes placed in the genus Nectarinia...
is exclusively found in the
Fynbos
Fynbos
Fynbos is the natural shrubland or heathland vegetation occurring in a small belt of the Western Cape of South Africa, mainly in winter rainfall coastal and mountainous areas with a Mediterranean climate...
vegetation zone of southwestern
South Africa
South Africa
The Republic of South Africa is a country in southern Africa. Located at the southern tip of Africa, it is divided into nine provinces, with of coastline on the Atlantic and Indian oceans...
. Political factors can play a part if a species is protected, or actively hunted, in one
jurisdiction
Jurisdiction
Jurisdiction is the practical authority granted to a formally constituted legal body or to a political leader to deal with and make pronouncements on legal matters and, by implication, to administer justice within a defined area of responsibility...
but not another.
There are two subcategories of endemism - paleoendemism and neoendemism. Paleoendemism refers to a species that was formerly widespread but is now restricted to a smaller area. Neoendemism refers to a species that has recently arisen such as a species that has diverged and become reproductively isolated, or one that has formed following hybridization and is now classified as a separate species. This is a common process in plants, especially those which exhibit
polyploidy
Polyploidy
Polyploid is a term used to describe cells and organisms containing more than two paired sets of chromosomes. Most eukaryotic species are diploid, meaning they have two sets of chromosomes — one set inherited from each parent. However polyploidy is found in some organisms and is especially common...
.
Endemic types or species are especially likely to develop on biologically isolated areas such as islands because of their geographical isolation. This includes remote island groups, such as
Hawaii
Endemism in the Hawaiian Islands
Located some 2,400 miles from the nearest continental shore, the Hawaiian Islands are the most isolated group of islands on the planet...
, the
Galápagos Islands
Galápagos Islands
The Galápagos Islands are an archipelago of volcanic islands distributed around the equator in the Pacific Ocean, west of continental Ecuador, of which they are a part.The Galápagos Islands and its surrounding waters form an Ecuadorian province, a national park, and a...
, and
Socotra
Socotra
Socotra , also spelt Soqotra, is a small archipelago of four islands in the Indian Ocean. The largest island, also called Socotra, is about 95% of the landmass of the archipelago. It lies some east of the Horn of Africa and south of the Arabian Peninsula. The island is very isolated and through...
, and biologically isolated but not island areas such as the highlands of
Ethiopia
Ethiopia
Ethiopia , officially known as the Federal Democratic Republic of Ethiopia, is a country located in the Horn of Africa. It is the second-most populous nation in Africa, with over 82 million inhabitants, and the tenth-largest by area, occupying 1,100,000 km2...
, or large bodies of water like
Lake Baikal
Lake Baikal
Lake Baikal is the world's oldest at 30 million years old and deepest lake with an average depth of 744.4 metres.Located in the south of the Russian region of Siberia, between Irkutsk Oblast to the northwest and the Buryat Republic to the southeast, it is the most voluminous freshwater lake in the...
.
Endemics can easily become endangered or
extinct
Extinct species
This page features extinct species, organisms that have become extinct.* List of extinct animals* List of extinct plants...
if their restricted habitat changes, particularly but not only due to the actions of man, including the
introduction of new organisms
Introduced species
An introduced species — or neozoon, alien, exotic, non-indigenous, or non-native species, or simply an introduction, is a species living outside its indigenous or native distributional range, and has arrived in an ecosystem or plant community by human activity, either deliberate or accidental...
. There were millions of both
Bermuda Petrel
Bermuda Petrel
The Bermuda Petrel, Pterodroma cahow, is a gadfly petrel. Commonly known in Bermuda as the Cahow, a name derived from its eerie cries, this nocturnal ground-nesting seabird is the national bird of Bermuda, and a symbol of hope for nature conservation. It was thought extinct for 330 years...
s and "
Bermuda cedars
Juniperus bermudiana
Juniperus bermudiana is a species of juniper endemic to Bermuda. This species is most commonly known as Bermuda cedar although, like most "cedars" it is not a true cedar ; a more botanically accurate name would be Bermuda juniper, but this term is extremely rare.It is an evergreen tree growing up...
" (actually
junipers
) in
Bermuda
Bermuda
Bermuda is a British overseas territory in the North Atlantic Ocean. Located off the east coast of the United States, its nearest landmass is Cape Hatteras, North Carolina, about to the west-northwest. It is about south of Halifax, Nova Scotia, Canada, and northeast of Miami, Florida...
when it was settled at the start of the seventeenth century. By the end of the century the petrels were thought to be extinct. Cedars, already ravaged by centuries of shipbuilding, were driven nearly to extinction in the twentieth century by the introduction of a parasite. Bermuda petrels and cedars, although not actually extinct, are very rare today, as are other species endemic to Bermuda.
Ecoregions with high endemism
According to the World Wildlife Fund, the following ecoregions have the highest percentage of endemic plants:
Threats to highly endemistic regions
Some of the principal threats to these special ecosystems are:
Large scale logging

Logging

Logging is the cutting, skidding, on-site processing, and loading of trees or logs onto trucks.In forestry, the term logging is sometimes used in a narrow sense concerning the logistics of moving wood from the stump to somewhere outside the forest, usually a sawmill or a lumber yard...


operations
Slash-and-burn techniques sometimes a part of shifting cultivation

Shifting cultivation

Shifting cultivation is an agricultural system in which plots of land are cultivated temporarily, then abandoned. This system often involves clearing of a piece of land followed by several years of wood harvesting or farming, until the soil loses fertility...



Destruction of habital or vegetation leads to endangering of the endemic species