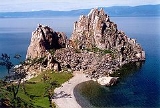 Lake Baikal
Lake Baikal
is the world's oldest at 30 million years old and deepest lake with an average depth of 744.4 metres.
Located in the south of the
Russia
Russia
Russia or , officially known as both Russia and the Russian Federation , is a country in northern Eurasia. It is a federal semi-presidential republic, comprising 83 federal subjects...
n region of
Siberia
Siberia
Siberia is an extensive region constituting almost all of Northern Asia. Comprising the central and eastern portion of the Russian Federation, it was part of the Soviet Union from its beginning, as its predecessor states, the Tsardom of Russia and the Russian Empire, conquered it during the 16th...
, between
Irkutsk Oblast
Irkutsk Oblast
Irkutsk Oblast is a federal subject of Russia , located in southeastern Siberia in the basins of Angara River, Lena, and Nizhnyaya Tunguska Rivers. The administrative center is the city of Irkutsk. Population: -History:...
to the northwest and the Buryat Republic to the southeast, it is the most voluminous
freshwater
Freshwater
Fresh water is naturally occurring water on the Earth's surface in ice sheets, ice caps, glaciers, bogs, ponds, lakes, rivers and streams, and underground as groundwater in aquifers and underground streams. Fresh water is generally characterized by having low concentrations of dissolved salts and...
lake in the world, containing roughly 20% of the world's unfrozen surface fresh water.
At 1642 metres (5,387.1 ft), Lake Baikal is the deepest and among the clearest of all lakes in the world.