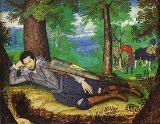 Edward Herbert, 1st Baron Herbert of Cherbury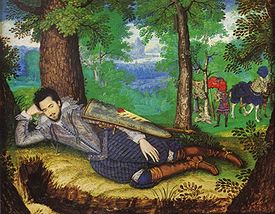 Edward Herbert, 1st Baron Herbert of Chirbury
(3 March 1583 – 20 August 1648) was an Anglo-Welsh soldier,
diplomat
Diplomat
A diplomat is a person appointed by a state to conduct diplomacy with another state or international organization. The main functions of diplomats revolve around the representation and protection of the interests and nationals of the sending state, as well as the promotion of information and...
,
historian
Historian
A historian is a person who studies and writes about the past and is regarded as an authority on it. Historians are concerned with the continuous, methodical narrative and research of past events as relating to the human race; as well as the study of all history in time. If the individual is...
,
poet
Poet
A poet is a person who writes poetry. A poet's work can be literal, meaning that his work is derived from a specific event, or metaphorical, meaning that his work can take on many meanings and forms. Poets have existed since antiquity, in nearly all languages, and have produced works that vary...
and religious philosopher of the
Kingdom of England
Kingdom of England
The Kingdom of England was, from 927 to 1707, a sovereign state to the northwest of continental Europe. At its height, the Kingdom of England spanned the southern two-thirds of the island of Great Britain and several smaller outlying islands; what today comprises the legal jurisdiction of England...
.
Early life
He was the eldest son of
Richard Herbert
Richard Herbert, Lord of Cherbury
Richard Herbert , Lord of Cherbury , and of Montgomery Castle, was an English Justice of the Peace and Parliamentarian who was High Sheriff of Montgomeryshire in 1576 and 1584 and Custos Rotulorum of Montgomeryshire in 1594-1596....
of
Montgomery Castle
Montgomery Castle
Montgomery Castle is a stone masonry castle looking over the town of Montgomery in Powys, mid Wales. It is one of many Norman castles on the border between Wales and England.- Motte & Bailey Castle :...
(a member of a collateral branch of the family of the
Earls of Pembroke
Earl of Pembroke
Earl of Pembroke is a title created ten times, all in the Peerage of England. It was first created in the 12th century by King Stephen of England. The title is associated with Pembroke, Pembrokeshire in West Wales, which is the site of Earldom's original seat Pembroke Castle...
) and of Magdalen, daughter of Sir Richard Newport, and brother of the poet
George Herbert
George Herbert
George Herbert was a Welsh born English poet, orator and Anglican priest.Being born into an artistic and wealthy family, he received a good education that led to his holding prominent positions at Cambridge University and Parliament. As a student at Trinity College, Cambridge, Herbert excelled in...
. He was born at Eyton-on-Severn near
Wroxeter
Wroxeter
Wroxeter is a village in Shropshire, England. It forms part of the civil parish of Wroxeter and Uppington and is located in the Severn Valley about south-east of Shrewsbury.-History:...
. After private tuition he matriculated at
University College, Oxford
University College, Oxford
.University College , is a constituent college of the University of Oxford in England. As of 2009 the college had an estimated financial endowment of £110m...
, as a gentleman commoner, in May 1596. On 28 February 1599, at the age of 15, he married his cousin Mary, then aged 21, ('notwithstanding the disparity of years betwixt us'), who was daughter and heiress of Sir William Herbert (d. 1593). He returned to Oxford with his wife and mother, continued his studies, and learned French, Italian and Spanish, as well as music, riding and fencing. During this period, before he was 21, he started a family.
He entered Parliament as knight of the shire for
Montgomeryshire
Montgomeryshire (UK Parliament constituency)
Montgomeryshire is a constituency represented in the House of Commons of the Parliament of the United Kingdom. Created in 1542, it elects one Member of Parliament , traditionally known as the knight of the shire, by the first-past-the-post system of election.The Montgomeryshire Welsh Assembly...
in 1601. On the accession of
King James I
James I of England
James VI and I was King of Scots as James VI from 24 July 1567 and King of England and Ireland as James I from the union of the English and Scottish crowns on 24 March 1603...
he presented himself at court and was created a Knight of the Bath on 24 July 1603. From 1604 to 1611 he was Member of Parliament for
Merioneth
Merioneth (UK Parliament constituency)
Merioneth, sometimes called Merionethshire, was a constituency in North Wales established in 1542, which returned one Member of Parliament to the House of Commons of the English Parliament, and later to the Parliament of Great Britain and of the United Kingdom...
. From 1605 he was magistrate and appointed
sheriff
High Sheriff of Montgomeryshire
The office of High Sheriff of Montgomeryshire was established in 1541 since when a High Sheriff was appointed annually until 1974 when the office was transformed into that of High Sheriff of Powys as part of the creation of Powys from the amalgamation of Montgomeryshire, Radnorshire and...
in Montgomeryshire for 1605.
Soldier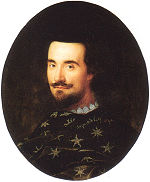 In 1608 he went to
Paris
Paris
Paris is the capital and largest city in France, situated on the river Seine, in northern France, at the heart of the Île-de-France region...
, with
Aurelian Townshend
Aurelian Townshend
Aurelian Townshend was a seventeenth-century English poet and playwright.-Life:Very little is well established about Townshend's life...
, enjoying the friendship and hospitality of the old
Constable de Montmorency
Henri Ier de Montmorency
Henri I de Montmorency , Marshal of France, and Constable of France, seigneur of Damville, served as governor of Languedoc from 1563 to 1614. He became Duke of Montmorency on his brother's death in 1579....
at Merlou and meeting
King Henry IV
Henry IV of France
Henry IV , Henri-Quatre, was King of France from 1589 to 1610 and King of Navarre from 1572 to 1610. He was the first monarch of the Bourbon branch of the Capetian dynasty in France....
; he toured Europe with
Inigo Jones
Inigo Jones
Inigo Jones is the first significant British architect of the modern period, and the first to bring Italianate Renaissance architecture to England...
, and lodged for many months with
Isaac Casaubon
Isaac Casaubon
Isaac Casaubon was a classical scholar and philologist, first in France and then later in England, regarded by many of his time as the most learned in Europe.-Early life:...
. On his return, as he says himself, he was "in great esteem both in court and city, many of the greatest desiring my company." At this period he was close to both
Ben Jonson
Ben Jonson
Benjamin Jonson was an English Renaissance dramatist, poet and actor. A contemporary of William Shakespeare, he is best known for his satirical plays, particularly Volpone, The Alchemist, and Bartholomew Fair, which are considered his best, and his lyric poems...
and
John Donne
John Donne
John Donne 31 March 1631), English poet, satirist, lawyer, and priest, is now considered the preeminent representative of the metaphysical poets. His works are notable for their strong and sensual style and include sonnets, love poetry, religious poems, Latin translations, epigrams, elegies, songs,...
, and in Jonson's
Epicoene, or the Silent Woman
Epicoene, or the Silent Woman
Epicœne, or The silent woman, also known as The Epicene, is a comedy by Renaissance playwright Ben Jonson. It was originally performed by the Blackfriars Children, a group of boy players, in 1609...
Herbert is probably alluded to. Both Donne and Jonson honoured him in poetry.
In 1610 he served as a volunteer in the
Low Countries
Low Countries
The Low Countries are the historical lands around the low-lying delta of the Rhine, Scheldt, and Meuse rivers, including the modern countries of Belgium, the Netherlands, Luxembourg and parts of northern France and western Germany....
under the
Prince of Orange
Prince of Orange
Prince of Orange is a title of nobility, originally associated with the Principality of Orange, in what is now southern France. In French it is la Principauté d'Orange....
, whose intimate friend he became, and distinguished himself at the capture of Juliers from the emperor. He offered to decide the war by engaging in single combat with a champion chosen from among the enemy, but his challenge was declined. During an interval in the fighting he paid a visit to
Spinola
Ambrosio Spinola, marqués de los Balbases
Don Ambrogio Spinola Doria, 1st Marquis of the Balbases was an Italian aristocrat, who, as a General in Spanish service, won a number of important battles for the Spanish crown...
, in the
Spanish
Spain
Spain , officially the Kingdom of Spain languages]] under the European Charter for Regional or Minority Languages. In each of these, Spain's official name is as follows:;;;;;;), is a country and member state of the European Union located in southwestern Europe on the Iberian Peninsula...
camp near Wezel, and afterwards to the elector palatine at
Heidelberg
Heidelberg
-Early history:Between 600,000 and 200,000 years ago, "Heidelberg Man" died at nearby Mauer. His jaw bone was discovered in 1907; with scientific dating, his remains were determined to be the earliest evidence of human life in Europe. In the 5th century BC, a Celtic fortress of refuge and place of...
, subsequently travelling in
Italy
Italy
Italy , officially the Italian Republic languages]] under the European Charter for Regional or Minority Languages. In each of these, Italy's official name is as follows:;;;;;;;;), is a unitary parliamentary republic in South-Central Europe. To the north it borders France, Switzerland, Austria and...
. At the instance of the Duke of Savoy he led an expedition of 4,000 Huguenots from
Languedoc
Languedoc
Languedoc is a former province of France, now continued in the modern-day régions of Languedoc-Roussillon and Midi-Pyrénées in the south of France, and whose capital city was Toulouse, now in Midi-Pyrénées. It had an area of approximately 42,700 km² .-Geographical Extent:The traditional...
into Piedmont to help the Savoyards against Spain, but after nearly losing his life in the journey to
Lyon
Lyon
Lyon , is a city in east-central France in the Rhône-Alpes region, situated between Paris and Marseille. Lyon is located at from Paris, from Marseille, from Geneva, from Turin, and from Barcelona. The residents of the city are called Lyonnais....
he was imprisoned on his arrival there, and the enterprise came to nothing. Thence he returned to the
Netherlands
Netherlands
The Netherlands is a constituent country of the Kingdom of the Netherlands, located mainly in North-West Europe and with several islands in the Caribbean. Mainland Netherlands borders the North Sea to the north and west, Belgium to the south, and Germany to the east, and shares maritime borders...
and the Prince of Orange, arriving in England in 1617.
Diplomat
In 1619, Herbert was made
ambassador
Ambassador
An ambassador is the highest ranking diplomat who represents a nation and is usually accredited to a foreign sovereign or government, or to an international organization....
to
Paris
Paris
Paris is the capital and largest city in France, situated on the river Seine, in northern France, at the heart of the Île-de-France region...
, taking in his entourage
Thomas Carew
Thomas Carew
Thomas Carew was an English poet, among the 'Cavalier' group of Caroline poets.-Biography:He was the son of Sir Matthew Carew, master in chancery, and his wife, Alice daughter of Sir John Rivers, Lord Mayor of the City of London and widow of Ingpen...
. A quarrel with
de Luynes
Charles de Luynes
Charles d'Albert, Duke of Luynes , was constable of France.He was the first son of Honoré d'Albert , seigneur de Luynes, who was in the service of the three last Valois kings and of Henry IV of France.Charles was brought up at court and attended the dauphin, later Louis XIII...
and a challenge sent by him to the latter occasioned his recall in 1621. After the death of de Luynes, Herbert resumed his post in February 1622.
He was very popular at the French
court
Noble court
The court of a monarch, or at some periods an important nobleman, is a term for the extended household and all those who regularly attended on the ruler or central figure...
and showed considerable diplomatic ability. His chief objects were to accomplish the marriage between
Charles, Prince of Wales
Charles I of England
Charles I was King of England, King of Scotland, and King of Ireland from 27 March 1625 until his execution in 1649. Charles engaged in a struggle for power with the Parliament of England, attempting to obtain royal revenue whilst Parliament sought to curb his Royal prerogative which Charles...
and Henrietta Maria, and to secure the assistance of
Louis XIII
Louis XIII of France
Louis XIII was a Bourbon monarch who ruled as King of France and of Navarre from 1610 to 1643.Louis was only eight years old when he succeeded his father. His mother, Marie de Medici, acted as regent during Louis' minority...
for
Frederick V, Elector Palatine
Frederick V, Elector Palatine
Frederick V was Elector Palatine , and, as Frederick I , King of Bohemia ....
. He failed in the latter, and was dismissed in April 1624.
He returned home greatly in debt and received little reward for his services beyond the Irish peerage of
Castle Island
Castleisland
Castleisland is a town and commercial centre in County Kerry in south west Ireland. The town is renowned for the width of its main street. Castleisland has a population of 2,170....
on 31 May 1624 and the English barony of Cherbury, or Chirbury, on 7 May 1629.
Later life
In 1632 he was appointed a member of the council of war. He attended the king at
York
York
York is a walled city, situated at the confluence of the Rivers Ouse and Foss in North Yorkshire, England. The city has a rich heritage and has provided the backdrop to major political events throughout much of its two millennia of existence...
in 1639, and in May 1642 was imprisoned by the parliament for urging the addition of the words "without cause" to the resolution that the king violated his oath by making war on parliament. He determined after this to take no further part in the struggle, retired to Montgomery Castle, and declined the king's summons.
On 5 September 1644 he surrendered the castle, by negotiation, to the Parliamentary forces led by
Sir Thomas Myddelton
Thomas Myddelton (younger)
Sir Thomas Myddelton of Chirk Castle was a Welsh politician and Parliamentary general.-Early life:He was the son of Sir Thomas Myddelton. He matriculated from Queen's College, Oxford, on 22 February 1605, and became a student of Gray's Inn in 1607. he was knighted on 10 February 1617, and was M.P...
. He returned to London, submitted, and was granted a pension of £20 a week. In 1647. he paid a visit to
Pierre Gassendi
Pierre Gassendi
Pierre Gassendi was a French philosopher, priest, scientist, astronomer, and mathematician. With a church position in south-east France, he also spent much time in Paris, where he was a leader of a group of free-thinking intellectuals. He was also an active observational scientist, publishing the...
at Paris, and died in London the following summer, being buried in the church of St Giles's in the Fields.
Family
Lord Herbert left two sons,
Richard
Richard Herbert, 2nd Baron Herbert of Chirbury
Richard Herbert, 2nd Baron Herbert of Chirbury was an Anglo-Welsh Member of Parliament, a Royalist who fought with the rank of Colonel in the English Civil War, and a peer whose membership of the House of Lords was curtailed by its abolition in 1649.-Life:Herbert, born about 1604, was the elder...
(c. 1600-1655), who succeeded him as 2nd Lord Herbert of Cherbury, and Edward, the title becoming extinct in the person of Henry Herbert, the 4th baron, grandson of the 1st Lord Herbert, in 1691. In 1694, however, it was revived in favour of another
Henry Herbert
Henry Herbert, 1st Baron Herbert of Chirbury
Henry Herbert, 1st Baron Herbert of Chirbury inherited the manor of Ribbesford on the death of his father Sir Henry Herbert, Master of Revels to Charles I and Charles II. Like his father he served as Member of Parliament for Bewdley, from 1677 to 1679, for Worcester in Charles II's last...
(1654–1709), son of Sir Henry Herbert (1595–1673), brother of the 1st Lord Herbert of Cherbury. Lord Herbert's cousin and namesake, Sir Edward Herbert, was also a prominent figure in the
English Civil War
English Civil War
The English Civil War was a series of armed conflicts and political machinations between Parliamentarians and Royalists...
.
De Veritate
Herbert's major work is the
De veritate, prout distinguitur a revelatione, a verisimili, a possibili, et a falso](On Truth, as It Is Distinguished from Revelation, the Probable, the Possible, and the False)
De Veritate
De Veritate, prout distinguitur a revelatione, a verisimili, a possibili, et a falso is the major work of Edward Herbert, 1st Baron Herbert of Cherbury. He published it on the advice of Grotius....
He published it on the advice of Grotius.
Other works
The
De religione gentilium
was a posthumous work, influenced by the
De theologia gentili
of Gerardus Vossius, and seen into print by
Isaac Vossius
Isaac Vossius
Isaak Vossius, sometimes anglicised Isaac Voss was a Dutch scholar and manuscript collector.-Life:...
. It is an early work on
comparative religion
Comparative religion
Comparative religion is a field of religious studies that analyzes the similarities and differences of themes, myths, rituals and concepts among the world's religions...
, and gives, in
David Hume
David Hume
David Hume was a Scottish philosopher, historian, economist, and essayist, known especially for his philosophical empiricism and skepticism. He was one of the most important figures in the history of Western philosophy and the Scottish Enlightenment...
's words, "a natural history of religion." It is also to some extent dependent on the
De dis Syris
of
John Selden
John Selden
John Selden was an English jurist and a scholar of England's ancient laws and constitution and scholar of Jewish law...
, and the
Quaestiones celeberrimae in Genesim
of
Marin Mersenne
Marin Mersenne
Marin Mersenne, Marin Mersennus or le Père Mersenne was a French theologian, philosopher, mathematician and music theorist, often referred to as the "father of acoustics"...
. By examining pagan religions Herbert finds the universality of his five great articles, and that these are clearly recognizable. The same vein is maintained in the tracts
De causis errorum
, an unfinished work on logical fallacies,
Religio laici
, and
Ad sacerdotes de religione laici
(1645).
Herbert's first historical work was the
Expeditio Buckinghami ducis
, a defence of the
Duke of Buckingham
George Villiers, 1st Duke of Buckingham
George Villiers, 1st Duke of Buckingham KG was the favourite, claimed by some to be the lover, of King James I of England. Despite a very patchy political and military record, he remained at the height of royal favour for the first two years of the reign of Charles I, until he was assassinated...
's conduct on the La Rochelle expedition of 1627.
The Life and Raigne of King Henry VIII
(1649) is considered good for its period, but hampered by limited sources.
His poems, published in 1665 (reprinted and edited by
John Churton Collins
John Churton Collins
John Churton Collins , English literary critic, was born at Bourton-on-the-Water, Gloucestershire.From King Edward's School, Birmingham, he went to Balliol College, Oxford, where he graduated in 1872, and at once devoted himself to a literary career, as journalist, essayist and lecturer...
in 1881), show him in general a faithful disciple of Donne. His satires are poor, but a few of his lyrical verses show power of reflection and true inspiration, while his use of the metre afterwards employed by Tennyson in his "In Memoriam" is particularly happy and effective. His Neo-Latin poems are evidence of his scholarship. Three of these had appeared together with the
De causis errorum
in 1645.
To these works must be added
A Dialogue between a Tutor and a Pupil
, which is of disputed authenticity; and a treatise on the king's supremacy in the Church (manuscript in the Record Office and at
the Queen's College, Oxford
The Queen's College, Oxford
The Queen's College, founded 1341, is one of the constituent colleges of the University of Oxford in England. Queen's is centrally situated on the High Street, and is renowned for its 18th-century architecture...
). His well-known autobiography, first published by Horace Walpole in 1764, a naïve and amusing narrative, is much occupied with his duels and amorous adventures, and breaks off in 1624. Missing from it are his friendships and the diplomatic side of his embassy in France, in relation to which he only described the splendour of his retinue and his social triumphs.
He was a lutenist, and
Lord Herbert of Cherbury's Lute-Book
survives in manuscript.
Further reading
De Veritate translated into English by Meyrick H. Carré (1937); facsimile edition of the 1937 translation published by Thoemmes Continuum (1999) ISBN 1-85506-126-0
The autobiography edited by Sidney Lee

Sidney Lee

Sir Sidney Lee was an English biographer and critic.He was born Solomon Lazarus Lee at 12 Keppel Street, Bloomsbury, London and educated at the City of London School and at Balliol College, Oxford, where he graduated in modern history in 1882. In the next year he became assistant-editor of the...


with correspondence (1886); biographical article in the Dictionary of National Biography

Dictionary of National Biography

The Dictionary of National Biography is a standard work of reference on notable figures from British history, published from 1885...


by the same writer and the list of authorities there collated
Lord Herbert de Cherbury, by Charles de Rémusat

Charles de Rémusat

Charles François Marie, Comte de Rémusat , was a French politician and writer.-Biography:He was born in Paris. His father, Auguste Laurent, Comte de Rémusat, of a good family of Toulouse, was chamberlain to Napoleon Bonaparte, but acquiesced in the restoration and became prefect first of Haute...


(1874)
Eduard, Lord Herbert von Cherbury, by C. Guttler (a criticism of his philosophy; 1897)
Collections Historical and Archaeological relating to Montgomeryshire, vols. vii., xi., xx
Rebecca Warner's Epistolary Curiosities, i. ser.
Reid

Thomas Reid

The Reverend Thomas Reid FRSE , was a religiously trained Scottish philosopher, and a contemporary of David Hume, was the founder of the Scottish School of Common Sense, and played an integral role in the Scottish Enlightenment...


's works, edited by Sir William Hamilton
National Review, xxxv. 661 (Leslie Stephen

Leslie Stephen

Sir Leslie Stephen, KCB was an English author, critic and mountaineer, and the father of Virginia Woolf and Vanessa Bell.-Life:...


)
John Locke

John Locke

John Locke FRS , widely known as the Father of Liberalism, was an English philosopher and physician regarded as one of the most influential of Enlightenment thinkers. Considered one of the first of the British empiricists, following the tradition of Francis Bacon, he is equally important to social...


, Essay on Human Understanding
Anthony Wood

Anthony Wood

Anthony Wood or Anthony à Wood was an English antiquary.-Early life:Anthony Wood was the fourth son of Thomas Wood , BCL of Oxford, where Anthony was born...


, Ath. Oxon. (Bliss), iii. 239
Gentleman's Magazine (1816), i. 201 (print of remains of his birthplace)
Lord Herbert's Poems, edited by J. Churton Collins (1881)
Aubrey

John Aubrey

John Aubrey FRS, was an English antiquary, natural philosopher and writer. He is perhaps best known as the author of the collection of short biographical pieces usually referred to as Brief Lives...


's Lives of Eminent Men.