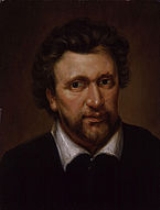 Ben Jonson
Benjamin Jonson
was an English
Renaissance
English Renaissance
The English Renaissance was a cultural and artistic movement in England dating from the late 15th and early 16th centuries to the early 17th century. It is associated with the pan-European Renaissance that is usually regarded as beginning in Italy in the late 14th century; like most of northern...
dramatist, poet and actor. A contemporary of
William Shakespeare
William Shakespeare
William Shakespeare was an English poet and playwright, widely regarded as the greatest writer in the English language and the world's pre-eminent dramatist. He is often called England's national poet and the "Bard of Avon"...
, he is best known for his
satirical
Satire
Satire is primarily a literary genre or form, although in practice it can also be found in the graphic and performing arts. In satire, vices, follies, abuses, and shortcomings are held up to ridicule, ideally with the intent of shaming individuals, and society itself, into improvement...
plays, particularly
Volpone
Volpone
Volpone is a comedy by Ben Jonson first produced in 1606, drawing on elements of city comedy, black comedy and beast fable...
,
The Alchemist
The Alchemist (play)
The Alchemist is a comedy by English playwright Ben Jonson. First performed in 1610 by the King's Men, it is generally considered Jonson's best and most characteristic comedy; Samuel Taylor Coleridge claimed that it had one of the three most perfect plots in literature...
, and
Bartholomew Fair
, which are considered his best, and his
lyric
Lyric poetry
Lyric poetry is a genre of poetry that expresses personal and emotional feelings. In the ancient world, lyric poems were those which were sung to the lyre. Lyric poems do not have to rhyme, and today do not need to be set to music or a beat...
poems. A man of vast reading and a seemingly insatiable appetite for controversy, Jonson had an unparalleled breadth of influence on Jacobean and Caroline playwrights and poets.
Jonson claimed his family was of
Scottish
Scotland
Scotland is a country that is part of the United Kingdom. Occupying the northern third of the island of Great Britain, it shares a border with England to the south and is bounded by the North Sea to the east, the Atlantic Ocean to the north and west, and the North Channel and Irish Sea to the...
Border country
Border Country
Border Country is a novel by Raymond Williams. The book was re-published in December 2005 as one of the first group of titles in the Library of Wales series, having been out of print for several years. Written in English, the novel was first published in 1960.It is set in rural South Wales, close...
descent, and this claim may have been supported by the fact that his
coat of arms
Coat of arms
A coat of arms is a unique heraldic design on a shield or escutcheon or on a surcoat or tabard used to cover and protect armour and to identify the wearer. Thus the term is often stated as "coat-armour", because it was anciently displayed on the front of a coat of cloth...
bears three spindles or
rhombi
Rhombus
In Euclidean geometry, a rhombus or rhomb is a convex quadrilateral whose four sides all have the same length. The rhombus is often called a diamond, after the diamonds suit in playing cards, or a lozenge, though the latter sometimes refers specifically to a rhombus with a 45° angle.Every...
, a device shared by a Borders family, the Johnstones of
Annandale
Annandale, Dumfries and Galloway
Annandale is a strath in Dumfries and Galloway, Scotland, named after the River Annan. It runs north-south through the Southern Uplands from Annanhead to Annan on the Solway Firth and in its higher reaches it separates the Moffat hills on the east from the Lowther hills to the west...
.
There shall be no love lost.

Every Man out of His Humour (1598), Act II, scene 1. Compare: "There is no love lost between us", Miguel de Cervantes, Don Quixote, part ii, chapter xxxiii.
Slow, slow, fresh fount, keep time with my salt tears:Yet, slower, yet; O faintly, gentle springs:List to the heavy part the music bears,Woe weeps out her division, when she sings.Droop herbs, and flowers,Fall grief in showers,Our beauties are not ours;O, I could still,Like melting snow upon some craggy hill,Drop, drop, drop, drop,Since nature's pride is now, a withered daffodil.

Cynthia's Revels (1600), Act I, scene i
True happinessConsists not in the multitude of friends,But in the worth and choice.

Cynthia's Revels (1600), Act III, scene ii
Queen and huntress, chaste and fair,Now the sun is laid to sleep,Seated in thy silver chair,State in wonted manner keep:Hesperus entreats thy light,Goddess, excellently bright.

Cynthia's Revels (1600), Act V, scene iii
That old bald cheater, Time.

The Poetaster (1601), Act I, scene i
Of all wild beasts preserve me from a tyrant; and of all tame, a flatterer.

Sejanus (1603), Act I.
The world knows only two,—that's Rome and I.

Sejanus (1603), Act V, scene 1.
Calumnies are answered best with silence.

Volpone (1606), Act II, scene ii
You that would last long, list to my song,Make no more coil, but buy of this oil.Would you be ever fair and young?Stout of teeth and strong of tongue?Tart of palate, quick of ear?Sharp of sight, of nostril clear?Moist of hand and light of foot?(Or, I will come nearer to it)Would you live free from all diseases,Do the act your mistress pleases;Yet fright all aches from your bones?Here's a medicine for the nones.

Volpone (1606), Act II, scene ii
Preserving the sweetness of proportion and expressing itself beyond expression.

The Masque of Hymen (1606)