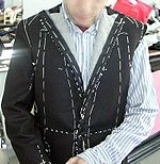 Bespoke
Bespoke
biˈspoʊk is a term employed in a variety of applications to mean an item
custom
Custom
Custom may refer to:* Convention , a set of agreed, stipulated or generally accepted rules, norms, standards or criteria, often taking the form of a custom* Customization , anything made or modified to personal taste...
-made to the buyer's specification (personalized or tailored). While applied to many items now, from computer software to luxury car appointments, the term historically was applied only to
tailor
Tailor
A tailor is a person who makes, repairs, or alters clothing professionally, especially suits and men's clothing.Although the term dates to the thirteenth century, tailor took on its modern sense in the late eighteenth century, and now refers to makers of men's and women's suits, coats, trousers,...
ed
clothing
Clothing
Clothing refers to any covering for the human body that is worn. The wearing of clothing is exclusively a human characteristic and is a feature of nearly all human societies...
,
shirt
Shirt
A shirt is a cloth garment for the upper body. Originally an undergarment worn exclusively by men, it has become, in American English, a catch-all term for almost any garment other than outerwear such as sweaters, coats, jackets, or undergarments such as bras, vests or base layers...
s, and other parts of men's apparel involving measurement and fitting.
The distinguishing points of bespoke tailoring are the buyer's total control over the fabric used, the features and fit, and the way the garment should be made.