 Ralph Lauren
Ralph Lauren
is an
American
United States
The United States of America is a federal constitutional republic comprising fifty states and a federal district...
fashion design
Fashion design
Fashion design is the art of the application of design and aesthetics or natural beauty to clothing and accessories. Fashion design is influenced by cultural and social latitudes, and has varied over time and place. Fashion designers work in a number of ways in designing clothing and accessories....
er and business executive; best known for his
Polo Ralph Lauren
Polo Ralph Lauren
Ralph Lauren Corporation is a luxury clothing and goods company of the American fashion designer Ralph Lauren. Ralph Lauren specializes in high-end casual/semi-formal wear for men and women, as well as accessories, fragrances, home and housewares...
clothing brand.
Early life
Ralph Lauren was born
Ralph Lifshitz
in The Bronx, New York, to Ashkenazi Jewish immigrants, from
Pinsk
Pinsk
Pinsk , a town in Belarus, in the Polesia region, traversed by the river Pripyat, at the confluence of the Strumen and Pina rivers. The region was known as the Marsh of Pinsk. It is a fertile agricultural center. It lies south-west of Minsk. The population is about 130,000...
,
Belarus
Belarus
Belarus , officially the Republic of Belarus, is a landlocked country in Eastern Europe, bordered clockwise by Russia to the northeast, Ukraine to the south, Poland to the west, and Lithuania and Latvia to the northwest. Its capital is Minsk; other major cities include Brest, Grodno , Gomel ,...
: Fraydl (née Kotlar) and Frank Lifshitz, a house painter.
Ralph attended the Salanter Academy Jewish Day School followed by MTA (now known as the
Marsha Stern Talmudical Academy
Marsha Stern Talmudical Academy
The Marsha Stern Talmudical Academy, also known as Yeshiva University High School for Boys , MTA or TMSTA , is an Orthodox Jewish day school , the boys' high school of Yeshiva University in the Washington Heights neighborhood in the New York City borough of Manhattan.-History:The Talmudical...
), before eventually graduating from
DeWitt Clinton High School
DeWitt Clinton High School
DeWitt Clinton High School is an American high school located in the Bronx, New York City, New York.-History:Clinton opened in 1897 at 60 West 13th Street at the northern end of Greenwich Village under the name of Boys High School, although this Boys High School was not related to the one in Brooklyn...
in 1957. In MTA Lauren was known by his classmates for selling ties to his fellow students. In a moment of spontaneity, when asked what he wanted to do in his Clinton yearbook he stated under his picture that he wanted to be a
millionaire
Millionaire
A millionaire is an individual whose net worth or wealth is equal to or exceeds one million units of currency. It can also be a person who owns one million units of currency in a bank account or savings account...
. During the summer, Ralph attended
Camp Roosevelt (Monticello)
Camp Roosevelt (Monticello)
Camp Roosevelt on Sackett Lake in Monticello, New York, was a summer sleepaway camp. Its colors were grey and blue. At one time, it was owned by Charly and Mary Winston...
.
At the age of 16, Ralph's brother Terry (who was his guardian) changed their last name to Lauren to avoid the unfortunate obscenity reference Lifshitz has in English (although Ralph's brother Lenny retained the name). Apparently Ralph was teased about it in school. "My given name has the word shit in it," he told
Oprah Winfrey
Oprah Winfrey
Oprah Winfrey is an American media proprietor, talk show host, actress, producer and philanthropist. Winfrey is best known for her self-titled, multi-award-winning talk show, which has become the highest-rated program of its kind in history and was nationally syndicated from 1986 to 2011...
. "When I was a kid, the other kids would make a lot of fun of me. It was a tough name. That's why I decided to change it. Then people said, "Did you change your name because you don't want to be Jewish?" I said, "Absolutely not. That's not what it's about. My cousins who lived in California had changed their last name to Lawrence. So I just thought, "I'm going to pick a nice last name"—it wasn't particularly connected to anything or anyone."
He went to
Baruch College
Baruch College
Bernard M. Baruch College, more commonly known as Baruch College, is a constituent college of the City University of New York, located in the Flatiron district of Manhattan, New York City. With an acceptance rate of just 23%, Baruch is among the most competitive and diverse colleges in the nation...
where he studied business, although he dropped out after two years. From 1962 to 1964 he served in the
United States Army
United States Army
The United States Army is the main branch of the United States Armed Forces responsible for land-based military operations. It is the largest and oldest established branch of the U.S. military, and is one of seven U.S. uniformed services...
. He did not attend fashion school, but worked for
Brooks Brothers
Brooks Brothers
Brooks Brothers is the oldest men's clothier chain in the United States. Founded in 1818 as a family business, the privately owned company is now owned by Retail Brand Alliance, also features clothing for women, and is headquartered on Madison Avenue in Manhattan, New York City.-History:On April 7,...
as a salesman. In 1967, with the financial backing of Manhattan clothing manufacturer Norman Hilton, Lauren opened a necktie store where he also sold ties of his own design, under the label "Polo." He later purchased the name from Hilton.
Personal life
On December 20, 1964, he married Ricky Anne Low-Beer in
New York City
New York City
New York is the most populous city in the United States and the center of the New York Metropolitan Area, one of the most populous metropolitan areas in the world. New York exerts a significant impact upon global commerce, finance, media, art, fashion, research, technology, education, and...
. The two met six months earlier, in an eye doctor's office where Ricky was working as a receptionist. They have three children named
Dylan
Dylan Lauren
Dylan Lauren is the daughter of clothing designer Ralph Lauren, and the owner of Dylan's Candy Bar, the largest candy store in the world, based in New York City.-Life and career:...
,
David
David Lauren
David Lauren is the younger son of clothing designer, Ralph Lauren. His mother is Ricky Lauren and his siblings are Dylan and Andrew Lauren.-Early life:...
, and Andrew.
Polo Ralph Lauren
In 1970, Ralph Lauren won the COTY Award for his menswear line. Around that same time he released a line of women's suits that were tailored in a classic men's style, which was when the first Polo emblem was seen. It was on the cuff of the women's suit. Ralph Lauren released Polo's famous short sleeve mesh shirt with the Polo logo in 1972. It came out in 24 colors and soon became a classic. He also gained recognition for his design after he was contracted to provide clothing styles for the movie
The Great Gatsby
The Great Gatsby (1974 film)
The Great Gatsby is a 1974 romantic drama film distributed by Newdon Productions and Paramount Pictures. It was directed by Jack Clayton and produced by David Merrick, from a screenplay by Francis Ford Coppola based on F...
.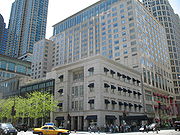 In 1984, he transformed the
Rhinelander Mansion
Rhinelander Mansion
The Gertrude Rhinelander Waldo Mansion is a French Renaissance revival mansion in New York City. Completed in 1898 it was designed by the architecture firm of Kimball & Thompson and has been more specifically credited to Alexander Mackintosh, a British-born architect who worked for Kimball &...
, former home of the photographer
Edgar de Evia
Edgar de Evia
Edgar Domingo Evia y Joutard, known professionally as Edgar de Evia , was a Mexican-born American photographer....
and
Robert Denning
Robert Denning
Robert Denning was an American interior designer whose lush interpretations of French Victorian decor became an emblem of corporate raider tastes in the 1980s.-Early life:...
, into the flagship store for Polo Ralph Lauren. This same year de Evia photographed the cover feature story for
House & Garden
House & Garden (magazine)
House & Garden was an American shelter magazine published by Condé Nast Publications that focused on interior design, entertaining, and gardening....
on the Lauren home
Round Hill
Round Hill, Jamaica
The historic Round Hill hotel and villa resort near Montego Bay in Hanover, Jamaica opened in 1952. It is located on a peninsula that was originally a sugar plantation and subsequently changed over to coconuts and allspice. It has entertained many celebrities and politicians including John F....
in
Jamaica
Jamaica
Jamaica is an island nation of the Greater Antilles, in length, up to in width and 10,990 square kilometres in area. It is situated in the Caribbean Sea, about south of Cuba, and west of Hispaniola, the island harbouring the nation-states Haiti and the Dominican Republic...
, which had formerly been the home of
Babe
Babe Paley
Barbara "Babe" Cushing Mortimer Paley was an American socialite and style icon. She was known by the popular nickname "Babe" for most of her life. She was named to the International Best Dressed List Hall of Fame in 1958....
and
Bill Paley
William S. Paley
William S. Paley was the chief executive who built Columbia Broadcasting System from a small radio network into one of the foremost radio and television network operations in the United States.-Early life:...
. On June 11, 1997,
Polo Ralph Lauren
Polo Ralph Lauren
Ralph Lauren Corporation is a luxury clothing and goods company of the American fashion designer Ralph Lauren. Ralph Lauren specializes in high-end casual/semi-formal wear for men and women, as well as accessories, fragrances, home and housewares...
became a public company, traded on the
New York Stock Exchange
New York Stock Exchange
The New York Stock Exchange is a stock exchange located at 11 Wall Street in Lower Manhattan, New York City, USA. It is by far the world's largest stock exchange by market capitalization of its listed companies at 13.39 trillion as of Dec 2010...
under the symbol
RL
.
By 2007 Ralph Lauren had over 35 boutiques in the United States. There were 23 locations that carried Ralph Lauren Purple Label, including
Atlanta
Lenox Square
Lenox Square is an upscale enclosed super regional shopping mall located in the Buckhead District of Atlanta, Georgia. Lenox Square comprises more than of retail space, with 250 stores on four levels, including a large food court. The mall is home to three anchor stores: Macy's, Bloomingdale's,...
,
Beverly Hills
Rodeo Drive
Rodeo Drive of Beverly Hills, California is a shopping district known for designer label and haute couture fashion. The name generally refers to a three-block long stretch of boutiques and shops but the street stretches further north and south....
, Boston, Charlotte, Washington, DC,
Chicago
Michigan Avenue (Chicago)
Michigan Avenue is a major north-south street in Chicago which runs at 100 east south of the Chicago River and at 132 East north of the river from 12628 south to 950 north in the Chicago street address system...
,
Costa Mesa
South Coast Plaza
South Coast Plaza is an upscale-luxury shopping center in Costa Mesa, California, USA, in Orange County. The largest mall in California, its sales of over 1.5 billion are highest in the United States...
, Dallas,
Denver
Cherry Creek Shopping Center
Cherry Creek Shopping Center, also known as Cherry Creek Mall, is an upscale shopping mall about three and half miles southeast of downtown Denver, Colorado in the Cherry Creek Neighborhood. It is situated along East First Avenue on the banks of Cherry Creek.Cherry Creek Shopping Center is one of...
,
Honolulu
Ala Moana Center
Ala Moana Center in Honolulu is the largest shopping mall in Hawaii, the fifteenth largest shopping mall in the United States, and the largest open-air shopping center in the world....
,
Houston
Houston Galleria
The Galleria, stylized theGalleria, is an upscale mixed-use urban development centrally located in the Uptown District of Houston, Texas, United States. The development consists of a retail complex, as well as the Galleria Office Towers complex, two Westin hotels, and a private health club...
,
Las Vegas
The Forum Shops at Caesars
The Forum Shops at Caesars is a luxury mall connected to Caesars Palace on the Las Vegas Strip in Las Vegas, Nevada. Built as an extension wing of the main hotel, the mallnow fronts on The Strip...
,
Manhasset
Americana Manhasset
Americana Manhasset is a high-end, open-air shopping center located in Manhasset, New York. It is the largest and most well known shopping center in the area, sometimes commonly referred to as the "Miracle Mile"....
, New York,
Palm Beach
Worth Avenue
Worth Avenue, sometimes referred to as the Rodeo Drive of Florida, is a famous upscale shopping district in Palm Beach, Florida, in the United States. The street stretches four blocks from Lake Worth to the Atlantic Ocean. The street first became fashionable after the construction in 1918 of the...
,
Palo Alto
Stanford Shopping Center
Stanford Shopping Center is an upscale open air shopping mall located on El Camino Real at Sand Hill Road in Palo Alto, California. It is on the campus of Stanford University although the university only owns the land and not the actual buildings or stores...
, Philadelphia,
Phoenix
Biltmore Fashion Park
The Biltmore Fashion Park is a luxury outdoor retail and dining plaza located in the Biltmore District of Phoenix, Arizona, along the prestigious stretch of East Camelback Rd. The recently renovated and expanded mid-century plaza is the city of Phoenix's premiere address for high-end retail...
, San Diego,
San Francisco
Union Square
Union Square may refer to:Asia* Union Square * Union Square station on Dubai MetroCanada* Union Square, Nova ScotiaUnited States* Union Square, Baltimore, Maryland* Union Square * Union Square, San Francisco, California...
,
Short Hills
The Mall at Short Hills
The Mall at Short Hills is a high-end mall in the Short Hills area of Millburn, New Jersey, United States. The mall developer is The Taubman Company...
, and
Troy
Somerset Collection
Somerset Collection is an upscale super-regional shopping mall, with over 180 stores located in a Metro Detroit commercial area on 2800 W. Big Beaver Rd. in Troy, Michigan...
. The
Financial Times
Financial Times
The Financial Times is an international business newspaper. It is a morning daily newspaper published in London and printed in 24 cities around the world. Its primary rival is the Wall Street Journal, published in New York City....
reported in its edition of January 2–3, 2010 that the firm had
revenues of $5 billion for the fiscal year 2009. The article addresses succession plans and the future of the overall business.
In 2010, Ralph Lauren was decorated Chevalier de la
Legion d'honneur
Légion d'honneur
The Legion of Honour, or in full the National Order of the Legion of Honour is a French order established by Napoleon Bonaparte, First Consul of the Consulat which succeeded to the First Republic, on 19 May 1802...
by French President
Nicolas Sarkozy
Nicolas Sarkozy
Nicolas Sarkozy is the 23rd and current President of the French Republic and ex officio Co-Prince of Andorra. He assumed the office on 16 May 2007 after defeating the Socialist Party candidate Ségolène Royal 10 days earlier....
, in
Paris
Paris
Paris is the capital and largest city in France, situated on the river Seine, in northern France, at the heart of the Île-de-France region...
Surgery
Sometime in early 1987, he was diagnosed with a benign brain tumor. In April 1987 he underwent surgery to remove the tumor and made a full recovery.
Net worth
As of September 2011,
Forbes
estimates his wealth at $11.9 billion dollars which would make Ralph Lauren the 173rd richest person in the world.
Automobile collection
Ralph Lauren is also well known as a
collector of automobiles
, some of which are extremely rare. A large portion of his over 70 automobiles are held in his estate in Katonah, New York. He owns a 1962
Ferrari 250 GTO
Ferrari 250 GTO
The Ferrari 250 GTO is a GT car which was produced by Ferrari from 1962 to 1964 for homologation into the FIA's Group 3 Grand Touring Car category....
, two Ferrari 250 Testa Rossas, three 1996
McLaren F1
McLaren F1
The McLaren F1 is a supercar designed and manufactured by McLaren Automotive. Originally a concept conceived by Gordon Murray, he convinced Ron Dennis to back the project and engaged Peter Stevens to design the exterior of the car...
s (one of them an ultra-rare
F1 LM
McLaren F1 LM
The McLaren F1 LM is, in short, a track oriented edition of the McLaren F1. The LM is based on the McLaren F1 GTR with the necessary modifications in place to allow the modified GTR to be a road legal car, however without the engine intake restrictions imposed on the GTR racing edition by racing...
), a
Mercedes
Mercedes-Benz
Mercedes-Benz is a German manufacturer of automobiles, buses, coaches, and trucks. Mercedes-Benz is a division of its parent company, Daimler AG...
300SL Gullwing, a 1929 Blower Bentley, one Bugatti Type 57SC Atlantic, a
Porsche 997 GT3 RS
Porsche 911 GT3
The Porsche 911 GT3 is a higher performance version of the Porsche 911 sports car. It is the latest in a line of high performance models, beginning with the 1973 911 RS...
, a
Bugatti Veyron
Bugatti Veyron
The Bugatti Veyron EB 16.4 is a mid-engined grand touring car. The Super Sport version is the fastest road-legal production car in the world, with a top speed of . The original version has a top speed of...
, a 1930
Mercedes-Benz CountTrossi SSK
Mercedes-Benz SSK
The Mercedes-Benz SSK is a roadster built by German automobile manufacturer Mercedes-Benz between 1928 and 1932. Its name is an acronym of Super Sport Kurz, German for "Super Sport Short", as it was a short wheelbase development of the earlier Mercedes-Benz S...
(aka "The Black Prince") a 1938
Alfa Romeo 8C 2900B Mille Miglia
Alfa Romeo 8C
-1935 Monoposto 8C 35 Type C:Eight 3.8 litre versions, sharing no castings with the earlier blocks, were individually built for racing in five months, most being used in the Alfa Romeo Monoposto 8C 35 Type C, as raced by Scuderia Ferrari. The 3.8 produced at 5500 rpm, and had from...
., a
Lamborghini Reventón
Lamborghini Reventón
The Lamborghini Reventón is a mid-engine sports car that debuted at the 2007 Frankfurt Motor Show. It is the most expensive Lamborghini road car to date, costing one million euros . Its top recorded speed was recorded in Dubai, UAE at...
and the rare Reventón Roadster. His cars have won "best in show" at the prestigious
Pebble Beach Concours d'Elegance
Pebble Beach Concours d'Elegance
The Pebble Beach Concours d'Elegance is an automotive charitable event held each year on the Pebble Beach Golf Links in Pebble Beach, California, considered the most prestigious event of its kind. It is the finale of a week long festival of classic cars events in the Monterey area every year...
multiple times. In 2005 his collection was displayed at
Boston
Boston
Boston is the capital of and largest city in Massachusetts, and is one of the oldest cities in the United States. The largest city in New England, Boston is regarded as the unofficial "Capital of New England" for its economic and cultural impact on the entire New England region. The city proper had...
's
Museum of Fine Arts
Museum of Fine Arts, Boston
The Museum of Fine Arts in Boston, Massachusetts, is one of the largest museums in the United States, attracting over one million visitors a year. It contains over 450,000 works of art, making it one of the most comprehensive collections in the Americas...
. In 2011 17 prime members of his collection were exhibited at the Musée des Arts Décoratifs, Paris.
Controversies
In 2009, Ralph Lauren apologised for digitally retouching a photograph of model Filippa Hamilton to make her look thinner. Hamilton also claims that she was fired by Ralph Lauren a few days later. Another model's photo was also digitally retouched adding to the row.
External links