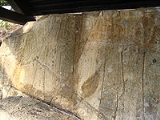 Declared monuments of Hong Kong
Declared monuments of Hong Kong
are places, structures or buildings legally declared to be "protected". In
Hong Kong
Hong Kong
Hong Kong is one of two Special Administrative Regions of the People's Republic of China , the other being Macau. A city-state situated on China's south coast and enclosed by the Pearl River Delta and South China Sea, it is renowned for its expansive skyline and deep natural harbour...
, declaring a monument requires consulting the
Antiquities Advisory Board
Antiquities Advisory Board
The Antiquities Advisory Board is a statutory body of the Government of Hong Kong created in 1976 to evaluate old buildings in Hong Kong, and to recommend those with historical or architectural merit for listing as monuments. It is under the responsibility of the Home Affairs Bureau, directly...
, the approval of the
Chief Executive
Chief Executive of Hong Kong
The Chief Executive of Hong Kong is the President of the Executive Council of Hong Kong and head of the Government of the Hong Kong Special Administrative Region. The position was created to replace the Governor of Hong Kong, who was the head of the Hong Kong government during British rule...
as well as the publication of the notice in government gazette.
As of 12 November 2010, there are 98 declared monuments in Hong Kong. Under
Antiquities and Monuments Ordinance
Antiquities and Monuments Ordinance
The Antiquities and Monuments Ordinance, in Hong Kong Law , was enacted in 1976 to preserve the objects of historical, archaeological and palaeontological interest and for matters ancillary thereto or connected therewith...
, some other buildings are classified as
Grades I
,
II
and
III
historic buildings, and are not listed below.
Monument declaration and historic buildings grading system
There was no direct link between graded buildings and monuments. As of July 2007, 607 buildings had been graded (since 1980), 54 of these, including five Grade I buildings, had been demolished. As of August 2007, of 151 buildings classified as Grade I, only 28 pre-war buildings have been declared monuments since 1980.
On November 26, 2008, the Antiquities Advisory Board announced that the declaration of monuments would be related to the grading of historic buildings.
List of monuments
#
Name
Location
District
Notes/References
Photographs
1
Rock Carving

Prehistoric Hong Kong

Prehistoric Hong Kong is the period between the arrival of the first humans in the modern Hong Kong region and the start of recorded in Chinese history. The history of the region is...



Big Wave Bay

Big Wave Bay, Hong Kong Island

Big Wave Bay or Tai Long Wan is a bay in the Southern District of Hong Kong. It is located on the eastern coast of Hong Kong Island, south of Cape Collinson and north of Shek O....


, Hong Kong Island

Hong Kong Island

Hong Kong Island is an island in the southern part of the Hong Kong Special Administrative Region. It has a population of 1,289,500 and its population density is 16,390/km², as of 2008...



Southern

Southern District, Hong Kong

The Southern District is one of the 18 districts of Hong Kong. It is located in the southern part of Hong Kong Island. It had a population of 290,240 in 2001. This district has the fourth lowest population of Hong Kong.-Geography:...



http://www.lcsd.gov.hk/CE/Museum/Monument/en/monuments_01.php Declared on 13 Oct 1978.

2
Rock Carving
Kau Sai Chau

Kau Sai Chau

Kau Sai Chau is an island located off the coast of Sai Kung of Hong Kong, with an area of 6.70 km², making it the 6th largest island of Hong Kong.-Geography:...



Sai Kung

Sai Kung District

Sai Kung District is the second largest district in Hong Kong in terms of area. It comprises the southern half of Sai Kung Peninsula and Clear Water Bay Peninsula in the New Territories plus a strip to the east of Kowloon. The administrative centre is Sai Kung Town but the district's population is...



http://www.lcsd.gov.hk/CE/Museum/Monument/en/monuments_02.php Declared on 26 Jan 1979.
3
Rock Carving
Tung Lung Island

Tung Lung Chau

Tung Lung Chau , also known as Nam Tong Island is an island located off the tip of the Clear Water Bay Peninsula in the New Territories of Hong Kong. It is also referred by Hong Kong people as Tung Lung To or Tung Lung Island .The island is largely uninhabited...



Sai Kung

Sai Kung District

Sai Kung District is the second largest district in Hong Kong in terms of area. It comprises the southern half of Sai Kung Peninsula and Clear Water Bay Peninsula in the New Territories plus a strip to the east of Kowloon. The administrative centre is Sai Kung Town but the district's population is...



http://www.lcsd.gov.hk/CE/Museum/Monument/en/monuments_03.php Declared on 26 Jan 1979.

4
Rock Inscription
Joss House Bay

Joss House Bay

Joss House Bay, also known as Tai Miu Wan indigenously, is near the south end of Clear Water Bay Peninsula in Hong Kong....



Sai Kung

Sai Kung District

Sai Kung District is the second largest district in Hong Kong in terms of area. It comprises the southern half of Sai Kung Peninsula and Clear Water Bay Peninsula in the New Territories plus a strip to the east of Kowloon. The administrative centre is Sai Kung Town but the district's population is...



http://www.lcsd.gov.hk/CE/Museum/Monument/en/monuments_04.php Declared on 26 Jan 1979.

5
Rock Carving
Shek Pik

Shek Pik

Shek Pik is an area located along the southwestern coast of Lantau Island, Hong Kong. When the Shek Pik Reservoir was built, villages at Shek Pik were demolished and the villagers were relocated to other parts of Lantau Island and to Tsuen Wan...


, Lantau Island

Lantau Island

Lantau Island , based on the old local name of Lantau Peak , is the largest island in Hong Kong, located at the mouth of the Pearl River. Administratively, most of Lantau Island is part of the Islands District of Hong Kong...



Islands

Islands District

The Islands District is one of the 18 districts of Hong Kong. It is part of the New Territories. It had a population of 137,122 in 2009.Hong Kong consists of a peninsula and 236 islands...



http://www.lcsd.gov.hk/CE/Museum/Monument/en/monuments_05.php Declared on 27 Apr 1979. Thought to date back to the local Bronze Age

Bronze Age

The Bronze Age is a period characterized by the use of copper and its alloy bronze as the chief hard materials in the manufacture of some implements and weapons. Chronologically, it stands between the Stone Age and Iron Age...


, some 3000 years ago

6
Rock Carving
Po Toi Island
Islands

Islands District

The Islands District is one of the 18 districts of Hong Kong. It is part of the New Territories. It had a population of 137,122 in 2009.Hong Kong consists of a peninsula and 236 islands...



http://www.lcsd.gov.hk/CE/Museum/Monument/en/monuments_06.php Declared on 27 Apr 1979.
7
Tung Chung Fort

Tung Chung Fort

Tung Chung Fort is a fort located near Tung Chung, on Lantau Island, in Hong Kong. Located near Tung Chung Road, the fort is surrounded by villages of Sheung Ling Pei and Ha Ling Pei . It has a companion Tung Chung Battery on the coast.-History:...



Tung Chung

Tung Chung

Tung Chung, meaning 'eastern stream', is an area situated on the north-western coast of Lantau Island in Hong Kong. Tung Chung, currently one of the latest generation of new towns, was formerly a rural village around Tung Chung Wan, and along the delta and lower courses of Tung Chung River and Ma...


, Lantau Island

Lantau Island

Lantau Island , based on the old local name of Lantau Peak , is the largest island in Hong Kong, located at the mouth of the Pearl River. Administratively, most of Lantau Island is part of the Islands District of Hong Kong...



Islands

Islands District

The Islands District is one of the 18 districts of Hong Kong. It is part of the New Territories. It had a population of 137,122 in 2009.Hong Kong consists of a peninsula and 236 islands...



http://www.lcsd.gov.hk/CE/Museum/Monument/en/monuments_07.php Declared on 24 Aug 1979.

8
Duddell Street

Duddell Street

Duddell Street is a street in Central, Hong Kong, bounded by Ice House Street and Queen's Road Central.This short street includes at its southern end a flight of granite steps, built between 1875 and 1889, leading to Ice House Street...


Steps and Gas Lamps
Central

Central, Hong Kong

Central is the central business district of Hong Kong. It is located in Central and Western District, on the north shore of Hong Kong Island, across Victoria Harbour from Tsim Sha Tsui, the southernmost point of Kowloon Peninsula...



Central and Western

Central and Western District

The Central and Western District located on northern part of Hong Kong Island is one of the 18 administrative districts of Hong Kong. It had a population of 261,884 in 2001...



http://www.lcsd.gov.hk/CE/Museum/Monument/en/monuments_08.php Declared on 31 Aug 1979.

9
Tung Lung Fort

Tung Lung Fort

Tung Lung Fort , also known as Fat Tong Fort, is a fort on the Tung Lung Chau on the south east water of Hong Kong.-History:It is said the fort was built as a part of a maritime defence system to protect trade and fend off pirates...



Tung Lung Island

Tung Lung Chau

Tung Lung Chau , also known as Nam Tong Island is an island located off the tip of the Clear Water Bay Peninsula in the New Territories of Hong Kong. It is also referred by Hong Kong people as Tung Lung To or Tung Lung Island .The island is largely uninhabited...



Sai Kung

Sai Kung District

Sai Kung District is the second largest district in Hong Kong in terms of area. It comprises the southern half of Sai Kung Peninsula and Clear Water Bay Peninsula in the New Territories plus a strip to the east of Kowloon. The administrative centre is Sai Kung Town but the district's population is...



http://www.lcsd.gov.hk/CE/Museum/Monument/en/monuments_09.php Declared on 25 Jul 1980.

10
Sam Tung Uk Village
Tsuen Wan

Tsuen Wan

Tsuen Wan is a bay in the Kowloon area of Hong Kong, opposite to Tsing Yi Island across Rambler Channel. The market town of Tsuen Wan emerged for the surrounding villages and fleets of fishing boats in the area. The town is around the present-day Tsuen Wan Station of the MTR...



Tsuen Wan

Tsuen Wan District

Tsuen Wan District is one of the 18 districts of Hong Kong. It is located in the New Territories and is served by the Tsuen Wan Line of the MTR metro system. It had a population of 275,527 in 2001...



http://www.lcsd.gov.hk/ce/Museum/Monument/en/monuments_10.php Declared on 13 Mar 1981.

11
Fan Lau Fort

Fan Lau Fort

Fan Lau Fort is a fort in Fan Lau, the southwest corner of Lantau Island in Hong Kong. It is a declared a monument of Hong Kong.-History:...



Fan Lau

Fan Lau

Fan Lau is peninsula and area in the southwest tip of Lantau Island in Hong Kong. It is also the southwest end the territory of Hong Kong. The very end of the tip is Fan Lau Kok . The peninsula separates water into Fan Lau Tung Wan in the east, and Fan Lau Sai Wan and Fan Lau Miu Wan Fan Lau...


, southwest corner of Lantau Island

Lantau Island

Lantau Island , based on the old local name of Lantau Peak , is the largest island in Hong Kong, located at the mouth of the Pearl River. Administratively, most of Lantau Island is part of the Islands District of Hong Kong...



Islands

Islands District

The Islands District is one of the 18 districts of Hong Kong. It is part of the New Territories. It had a population of 137,122 in 2009.Hong Kong consists of a peninsula and 236 islands...



http://www.lcsd.gov.hk/ce/Museum/Monument/en/monuments_11.php Declared on 13 Nov 1981.

12
Old District Office North

Old District Office North

The Old District Office North is a building located at 20 Wan Tau Kok Lane, Tai Po in the New Territories of Hong Kong, near the Old Tai Po Police Station.-History:...



20 Wan Tau Kok Lane, Tai Po

Tai Po

Tai Po is an area in the New Territories of Hong Kong. It refers to the vicinity of the traditional market towns in the area presently known as Tai Po Old Market or Tai Po Kau Hui and the Tai Wo Town on the other side of the Lam Tsuen River, near the old Tai Po Market Station of the...



Tai Po

Tai Po District

Tai Po District is one of the 18 districts of Hong Kong. It covers the areas of Tai Po, Tai Po Kau, Ting Kok, Plover Cove and the northern part of Sai Kung Peninsula on both shores of Tolo Channel. It is located in the New Territories...



http://www.lcsd.gov.hk/ce/Museum/Monument/en/monuments_12.php Declared on 13 Nov 1981. Now the New Territories Eastern Region Headquarters of The Scout Association of Hong Kong

The Scout Association of Hong Kong

The Scout Association of Hong Kong is the overall Scouting organization in Hong Kong. After the first Scouting initiatives in 1909, the Hong Kong branch of The Scout Association of the United Kingdom was started in 1914 by registering the St. Joseph's College Scout Group, and was formally...


.

13
Sheung Yiu Village
Sai Kung

Sai Kung District

Sai Kung District is the second largest district in Hong Kong in terms of area. It comprises the southern half of Sai Kung Peninsula and Clear Water Bay Peninsula in the New Territories plus a strip to the east of Kowloon. The administrative centre is Sai Kung Town but the district's population is...



http://www.lcsd.gov.hk/ce/Museum/Monument/en/monuments_13.php Declared on 13 Nov 1981.

14
Rock Carving
Cheung Chau

Cheung Chau

Cheung Chau is a small island 10 km southwest of Hong Kong Island, is nicknamed as the 'dumbbell island' for its shape. It has been inhabited for longer than most other places in the territory of Hong Kong, with a population of about 23,000 up to 2006...



Islands

Islands District

The Islands District is one of the 18 districts of Hong Kong. It is part of the New Territories. It had a population of 137,122 in 2009.Hong Kong consists of a peninsula and 236 islands...



http://www.lcsd.gov.hk/ce/Museum/Monument/en/monuments_14.php Declared on 22 Jan 1982.

15
Tin Hau Temple

Tin Hau temples in Hong Kong

Over 70 temples are dedicated to Tin Hau in Hong Kong. They include:* Tin Hau temple, located at 10 Tin Hau Temple Road, Causeway Bay, east of Victoria Park, in Eastern District, on Hong Kong Island. It is a declared monument. The temple has given its name to the MTR station serving it .* The Tin...



Causeway Bay

Causeway Bay

Causeway Bay is a heavily built-up area of Hong Kong, People's Republic of China, located on the Hong Kong Island, and covering parts of Wan Chai and Eastern districts. The Chinese name is also romanized as Tung Lo Wan as in Tung Lo Wan Road...



Eastern

Eastern District, Hong Kong

The Eastern District is one of the 18 districts of Hong Kong. It had a population of 587,690 in 2006. The district has the second highest population while its residents have the third highest median household income among 18 districts....



http://www.lcsd.gov.hk/ce/Museum/Monument/en/monuments_15.php Declared on 26 Mar 1982.

16
Rock Carving
Lung Ha Wan
Sai Kung

Sai Kung District

Sai Kung District is the second largest district in Hong Kong in terms of area. It comprises the southern half of Sai Kung Peninsula and Clear Water Bay Peninsula in the New Territories plus a strip to the east of Kowloon. The administrative centre is Sai Kung Town but the district's population is...



http://www.lcsd.gov.hk/ce/Museum/Monument/en/monuments_16.php Declared on 4 Mar 1983.

17
Island House

Island House

Island House is located on Island House Lane, Yuen Chau Tsai , in Tai Po, New Territories, Hong Kong.-History:Built in 1905, Island House was built as the residence for the first British Police Magistrate appointed in 1898....



Yuen Chau Tsai

Yuen Chau Tsai

Yuen Chau Tsai was formerly an island of Tolo Harbour, in Hong Kong. After land reclamation, it is now connected to land by a causeway and is part of Tai Po District.The Tai Wong Yeh Temple and Island House are located in the area of the former island....



Tai Po

Tai Po District

Tai Po District is one of the 18 districts of Hong Kong. It covers the areas of Tai Po, Tai Po Kau, Ting Kok, Plover Cove and the northern part of Sai Kung Peninsula on both shores of Tolo Channel. It is located in the New Territories...



http://www.lcsd.gov.hk/ce/Museum/Monument/en/monuments_17.php Declared on 4 Mar 1983.

18
Site of Chinese Customs Station
Junk Island

Fat Tong Chau

Fat Tong Chau is a former island of Hong Kong. It is now part of Tseung Kwan O and Clear Water Bay Peninsula, Sai Kung as a result of land reclamation. It is located at the in the southeastern part of Junk Bay....



Sai Kung

Sai Kung District

Sai Kung District is the second largest district in Hong Kong in terms of area. It comprises the southern half of Sai Kung Peninsula and Clear Water Bay Peninsula in the New Territories plus a strip to the east of Kowloon. The administrative centre is Sai Kung Town but the district's population is...



http://www.lcsd.gov.hk/ce/Museum/Monument/en/monuments_18.php Declared on 4 Mar 1983.
19
Man Lun Fung Ancestral Hall

Ancestral hall

An ancestral hall or lineage temple is a site of ancestor worship in Chinese culture. Ancestral halls are closely linked to Confucian culture and the emphasis that it places on filial piety....



Fan Tin Tsuen, San Tin

San Tin

San Tin , or San Tin Heung , is an area located near Lok Ma Chau area in the New Territories and belongs to the Yuen Long District, Hong Kong....



Yuen Long

Yuen Long District

Yuen Long District , is one of the districts of Hong Kong located in the northwest of the New Territories. It had a population of 449,070 in 2001. The district has the youngest population of Hong Kong and the lowest income in the New Territories.-Geography:...



http://www.lcsd.gov.hk/ce/Museum/Monument/en/monuments_19.php http://www.go2yl.com/history.asp?id=k12&lang=eng Declared on 4 Mar 1983.
20
Remains of Ancient Kiln
Wun Yiu Village

Wun Yiu Village

Wun Yiu Village was a village located in Tai Po in Hong Kong. Wun Yiu means Bowl Kilns in Cantonese language.Wun Yiu Village consists of Sheung Wun Yiu and Ha Wun Yiu...



Tai Po

Tai Po District

Tai Po District is one of the 18 districts of Hong Kong. It covers the areas of Tai Po, Tai Po Kau, Ting Kok, Plover Cove and the northern part of Sai Kung Peninsula on both shores of Tolo Channel. It is located in the New Territories...



http://www.lcsd.gov.hk/ce/Museum/Monument/en/monuments_20.php Declared on 15 Apr 1983.
21
Stone Circle

Stone Circles (Hong Kong)

Stone Circles can be found in Hong Kong as Hong Kong is rich in Neolithic and Bronze Age artifacts.-Lo Ah Tsai Stone Circle:Lo Ah Tsai Stone Circle was discovered in the northern part of Lamma Island by K M A Barnett, District Commissioner of the New Territories in 1956...



Fan Lau

Fan Lau

Fan Lau is peninsula and area in the southwest tip of Lantau Island in Hong Kong. It is also the southwest end the territory of Hong Kong. The very end of the tip is Fan Lau Kok . The peninsula separates water into Fan Lau Tung Wan in the east, and Fan Lau Sai Wan and Fan Lau Miu Wan Fan Lau...


, Lantau Island

Lantau Island

Lantau Island , based on the old local name of Lantau Peak , is the largest island in Hong Kong, located at the mouth of the Pearl River. Administratively, most of Lantau Island is part of the Islands District of Hong Kong...



Islands

Islands District

The Islands District is one of the 18 districts of Hong Kong. It is part of the New Territories. It had a population of 137,122 in 2009.Hong Kong consists of a peninsula and 236 islands...



http://www.lcsd.gov.hk/ce/Museum/Monument/en/monuments_21.php Declared on 15 Apr 1983.

22
Tung Chung Battery

Tung Chung Battery

Tung Chung Battery is a former battery located in Tung Chung, Lantau Island, Hong Kong. It is close to Ma Wan Chung.Built in 1817, it is a companion of Tung Chung Fort of the south....



Tung Chung

Tung Chung

Tung Chung, meaning 'eastern stream', is an area situated on the north-western coast of Lantau Island in Hong Kong. Tung Chung, currently one of the latest generation of new towns, was formerly a rural village around Tung Chung Wan, and along the delta and lower courses of Tung Chung River and Ma...


, Lantau Island

Lantau Island

Lantau Island , based on the old local name of Lantau Peak , is the largest island in Hong Kong, located at the mouth of the Pearl River. Administratively, most of Lantau Island is part of the Islands District of Hong Kong...



Islands

Islands District

The Islands District is one of the 18 districts of Hong Kong. It is part of the New Territories. It had a population of 137,122 in 2009.Hong Kong consists of a peninsula and 236 islands...



http://www.lcsd.gov.hk/ce/Museum/Monument/en/monuments_22.php Declared on 11 Nov 1983.
23
Man Mo Temple

Man Mo Temple

A Man Mo Temple or Man Mo Miu is a temple for the worship of the civil or literature god Man Tai / Man Cheong (文昌) and the martial god Mo Tai / Kwan Tai . The two gods were popularly patronized by scholars and students seeking progress in their study or ranking in the civil examinations in the...



Tai Po

Tai Po

Tai Po is an area in the New Territories of Hong Kong. It refers to the vicinity of the traditional market towns in the area presently known as Tai Po Old Market or Tai Po Kau Hui and the Tai Wo Town on the other side of the Lam Tsuen River, near the old Tai Po Market Station of the...



Tai Po

Tai Po District

Tai Po District is one of the 18 districts of Hong Kong. It covers the areas of Tai Po, Tai Po Kau, Ting Kok, Plover Cove and the northern part of Sai Kung Peninsula on both shores of Tolo Channel. It is located in the New Territories...



http://www.lcsd.gov.hk/ce/Museum/Monument/en/monuments_23.php Declared on 11 May 1984.

24
Hong Kong Observatory

Hong Kong Observatory

Hong Kong Observatory is a department of the Hong Kong government. The Observatory forecasts weather and issues warnings on weather-related hazards...



Tsim Sha Tsui

Tsim Sha Tsui

Tsim Sha Tsui , often abbreviated as TST, is an urbanized area in southern Kowloon, Hong Kong. The area is administratively part of the Yau Tsim Mong District. Tsim Sha Tsui East is a piece of land reclaimed from the Hung Hom Bay now east of Tsim Sha Tsui...



Yau Tsim Mong

Yau Tsim Mong District

Yau Tsim Mong District is one of 18 districts of Hong Kong, located on western Kowloon peninsula. It is the core urban area of Kowloon. The district has the third highest population density of all districts...



http://www.lcsd.gov.hk/ce/Museum/Monument/en/monuments_24.php Declared on 15 Jun 1984.

25
Old Stanley Police Station

Old Stanley Police Station

The Old Stanley Police Station was a police station constructed in Stanley on Hong Kong Island in Hong Kong in 1859. It is now the oldest remaining police station building in Hong Kong...



Stanley

Stanley, Hong Kong

Stanley is a town and a tourist attraction in Hong Kong. It located on a peninsula on the southeastern part of Hong Kong Island. It is east of Repulse Bay and west of Shek O, adjacent to Chung Hom Kok...



Southern

Southern District, Hong Kong

The Southern District is one of the 18 districts of Hong Kong. It is located in the southern part of Hong Kong Island. It had a population of 290,240 in 2001. This district has the fourth lowest population of Hong Kong.-Geography:...



http://www.lcsd.gov.hk/ce/Museum/Monument/en/monuments_25.php Declared on 15 Jun 1984. Now used as a Wellcome

Wellcome

Wellcome is a supermarket chain owned by Jardine Matheson Holdings via its Dairy Farm subsidiary. The Wellcome supermarket chain is one of the two largest supermarket chains in Hong Kong, the other being PARKnSHOP. Wellcome also operates supermarkets in Taiwan under the Wellcome name...


supermarket.
26
The Exterior of the Old Supreme Court
Central

Central, Hong Kong

Central is the central business district of Hong Kong. It is located in Central and Western District, on the north shore of Hong Kong Island, across Victoria Harbour from Tsim Sha Tsui, the southernmost point of Kowloon Peninsula...



Central and Western

Central and Western District

The Central and Western District located on northern part of Hong Kong Island is one of the 18 administrative districts of Hong Kong. It had a population of 261,884 in 2001...



http://www.lcsd.gov.hk/ce/Museum/Monument/en/monuments_26.php Declared on 15 Jun 1984. Now the Legislative Council Building

Legislative Council Building

The Legislative Council Building of Hong Kong, also called the Former Supreme Court Building , was the home of the former Supreme Court until 1985, when it was renamed and became home to the Legislative Council of Hong Kong. Members of the Council and the President have offices in this building...




27
The Exterior of the Main Building of the University of Hong Kong
Mid-levels

Mid-levels

Mid-levels is an expensive residential area on Hong Kong Island in Hong Kong. It is located halfway up Victoria Peak, directly above Central...


, Hong Kong Island

Hong Kong Island

Hong Kong Island is an island in the southern part of the Hong Kong Special Administrative Region. It has a population of 1,289,500 and its population density is 16,390/km², as of 2008...



Central and Western

Central and Western District

The Central and Western District located on northern part of Hong Kong Island is one of the 18 administrative districts of Hong Kong. It had a population of 261,884 in 2001...



http://www.lcsd.gov.hk/ce/Museum/Monument/en/monuments_27.php http://www.lcsd.gov.hk/CE/Museum/Monument/en/trails_west1.php?tid=9 Declared on 15 Jun 1984.

28
Rock Inscription at Wong Chuk Hang

Wong Chuk Hang

Wong Chuk Hang is an industrial and residential town to the east of Aberdeen and to the north of Nam Long Shan and to the west of Shouson Hill, on Hong Kong Island, Hong Kong...



Hong Kong Island

Hong Kong Island

Hong Kong Island is an island in the southern part of the Hong Kong Special Administrative Region. It has a population of 1,289,500 and its population density is 16,390/km², as of 2008...



Southern

Southern District, Hong Kong

The Southern District is one of the 18 districts of Hong Kong. It is located in the southern part of Hong Kong Island. It had a population of 290,240 in 2001. This district has the fourth lowest population of Hong Kong.-Geography:...



http://www.lcsd.gov.hk/ce/Museum/Monument/en/monuments_28.php Declared on 15 Jun 1984.
29
Old Tai Po Market Railway Station
Tai Po

Tai Po

Tai Po is an area in the New Territories of Hong Kong. It refers to the vicinity of the traditional market towns in the area presently known as Tai Po Old Market or Tai Po Kau Hui and the Tai Wo Town on the other side of the Lam Tsuen River, near the old Tai Po Market Station of the...



Tai Po

Tai Po District

Tai Po District is one of the 18 districts of Hong Kong. It covers the areas of Tai Po, Tai Po Kau, Ting Kok, Plover Cove and the northern part of Sai Kung Peninsula on both shores of Tolo Channel. It is located in the New Territories...



http://www.lcsd.gov.hk/ce/Museum/Monument/en/monuments_29.php Declared on 23 Nov 1984.

30
Liu Man Shek Tong Ancestral Hall

Ancestral hall

An ancestral hall or lineage temple is a site of ancestor worship in Chinese culture. Ancestral halls are closely linked to Confucian culture and the emphasis that it places on filial piety....



Mun Hau Tsuen, Sheung Shui

Sheung Shui

Sheung Shui is an area in New Territories, Hong Kong. Sheung Shui Town, a part of this area, is part of the Fanling-Sheung Shui New Town in the North District of Hong Kong. Fanling Town is to its southeast.-History:...



North

North District, Hong Kong

North District is the northernmost district of the 18 districts of Hong Kong. It is located in the northwestern part of the New Territories. The new town of Fanling-Sheung Shui is within this district. It had a population of 298,657 in 2001. The district has the second lowest population density.It...



http://www.lcsd.gov.hk/ce/Museum/Monument/en/monuments_30.phphttp://www.lcsd.gov.hk/ce/Museum/Monument/form/liu_man_shek_doc_1.pdfhttp://www.lcsd.gov.hk/ce/Museum/Monument/form/liu_man_shek_doc_2.pdfhttp://www.lcsd.gov.hk/ce/Museum/Monument/form/liu_man_shek_doc_3.pdf http://www.lcsd.gov.hk/ce/Museum/Monument/form/liu_man_shek_doc_4.pdf Declared on 18 Jan 1985.


31
Old House, Hoi Pa Village
Tsuen Wan

Tsuen Wan

Tsuen Wan is a bay in the Kowloon area of Hong Kong, opposite to Tsing Yi Island across Rambler Channel. The market town of Tsuen Wan emerged for the surrounding villages and fleets of fishing boats in the area. The town is around the present-day Tsuen Wan Station of the MTR...



Tsuen Wan

Tsuen Wan District

Tsuen Wan District is one of the 18 districts of Hong Kong. It is located in the New Territories and is served by the Tsuen Wan Line of the MTR metro system. It had a population of 275,527 in 2001...



http://www.lcsd.gov.hk/ce/Museum/Monument/en/monuments_31.php Declared on 25 Jul 1986.
32
Tai Fu Tai Mansion

Tai Fu Tai Mansion

Tai Fu Tai Mansion is located in San Tin near Lok Ma Chau, north of Yuen Long, Hong Kong.It was probably built in 1865 in the reign of the Qing Dynasty...



San Tin

San Tin

San Tin , or San Tin Heung , is an area located near Lok Ma Chau area in the New Territories and belongs to the Yuen Long District, Hong Kong....



Yuen Long

Yuen Long District

Yuen Long District , is one of the districts of Hong Kong located in the northwest of the New Territories. It had a population of 449,070 in 2001. The district has the youngest population of Hong Kong and the lowest income in the New Territories.-Geography:...



http://www.lcsd.gov.hk/ce/Museum/Monument/en/monuments_32.php http://www.go2yl.com/history.asp?id=k06&lang=eng Declared on 10 Jul 1987.

33
Kun Lung Gate Tower
Lung Yeuk Tau

Lung Yeuk Tau

Lung Yeuk Tau , commonly known as Lung Ku Tau and also called Lung Ling is an area located northeast of Luen Wo Hui in Fanling, New Territories, Hong Kong....


, Fanling

Fanling

Fanling , also known as Fan Ling and Fan Leng, is an area in the New Territories of Hong Kong. Administratively, it is part of the North District...



North

North District, Hong Kong

North District is the northernmost district of the 18 districts of Hong Kong. It is located in the northwestern part of the New Territories. The new town of Fanling-Sheung Shui is within this district. It had a population of 298,657 in 2001. The district has the second lowest population density.It...



http://www.lcsd.gov.hk/ce/Museum/Monument/en/monuments_33.php Declared on 11 Mar 1988.

34
Yeung Hau Temple
Tung Tau Tsuen, Ha Tsuen

Ha Tsuen

Ha Tsuen , or Ha Tsuen Heung is an area at the west of Yuen Long Town in Hong Kong. Administratively, it belongs to Yuen Long District.-History:...



Yuen Long

Yuen Long District

Yuen Long District , is one of the districts of Hong Kong located in the northwest of the New Territories. It had a population of 449,070 in 2001. The district has the youngest population of Hong Kong and the lowest income in the New Territories.-Geography:...



http://www.lcsd.gov.hk/ce/Museum/Monument/en/monuments_34.php http://www.go2yl.com/history.asp?id=k10&lang=eng Declared on 18 Nov 1988.
35
Lei Cheng Uk Han Tomb

Lei Cheng Uk Han Tomb Museum

The Lei Cheng Uk Han Tomb Museum is composed of an ancient brick tomb and of an exhibition hall adjacent to it. It is located at 41 Tonkin Street, in Cheung Sha Wan, Sham Shui Po District, in the northwestern part of the Kowloon Peninsula of Hong Kong.-The tomb:According to the structure,...



41 Tonkin Street

Tonkin Street

Tonkin Street is a street between Sham Shui Po and Cheung Sha Wan of New Kowloon in Hong Kong. It runs northeast to southwest and crossing many major roads in the Cheung Sha Wan...


, Cheung Sha Wan

Cheung Sha Wan

Cheung Sha Wan is an area between Lai Chi Kok and Sham Shui Po in New Kowloon, Hong Kong. It is mainly residential to the north and south, with an industrial area in between. Administratively it is part of Sham Shui Po District. The Sham Shui Po District includes Mei Foo as well as Lai Chi...



Sham Shui Po

Sham Shui Po District

Sham Shui Po District is one of 18 districts of Hong Kong. It covers the Shek Kip Mei, Sham Shui Po, Cheung Sha Wan, Lai Chi Kok and Yau Yat Chuen areas of New Kowloon, and Stonecutter's Island of Kowloon...



http://www.lcsd.gov.hk/ce/Museum/Monument/en/monuments_35.php Declared on 18 Nov 1988.

36
Flagstaff House

Flagstaff House

Flagstaff House is the oldest example of British-style architecture remaining in Hong Kong. It is located in 10 Cotton Tree Drive, Central - within the Hong Kong Park....



Cotton Tree Drive

Cotton Tree Drive

Cotton Tree Drive is a road in Central to Mid-levels on the Hong Kong Island in Hong Kong. The road is famous because of the Cotton Tree Drive Marriage Registry, a hotspot for marriage registration in Hong Kong Park....


, Central

Central, Hong Kong

Central is the central business district of Hong Kong. It is located in Central and Western District, on the north shore of Hong Kong Island, across Victoria Harbour from Tsim Sha Tsui, the southernmost point of Kowloon Peninsula...



Central and Western

Central and Western District

The Central and Western District located on northern part of Hong Kong Island is one of the 18 administrative districts of Hong Kong. It had a population of 261,884 in 2001...



http://www.lcsd.gov.hk/ce/Museum/Monument/en/monuments_36.php Declared on 14 Sep 1989.

37
Former French Mission Building

Former French Mission Building

The Former French Mission Building is a declared monument of Hong Kong. It is located at 1, Battery Path, Central. It currently houses the Court of Final Appeal of Hong Kong.-Features:...



Battery Path

Battery Path

Battery Path is a path beneath Government Hill, the centre of Hong Kong Government, in Central on the Hong Kong Island of Hong Kong. The path begins at Queen's Road Central and ends in Garden Road. It leads to Central Government Offices, The Court of Final Appeal and St. John's Cathedral in...


, Central

Central, Hong Kong

Central is the central business district of Hong Kong. It is located in Central and Western District, on the north shore of Hong Kong Island, across Victoria Harbour from Tsim Sha Tsui, the southernmost point of Kowloon Peninsula...



Central and Western

Central and Western District

The Central and Western District located on northern part of Hong Kong Island is one of the 18 administrative districts of Hong Kong. It had a population of 261,884 in 2001...



http://www.lcsd.gov.hk/ce/Museum/Monument/en/monuments_37.php Declared on 14 Sep 1989.

38
Law Uk Hakka House
14 Kut Shing Street, Chai Wan

Chai Wan

Chai Wan , formerly mistakenly known as Sai Wan , lies at the east end of the urban area of Hong Kong Island next to Shau Kei Wan. The area is administratively part of the Eastern District, and is a mosaic of industrial and residential areas...



Eastern

Eastern District, Hong Kong

The Eastern District is one of the 18 districts of Hong Kong. It had a population of 587,690 in 2006. The district has the second highest population while its residents have the third highest median household income among 18 districts....



http://www.lcsd.gov.hk/ce/Museum/Monument/en/monuments_38.php Declared on 10 Nov 1989.

39
Old House
Wong Uk Village

Wong Uk Village

Wong Uk Village is a village at the southwest of Yuen Chau Kok, Sha Tin, New Territories, Hong Kong.-History:It was founded by a couple surnamed Wong from Xingning county of Guangdong province in the 19th century. The village was a trading station for merchants and travellers until the late 19th...


, Yuen Chau Kok

Yuen Chau Kok

Yuen Chau Kok is an area in Sha Tin, New Territories, Hong Kong, near Sha Tin Road and Prince of Wales Hospital. The area was an island in Tide Cove, and is within walking distance from City One Station of the MTR Ma On Shan Line....



Sha Tin

Sha Tin District

Sha Tin District is one of the 18 districts of Hong Kong. One of the 9 districts located in the New Territories, it covers the areas of Sha Tin, Tai Wai, Ma On Shan, Fo Tan, Siu Lek Yuen and Ma Liu Shui . The district has the highest population...



http://www.lcsd.gov.hk/ce/Museum/Monument/en/monuments_39.php Declared on 22 Dec 1989.

40
Old Wanchai Post Office
Wan Chai

Wan Chai

Wan Chai is a metropolitan area situated at the western part of the Wan Chai District on the northern shore of Hong Kong Island, in Hong Kong. Its other boundaries are Canal Road to the east, Arsenal Street to the west and Bowen Road to the south. The area north of Gloucester Road is often called...



Wan Chai

Wan Chai District

The Wan Chai District is one of the 18 districts of Hong Kong, located in the north of Hong Kong island. It had a population of 167,146 in 2001. The district has the second most educated residents with the highest income, the second lowest population and the third oldest residents, and is also the...



http://www.lcsd.gov.hk/ce/Museum/Monument/en/monuments_40.php Declared on 18 May 1990.

41
Old Pathological Institute
2 Caine Lane, Sheung Wan

Sheung Wan

Sheung Wan is an area in Hong Kong, located in the north-west of Hong Kong Island, between Central and Sai Ying Pun. Administratively, it is part of the Central and Western District...



Central and Western

Central and Western District

The Central and Western District located on northern part of Hong Kong Island is one of the 18 administrative districts of Hong Kong. It had a population of 261,884 in 2001...



http://www.lcsd.gov.hk/ce/Museum/Monument/en/monuments_41.php http://www.amo.gov.hk/en/trails_sheungwan1.php?tid=20 Declared on 29 Jun 1990.

42
Western Market

Western Market

Western Market is one of the oldest structures in Sheung Wan, Hong Kong Island, Hong Kong. The current structure was the North Block of the original Western Market. It is the oldest surviving market building in the city...



323 Des Voeux Road Central, Sheung Wan

Sheung Wan

Sheung Wan is an area in Hong Kong, located in the north-west of Hong Kong Island, between Central and Sai Ying Pun. Administratively, it is part of the Central and Western District...



Central and Western

Central and Western District

The Central and Western District located on northern part of Hong Kong Island is one of the 18 administrative districts of Hong Kong. It had a population of 261,884 in 2001...



http://www.lcsd.gov.hk/ce/Museum/Monument/en/monuments_42.php http://www.amo.gov.hk/en/trails_sheungwan1.php?tid=35 Declared on 26 Jun 1990.

43
Former Kowloon-Canton Railway Clock Tower
Tsim Sha Tsui

Tsim Sha Tsui

Tsim Sha Tsui , often abbreviated as TST, is an urbanized area in southern Kowloon, Hong Kong. The area is administratively part of the Yau Tsim Mong District. Tsim Sha Tsui East is a piece of land reclaimed from the Hung Hom Bay now east of Tsim Sha Tsui...



Yau Tsim Mong

Yau Tsim Mong District

Yau Tsim Mong District is one of 18 districts of Hong Kong, located on western Kowloon peninsula. It is the core urban area of Kowloon. The district has the third highest population density of all districts...



http://www.lcsd.gov.hk/ce/Museum/Monument/en/monuments_43.php Declared on 13 Jul 1990.

44
Kang Yung Study Hall
Sheung Wo Hang, Sha Tau Kok

Sha Tau Kok

Sha Tau Kok or Shataukok or Sathewkok is a town in the northeastern corner of Hong Kong. Located on the border with mainland China, there is another town of same Chinese name, Shatoujiao, romanized using Hanyu Pinyin, across the Sham Chun River-defined border in Shenzhen of mainland...



North

North District, Hong Kong

North District is the northernmost district of the 18 districts of Hong Kong. It is located in the northwestern part of the New Territories. The new town of Fanling-Sheung Shui is within this district. It had a population of 298,657 in 2001. The district has the second lowest population density.It...



http://www.lcsd.gov.hk/ce/Museum/Monument/en/monuments_44.php Declared on 26 Apr 1991.
45
Former Kowloon British School

Former Kowloon British School

The building of Former Kowloon British School is located 136, Nathan Road, Tsim Sha Tsui, Kowloon, Hong Kong.-History:It is the oldest surviving school building which is constructed for children of overseas parents living in Hong Kong. In 1900, Mr. Ho Tung donated $15,000 to the Government to set...



136 Nathan Road

Nathan Road, Hong Kong

Nathan Road is the main thoroughfare in Kowloon, Hong Kong that goes in a south-north direction from Tsim Sha Tsui to Mong Kok. It is lined with shops and restaurants and throngs with tourists, and was known in the post-World War II years as the Golden Mile, a name that is now rarely used...


, Tsim Sha Tsui

Tsim Sha Tsui

Tsim Sha Tsui , often abbreviated as TST, is an urbanized area in southern Kowloon, Hong Kong. The area is administratively part of the Yau Tsim Mong District. Tsim Sha Tsui East is a piece of land reclaimed from the Hung Hom Bay now east of Tsim Sha Tsui...



Yau Tsim Mong

Yau Tsim Mong District

Yau Tsim Mong District is one of 18 districts of Hong Kong, located on western Kowloon peninsula. It is the core urban area of Kowloon. The district has the third highest population density of all districts...



http://www.lcsd.gov.hk/ce/Museum/Monument/en/monuments_45.php Declared on 19 Jul 1991. It now houses the Antiquities and Monuments Office

Antiquities and Monuments Office

Antiquities and Monuments Office was established when the Antiquities and Monuments Ordinance was enacted in 1976, to preserve Hong Kong's monuments under appropriate protection....




46
Main Building of St. Stephen's Girls' College

St. Stephen's Girls' College

St Stephen's Girls' College , known as SSGC, which is one of the grant schools under Hong Kong Sheng Kung Hui , is a girls' schools in Hong Kong. Originally on Caine Road, the school moved to its current location at Lyttelton Road, Mid-Levels, in 1923. The main building is listed as one of the...



2 Lyttelton Road, Mid-Levels

Mid-levels

Mid-levels is an expensive residential area on Hong Kong Island in Hong Kong. It is located halfway up Victoria Peak, directly above Central...



Central and Western

Central and Western District

The Central and Western District located on northern part of Hong Kong Island is one of the 18 administrative districts of Hong Kong. It had a population of 261,884 in 2001...



http://www.lcsd.gov.hk/ce/Museum/Monument/en/monuments_46.php http://www.lcsd.gov.hk/CE/Museum/Monument/en/trails_west1.php?tid=17 Declared on 28 Feb 1992.
47
Yi Tai Study Hall
Shui Tau Tsuen

Shui Tau Tsuen

Shui Tau Tsuen is a village in Kam Tin area, Yuen Long District, New Territories, Hong Kong. The 17th century village is located 15 minutes' walk north of Kam Tin Road.-Historic buildings:...


, Kam Tin

Kam Tin

Kam Tin , or Kam Tin Heung , is an area in the New Territories, Hong Kong. It is north of Tai Mo Shan and east of Yuen Long. It was formerly known as Sham Tin...



Yuen Long

Yuen Long District

Yuen Long District , is one of the districts of Hong Kong located in the northwest of the New Territories. It had a population of 449,070 in 2001. The district has the youngest population of Hong Kong and the lowest income in the New Territories.-Geography:...



http://www.lcsd.gov.hk/ce/Museum/Monument/en/monuments_47.php http://www.go2yl.com/history.asp?id=k14&lang=eng Declared on 26 Jun 1992.

48
Enclosing Walls and Corner Watch Towers of Kun Lung Wai
Lung Yeuk Tau

Lung Yeuk Tau

Lung Yeuk Tau , commonly known as Lung Ku Tau and also called Lung Ling is an area located northeast of Luen Wo Hui in Fanling, New Territories, Hong Kong....


, Fanling

Fanling

Fanling , also known as Fan Ling and Fan Leng, is an area in the New Territories of Hong Kong. Administratively, it is part of the North District...



North

North District, Hong Kong

North District is the northernmost district of the 18 districts of Hong Kong. It is located in the northwestern part of the New Territories. The new town of Fanling-Sheung Shui is within this district. It had a population of 298,657 in 2001. The district has the second lowest population density.It...



http://www.lcsd.gov.hk/ce/Museum/Monument/en/monuments_48.php Declared on 8 Apr 1993.

49
The Helena May main building

The Helena May main building

The Helena May main building is a declared monument of Hong Kong and a membership club located in the Central district on Hong Kong Island, Hong Kong...



Garden Road

Garden Road, Hong Kong

Garden Road is a major road on Hong Kong Island, Hong Kong, connecting the Central and Mid-levels areas.At its lower end, Garden Road forms a grade-separated intersection with Queensway. For most of its length, Garden Road carries traffic only in the downhill direction. Uphill traffic is carried...


, Central

Central, Hong Kong

Central is the central business district of Hong Kong. It is located in Central and Western District, on the north shore of Hong Kong Island, across Victoria Harbour from Tsim Sha Tsui, the southernmost point of Kowloon Peninsula...



Central and Western

Central and Western District

The Central and Western District located on northern part of Hong Kong Island is one of the 18 administrative districts of Hong Kong. It had a population of 261,884 in 2001...



http://www.lcsd.gov.hk/ce/Museum/Monument/en/monuments_49.php Declared on 8 Oct 1993.

50
Entrance Tower of Ma Wat Wai
Lung Yeuk Tau

Lung Yeuk Tau

Lung Yeuk Tau , commonly known as Lung Ku Tau and also called Lung Ling is an area located northeast of Luen Wo Hui in Fanling, New Territories, Hong Kong....


, Fanling

Fanling

Fanling , also known as Fan Ling and Fan Leng, is an area in the New Territories of Hong Kong. Administratively, it is part of the North District...



North

North District, Hong Kong

North District is the northernmost district of the 18 districts of Hong Kong. It is located in the northwestern part of the New Territories. The new town of Fanling-Sheung Shui is within this district. It had a population of 298,657 in 2001. The district has the second lowest population density.It...



http://www.lcsd.gov.hk/ce/Museum/Monument/en/monuments_50.php Declared on 25 Nov 1994.

51
Former Marine Police Headquarters Compound

Former Marine Police Headquarters Compound

The Former Marine Police Headquarters Compound , constructed in 1884, is located in Tsim Sha Tsui, Kowloon, Hong Kong. The site is now officially renamed as 1881 Heritage....



Tsim Sha Tsui

Tsim Sha Tsui

Tsim Sha Tsui , often abbreviated as TST, is an urbanized area in southern Kowloon, Hong Kong. The area is administratively part of the Yau Tsim Mong District. Tsim Sha Tsui East is a piece of land reclaimed from the Hung Hom Bay now east of Tsim Sha Tsui...



Yau Tsim Mong

Yau Tsim Mong District

Yau Tsim Mong District is one of 18 districts of Hong Kong, located on western Kowloon peninsula. It is the core urban area of Kowloon. The district has the third highest population density of all districts...



http://www.lcsd.gov.hk/ce/Museum/Monument/en/monuments_51.php Declared on 23 Dec 1994.

52
Gate Lodge

Gate Lodge

Gate Lodge is a small house located at Mount Austin Road on Victoria Peak. Located on the Hong Kong Island in Hong Kong, it was built between 1900 and 1902. Gate Lodge is in Renaissance style....


of the Former Mountain Lodge
Mount Austin Road, the Peak

Victoria Peak

Victoria Peak is a mountain in Hong Kong. It is also known as Mount Austin, and locally as The Peak. The mountain is located in the western half of Hong Kong Island...



Central and Western

Central and Western District

The Central and Western District located on northern part of Hong Kong Island is one of the 18 administrative districts of Hong Kong. It had a population of 261,884 in 2001...



http://www.lcsd.gov.hk/ce/Museum/Monument/en/monuments_52.php Declared on 31 Mar 1995.

53
Central Police Station Compound
Hollywood Road

Hollywood Road

Hollywood Road is a street in Central and Sheung Wan, on Hong Kong Island, Hong Kong.Hollywood Road is filled with trinket and antique shops of all sorts: from Chinese furniture to porcelain ware, from Buddha sculptures to Tibetan rugs, from Japanese netsukes to Coromandel screens, from Ming...


, Central

Central, Hong Kong

Central is the central business district of Hong Kong. It is located in Central and Western District, on the north shore of Hong Kong Island, across Victoria Harbour from Tsim Sha Tsui, the southernmost point of Kowloon Peninsula...



Central and Western

Central and Western District

The Central and Western District located on northern part of Hong Kong Island is one of the 18 administrative districts of Hong Kong. It had a population of 261,884 in 2001...



http://www.lcsd.gov.hk/ce/Museum/Monument/en/monuments_53.php Declared on 8 Sep 1995.

54
Former Central Magistracy

Former Central Magistracy

The former Central Magistracy is located at 1, Arbuthnot Road, Central, Hong Kong. It was constructed from 1913 to 1914.The site where the building is standing was originally occupied by the first Hong Kong Magistracy. The former building was probably erected in 1847 but was later demolished to...



Arbuthnot Road

Arbuthnot Road

Arbuthnot Road is a thoroughfare in Hong Kong's Central District. The road begins at the site of the former colony's first official home of the British justice, the Central Magistracy. The Central Magistracy, located at No. 1 Arbuthnot Road, is a declared monument of Hong Kong...


, Central

Central, Hong Kong

Central is the central business district of Hong Kong. It is located in Central and Western District, on the north shore of Hong Kong Island, across Victoria Harbour from Tsim Sha Tsui, the southernmost point of Kowloon Peninsula...



Central and Western

Central and Western District

The Central and Western District located on northern part of Hong Kong Island is one of the 18 administrative districts of Hong Kong. It had a population of 261,884 in 2001...



http://www.lcsd.gov.hk/ce/Museum/Monument/en/monuments_54.php Declared on 8 Sep 1995.

55
Victoria Prison Compound
Old Bailey Street

Old Bailey Street

Old Bailey Street is located in Central, Hong Kong. The name is derived from the Old Bailey, the Central Criminal Court in central London, United Kingdom....


, Central

Central, Hong Kong

Central is the central business district of Hong Kong. It is located in Central and Western District, on the north shore of Hong Kong Island, across Victoria Harbour from Tsim Sha Tsui, the southernmost point of Kowloon Peninsula...



Central and Western

Central and Western District

The Central and Western District located on northern part of Hong Kong Island is one of the 18 administrative districts of Hong Kong. It had a population of 261,884 in 2001...



http://www.lcsd.gov.hk/ce/Museum/Monument/en/monuments_55.php Declared on 8 Sep 1995.

56
The Exterior of University Hall

University Hall (University of Hong Kong)

University Hall, or just UHall is a historical male students residence of the University of Hong Kong. Uhall is one of the oldest student residence under the university's hall system. The building itself dates back to 1861 when a wealthy Scottish trader named Douglas Lapraik build Douglas Castle...


, the University of Hong Kong
144 Pok Fu Lam Road

Pok Fu Lam Road

Pokfulam Road, or Pok Fu Lam Road, is a four-lane road in Hong Kong. Built on Hong Kong Island, the road runs between Sai Ying Pun and Wah Fu, through Pok Fu Lam....


, Pok Fu Lam

Pok Fu Lam

Pok Fu Lam or Pokfulam is a residential area on Hong Kong Island, at the western end of the Southern District.Pok Fu Lam is a valley between Victoria Peak and Mount Kellet, around Telegraph Bay....


, Hong Kong Island

Hong Kong Island

Hong Kong Island is an island in the southern part of the Hong Kong Special Administrative Region. It has a population of 1,289,500 and its population density is 16,390/km², as of 2008...



Central and Western

Central and Western District

The Central and Western District located on northern part of Hong Kong Island is one of the 18 administrative districts of Hong Kong. It had a population of 261,884 in 2001...



http://www.lcsd.gov.hk/ce/Museum/Monument/en/monuments_56.php Declared on 15 Sep 1995.
57
The Exterior of Hung Hing Ying Building, the University of Hong Kong
Mid-levels

Mid-levels

Mid-levels is an expensive residential area on Hong Kong Island in Hong Kong. It is located halfway up Victoria Peak, directly above Central...


, Hong Kong Island

Hong Kong Island

Hong Kong Island is an island in the southern part of the Hong Kong Special Administrative Region. It has a population of 1,289,500 and its population density is 16,390/km², as of 2008...



Central and Western

Central and Western District

The Central and Western District located on northern part of Hong Kong Island is one of the 18 administrative districts of Hong Kong. It had a population of 261,884 in 2001...



http://www.lcsd.gov.hk/ce/Museum/Monument/en/monuments_57.php http://www.lcsd.gov.hk/CE/Museum/Monument/en/trails_west1.php?tid=10 Declared on 15 Sep 1995.

58
The Exterior of Tang Chi Ngong Building, the University of Hong Kong
Mid-levels

Mid-levels

Mid-levels is an expensive residential area on Hong Kong Island in Hong Kong. It is located halfway up Victoria Peak, directly above Central...


, Hong Kong Island

Hong Kong Island

Hong Kong Island is an island in the southern part of the Hong Kong Special Administrative Region. It has a population of 1,289,500 and its population density is 16,390/km², as of 2008...



Central and Western

Central and Western District

The Central and Western District located on northern part of Hong Kong Island is one of the 18 administrative districts of Hong Kong. It had a population of 261,884 in 2001...



http://www.lcsd.gov.hk/ce/Museum/Monument/en/monuments_58.php http://www.lcsd.gov.hk/CE/Museum/Monument/en/trails_west1.php?tid=13 Declared on 15 Sep 1995.
59
Government House

Government House, Hong Kong

Government House , located on Government Hill in the Central District of Hong Kong Island, is the official residence of the Chief Executive of Hong Kong...



Upper Albert Road

Upper Albert Road

Upper Albert Road is a road on Government Hill in the Central District of Hong Kong.Surrounding Government House, the residence of former Governors of Hong Kong and present Chief Executive of Hong Kong, the road is used as a destination for various protests which sometimes results in traffic...


, Central

Central, Hong Kong

Central is the central business district of Hong Kong. It is located in Central and Western District, on the north shore of Hong Kong Island, across Victoria Harbour from Tsim Sha Tsui, the southernmost point of Kowloon Peninsula...



Central and Western

Central and Western District

The Central and Western District located on northern part of Hong Kong Island is one of the 18 administrative districts of Hong Kong. It had a population of 261,884 in 2001...



http://www.lcsd.gov.hk/ce/Museum/Monument/en/monuments_59.php Declared on 29 Sep 1995.

60
St. John's Cathedral

St. John's Cathedral, Hong Kong

St. John's Cathedral , officially The Cathedral Church of St. John the Evangelist and located at 4 Garden Road, Central, is an Anglican cathedral in Hong Kong. It is the Diocesan cathedral of the...



Garden Road

Garden Road, Hong Kong

Garden Road is a major road on Hong Kong Island, Hong Kong, connecting the Central and Mid-levels areas.At its lower end, Garden Road forms a grade-separated intersection with Queensway. For most of its length, Garden Road carries traffic only in the downhill direction. Uphill traffic is carried...


, Central

Central, Hong Kong

Central is the central business district of Hong Kong. It is located in Central and Western District, on the north shore of Hong Kong Island, across Victoria Harbour from Tsim Sha Tsui, the southernmost point of Kowloon Peninsula...



Central and Western

Central and Western District

The Central and Western District located on northern part of Hong Kong Island is one of the 18 administrative districts of Hong Kong. It had a population of 261,884 in 2001...



http://www.lcsd.gov.hk/ce/Museum/Monument/en/monuments_60.php Declared on 5 Jan 1996.

61
I Shing Temple
Tung Tau Wai, Wang Chau

Wang Chau (Yuen Long)

Wang Chau is an area of Yuen Long District, Hong Kong, located west of the Shan Pui River.Long Ping Estate is a mixed public/TPS estate in Wang Chau.-Sights:Several monuments are located in Wang Chau, including:...



Yuen Long

Yuen Long District

Yuen Long District , is one of the districts of Hong Kong located in the northwest of the New Territories. It had a population of 449,070 in 2001. The district has the youngest population of Hong Kong and the lowest income in the New Territories.-Geography:...



http://www.lcsd.gov.hk/ce/Museum/Monument/en/monuments_61.php http://vhe.lcsd.gov.hk/vhe/FEBS?pageAction=INTRO&langNo=1&bsid=52 Declared on 14 Jun 1996.

62
Remnants of the South Gate of Kowloon Walled City

Kowloon Walled City

Kowloon Walled City was a densely populated, largely ungoverned settlement in Kowloon, Hong Kong. Originally a Chinese military fort, the Walled City became an enclave after the New Territories were leased to Britain in 1898....



Kowloon Walled City Park
Kowloon City

Kowloon City District

Kowloon City District is one of the 18 districts of Hong Kong. It is located in Kowloon. It had a population of 381,352 in 2001. The district has the third most educated residents while its residents enjoy the highest income in Kowloon....



http://www.lcsd.gov.hk/ce/Museum/Monument/en/monuments_62.php Declared on 4 Oct 1996.

63
Former Yamen

Yamen

A yamen is any local bureaucrat's, or mandarin's, office and residence of the Chinese Empire. The term has been widely used in China for centuries, but appeared in English during the Qing Dynasty....


Building of Kowloon Walled City

Kowloon Walled City

Kowloon Walled City was a densely populated, largely ungoverned settlement in Kowloon, Hong Kong. Originally a Chinese military fort, the Walled City became an enclave after the New Territories were leased to Britain in 1898....



Kowloon Walled City Park
Kowloon City

Kowloon City District

Kowloon City District is one of the 18 districts of Hong Kong. It is located in Kowloon. It had a population of 381,352 in 2001. The district has the third most educated residents while its residents enjoy the highest income in Kowloon....



http://www.lcsd.gov.hk/ce/Museum/Monument/en/monuments_63.php Declared on 4 Oct 1996.
64
Entrance Tower and Enclosing Walls of Lo Wai
Lung Yeuk Tau

Lung Yeuk Tau

Lung Yeuk Tau , commonly known as Lung Ku Tau and also called Lung Ling is an area located northeast of Luen Wo Hui in Fanling, New Territories, Hong Kong....


, Fanling

Fanling

Fanling , also known as Fan Ling and Fan Leng, is an area in the New Territories of Hong Kong. Administratively, it is part of the North District...



North

North District, Hong Kong

North District is the northernmost district of the 18 districts of Hong Kong. It is located in the northwestern part of the New Territories. The new town of Fanling-Sheung Shui is within this district. It had a population of 298,657 in 2001. The district has the second lowest population density.It...



http://www.lcsd.gov.hk/ce/Museum/Monument/en/monuments_64.php http://www.lcsd.gov.hk/CE/Museum/Monument/en/trails_lung1.php?tid=8 Declared on 31 Jan 1997.

65
Tang Chung Ling Ancestral Hall

Tang Chung Ling Ancestral Hall

The Tang Chung Ling Ancestral Hall is the main ancestral hall of the Tang Clan of Lung Yeuk Tau. It is one of the largest ancestral halls in Hong Kong...



Lung Yeuk Tau

Lung Yeuk Tau

Lung Yeuk Tau , commonly known as Lung Ku Tau and also called Lung Ling is an area located northeast of Luen Wo Hui in Fanling, New Territories, Hong Kong....


, Fanling

Fanling

Fanling , also known as Fan Ling and Fan Leng, is an area in the New Territories of Hong Kong. Administratively, it is part of the North District...



North

North District, Hong Kong

North District is the northernmost district of the 18 districts of Hong Kong. It is located in the northwestern part of the New Territories. The new town of Fanling-Sheung Shui is within this district. It had a population of 298,657 in 2001. The district has the second lowest population density.It...



http://www.lcsd.gov.hk/ce/Museum/Monument/en/monuments_65.php Declared on 7 Nov 1997.

66
Cheung Shan Monastery
Ping Che

Ping Che

Ping Che is a village in Ta Kwu Ling, North District, Hong Kong.Che refers to the method of farming that the Che people used.-Features:The Cheung Shan Monastery in Ping Che is a declared monument...


, Fanling

Fanling

Fanling , also known as Fan Ling and Fan Leng, is an area in the New Territories of Hong Kong. Administratively, it is part of the North District...



North

North District, Hong Kong

North District is the northernmost district of the 18 districts of Hong Kong. It is located in the northwestern part of the New Territories. The new town of Fanling-Sheung Shui is within this district. It had a population of 298,657 in 2001. The district has the second lowest population density.It...



http://www.lcsd.gov.hk/ce/Museum/Monument/en/monuments_66.php http://sunzi1.lib.hku.hk/hkjo/view/44/4401662.pdf Declared on 31 Dec 1997.
67
King Law Ka Shuk

King Law Ka Shuk

King Law Ka Shuk is a historical building situated at Tai Po Tau Tsuen, in Tai Po, New Territories, Hong Kong. In the old days, it was used as an ancestral hall to hold meetings and traditional functions in the village and it is now in full use as a local meeting place. The building was named...



Tai Po Tau Tsuen
Tai Po

Tai Po District

Tai Po District is one of the 18 districts of Hong Kong. It covers the areas of Tai Po, Tai Po Kau, Ting Kok, Plover Cove and the northern part of Sai Kung Peninsula on both shores of Tolo Channel. It is located in the New Territories...



http://www.lcsd.gov.hk/ce/Museum/Monument/en/monuments_67.php Declared on 21 Jul 1998.

68
Cheung Ancestral Hall

Ancestral hall

An ancestral hall or lineage temple is a site of ancestor worship in Chinese culture. Ancestral halls are closely linked to Confucian culture and the emphasis that it places on filial piety....



Shan Ha Tsuen, Ping Shan

Ping Shan

Ping Shan is an area in the New Territories of Hong Kong. It is located west of Yuen Long Town and Shui Pin Wai, and south of Tin Shui Wai. Administratively, it is part of Yuen Long District.-Geography:...



Yuen Long

Yuen Long District

Yuen Long District , is one of the districts of Hong Kong located in the northwest of the New Territories. It had a population of 449,070 in 2001. The district has the youngest population of Hong Kong and the lowest income in the New Territories.-Geography:...



http://www.lcsd.gov.hk/ce/Museum/Monument/en/monuments_68.php http://www.lcsd.gov.hk/ce/Museum/Monument/form/shan_ha_tsuen_doc_6.pdf http://www.lcsd.gov.hk/ce/Museum/Monument/form/shan_ha_tsuen_doc_7.pdf Declared on 30 December 1999.
69
Fan Sin Temple

Fan Sin Temple

Fan Sin Temple, alias "Fan Sin Kung" or "Fan Sin Miu" , is a temple in Hong Kong, located in Sheung Wun Yiu, Tai Po. It was declared a monument on 30 December 1999....



Sheung Wun Yiu
Tai Po

Tai Po District

Tai Po District is one of the 18 districts of Hong Kong. It covers the areas of Tai Po, Tai Po Kau, Ting Kok, Plover Cove and the northern part of Sai Kung Peninsula on both shores of Tolo Channel. It is located in the New Territories...



http://www.lcsd.gov.hk/ce/Museum/Monument/en/monuments_69.php

70
North and West Blocks of St. Joseph's College

St. Joseph's College, Hong Kong

Established in 1875, St. Joseph's College is the oldest Catholic boys' secondary school in Hong Kong. It is located at 7 Kennedy Road, Mid-levels, in the Central and Western District...



7 Kennedy Road

Kennedy Road, Hong Kong

Kennedy Road is a road in the Mid-levels on the Hong Kong Island, Hong Kong. Starting from Garden Road in the west, it goes past St. Joseph's College, Hong Kong Visual Arts Centre, Hong Kong Park and Hopewell Centre and ends at the junction with Queen's Road East near Morrison Hill in Wan Chai.At...


, Central

Central, Hong Kong

Central is the central business district of Hong Kong. It is located in Central and Western District, on the north shore of Hong Kong Island, across Victoria Harbour from Tsim Sha Tsui, the southernmost point of Kowloon Peninsula...



Central and Western

Central and Western District

The Central and Western District located on northern part of Hong Kong Island is one of the 18 administrative districts of Hong Kong. It had a population of 261,884 in 2001...



http://www.lcsd.gov.hk/ce/Museum/Monument/en/monuments_70.php

71
Waglan Lighthouse
Waglan Island

Waglan Island

Waglan Island is a member of the Po Toi group of islands in Hong Kong. It hosts a ground of meteorological observation and recording.-Waglan Lighthouse:...


, Po Toi Islands

Po Toi Islands

The Po Toi Islands are a small group of islands with a population of around 200, south-east of Hong Kong Island, off Stanley, in Hong Kong. The main island of the group is Po Toi Island. Administratively, they are part of Islands District....



Islands

Islands District

The Islands District is one of the 18 districts of Hong Kong. It is part of the New Territories. It had a population of 137,122 in 2009.Hong Kong consists of a peninsula and 236 islands...



http://www.lcsd.gov.hk/ce/Museum/Monument/en/monuments_71.php http://www.nautinsthk.com/archive/documents/waglan.htm
72
Tang Lung Chau Lighthouse
Tang Lung Chau

Tang Lung Chau

Tang Lung Chau is a small island to the west of Hong Kong Island, Hong Kong.This island is located off the south coast of Ma Wan, and is administratively part of Tsuen Wan District.-Lighthouse:...


, Kap Shui Mun

Kap Shui Mun

Kap Shui Mun or Throat Gates is a major channel, between Lantau Island and Ma Wan, in Hong Kong. It is part of major sea route along the coast of South China, from Victoria Harbour to the Pearl River. It joins north with Urmston Road...



Tsuen Wan

Tsuen Wan District

Tsuen Wan District is one of the 18 districts of Hong Kong. It is located in the New Territories and is served by the Tsuen Wan Line of the MTR metro system. It had a population of 275,527 in 2001...



http://www.lcsd.gov.hk/ce/Museum/Monument/en/monuments_72.php
73
Tang Ancestral Hall

Ancestral hall

An ancestral hall or lineage temple is a site of ancestor worship in Chinese culture. Ancestral halls are closely linked to Confucian culture and the emphasis that it places on filial piety....



Ping Shan

Ping Shan

Ping Shan is an area in the New Territories of Hong Kong. It is located west of Yuen Long Town and Shui Pin Wai, and south of Tin Shui Wai. Administratively, it is part of Yuen Long District.-Geography:...


. Part of the Ping Shan Heritage Trail

Ping Shan Heritage Trail

Ping Shan Heritage Trail is a heritage trail located in the Ping Shan area of Yuen Long District, in Hong Kong. The trail was inaugurated on 12 December 1993 and was the first of its kind in Hong Kong...



Yuen Long

Yuen Long District

Yuen Long District , is one of the districts of Hong Kong located in the northwest of the New Territories. It had a population of 449,070 in 2001. The district has the youngest population of Hong Kong and the lowest income in the New Territories.-Geography:...



http://www.lcsd.gov.hk/ce/Museum/Monument/en/monuments_73.php http://online.wsj.com/article/NA_WSJ_PUB:SB125618375973500731.html http://vhe.lcsd.gov.hk/vhe/FEBS?pageAction=INTRO&langNo=1&bsid=45 Declared on 14 December 2001.

74
Yu Kiu Ancestral Hall

Ancestral hall

An ancestral hall or lineage temple is a site of ancestor worship in Chinese culture. Ancestral halls are closely linked to Confucian culture and the emphasis that it places on filial piety....



Ping Shan

Ping Shan

Ping Shan is an area in the New Territories of Hong Kong. It is located west of Yuen Long Town and Shui Pin Wai, and south of Tin Shui Wai. Administratively, it is part of Yuen Long District.-Geography:...


. Part of the Ping Shan Heritage Trail

Ping Shan Heritage Trail

Ping Shan Heritage Trail is a heritage trail located in the Ping Shan area of Yuen Long District, in Hong Kong. The trail was inaugurated on 12 December 1993 and was the first of its kind in Hong Kong...



Yuen Long

Yuen Long District

Yuen Long District , is one of the districts of Hong Kong located in the northwest of the New Territories. It had a population of 449,070 in 2001. The district has the youngest population of Hong Kong and the lowest income in the New Territories.-Geography:...



http://www.lcsd.gov.hk/ce/Museum/Monument/en/monuments_74.php Declared on 14 December 2001.

75
Tsui Sing Lau Pagoda

Tsui Sing Lau Pagoda

The Tsui Sing Lau Pagoda is the only surviving ancient pagoda in Hong Kong. It is part of the Ping Shan Heritage Trail and it is a declared monument.Tsui Sing Lau was, according to the Tang Clan, originally located at a mouth of Deep Bay...



Ping Shan

Ping Shan

Ping Shan is an area in the New Territories of Hong Kong. It is located west of Yuen Long Town and Shui Pin Wai, and south of Tin Shui Wai. Administratively, it is part of Yuen Long District.-Geography:...


. Part of the Ping Shan Heritage Trail

Ping Shan Heritage Trail

Ping Shan Heritage Trail is a heritage trail located in the Ping Shan area of Yuen Long District, in Hong Kong. The trail was inaugurated on 12 December 1993 and was the first of its kind in Hong Kong...



Yuen Long

Yuen Long District

Yuen Long District , is one of the districts of Hong Kong located in the northwest of the New Territories. It had a population of 449,070 in 2001. The district has the youngest population of Hong Kong and the lowest income in the New Territories.-Geography:...



http://www.lcsd.gov.hk/ce/Museum/Monument/en/monuments_75.php Declared on 14 December 2001.

76
Hung Shing Temple

Hung Shing Temple

Hung Shing Temples or Tai Wong Temples are temples dedicated to Hung Shing. Hung Shing temples have been widely built in southern China, especially Guangdong province and in Hong Kong.-Existing temples:...



Kau Sai Chau

Kau Sai Chau

Kau Sai Chau is an island located off the coast of Sai Kung of Hong Kong, with an area of 6.70 km², making it the 6th largest island of Hong Kong.-Geography:...



Sai Kung

Sai Kung District

Sai Kung District is the second largest district in Hong Kong in terms of area. It comprises the southern half of Sai Kung Peninsula and Clear Water Bay Peninsula in the New Territories plus a strip to the east of Kowloon. The administrative centre is Sai Kung Town but the district's population is...



http://www.lcsd.gov.hk/ce/Museum/Monument/en/monuments_76.php http://vhe.lcsd.gov.hk/vhe/FEBS?pageAction=INTRO&bsid=42&langNo=1 Since November 15, 2002
77
Tin Hau Temple

Tin Hau temples in Hong Kong

Over 70 temples are dedicated to Tin Hau in Hong Kong. They include:* Tin Hau temple, located at 10 Tin Hau Temple Road, Causeway Bay, east of Victoria Park, in Eastern District, on Hong Kong Island. It is a declared monument. The temple has given its name to the MTR station serving it .* The Tin...



Lung Yeuk Tau

Lung Yeuk Tau

Lung Yeuk Tau , commonly known as Lung Ku Tau and also called Lung Ling is an area located northeast of Luen Wo Hui in Fanling, New Territories, Hong Kong....


, Fanling

Fanling

Fanling , also known as Fan Ling and Fan Leng, is an area in the New Territories of Hong Kong. Administratively, it is part of the North District...



North

North District, Hong Kong

North District is the northernmost district of the 18 districts of Hong Kong. It is located in the northwestern part of the New Territories. The new town of Fanling-Sheung Shui is within this district. It had a population of 298,657 in 2001. The district has the second lowest population density.It...



http://www.lcsd.gov.hk/ce/Museum/Monument/en/monuments_77.php

78
Hau Ku Shek Ancestral Hall

Ancestral hall

An ancestral hall or lineage temple is a site of ancestor worship in Chinese culture. Ancestral halls are closely linked to Confucian culture and the emphasis that it places on filial piety....



Ho Sheung Heung, Sheung Shui

Sheung Shui

Sheung Shui is an area in New Territories, Hong Kong. Sheung Shui Town, a part of this area, is part of the Fanling-Sheung Shui New Town in the North District of Hong Kong. Fanling Town is to its southeast.-History:...



North

North District, Hong Kong

North District is the northernmost district of the 18 districts of Hong Kong. It is located in the northwestern part of the New Territories. The new town of Fanling-Sheung Shui is within this district. It had a population of 298,657 in 2001. The district has the second lowest population density.It...



http://www.lcsd.gov.hk/ce/Museum/Monument/en/monuments_78.php

79
The Morrisson Building, Hoh Fuk Tong Centre

Hoh Fuk Tong Centre

Hoh Fuk Tong Centre is located at 28 Castle Peak Road, San Hui, Tuen Mun, New Territories, Hong Kong. Morrison Building is a declared monument of Hong Kong.The Centre was named after Rev...



28 Castle Peak Road

Castle Peak Road

Castle Peak Road is the longest road in Hong Kong. It runs from Tai Po Road in Sham Shui Po, Kowloon to the very north of the New Territories, serving south, west and north New Territories, being one of the most distant roads in early Hong Kong.-Name:...


, San Hui

San Hui

Tuen Mun San Hui or San Hui is an area of Tuen Mun, Hong Kong.Wong Ka Wai is part of the area of San Hui.-History:San Hui is the location of one of the former markets of the town, together with Tuen Mun Kau Hui and Sam Shing Hui .Historically, San Hui was one of the salt-producing areas of Hong...


, Tuen Mun

Tuen Mun

Tuen Mun is a town near the mouth of Tuen Mun River and Castle Peak Bay in the New Territories, Hong Kong. It was one of the earliest settlements in Hong Kong which can be dated back to the Neolithic period. In the more recent past, it was home to many Tanka fishermen who gathered at the Castle...



Tuen Mun

Tuen Mun District

Tuen Mun District is one of the 18 administrative districts of Hong Kong. Its name was previously 'Tsing Shan' and it changed in the 1970s. It is the westernmost continental district of Hong Kong, located about 32 km from the Kowloon Peninsula, 7 km southwest of Yuen Long and 18 km...



http://www.lcsd.gov.hk/ce/Museum/Monument/en/monuments_79.php Since March 26, 2004
80
Cape D'Aguilar

Cape D'Aguilar

Cape D'Aguilar, or Hok Tsui, is a cape in the south of Shek O and D'Aguilar Peak on southeastern Hong Kong Island, Hong Kong. The peninsula, where the cape is on its southeastern side, is also known as Cape D'Aguilar...


Lighthouse
Shek O

Shek O

Shek O is a beachside village located on the south-eastern part of Hong Kong Island, in Hong Kong. Administratively, it is part of Southern District. The scenery of Shek O is the setting of numerous Cantopop music videos.-Geography:...


, Hong Kong Island

Hong Kong Island

Hong Kong Island is an island in the southern part of the Hong Kong Special Administrative Region. It has a population of 1,289,500 and its population density is 16,390/km², as of 2008...



Southern

Southern District, Hong Kong

The Southern District is one of the 18 districts of Hong Kong. It is located in the southern part of Hong Kong Island. It had a population of 290,240 in 2001. This district has the fourth lowest population of Hong Kong.-Geography:...



http://www.lcsd.gov.hk/ce/Museum/Monument/en/monuments_80.php Since March 3, 2006
81
Leung Ancestral Hall

Ancestral hall

An ancestral hall or lineage temple is a site of ancestor worship in Chinese culture. Ancestral halls are closely linked to Confucian culture and the emphasis that it places on filial piety....



Yuen Kong Tsuen, Pat Heung

Pat Heung

Pat Heung is an area in the middle of New Territories, Hong Kong. Located at the east of Kam Tin and north of Shek Kong, it is the exit to Sheung Shui and Fanling...



Yuen Long

Yuen Long District

Yuen Long District , is one of the districts of Hong Kong located in the northwest of the New Territories. It had a population of 449,070 in 2001. The district has the youngest population of Hong Kong and the lowest income in the New Territories.-Geography:...



http://www.amo.gov.hk/en/monuments_81.php Since January 12, 2007
82
Chik Kwai Study Hall
Sheung Tsuen, Pat Heung

Pat Heung

Pat Heung is an area in the middle of New Territories, Hong Kong. Located at the east of Kam Tin and north of Shek Kong, it is the exit to Sheung Shui and Fanling...



Yuen Long

Yuen Long District

Yuen Long District , is one of the districts of Hong Kong located in the northwest of the New Territories. It had a population of 449,070 in 2001. The district has the youngest population of Hong Kong and the lowest income in the New Territories.-Geography:...



http://www.amo.gov.hk/en/monuments_82.php Since June 29, 2007
83
Tang Ancestral Hall

Ancestral hall

An ancestral hall or lineage temple is a site of ancestor worship in Chinese culture. Ancestral halls are closely linked to Confucian culture and the emphasis that it places on filial piety....



Ha Tsuen

Ha Tsuen

Ha Tsuen , or Ha Tsuen Heung is an area at the west of Yuen Long Town in Hong Kong. Administratively, it belongs to Yuen Long District.-History:...



Yuen Long

Yuen Long District

Yuen Long District , is one of the districts of Hong Kong located in the northwest of the New Territories. It had a population of 449,070 in 2001. The district has the youngest population of Hong Kong and the lowest income in the New Territories.-Geography:...



http://www.amo.gov.hk/en/monuments_83.php http://www.go2yl.com/history.asp?id=k17&lang=eng Since February 1, 2008

84
Maryknoll Convent School

Maryknoll Convent School

Maryknoll Convent School is a Roman Catholic girls' school with primary and secondary sections at Kowloon Tong, Hong Kong. It was founded by the American Maryknoll Sisters in Hong Kong in 1925 at Kowloon Tong, Hong Kong. MCS is well-known for its distinguished academic results and school traditions...



130 Waterloo Road
Kowloon City

Kowloon City

Kowloon City is an area in Kowloon, Hong Kong. It is named after the Kowloon Walled City, and is administratively part of Kowloon City District....



http://www.amo.gov.hk/en/monuments_84.php Gazetted on May 16, 2008

85
King Yin Lei
45 Stubbs Road

Stubbs Road

Stubbs Road connects Happy Valley and The Peak area on Hong Kong Island, Hong Kong, through an area near the Wong Nai Chung Gap. It goes through a residential area of luxurious high-rise tower blocks....


, Mid-Levels

Mid-levels

Mid-levels is an expensive residential area on Hong Kong Island in Hong Kong. It is located halfway up Victoria Peak, directly above Central...



Wan Chai District

Wan Chai District

The Wan Chai District is one of the 18 districts of Hong Kong, located in the north of Hong Kong island. It had a population of 167,146 in 2001. The district has the second most educated residents with the highest income, the second lowest population and the third oldest residents, and is also the...



http://www.amo.gov.hk/en/monuments_85.php Since July 11, 2008

86
Green Island Lighthouse Compound
Green Island

Green Island, Hong Kong

Green Island is an island off the northwest coast of Kennedy Town on the Hong Kong Island in Hong Kong, separated by the Sulphur Channel. A smaller island nearby to the east, uninhabited, is called Little Green Island...



Central and Western

Central and Western District

The Central and Western District located on northern part of Hong Kong Island is one of the 18 administrative districts of Hong Kong. It had a population of 261,884 in 2001...



http://www.amo.gov.hk/en/monuments_86.php Gazetted on November 7, 2008

87
6 Historic Structures of Pok Fu Lam Reservoir

Pok Fu Lam Reservoir

Pok Fu Lam Reservoir is the first reservoir in Hong Kong. It is located in a valley in Pok Fu Lam. It is actually two reservoirs with capacity of 260 km³.-History:...



Pok Fu Lam Reservoir Road, Pok Fu Lam

Pok Fu Lam

Pok Fu Lam or Pokfulam is a residential area on Hong Kong Island, at the western end of the Southern District.Pok Fu Lam is a valley between Victoria Peak and Mount Kellet, around Telegraph Bay....



http://www.amo.gov.hk/en/monuments_87.php Since September 18, 2009
Former Watchman's Cottage
Presently Pok Fu Lam Management Centre (1860–1863)
Gauge Basin
(1863)
Masonry Bridge
(1863–1871)
Masonry Bridge
(1863–1871)
Masonry Bridge
(1863–1871)
Masonry Bridge
(1863–1871)
88
22 Historic Structures of Tai Tam Group of Reservoirs
Tai Tam Reservoir Road, Tai Tam

Tai Tam

Tai Tam or Tytam is an area in Southern District on Hong Kong Island, Hong Kong. Tai Tam means a big pool in the Chinese language which illustrates a triangular bay, namely Tai Tam Bay between Stanley Peninsula, D'Aguilar Peak and Tai Tam Tuk...


/ Bowen Road

Bowen Road

Bowen Road is a road from the Mid-levels to Wong Nai Chung Gap of Hong Kong Island, on the slope above Central, Wan Chai and Happy Valley in Hong Kong...



http://www.amo.gov.hk/en/monuments_88.php Since September 18, 2009
Dam of the Tai Tam Upper Reservoir
(1883–1888) Part of the Tai Tam Waterworks Heritage Trail

Tai Tam Waterworks Heritage Trail

The Tai Tam Waterworks Heritage Trail is a heritage trail in Hong Kong that comprises 21 waterworks structures with historical value near the Tai Tam group of reservoirs. The Trail is about 5 km long and takes about 2 hours to complete...




Valve house of the Tai Tam Upper Reservoir
(1883–1888) Part of the Tai Tam Waterworks Heritage Trail

Tai Tam Waterworks Heritage Trail

The Tai Tam Waterworks Heritage Trail is a heritage trail in Hong Kong that comprises 21 waterworks structures with historical value near the Tai Tam group of reservoirs. The Trail is about 5 km long and takes about 2 hours to complete...




Masonry aqueduct of the Tai Tam Upper Reservoir
(1883–1888) Part of the Tai Tam Waterworks Heritage Trail

Tai Tam Waterworks Heritage Trail

The Tai Tam Waterworks Heritage Trail is a heritage trail in Hong Kong that comprises 21 waterworks structures with historical value near the Tai Tam group of reservoirs. The Trail is about 5 km long and takes about 2 hours to complete...




Masonry Bridge of the Tai Tam Upper Reservoir
(1883–1888) Part of the Tai Tam Waterworks Heritage Trail

Tai Tam Waterworks Heritage Trail

The Tai Tam Waterworks Heritage Trail is a heritage trail in Hong Kong that comprises 21 waterworks structures with historical value near the Tai Tam group of reservoirs. The Trail is about 5 km long and takes about 2 hours to complete...




Tunnel Inlet and Recorder House (1917) of the Tai Tam Upper Reservoir
(1883–1888). Part of the Tai Tam Waterworks Heritage Trail

Tai Tam Waterworks Heritage Trail

The Tai Tam Waterworks Heritage Trail is a heritage trail in Hong Kong that comprises 21 waterworks structures with historical value near the Tai Tam group of reservoirs. The Trail is about 5 km long and takes about 2 hours to complete...



The 21-Arch Section of the Bowen Aqueduct
(1885–1887)
Dam of the Tai Tam Byewash Reservoir
(1904)

Valve House of the Tai Tam Byewash Reservoir
Tai Tam Reservoir
(1904)
Dam of the Tai Tam Intermediate Reservoir
Tai Tam Reservoir
(1904–1907)
Valve House of the Tai Tam Intermediate Reservoir
Tai Tam Reservoir
(1904–1907)
Dam of the Tai Tam Tuk Reservoir
(1917). Part of the Tai Tam Waterworks Heritage Trail

Tai Tam Waterworks Heritage Trail

The Tai Tam Waterworks Heritage Trail is a heritage trail in Hong Kong that comprises 21 waterworks structures with historical value near the Tai Tam group of reservoirs. The Trail is about 5 km long and takes about 2 hours to complete...



Valve House of the Tai Tam Tuk Reservoir
(1917). Part of the Tai Tam Waterworks Heritage Trail

Tai Tam Waterworks Heritage Trail

The Tai Tam Waterworks Heritage Trail is a heritage trail in Hong Kong that comprises 21 waterworks structures with historical value near the Tai Tam group of reservoirs. The Trail is about 5 km long and takes about 2 hours to complete...



Memorial Stone of the Tai Tam Tuk Reservoir
(1918). Part of the Tai Tam Waterworks Heritage Trail

Tai Tam Waterworks Heritage Trail

The Tai Tam Waterworks Heritage Trail is a heritage trail in Hong Kong that comprises 21 waterworks structures with historical value near the Tai Tam group of reservoirs. The Trail is about 5 km long and takes about 2 hours to complete...



Masonry Bridge of the Tai Tam Tuk Reservoir
(1907) Part of the Tai Tam Waterworks Heritage Trail

Tai Tam Waterworks Heritage Trail

The Tai Tam Waterworks Heritage Trail is a heritage trail in Hong Kong that comprises 21 waterworks structures with historical value near the Tai Tam group of reservoirs. The Trail is about 5 km long and takes about 2 hours to complete...




Masonry Bridge of the Tai Tam Tuk Reservoir
(1907) Part of the Tai Tam Waterworks Heritage Trail

Tai Tam Waterworks Heritage Trail

The Tai Tam Waterworks Heritage Trail is a heritage trail in Hong Kong that comprises 21 waterworks structures with historical value near the Tai Tam group of reservoirs. The Trail is about 5 km long and takes about 2 hours to complete...



Masonry Bridge of the Tai Tam Tuk Reservoir
(1907) Part of the Tai Tam Waterworks Heritage Trail

Tai Tam Waterworks Heritage Trail

The Tai Tam Waterworks Heritage Trail is a heritage trail in Hong Kong that comprises 21 waterworks structures with historical value near the Tai Tam group of reservoirs. The Trail is about 5 km long and takes about 2 hours to complete...



Masonry Bridge of the Tai Tam Tuk Reservoir
(1907) Part of the Tai Tam Waterworks Heritage Trail

Tai Tam Waterworks Heritage Trail

The Tai Tam Waterworks Heritage Trail is a heritage trail in Hong Kong that comprises 21 waterworks structures with historical value near the Tai Tam group of reservoirs. The Trail is about 5 km long and takes about 2 hours to complete...



Tai Tam Tuk Raw Water Pumping Station
(1907). Part of the Tai Tam Waterworks Heritage Trail

Tai Tam Waterworks Heritage Trail

The Tai Tam Waterworks Heritage Trail is a heritage trail in Hong Kong that comprises 21 waterworks structures with historical value near the Tai Tam group of reservoirs. The Trail is about 5 km long and takes about 2 hours to complete...



Chimney Shaft and its Flue of Tai Tam Tuk Raw Water Pumping Station
(1907). Part of the Tai Tam Waterworks Heritage Trail

Tai Tam Waterworks Heritage Trail

The Tai Tam Waterworks Heritage Trail is a heritage trail in Hong Kong that comprises 21 waterworks structures with historical value near the Tai Tam group of reservoirs. The Trail is about 5 km long and takes about 2 hours to complete...



Tai Tam Tuk Raw Water Pumping Station Senior Staff Quarters
(1905). Part of the Tai Tam Waterworks Heritage Trail

Tai Tam Waterworks Heritage Trail

The Tai Tam Waterworks Heritage Trail is a heritage trail in Hong Kong that comprises 21 waterworks structures with historical value near the Tai Tam group of reservoirs. The Trail is about 5 km long and takes about 2 hours to complete...



Tai Tam Tuk Raw Water Pumping Station Staff Quarters
(1905–1907). Part of the Tai Tam Waterworks Heritage Trail

Tai Tam Waterworks Heritage Trail

The Tai Tam Waterworks Heritage Trail is a heritage trail in Hong Kong that comprises 21 waterworks structures with historical value near the Tai Tam group of reservoirs. The Trail is about 5 km long and takes about 2 hours to complete...



Tai Tam Tuk Raw Water Pumping Station No.2 Staff Quarters
(1936). Part of the Tai Tam Waterworks Heritage Trail

Tai Tam Waterworks Heritage Trail

The Tai Tam Waterworks Heritage Trail is a heritage trail in Hong Kong that comprises 21 waterworks structures with historical value near the Tai Tam group of reservoirs. The Trail is about 5 km long and takes about 2 hours to complete...



89
3 Historic Structures of Wong Nai Chung Reservoir
Tai Tam Reservoir Road, Wong Nai Chung
http://www.amo.gov.hk/en/monuments_89.php Since September 18, 2009
Dam (1899)
Valve House (1899)
Weir (1899)
90
4 Historic Structures of Aberdeen Reservoir
Aberdeen

Aberdeen (Hong Kong)

Aberdeen is a town on the south shore of Hong Kong Island in Hong Kong. Administratively, it is part of the Southern District. Aberdeen Harbour is a harbour between Aberdeen and Ap Lei Chau. The name 'Aberdeen' usually covers the areas of Aberdeen, Wong Chuk Hang and Ap Lei Chau, but it is more...


>
http://www.amo.gov.hk/en/monuments_90.php Since September 18, 2009
Dam of the Aberdeen Upper Reservoir
(1931)

Valve House of the Aberdeen Upper Reservoir
(1931)
Bridge of the Aberdeen Upper Reservoir
(1931)
Dam of the Aberdeen Lower Reservoir
(1932)

91
5 Historic Structures of Kowloon Reservoir
Golden Hill Road, Kam Shan Country Park

Kam Shan Country Park

Kam Shan Country Park , established on 24 June 1977, is a country park located in the ranges north of Kowloon, Hong Kong. It covers an area of 3.37 km². Most of the area is covered by the Kowloon Group of Reservoirs. Inside the park, there are jogging trails, barbecue and picnic areas, which...



Sha Tin

Sha Tin District

Sha Tin District is one of the 18 districts of Hong Kong. One of the 9 districts located in the New Territories, it covers the areas of Sha Tin, Tai Wai, Ma On Shan, Fo Tan, Siu Lek Yuen and Ma Liu Shui . The district has the highest population...



http://www.amo.gov.hk/en/monuments_91.php Since September 18, 2009
Main Dam
(1901–1910)
Main Dam Valve House
(1901–1910)
Spillway Dam
(1901–1910)
Spillway Dam Recorder House
(1901–1910)
Recorder House
(1901–1910)
92
Memorial Stone of Shing Mun Reservoir

Shing Mun Reservoir

Shing Mun Reservoir is a reservoir in Hong Kong. It is located in Shing Mun, the area between Tsuen Wan and Sha Tin, in the New Territories.-History:Several hundreds years ago, the area around the reservoir was a dense forest with very few inhabitants...



Kwai Tsing

Kwai Tsing District

Kwai Tsing is one of the 18 districts of Hong Kong. It consists of two parts - Kwai Chung and Tsing Yi Island. Kwai Tsing is part of the New Territories. It had a population of 477,092 in 2001...



http://www.amo.gov.hk/en/monuments_92.php Since September 18, 2009

93
Residence of Ip Ting-sz
Lin Ma Hang Tsuen, Sha Tau Kok

Sha Tau Kok

Sha Tau Kok or Shataukok or Sathewkok is a town in the northeastern corner of Hong Kong. Located on the border with mainland China, there is another town of same Chinese name, Shatoujiao, romanized using Hanyu Pinyin, across the Sham Chun River-defined border in Shenzhen of mainland...



North

North District, Hong Kong

North District is the northernmost district of the 18 districts of Hong Kong. It is located in the northwestern part of the New Territories. The new town of Fanling-Sheung Shui is within this district. It had a population of 298,657 in 2001. The district has the second lowest population density.It...



http://www.amo.gov.hk/en/monuments_93.php

94
Yan Tun Kong Study Hall
Hang Tau Tsuen, Ping Shan

Ping Shan

Ping Shan is an area in the New Territories of Hong Kong. It is located west of Yuen Long Town and Shui Pin Wai, and south of Tin Shui Wai. Administratively, it is part of Yuen Long District.-Geography:...


, Yuen Long

Yuen Long

Yuen Long , formerly Un Long, is an area and town located in the northwest of Hong Kong, on the Yuen Long Plain. To its west lie Hung Shui Kiu and Ha Tsuen, to the south Shap Pat Heung and Tai Tong, to the east Au Tau and Kam Tin, and to the north Nam Sang Wai.-Name:The Cantonese name Yuen Long 元朗...



Yuen Long

Yuen Long District

Yuen Long District , is one of the districts of Hong Kong located in the northwest of the New Territories. It had a population of 449,070 in 2001. The district has the youngest population of Hong Kong and the lowest income in the New Territories.-Geography:...



http://www.amo.gov.hk/en/monuments_94.php
95
Tung Wah Museum

Tung Wah Group of Hospitals Museum

Tung Wah Group of Hospitals Museum is housed in the formly Main Hall Building of Kwong Wah Hospital, located at 25 Waterloo Road, Kowloon. Only this building was preserved when Kwong Wah Hospital was re-developed in 1958–1963...



25 Waterloo Road, Yau Ma Tei

Yau Ma Tei

Yau Ma Tei, also known as Waterloo , is an area in the Yau Tsim Mong District in the south of the Kowloon Peninsula in Hong Kong.-Name:Yau Ma Tei is a phonetic transliteration of the name 油麻地 in Cantonese...



Yau Tsim Mong

Yau Tsim Mong District

Yau Tsim Mong District is one of 18 districts of Hong Kong, located on western Kowloon peninsula. It is the core urban area of Kowloon. The district has the third highest population density of all districts...



http://www.amo.gov.hk/en/monuments_95.php

96
Man Mo Temple

Man Mo Temple

A Man Mo Temple or Man Mo Miu is a temple for the worship of the civil or literature god Man Tai / Man Cheong (文昌) and the martial god Mo Tai / Kwan Tai . The two gods were popularly patronized by scholars and students seeking progress in their study or ranking in the civil examinations in the...


Compound
Nos. 124-126 Hollywood Road

Hollywood Road

Hollywood Road is a street in Central and Sheung Wan, on Hong Kong Island, Hong Kong.Hollywood Road is filled with trinket and antique shops of all sorts: from Chinese furniture to porcelain ware, from Buddha sculptures to Tibetan rugs, from Japanese netsukes to Coromandel screens, from Ming...


, Sheung Wan

Sheung Wan

Sheung Wan is an area in Hong Kong, located in the north-west of Hong Kong Island, between Central and Sai Ying Pun. Administratively, it is part of the Central and Western District...



Central and Western

Central and Western District

The Central and Western District located on northern part of Hong Kong Island is one of the 18 administrative districts of Hong Kong. It had a population of 261,884 in 2001...



http://www.amo.gov.hk/en/monuments_96.php
97
Tang Kwong U Ancestral Hall

Ancestral hall

An ancestral hall or lineage temple is a site of ancestor worship in Chinese culture. Ancestral halls are closely linked to Confucian culture and the emphasis that it places on filial piety....



No. 32 Shui Tau, Pak Wai Tsuen, Kam Tin

Kam Tin

Kam Tin , or Kam Tin Heung , is an area in the New Territories, Hong Kong. It is north of Tai Mo Shan and east of Yuen Long. It was formerly known as Sham Tin...



Yuen Long

Yuen Long District

Yuen Long District , is one of the districts of Hong Kong located in the northwest of the New Territories. It had a population of 449,070 in 2001. The district has the youngest population of Hong Kong and the lowest income in the New Territories.-Geography:...



http://www.amo.gov.hk/en/monuments_97.php

98
Kom Tong Hall
7 Castle Road, Mid-Levels

Mid-levels

Mid-levels is an expensive residential area on Hong Kong Island in Hong Kong. It is located halfway up Victoria Peak, directly above Central...



Central and Western

Central and Western District

The Central and Western District located on northern part of Hong Kong Island is one of the 18 administrative districts of Hong Kong. It had a population of 261,884 in 2001...



http://www.amo.gov.hk/en/monuments_98.php

99
Fortified Structure at No. 55 Ha Pak Nai, Yuen Long
No. 55 Ha Pak Nai, Yuen Long
Yuen Long

Yuen Long District

Yuen Long District , is one of the districts of Hong Kong located in the northwest of the New Territories. It had a population of 449,070 in 2001. The district has the youngest population of Hong Kong and the lowest income in the New Territories.-Geography:...



http://www.amo.gov.hk/en/monuments_99.php http://www.heritage.gov.hk/en/buildings/monuments_99.htm
See also
External links