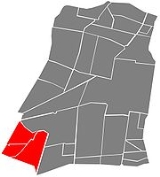 Condesa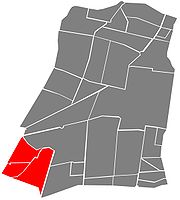 Officially,
Colonia Condesa
is an administrative division or
"colonia"
Colonia (Mexico)
In general, colonias are neighborhoods in Mexican cities, which have no jurisdictional autonomy or representation. It is plausible that the name, which literally means colony, arose in the late 19th, early 20th centuries, when one of the first urban developments outside Mexico City's core was...
located west of the
historic center of Mexico City
Historic center of Mexico City
The historic center of Mexico City is also known as the "Centro" or "Centro Histórico." This neighborhood is focused on the Zócalo or main plaza in Mexico City and extends in all directions for a number of blocks with its farthest extent being west to the Alameda Central The Zocalo is the largest...
, just south of Avenida Chapultepec. Popularly, the name "La Condesa" is named after the second, the María Magdalena Dávalos de Bracamontes y Orozco, the Countess of Miravalle, whose lands stretched from what is now
Colonia Roma
Colonia Roma
Colonia Roma is a colonia or neighborhood located in the Cuauhtémoc borough of Mexico City just west of the city's historic center. The area was a very shallow part of Lake Texcoco, dotted with tiny islands and one small island village of Aztacalco during the pre-Hispanic period...
to
Tacubaya
Tacubaya
Tacubaya is a section of Mexico City located in the west in the Miguel Hidalgo borough. The area has been inhabited since before the Christian era, with its name coming from Nahuatl meaning "where water is gathered." From the colonial period to the beginning of the 20th century, Tacubaya was...
. When calling it just "Condesa", refers to the adjoining colonies of Colonia Hipódromo and Colonia Hipódromo Condesa. The area began as lands belonging to two countesses in the colonial period. By the 19th century and early 20th century, the process of subdividing this land was already begun although Colonia Condesa proper would not be established until the very early 20th century. The area is considered to be fashionable and popular with younger businesspeople, artists, students and intellectuals. It features a large number of international restaurants and nightclubs, despite the fact that it is mostly residential.
This area was designated as a
"Barrio Mágico"
Barrios Mágicos of Mexico City
The "Barrios Mágicos" of Mexico City is a list of twenty one areas in the Federal District, which have been named "magical neighborhoods" in order to attract tourism to them. The program is sponsored by the city government but is patterned after the "Pueblos Mágicos" program of the Mexican...
by the city in 2011.
Description and reputation
Colonia Condesa and this area of the city is considered to be one of the most fashionable, especially among young businesspeople, artists, students and others. Its character has been compared to that of the Soho in New York and the Latin Quarter in Paris. Its avenues are wide and lined with trees. It is mostly residential but also filled with restaurants, cafés, boutiques and art galleries. Some of these shops include the
Rosario Castellanos
Rosario Castellanos
Rosario Castellanos was a Mexican poet and author. Along with the other members of the Generation of 1950 , she was one of Mexico's most important literary voices in the last century...
bookstore, which includes a cáfe, an auditorium theatre and a children's room, the Bar Malverde, with its
lucha libre
Lucha libre
Lucha libre is a term used in Mexico, and other Spanish-speaking countries, for a form of professional wrestling that has developed within those countries...
theme, and the Café La Gloria, which has been around for over a decade. Most of the bars and cafes are concentrated along Amsterdam and Michoacán avenues.
While the area has been residential for over 100 years, its "
Bohemian
Bohemian
A Bohemian is a resident of the former Kingdom of Bohemia, either in a narrow sense as the region of Bohemia proper or in a wider meaning as the whole country, now known as the Czech Republic. The word "Bohemian" was used to denote the Czech people as well as the Czech language before the word...
" character has only been in existence since late 1980s. While longtime residents complain about noise, crime and other disturbances, the overall reputation of the area continues to grow and attract more residents, leading to higher rents. Most of these residents are young and affluent, with only two of the areas 13 K-8 schools being public. Many residents, especially the newer ones, call themselves "condechis"
Architecture and landmarks
The Colonia has a number of examples of older
Art Deco
Art Deco
Art deco , or deco, is an eclectic artistic and design style that began in Paris in the 1920s and flourished internationally throughout the 1930s, into the World War II era. The style influenced all areas of design, including architecture and interior design, industrial design, fashion and...
and
Art Nouveau
Art Nouveau
Art Nouveau is an international philosophy and style of art, architecture and applied art—especially the decorative arts—that were most popular during 1890–1910. The name "Art Nouveau" is French for "new art"...
architecture, as well as innovative modern designs, which give it an overall European touch.
El Condesa DF is an old 1928 apartment complex that today is an upscale hotel. The interior was redesigned by Parisian designer India Mahdavi, who supervised everything from the walls to the furniture. The walls inside the rooms are painted in strong natural colors such as chocolate and moss green, unlike other places that opt for shades of white or cream. Furniture is a mix of styles from retro to futuristic. Some of the rooms have balconies or terraces, but the main outdoor space facility is the rooftop garden, with a sushi restaurant, a small bar and a central patio.
Los Edificios Condesa (Condesa Buildings) are often simply called "Los Condesa." This complex occupies an entire city block bordered by Mazatlán, Pachuca, Agustin Melgar and Juan de la Barrera Streets, divided only by one small private road. This was the first luxury apartment complex to be built in the neighborhood. Construction started in 1911 by English developer George W. Cook, with a total of 170 apartments.
La Panadería is an establishment whose name means "the bakery". However, they do not sell bread but a noted alternative art space where performance pieces, videos, and many temporary exhibits can be seen. Its name comes from a former Jewish bakery that was on the site.
History
The first owner of the lands here was Maria de la Campa y Cos, Countess of San Mateo de Valparaíso. She married Miguel de Berrio y Zaldívar Ortíz de Landáuzari, who would later acquire the title of Marquis of Jaral de Berrio. The union produced a daughter, Ana María de Berrio y Campa, who married Pedro de Moncada y de Aragón Branciforte. This union produced both the Marchioness of San Roman and the 3rd Marquis of Jaral de Berrio. This family owned these rather large expanses of land in what is now western Mexico City until the second half of the 19th century. A horse from this estate served as a model for the one which is part of the statue of
Carlos V
Charles V, Holy Roman Emperor
Charles V was ruler of the Holy Roman Empire from 1519 and, as Charles I, of the Spanish Empire from 1516 until his voluntary retirement and abdication in favor of his younger brother Ferdinand I and his son Philip II in 1556.As...
done by
Manuel Tolsá
Manuel Tolsá
Manuel Tolsá was a prolific Neoclassical architect and sculptor in Spain and Mexico.-Biography:...
.
When the last of the direct descendents of the couple died, the land was divided and some of it was acquired by a new owner, María Magdalena Dávalos de Bracamontes y Orozco, the Countess of Miravalle. She converted her property into a hacienda with a manor house which still exists. The neighborhood is named after this countess. The lands of this hacienda extended over what is now Colonia Roma, Colonia Condesa, Colonia Hipódromo and part of Tacubaya.
At the end of the 19th century, the property passed into the hands of Dolores Escandón y Arango. The hacienda manor was rented and today it serves as the
Russia
Russia
Russia or , officially known as both Russia and the Russian Federation , is a country in northern Eurasia. It is a federal semi-presidential republic, comprising 83 federal subjects...
n Embassy.
The colonia was officially established in 1902, although it had been in existence for some time before that, being home to a number of upper-class urban supporters of President
Porfirio Díaz
Porfirio Díaz
José de la Cruz Porfirio Díaz Mori was a Mexican-American War volunteer and French intervention hero, an accomplished general and the President of Mexico continuously from 1876 to 1911, with the exception of a brief term in 1876 when he left Juan N...
's regime. From the beginning it has had one of the best planned infrastructures, with large parks and large tree-lined avenues. A horse track was constructed around this time associated with the Jockey Club, which was inaugurated by Diaz himself in 1910. A second was planned but never built. When the
Mexican Revolution
Mexican Revolution
The Mexican Revolution was a major armed struggle that started in 1910, with an uprising led by Francisco I. Madero against longtime autocrat Porfirio Díaz. The Revolution was characterized by several socialist, liberal, anarchist, populist, and agrarianist movements. Over time the Revolution...
broke out, many in the neighborhood were under siege by the lower classes and the horse track eventually closed. Today, the curve of this track can still be seen in the layout of Amsterdam Street.
Around the same time a
bullring
Bullring
A bullring is an arena where bullfighting is performed. Bullrings are often associated with Spain, but they can also be found in neighboring countries and the New World...
was also built, financed by notable people such as
Lucas Alamán
Lucas Alamán
Lucas Ignacio Alamán y Escalada was a Mexican scientist, politician, historian and writer. He studied at the Real Colegio de Minas de la Nueva España. He frequently traveled on his credentials as a scientist and diplomat, becoming one of the most educated men in Mexico...
and called El Toreo. It was built with materials brought from
Belgium
Belgium
Belgium , officially the Kingdom of Belgium, is a federal state in Western Europe. It is a founding member of the European Union and hosts the EU's headquarters, and those of several other major international organisations such as NATO.Belgium is also a member of, or affiliated to, many...
and located on what are now Durango Street, Avenida Oaxaca, Salamanca, Valladolid and Colima Street with a capacity of 23,000 spectators. Much of this site now is occupied by a Palacio de Hierro store.
From the early 20th century, the land was further divided but sold into residential units, with water, roads and other infrastructure introduced as early as the first decade of the 20th century. Initially, Colonia Condesa included areas now known as
Colonia Roma
Colonia Roma
Colonia Roma is a colonia or neighborhood located in the Cuauhtémoc borough of Mexico City just west of the city's historic center. The area was a very shallow part of Lake Texcoco, dotted with tiny islands and one small island village of Aztacalco during the pre-Hispanic period...
, Colonia Hipodromo and Colonia Hipodromo Condessa, but these would break some time later as population increased.
For the first two thirds of the 20th century, the colonia grew, becoming popular with middle and upper classes as well as a number of foreigners. Many of these earlier residents had an artistic bent, such as
Agustín Lara
Agustín Lara
Agustín Lara was a Mexican singer and songwriter.-Biography:Lara was born in Tlacotalpan, Veracruz. Later, the Lara family had to move again to Mexico City, establishing their house in the borough of Coyoacán. After Lara's mother died, Agustín and his siblings lived in a hospice run by their...
, a composer of romantic ballads,
flamenco
Flamenco
Flamenco is a genre of music and dance which has its foundation in Andalusian music and dance and in whose evolution Andalusian Gypsies played an important part....
dancer Pilar Rioja and painter
Juan Soriano
Juan Soriano
Juan Soriano was a Mexican painter and sculptor.Soriano, son of Rafael Rodríguez Soriano and Amalia Montoya Navarro, was born in Guadalajara and displayed his first painting at age 14...
.
Cantínflas
Cantinflas
Fortino Mario Alfonso Moreno Reyes , was a Mexican comic film actor, producer, and screenwriter known professionally as Cantinflas. He often portrayed impoverished campesinos or a peasant of pelado origin...
, a famous Mexican film comedian had offices here. In the 1920s, large wave of Jewish immigrants into Mexico, mostly Ashkenazis from
Eastern Europe
Eastern Europe
Eastern Europe is the eastern part of Europe. The term has widely disparate geopolitical, geographical, cultural and socioeconomic readings, which makes it highly context-dependent and even volatile, and there are "almost as many definitions of Eastern Europe as there are scholars of the region"...
settled in the city, many in this colonia. They opened
synagogue
Synagogue
A synagogue is a Jewish house of prayer. This use of the Greek term synagogue originates in the Septuagint where it sometimes translates the Hebrew word for assembly, kahal...
s, community centers, kosher shops and bakeries. There were also a significant number of Spanish refugees from the
Spanish Civil War
Spanish Civil War
The Spanish Civil WarAlso known as The Crusade among Nationalists, the Fourth Carlist War among Carlists, and The Rebellion or Uprising among Republicans. was a major conflict fought in Spain from 17 July 1936 to 1 April 1939...
. All of this would give the neighborhood an urbane and cosmopolitan reputation.
It is considered to be Mexico City's first modern neighborhood although it was originally defined by its Spanish colonial architecture and large mansions based on 19th century French architecture. Development in the first half of the 20th century brought in Art Deco, blending sharp angles, straight lines and curves. Two local traditions that were develop were "neo-colonial" and "California colonia" based on Spanish constructions in that state. There are also some buildings with a decidedly functional look.
In the first half of the 20th century, it was tradition here to go every Sunday to La Coronación church on the corner of Antonio Solá and Parque España to hear mass. After, one then walked along Fernando Montes de Oca Street to Cuautla Street to eat at "El Tío Luis," the oldest and most traditional of the area's restaurants. It is said that it was the meeting place of bullfighters, businessmen, cattlemen and bullfighting fans from the nearby Plaza de Toros Condesa. Other traditional establishments were the Roxy ice cream place and the La Gran Vía and La Panadería bakeries. The Bella Época movie theater used to be called the Lido.There used to be a pulquería or
pulque
Pulque
Pulque, or octli, is a milk-colored, somewhat viscous alcoholic beverage made from the fermented sap of the maguey plant, and is a traditional native beverage of Mexico. The drink's history extends far back into the Mesoamerican period, when it was considered sacred, and its use was limited to...
bar named La Carioca. There was prostitution in the old days as well with some of these women well known around the neighborhood by their working names such as La Chimuela , La Tejocota , La Lupona and La Caperuza. Many of the older residents remember the area as a "paradise" without pollution, traffic congestion or crime.
By the 1970s, younger Mexican-born generations of these immigrants began to leave Condesa for other, more fashionable neighborhoods such as
Polanco
Polanco (Mexico)
Polanco is the name that usually refers to a group of seven official neighborhoods in Mexico City, located north of Chapultepec Park. The official names of the neighborhoods are: Los Morales , Del Bosque, Polanco Reforma, Polanco Chapultepec, Chapultepec Morales, Bosque de Chapultepec and...
and Tecamachalco. However, the
1985 Mexico City earthquake
1985 Mexico City earthquake
The 1985 Mexico City earthquake, a magnitude 8.0 earthquake that struck Mexico City on the early morning of 19 September 1985 at around 7:19 AM , caused the deaths of at least 10,000 people and serious damage to the greater Mexico City Area. The complete seismic event...
had a devastating impact on Condesa. It was not damaged physically, but its proximity to heavily damaged Colonia Roma accelerated the already ongoing process of abandonment in the 1980s. Rents in the area fell and many buildings were abandoned and even the two major parks in the area, Parque México and Parque España became dangerous. The only families that remained were those who founded the colonia and those without the money to leave.
The low rents and wide spaces attracted a new generation of young people to the area who came to live. Other came and installed offices, whose employees need places to eat and parking facilities. This initially created a large demand for restaurants as originally, the number and quality of restaurants was limited. Many of these specialized in "mittle" or European food. New restaurants appeared and competed for business and their overall reputation for quality grew. The young people and restaurants then attracted bars and nightclubs to the area. Most of the restaurants today are located from Avenida Mazatlán to Insurgentes and on Alfonso Reyes to Juan Escutia and are estimated at about 120. The newer restaurants introduced a new element to dining in Condesa, tables set out on the sidewalk, a rarity as late as the 1990s. However, given Mexico City's mild climate, the concept was an instant success. These restaurant also tend to be more informal and cater to younger crowds with more noise and music than traditional venues and decorated with local artwork.
The influx of new people and business also brought in some negative elements such as parking problems, trash, transients, noise, crime and overload of the areas drainage and other infrastructure. It also created a demand for street food stalls, which never existed in the area before and bother old-time residents. Over the years, many of the buildings' uses were changed without regulation which put strains on the drainage, electrical system and water in some places.
Older residents complain of the noise, street congestion, drugs and prostitution. A recent drive to allow bars to stay open later was rejected by residents, and there are demands to review the licenses of establishments which generate noise and around which crimes have happened. Another complaint associated with these bars is the invasion of customers' cars into private parking spaces. Some residents claim that visibly armed guards and patrons can now be seen in the area day or night.
Anonymous flyers were distributed in the colonia threatening to exterminate stray dogs in the neighborhood. One of the reasons given for this threat was the amount of feces found on neighborhood streets.
Parque Mexico and "La Condesa"
The official borders of Colonia Condesa limit the area to the area surrounded by the following streets. Avenida Michoacan to the south, Avenida Veracruz to the north, Avenida Tamaulipas to the east and Circuito Interior José Vasconcelos to the west. The original Condesa in the early 20th century also included Colonia Roma, Colonia Hipodromo and Colonia Hipodromo Condessa. These latter colonias administratively broke from Condesa in the early 20th century, but only Colonia Roma would develop a distinct identity over time. Colonias Hipodromo and Hipodromo Condesa are still popularly referred to, along with Colonia Condesa proper as "La Condesa." These areas have similar tree lined streets and architectural styles and socioeconomic structures.
The "La Condesa" zone centers on the
Parque México
Parque México
-Description:The park is located on Avenida México and Calle de Michoacán in Colonia Hipódromo, only two blocks from Avenida Insurgentes, one of the city's main arteries. It was the first modern park, created with an architectural design. It copies many of the elements of European gardens, such as...
park, which used to be the racetrack of the namesake Countess and is officially in Colonia Hipodromo (which means "racetrack") just east of the border of today's Colonia Condesa . However, it is the center of the identity of this area of the city. It was designed as the center of the original, larger Condesa neighborhood during one of its planning phases in the 1920s. The rest of the old hacienda had been parceled into residential units, but due to environmental laws, the same could not be done for the Countess's horse track. It was then decided to make that area into a park to serve as a focus for the new neighborhood as well as to give added green space in a city which lacked it. Today, the park still serves as an attraction to those who settled in the La Condesa area.
Nearest metro and metrobus stations
Metro
Metrobus
Mexico City Metrobús
Metrobús is a bus rapid transit system in Mexico City, Mexico. It comprises 3 lines that traverse the city and connect with other forms of transit. It was officially opened to the public with service along Line 1 on 19 June 2005...
Sonora
Campeche
Chilpancingo
Nuevo León
External links
Condesa140 Somos un espacio para que compartas lo que haces, a dónde vas y lo que te gusta de la Condesa a través del Hash: #condesa140
Satellite view from WikiMapia

Wikimapia

WikiMapia is a privately owned, online map and satellite imaging resource that combines Google Maps with a wiki system, allowing users to add information, in the form of a note, to any location on Earth. Users may currently use this information for free...



19°24′45.09"N 99°10′9.92"W