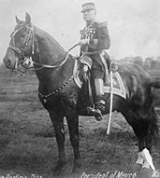 Mexican Revolution
The
Mexican Revolution
was a major armed struggle that started in 1910, with an uprising led by
Francisco I. Madero
Francisco I. Madero
Francisco Ignacio Madero González was a politician, writer and revolutionary who served as President of Mexico from 1911 to 1913. As a respectable upper-class politician, he supplied a center around which opposition to the dictatorship of Porfirio Díaz could coalesce...
against longtime autocrat
Porfirio Díaz
Porfirio Díaz
José de la Cruz Porfirio Díaz Mori was a Mexican-American War volunteer and French intervention hero, an accomplished general and the President of Mexico continuously from 1876 to 1911, with the exception of a brief term in 1876 when he left Juan N...
. The Revolution was characterized by several
socialist
Socialism
Socialism is an economic system characterized by social ownership of the means of production and cooperative management of the economy; or a political philosophy advocating such a system. "Social ownership" may refer to any one of, or a combination of, the following: cooperative enterprises,...
,
liberal
Liberalism
Liberalism is the belief in the importance of liberty and equal rights. Liberals espouse a wide array of views depending on their understanding of these principles, but generally, liberals support ideas such as constitutionalism, liberal democracy, free and fair elections, human rights,...
,
anarchist
Anarchism
Anarchism is generally defined as the political philosophy which holds the state to be undesirable, unnecessary, and harmful, or alternatively as opposing authority in the conduct of human relations...
,
populist
Populism
Populism can be defined as an ideology, political philosophy, or type of discourse. Generally, a common theme compares "the people" against "the elite", and urges social and political system changes. It can also be defined as a rhetorical style employed by members of various political or social...
, and
agrarianist
Agrarianism
Agrarianism has two common meanings. The first meaning refers to a social philosophy or political philosophy which values rural society as superior to urban society, the independent farmer as superior to the paid worker, and sees farming as a way of life that can shape the ideal social values...
movements. Over time the Revolution changed from a revolt against the established order to a multi-sided civil war. This armed conflict is often categorized as the most important sociopolitical event in
Mexico
Mexico
The United Mexican States , commonly known as Mexico , is a federal constitutional republic in North America. It is bordered on the north by the United States; on the south and west by the Pacific Ocean; on the southeast by Guatemala, Belize, and the Caribbean Sea; and on the east by the Gulf of...
and one of the greatest upheavels of the 20th century.
After prolonged struggles, its representatives produced the Mexican Constitution of 1917.