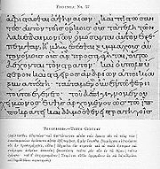 Historiography
Historiography
refers either to the study of the history and methodology of
history
History
History is the discovery, collection, organization, and presentation of information about past events. History can also mean the period of time after writing was invented. Scholars who write about history are called historians...
as a discipline, or to a body of historical work on a specialized topic. Scholars discuss historiography topically – such as the "historiography of
Catholicism
Catholicism
Catholicism is a broad term for the body of the Catholic faith, its theologies and doctrines, its liturgical, ethical, spiritual, and behavioral characteristics, as well as a religious people as a whole....
," the "
historiography of early Islam
Historiography of early Islam
The historiography of early Islam refers to the study of the early origins of Islam based on a critical analysis, evaluation, and examination of authentic primary source materials and the organization of these sources into a narative timeline....
," or the "
historiography of China
Chinese historiography
Chinese historiography refers to the study of methods and assumptions made in studying Chinese history.-History of Chinese Historians:Record of Chinese history dated back to the Shang Dynasty. The Classic of History, one of the Five Classics of Chinese classic texts is one of the earliest...
" – as well as specific approaches and
genre
Genre
Genre , Greek: genos, γένος) is the term for any category of literature or other forms of art or culture, e.g. music, and in general, any type of discourse, whether written or spoken, audial or visual, based on some set of stylistic criteria. Genres are formed by conventions that change over time...
s, such as
political history
Political history
Political history is the narrative and analysis of political events, ideas, movements, and leaders. It is distinct from, but related to, other fields of history such as Diplomatic history, social history, economic history, and military history, as well as constitutional history and public...
and
social history
Social history
Social history, often called the new social history, is a branch of History that includes history of ordinary people and their strategies of coping with life. In its "golden age" it was a major growth field in the 1960s and 1970s among scholars, and still is well represented in history departments...
. Beginning in the nineteenth century, with the ascent of
academic history
Academic history
An academic history can mean a large, multivolume work such as the Cambridge Modern History, written collaboratively under some central editorial control....
, a corpus of historiographic literature developed.
The research interests of historians change over time, and in recent decades there has been a shift away from traditional diplomatic, economic and political history toward newer approaches, especially social and cultural studies.