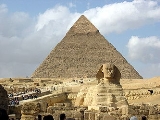 Egyptology
Egyptology
is the study of
ancient Egypt
Ancient Egypt
Ancient Egypt was an ancient civilization of Northeastern Africa, concentrated along the lower reaches of the Nile River in what is now the modern country of Egypt. Egyptian civilization coalesced around 3150 BC with the political unification of Upper and Lower Egypt under the first pharaoh...
ian
history
History of Egypt
Egyptian history can be roughly divided into the following periods:*Prehistoric Egypt*Ancient Egypt**Early Dynastic Period of Egypt: 31st to 27th centuries BC**Old Kingdom of Egypt: 27th to 22nd centuries BC...
,
language
Egyptian language
Egyptian is the oldest known indigenous language of Egypt and a branch of the Afroasiatic language family. Written records of the Egyptian language have been dated from about 3400 BC, making it one of the oldest recorded languages known. Egyptian was spoken until the late 17th century AD in the...
,
literature
Ancient Egyptian literature
Ancient Egyptian literature was written in the Egyptian language from Ancient Egypt's pharaonic period until the end of Roman domination. It represents the oldest corpus of Egyptian literature...
, religion, and
art
Art of Ancient Egypt
Ancient Egyptian art is the painting, sculpture, architecture and other arts produced by the civilization in the lower Nile Valley from 5000 BC to 300 AD. Ancient Egyptian art reached a high level in painting and sculpture, and was both highly stylized and symbolic...
from the 5th millennium BC until the end of its native religious practices in the AD 4th century. A practitioner of the discipline is an "
Egyptologist
". In Europe, particularly on the
Continent
Continental Europe
Continental Europe, also referred to as mainland Europe or simply the Continent, is the continent of Europe, explicitly excluding European islands....
, Egyptology is primarily regarded as being a
philological
Philology
Philology is the study of language in written historical sources; it is a combination of literary studies, history and linguistics.Classical philology is the philology of Greek and Classical Latin...
discipline, while in North America it is often regarded as a branch of
archaeology
Archaeology
Archaeology, or archeology , is the study of human society, primarily through the recovery and analysis of the material culture and environmental data that they have left behind, which includes artifacts, architecture, biofacts and cultural landscapes...
.
The first Egyptologists were the ancient Egyptians themselves.