 Christian Daniel Rauch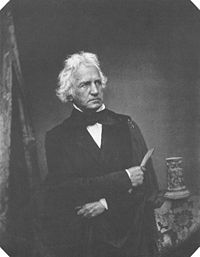 Christian Daniel Rauch
was a
German
Germany
Germany , officially the Federal Republic of Germany , is a federal parliamentary republic in Europe. The country consists of 16 states while the capital and largest city is Berlin. Germany covers an area of 357,021 km2 and has a largely temperate seasonal climate...
sculptor
Sculpture
Sculpture is three-dimensional artwork created by shaping or combining hard materials—typically stone such as marble—or metal, glass, or wood. Softer materials can also be used, such as clay, textiles, plastics, polymers and softer metals...
. He founded the Berlin school of sculpture, and was the foremost German sculptor of the 19th century.
Biography
Rauch was born at Arolsen in the Principality of
Waldeck
Waldeck (state)
Waldeck was a sovereign principality in the German Empire and German Confederation and, until 1929, a constituent state of the Weimar Republic. It comprised territories in present-day Hesse and Lower Saxony, ....
. His father was employed at the court of Prince Frederick II of Hesse, and in 1790 the lad was apprenticed to the court sculptor of Arolsen, Friedrich Valentin. In 1795, he became assistant to Johann Christian Ruhl, the court sculptor of
Kassel
Kassel
Kassel is a town located on the Fulda River in northern Hesse, Germany. It is the administrative seat of the Kassel Regierungsbezirk and the Kreis of the same name and has approximately 195,000 inhabitants.- History :...
. On the death of his father in 1797, he moved to Berlin where he was appointed groom of the chamber in the king's household. He abandoned sculpture temporarily, but his new position provided a wider field for improvement, and he soon used the opportunity and practised his art in spare hours. He came under the influence of
Johann Gottfried Schadow
Johann Gottfried Schadow
Johann Gottfried Schadow was a German sculptor.-Biography:Schadow was born in Berlin, where his father was a poor tailor....
.
In 1802, he exhibited his "Sleeping Endymion." Queen
Louisa of Prussia
Louise of Mecklenburg-Strelitz
Duchess Louise of Mecklenburg-Strelitz was Queen consort of Prussia as the wife of King Frederick William III...
, surprising him one day in the act of modeling her features in wax, sent him to study at the
Academy of Art
Akademie der Künste
The Akademie der Künste, Berlin is an arts institution in Berlin, Germany. It was founded in 1696 by Elector Frederick III of Brandenburg as the Prussian Academy of Arts, an academic institution where members could meet and discuss and share ideas...
. Not long afterwards, in 1804, Count Sandrecky gave Rauch the means to complete his education at Rome, where
Wilhelm von Humboldt
Wilhelm von Humboldt
Friedrich Wilhelm Christian Karl Ferdinand Freiherr von Humboldt was a German philosopher, government functionary, diplomat, and founder of Humboldt Universität. He is especially remembered as a linguist who made important contributions to the philosophy of language and to the theory and practice...
,
Antonio Canova
Antonio Canova
Antonio Canova was an Italian sculptor from the Republic of Venice who became famous for his marble sculptures that delicately rendered nude flesh...
and
Bertel Thorvaldsen
Bertel Thorvaldsen
Bertel Thorvaldsen was a Danish-Icelandic sculptor of international fame, who spent most of his life in Italy . Thorvaldsen was born in Copenhagen into a Danish/Icelandic family of humble means, and was accepted to the Royal Academy of Arts when he was eleven years old...
befriended him. He also executed his life-size bust of Queen Louise in marble, and among his other early works were busts of the poet Zacharias Werner, Count Wenyerski and the painter Raphael Mengs, the latter executed on a commission from
Ludwig I of Bavaria
Ludwig I of Bavaria
Ludwig I was a German king of Bavaria from 1825 until the 1848 revolutions in the German states.-Crown prince:...
. Other works were bas-reliefs of "Hippolytus and Phaedra," "Mars and Venus wounded by Diomede," and a "Child praying." He remained in Rome for six years.
In 1811, Rauch was commissioned to execute a monument for Queen Louisa of Prussia. The statue, representing the queen in a sleeping posture, was placed in a mausoleum in the grounds of
Charlottenburg
Charlottenburg
Charlottenburg is a locality of Berlin within the borough of Charlottenburg-Wilmersdorf, named after Queen consort Sophia Charlotte...
, and procured great fame and a European reputation for the artist. A similar statue of the Queen, even more successful, was placed in the
Sanssouci Park
Sanssouci Park
Sanssouci Park is a large park surrounding Sanssouci Palace in Potsdam, Germany. Following the terracing of the vineyard and the completion of the palace, the surroundings were included in the structure. A baroque flower garden with lawns, flower beds, hedges and trees was created. In the hedge...
at
Potsdam
Potsdam
Potsdam is the capital city of the German federal state of Brandenburg and part of the Berlin/Brandenburg Metropolitan Region. It is situated on the River Havel, southwest of Berlin city centre....
. The erection of nearly all public statues came to be entrusted to him. There were, among others,
Bülow
Friedrich Wilhelm Freiherr von Bülow
Friedrich Wilhelm Freiherr von Bülow, Graf von Dennewitz was a Prussian general of the Napoleonic Wars.-Early life:...
, Yorck and
Scharnhorst
Gerhard von Scharnhorst
Gerhard Johann David Waitz von Scharnhorst was a general in Prussian service, Chief of the Prussian General Staff, noted for both his writings, his reforms of the Prussian army, and his leadership during the Napoleonic Wars....
at Berlin,
Blücher
Gebhard Leberecht von Blücher
Gebhard Leberecht von Blücher, Fürst von Wahlstatt , Graf , later elevated to Fürst von Wahlstatt, was a Prussian Generalfeldmarschall who led his army against Napoleon I at the Battle of the Nations at Leipzig in 1813 and at the Battle of Waterloo in 1815 with the Duke of Wellington.He is...
at Breslau, Maximilian at
Munich
Munich
Munich The city's motto is "" . Before 2006, it was "Weltstadt mit Herz" . Its native name, , is derived from the Old High German Munichen, meaning "by the monks' place". The city's name derives from the monks of the Benedictine order who founded the city; hence the monk depicted on the city's coat...
,
Francke
August Hermann Francke
August Hermann Francke was a German Lutheran churchman.-Biography:Born at the German city Lübeck, Francke was educated at the gymnasium in Gotha before he studied at the universities of Erfurt and Kiel - where he came under the influence of the pietist Christian Kortholt - and finally Leipzig...
at
Halle
Halle, Saxony-Anhalt
Halle is the largest city in the German state of Saxony-Anhalt. It is also called Halle an der Saale in order to distinguish it from the town of Halle in North Rhine-Westphalia...
,
Dürer
Albrecht Dürer
Albrecht Dürer was a German painter, printmaker, engraver, mathematician, and theorist from Nuremberg. His prints established his reputation across Europe when he was still in his twenties, and he has been conventionally regarded as the greatest artist of the Northern Renaissance ever since...
at
Nuremberg
Nuremberg
Nuremberg[p] is a city in the German state of Bavaria, in the administrative region of Middle Franconia. Situated on the Pegnitz river and the Rhine–Main–Danube Canal, it is located about north of Munich and is Franconia's largest city. The population is 505,664...
,
Luther
Martin Luther
Martin Luther was a German priest, professor of theology and iconic figure of the Protestant Reformation. He strongly disputed the claim that freedom from God's punishment for sin could be purchased with money. He confronted indulgence salesman Johann Tetzel with his Ninety-Five Theses in 1517...
at
Wittenberg
Wittenberg
Wittenberg, officially Lutherstadt Wittenberg, is a city in Germany in the Bundesland Saxony-Anhalt, on the river Elbe. It has a population of about 50,000....
, and Grand Duke
Paul Friedrich
Paul Friedrich, Grand Duke of Mecklenburg-Schwerin
Paul Friedrich ruled as Grand Duke of Mecklenburg-Schwerin from 1837 to 1842.-Biography:He was born in Ludwigslust the son of Hereditary Grand Duke Friedrich Ludwig of Mecklenburg-Schwerin and Grand Duchess Elena Pavlovna of Russia. Paul Friedrich was educated at Geneva, Jena and Rostock...
at
Schwerin
Schwerin
Schwerin is the capital and second-largest city of the northern German state of Mecklenburg-Vorpommern. The population, as of end of 2009, was 95,041.-History:...
.
By 1824, he had executed 70 busts in marble of which 20 were of colossal size. His colossal bronze statues of Blücher are 13 feet in height, and he also executed the greater part of the 12 statues in iron which compose the national monument at
Kreuzberg
Kreuzberg
Kreuzberg, a part of the combined Friedrichshain-Kreuzberg borough located south of Mitte since 2001, is one of the best-known areas of Berlin...
, near Berlin. One of his finest works is the group "Faith, Hope and Charity," which he presented to his native town, Arolsen.
At length, in 1830, Rauch began, along with the architect
Karl Friedrich Schinkel
Karl Friedrich Schinkel
Karl Friedrich Schinkel was a Prussian architect, city planner, and painter who also designed furniture and stage sets. Schinkel was one of the most prominent architects of Germany and designed both neoclassical and neogothic buildings.-Biography:Schinkel was born in Neuruppin, Margraviate of...
, the models for a colossal equestrian monument at Berlin to honor King
Frederick II of Prussia
Frederick II of Prussia
Frederick II was a King in Prussia and a King of Prussia from the Hohenzollern dynasty. In his role as a prince-elector of the Holy Roman Empire, he was also Elector of Brandenburg. He was in personal union the sovereign prince of the Principality of Neuchâtel...
(Frederick the Great). This work was inaugurated with great pomp in May 1851, and is regarded as one of the masterpieces of modern sculpture, the crowning achievement of Rauch's work as a portrait and historic sculptor. Princes decorated Rauch with honors and the academies of Europe enrolled him among their members. A statue of
Immanuel Kant
Immanuel Kant
Immanuel Kant was a German philosopher from Königsberg , researching, lecturing and writing on philosophy and anthropology at the end of the 18th Century Enlightenment....
for
Königsberg
Königsberg
Königsberg was the capital of East Prussia from the Late Middle Ages until 1945 as well as the northernmost and easternmost German city with 286,666 inhabitants . Due to the multicultural society in and around the city, there are several local names for it...
and a statue of
Albrecht Thaer
Albrecht Thaer
Albrecht Daniel Thaer was a renowned German agronomist and an avid supporter of the humus theory for plant nutrition.Thaer was born in Celle and died in Wriezen...
for Berlin occupied his attention during some of his last years; and he had just finished a model of
Moses
Moses
Moses was, according to the Hebrew Bible and Qur'an, a religious leader, lawgiver and prophet, to whom the authorship of the Torah is traditionally attributed...
praying between
Aaron
Aaron
In the Hebrew Bible and the Qur'an, Aaron : Ααρών ), who is often called "'Aaron the Priest"' and once Aaron the Levite , was the older brother of Moses, and a prophet of God. He represented the priestly functions of his tribe, becoming the first High Priest of the Israelites...
and
Hur
Hur
Hur may refer to:* Hur, a Korean family name, also spelled Heo.*HuR, the ubiquitous RNA binding protein also known as Drosophilla ELAVL1*HUR, Ukraine's military intelligence branch*Hurs , are a Muslim Sufi order in Sindh, Pakistan...
when he was attacked by his last illness.
External links