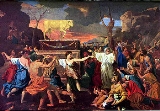 Aaron
In the
Hebrew Bible
Hebrew Bible
The Hebrew Bible is a term used by biblical scholars outside of Judaism to refer to the Tanakh , a canonical collection of Jewish texts, and the common textual antecedent of the several canonical editions of the Christian Old Testament...
and the
Qur'an
Qur'an
The Quran , also transliterated Qur'an, Koran, Alcoran, Qur'ān, Coran, Kuran, and al-Qur'ān, is the central religious text of Islam, which Muslims consider the verbatim word of God . It is regarded widely as the finest piece of literature in the Arabic language...
,
Aaron
(icon or ˈ;
Ahărōn
,
Hārūn
, Greek (
Septuagint
):
Ααρών
), who is often called "'Aaron the
Priest
Priest
A priest is a person authorized to perform the sacred rites of a religion, especially as a mediatory agent between humans and deities. They also have the authority or power to administer religious rites; in particular, rites of sacrifice to, and propitiation of, a deity or deities...
"' and once
Aaron the Levite

Levite

In Jewish tradition, a Levite is a member of the Hebrew tribe of Levi. When Joshua led the Israelites into the land of Canaan, the Levites were the only Israelite tribe that received cities but were not allowed to be landowners "because the Lord the God of Israel himself is their inheritance"...



(Exodus 4:14), was the older brother of
Moses
Moses
Moses was, according to the Hebrew Bible and Qur'an, a religious leader, lawgiver and prophet, to whom the authorship of the Torah is traditionally attributed...
, (Exodus 6:16-20; Qur'an 28:34) and a
prophet
Prophet
In religion, a prophet, from the Greek word προφήτης profitis meaning "foreteller", is an individual who is claimed to have been contacted by the supernatural or the divine, and serves as an intermediary with humanity, delivering this newfound knowledge from the supernatural entity to other people...
of
God
God
God is the English name given to a singular being in theistic and deistic religions who is either the sole deity in monotheism, or a single deity in polytheism....
. He represented the priestly functions of his tribe, becoming the first High Priest of the Israelites.