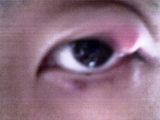 Chalazion
A
chalazion
also known as a
meibomian gland lipogranuloma
, is a
cyst
Cyst
A cyst is a closed sac, having a distinct membrane and division on the nearby tissue. It may contain air, fluids, or semi-solid material. A collection of pus is called an abscess, not a cyst. Once formed, a cyst could go away on its own or may have to be removed through surgery.- Locations :* Acne...
in the
eyelid
Eyelid
An eyelid is a thin fold of skin that covers and protects an eye. With the exception of the prepuce and the labia minora, it has the thinnest skin of the whole body. The levator palpebrae superioris muscle retracts the eyelid to "open" the eye. This can be either voluntarily or involuntarily...
that is caused by
inflammation
Inflammation
Inflammation is part of the complex biological response of vascular tissues to harmful stimuli, such as pathogens, damaged cells, or irritants. Inflammation is a protective attempt by the organism to remove the injurious stimuli and to initiate the healing process...
of a blocked
meibomian gland
Meibomian gland
The meibomian glands are a special kind of sebaceous gland at the rim of the eyelids inside the tarsal plate, responsible for the supply of meibum, an oily substance that prevents evaporation of the eye's tear film. They prevent tear spillage onto the cheek, trapping tears between the oiled edge...
, usually on the upper eyelid. Chalazia differ from
stye
Stye
An external stye or sty , also hordeolum , is an infection of the sebaceous glands of Zeis at the base of the eyelashes, or an infection of the apocrine sweat glands of Moll. External styes form on the outside of the lids and can be seen as small red bumps. Internal styes are infections of the...
s (hordeola) in that they are subacute and usually painless nodules. They may become acutely inflamed but, unlike a stye, chalazia usually point inside the lid rather than on the lid margin.
Signs and symptoms
Swelling on the eyelid
Eyelid tenderness
Sensitivity to light
Increased tearing
Heaviness of the eyelid
A chalazion or meibomian cyst can sometimes be mistaken for a stye.
Treatment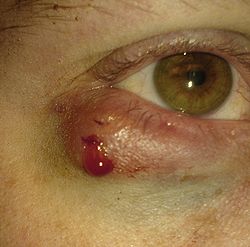 Topical
antibiotic
Antibiotic
An antibacterial is a compound or substance that kills or slows down the growth of bacteria.The term is often used synonymously with the term antibiotic; today, however, with increased knowledge of the causative agents of various infectious diseases, antibiotic has come to denote a broader range of...
eye drops or ointment (e.g.
chloramphenicol
Chloramphenicol
Chloramphenicol is a bacteriostatic antimicrobial that became available in 1949. It is considered a prototypical broad-spectrum antibiotic, alongside the tetracyclines, and as it is both cheap and easy to manufacture it is frequently found as a drug of choice in the third world.Chloramphenicol is...
or
fusidic acid
Fusidic acid
Fusidic acid is a bacteriostatic antibiotic that is often used topically in creams and eyedrops, but may also be given systemically as tablets or injections...
) are sometimes used for the initial acute infection, but are otherwise of little value in treating a chalazion. Chalazia will often disappear without further treatment within a few months and virtually all will resorb within two years.
If they continue to enlarge or fail to settle within a few months, then smaller lesions may be injected with a
corticosteroid
Corticosteroid
Corticosteroids are a class of steroid hormones that are produced in the adrenal cortex. Corticosteroids are involved in a wide range of physiologic systems such as stress response, immune response and regulation of inflammation, carbohydrate metabolism, protein catabolism, blood electrolyte...
or larger ones may be surgically removed using
local anesthesia
Local anesthesia
Local anesthesia is any technique to induce the absence of sensation in part of the body, generally for the aim of inducing local analgesia, that is, local insensitivity to pain, although other local senses may be affected as well. It allows patients to undergo surgical and dental procedures with...
.
This is usually done from underneath the eyelid to avoid a scar on the skin. If the chalazion is located directly under the eyelid's outer tissue, however, an excision from above may be more advisable so as not to inflict any unnecessary damage on the lid itself. Eyelid
epidermis
usually mends well, without leaving any visible
scar
Scar
Scars are areas of fibrous tissue that replace normal skin after injury. A scar results from the biological process of wound repair in the skin and other tissues of the body. Thus, scarring is a natural part of the healing process. With the exception of very minor lesions, every wound results in...
. Depending on the chalazion's texture, the excision procedure varies: while fluid
matter
Pus
Pus is a viscous exudate, typically whitish-yellow, yellow, or yellow-brown, formed at the site of inflammatory during infection. An accumulation of pus in an enclosed tissue space is known as an abscess, whereas a visible collection of pus within or beneath the epidermis is known as a pustule or...
can easily be removed under minimal invasivion, by merely puncturing the chalazion and exerting pressure upon the surrounding tissue, hardened matter usually necessitates a larger incision, through which it can be scraped out. Any residual matter should be metabolized in the course of the subsequent healing process, generally aided by regular appliance of dry heat. The excision of larger chalazia may result in visible
hematoma
Hematoma
A hematoma, or haematoma, is a localized collection of blood outside the blood vessels, usually in liquid form within the tissue. This distinguishes it from an ecchymosis, which is the spread of blood under the skin in a thin layer, commonly called a bruise...
around the lid, which will wear off within three or four days, whereas the swelling may persist for longer. Chalazion excision is an ambulant treatment and normally does not take longer than fifteen minutes. Nevertheless, owing to the risks of infection and severe damage to the eyelid, such procedures should only be performed by a medical professional.
It is rare that a chalazion will recur and they will usually be
biopsied
Biopsy
A biopsy is a medical test involving sampling of cells or tissues for examination. It is the medical removal of tissue from a living subject to determine the presence or extent of a disease. The tissue is generally examined under a microscope by a pathologist, and can also be analyzed chemically...
to rule out the possibility of a tumour.
Complications
A large chalazion can cause
astigmatism
Astigmatism (eye)
Astigmatism is an optical defect in which vision is blurred due to the inability of the optics of the eye to focus a point object into a sharp focused image on the retina. This may be due to an irregular or toric curvature of the cornea or lens. There are two types of astigmatism: regular and...
due to pressure on the cornea.
As laser eye surgery involves shaping the cornea by burning parts of it away, weakening its structure, post operation patients can be left predisposed to deformation of the cornea from small chalazia.
Complications including, but not limited to
hypopigmentation
Hypopigmentation
Hypopigmentation is the loss of skin color. It is caused by melanocyte or melanin depletion, or a decrease in the amino acid tyrosine, which is used by melanocytes to make melanin.-Treatments:...
may occur with corticosteroid injection.
Recurring chalazia in the same area may sometimes be a symptom of sebaceous cell carcinoma, albeit rarely. This is a type of cancer.
Sometimes, as a last resort, surgery is performed. The eyelid is injected with a local anesthetic, a clamp is put on the eyelid, then the eyelid is turned over, an incision is made on the inside of the eyelid, and the chalazion is drained and scraped out. A scar on the upper lid can cause discomfort as some patients feel the scar as they blink. Of course as surgeries are intrusive and damage healthy tissue (e.g. leaving behind scar tissue or possibly even causing
blepharitis
Blepharitis
Blepharitis is an ocular condition characterized by chronic inflammation of the eyelid, the severity and time course of which can vary. Onset can be acute, resolving without treatment within 2–4 weeks , but more generally is a long standing inflammation varying in severity...
), given other options, less intrusive treatment is always preferable. Similarly, chalazia may recur once the eye is predisposed and surgical intervention each time is not possible. So surgery should be considered only as a last resort, performed on as few as 5% of all chalazia patients.
Chalazion surgery
Chalazion surgery is normally performed by an ophthalmologist at an eye hospital. This type of surgery is a simple procedure which is generally performed as a day operation and the
patient
Patient
A patient is any recipient of healthcare services. The patient is most often ill or injured and in need of treatment by a physician, advanced practice registered nurse, veterinarian, or other health care provider....
does not need to remain in the hospital for further medical care.
Chalazion removal surgery is performed under local or general
anesthesia
Anesthesia
Anesthesia, or anaesthesia , traditionally meant the condition of having sensation blocked or temporarily taken away...
. Commonly, general anesthesia is administered in children to make sure they stay still and no
injury
Injury
-By cause:*Traumatic injury, a body wound or shock produced by sudden physical injury, as from violence or accident*Other injuries from external physical causes, such as radiation injury, burn injury or frostbite*Injury from infection...
to the eye occurs. Local anesthesia is used in adults and it is applied with a small
injection
Injection (medicine)
An injection is an infusion method of putting fluid into the body, usually with a hollow needle and a syringe which is pierced through the skin to a sufficient depth for the material to be forced into the body...
into the eyelid. The discomfort of the injection is minimized with the help of an anesthetic cream which is applied locally.
The chalazion may be removed in two ways, depending on the size of cyst. Relatively small chalazia are removed through a small cut at the back of the eyelid. The surgeon lifts the eyelid so he can have access to the back of its surface and makes an incision of approximately 3mm just on top of the chalazion. The lump is then removed and
pressure
Pressure
Pressure is the force per unit area applied in a direction perpendicular to the surface of an object. Gauge pressure is the pressure relative to the local atmospheric or ambient pressure.- Definition :...
is applied for a few minutes to stop any oozing of
blood
Blood
Blood is a specialized bodily fluid in animals that delivers necessary substances such as nutrients and oxygen to the cells and transports metabolic waste products away from those same cells....
that may occur because of the operation. Surgery of small chalazia does not require stitches as the cut is at the back of the eyelid and therefore the cut cannot be seen and the cosmetic result is excellent.
Larger chalazia are removed through an incision in front of the eyelid. Larger chalazia usually push on the skin of the eyelid and this is the main reason why doctors prefer removing them this way. The cut is not larger than 3 mm and it is performed on top of the chalazion. The lump is removed and then pressure is applied on the incision so oozing is prevented. This type of surgery is closed with very fine stitches. They are hardly visible and they are usually removed within a week after the surgery has been performed. Although chalazia are rarely dangerous, every removed chalazion is sent to the laboratory to be examined under a
microscope
Microscope
A microscope is an instrument used to see objects that are too small for the naked eye. The science of investigating small objects using such an instrument is called microscopy...
because very rarely it can harbor
cancer
Cancer
Cancer , known medically as a malignant neoplasm, is a large group of different diseases, all involving unregulated cell growth. In cancer, cells divide and grow uncontrollably, forming malignant tumors, and invade nearby parts of the body. The cancer may also spread to more distant parts of the...
.
When surgery for chalazion is considered, patients who take
aspirin
Aspirin
Aspirin , also known as acetylsalicylic acid , is a salicylate drug, often used as an analgesic to relieve minor aches and pains, as an antipyretic to reduce fever, and as an anti-inflammatory medication. It was discovered by Arthur Eichengrun, a chemist with the German company Bayer...
or any medication that contains aspirin are advised to stop taking them one week before the procedure as they may cause bleeding. There are several tests taken prior the surgery to make sure the patient is in good condition for the operation.
In rare cases, patients are kept overnight in the hospital after chalazion surgery. These include cases in which
complications
Complication (medicine)
Complication, in medicine, is an unfavorable evolution of a disease, a health condition or a medical treatment. The disease can become worse in its severity or show a higher number of signs, symptoms or new pathological changes, become widespread throughout the body or affect other organ systems. A...
occurred and the patient needs to be closely monitored. In most cases however, patients are able to go home after the operation has ended.
The recovery process is easy and quite fast. Most patients experience some very minor
discomfort
Discomfort
Discomfort may refer to:* Pain, an unpleasant sensation* Suffering, an experience of unpleasantness...
in the eye which can be easily controlled by taking painkilling medication. Patients are however recommended to avoid getting water in the eye for up to 10 days after surgery, they may wash, bathe or shower but they must be careful in keeping the area dry and clean. Makeup may be worn after one month after surgery. Patients are recommended to not wear contact lenses on in the operated side for at least eight weeks to prevent
infection
Infection
An infection is the colonization of a host organism by parasite species. Infecting parasites seek to use the host's resources to reproduce, often resulting in disease...
and potential complications.
Commonly, patients receive
eye drops
Eye Drops
Eye Drops was a television program on TechTV that showcased short computer animation movies and clips made using off the shelf 3D animation software. The show claimed to showcase all different types of animation, but only a very small number of shorts featured non-CG animation...
to prevent infection and swellings in the eye and pain medication that will help them cope with the pain and discomfort in the eyelid and eye. One can use
paracetamol
Paracetamol
Paracetamol INN , or acetaminophen USAN , is a widely used over-the-counter analgesic and antipyretic . It is commonly used for the relief of headaches and other minor aches and pains and is a major ingredient in numerous cold and flu remedies...
/
tylenol
Tylenol
Tylenol is a North American brand of drugs advertised for reducing pain, reducing fever, and relieving the symptoms of allergies, cold, cough, and flu. The active ingredient of its original, flagship product, paracetamol , is marketed as an analgesic and antipyretic...
rather than
aspirin
Aspirin
Aspirin , also known as acetylsalicylic acid , is a salicylate drug, often used as an analgesic to relieve minor aches and pains, as an antipyretic to reduce fever, and as an anti-inflammatory medication. It was discovered by Arthur Eichengrun, a chemist with the German company Bayer...
to control the pain. Also, after surgery, a pad and protective plastic shield are used to apply pressure on the eye in order to prevent leakage of blood after the operation and which may be removed 6 to 8 hours after the procedure.
People who undergo chalazion surgery are normally asked to check up their operation three to four weeks after surgery has been performed. They may start driving the day after surgery and they may get back to work in one or two days.
Chalazion surgery is a safe procedure and complications occur very seldom. Serious complications that require another operation to be fixed are also very rare. Among potential complications, although rare, there is infection, bleeding or the recurrence of the chalazion.