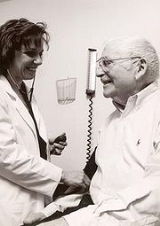 Patient
A
patient
is any recipient of healthcare services. The patient is most often
ill
Illness
Illness is a state of poor health. Illness is sometimes considered another word for disease. Others maintain that fine distinctions exist...
or injured and in need of treatment by a
physician
Physician
A physician is a health care provider who practices the profession of medicine, which is concerned with promoting, maintaining or restoring human health through the study, diagnosis, and treatment of disease, injury and other physical and mental impairments...
, advanced practice registered nurse,
veterinarian
Veterinarian
A veterinary physician, colloquially called a vet, shortened from veterinarian or veterinary surgeon , is a professional who treats disease, disorder and injury in animals....
, or other
health care provider
Health care provider
A health care provider is an individual or an institution that provides preventive, curative, promotional or rehabilitative health care services in a systematic way to individuals, families or communities....
.
The word
patient
originally meant 'one who suffers'. This English noun comes from the
Latin
Latin
Latin is an Italic language originally spoken in Latium and Ancient Rome. It, along with most European languages, is a descendant of the ancient Proto-Indo-European language. Although it is considered a dead language, a number of scholars and members of the Christian clergy speak it fluently, and...
word
patiens
, the present participle of the
deponent
Deponent verb
In linguistics, a deponent verb is a verb that is active in meaning but takes its form from a different voice, most commonly the middle or passive. A deponent verb doesn't have active forms; it can be said to have deposited them .-Greek:...
verb, patior, meaning 'I am suffering,' and akin to the
Greek
Ancient Greek
Ancient Greek is the stage of the Greek language in the periods spanning the times c. 9th–6th centuries BC, , c. 5th–4th centuries BC , and the c. 3rd century BC – 6th century AD of ancient Greece and the ancient world; being predated in the 2nd millennium BC by Mycenaean Greek...
verb πάσχειν (=
paskhein
, to suffer) and its cognate noun πάθος (= pathos).
An
outpatient
(or
out-patient
) is a patient who is not hospitalized for 24 hours or more but who visits a
hospital
Hospital
A hospital is a health care institution providing patient treatment by specialized staff and equipment. Hospitals often, but not always, provide for inpatient care or longer-term patient stays....
,
clinic
Clinic
A clinic is a health care facility that is primarily devoted to the care of outpatients...
, or associated facility for diagnosis or treatment.