 Casserole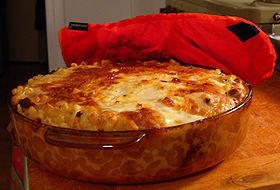 A
casserole
, from the
French
French language
French is a Romance language spoken as a first language in France, the Romandy region in Switzerland, Wallonia and Brussels in Belgium, Monaco, the regions of Quebec and Acadia in Canada, and by various communities elsewhere. Second-language speakers of French are distributed throughout many parts...
for "saucepan", is a large, deep dish used both in the
oven
Oven
An oven is a thermally insulated chamber used for the heating, baking or drying of a substance. It is most commonly used for cooking. Kilns, and furnaces are special-purpose ovens...
and as a serving vessel. The word
casserole
is also used for the food cooked and served in such a vessel, with the
cookware
Cookware and bakeware
Cookware and bakeware are types of food preparation containers commonly found in the kitchen. Cookware comprises cooking vessels, such as saucepans and frying pans, intended for use on a stove or range cooktop. Bakeware comprises cooking vessels intended for use inside an oven...
itself called a
casserole dish
or
casserole pan
. In
British English
British English
British English, or English , is the broad term used to distinguish the forms of the English language used in the United Kingdom from forms used elsewhere...
, this type of dish is frequently also called a
bake
, coinciding with the
cooking technique
Baking
Baking is the technique of prolonged cooking of food by dry heat acting by convection, and not by radiation, normally in an oven, but also in hot ashes, or on hot stones. It is primarily used for the preparation of bread, cakes, pastries and pies, tarts, quiches, cookies and crackers. Such items...
used to cook casseroles.
Casseroles usually consist of pieces of meat (such as
chicken
Chicken (food)
Chicken is the most common type of poultry in the world, and is prepared as food in a wide variety of ways, varying by region and culture.- History :...
) or fish (such as tuna), various chopped vegetables, a starchy binder such as
flour
Flour
Flour is a powder which is made by grinding cereal grains, other seeds or roots . It is the main ingredient of bread, which is a staple food for many cultures, making the availability of adequate supplies of flour a major economic and political issue at various times throughout history...
,
potato
Potato
The potato is a starchy, tuberous crop from the perennial Solanum tuberosum of the Solanaceae family . The word potato may refer to the plant itself as well as the edible tuber. In the region of the Andes, there are some other closely related cultivated potato species...
or
pasta
Pasta
Pasta is a staple food of traditional Italian cuisine, now of worldwide renown. It takes the form of unleavened dough, made in Italy, mostly of durum wheat , water and sometimes eggs. Pasta comes in a variety of different shapes that serve for both decoration and to act as a carrier for the...
, and, often, a crunchy topping. Liquids are released from the meat and vegetables during cooking, and further liquid in the form of
stock
Stock (food)
Stock is a flavoured water preparation. It forms the basis of many dishes, particularly soups and sauces.- Preparation :Stock is made by simmering various ingredients in water, including some or all of the following...
,
wine
Wine
Wine is an alcoholic beverage, made of fermented fruit juice, usually from grapes. The natural chemical balance of grapes lets them ferment without the addition of sugars, acids, enzymes, or other nutrients. Grape wine is produced by fermenting crushed grapes using various types of yeast. Yeast...
,
beer
Beer
Beer is the world's most widely consumed andprobably oldest alcoholic beverage; it is the third most popular drink overall, after water and tea. It is produced by the brewing and fermentation of sugars, mainly derived from malted cereal grains, most commonly malted barley and malted wheat...
(for example
lapin à la Gueuze

Gueuze

Gueuze is a type of lambic, a Belgian beer. It is made by blending young and old lambics into a new beer, which is then bottled for a second fermentation. Because the young lambic is not fully fermented, it contains fermentable sugars, which allow the second fermentation to occur...



),
gin
Gin
Gin is a spirit which derives its predominant flavour from juniper berries . Although several different styles of gin have existed since its origins, it is broadly differentiated into two basic legal categories...
,
cider
Cider
Cider or cyder is a fermented alcoholic beverage made from apple juice. Cider varies in alcohol content from 2% abv to 8.5% abv or more in traditional English ciders. In some regions, such as Germany and America, cider may be termed "apple wine"...
, or vegetable juice may be added when the dish is assembled. Casseroles are usually cooked slowly in the oven, often uncovered. They may be served as a main course or a side dish, and may be served in the vessel in which they were cooked.
Types of casserole include
ragout
Ragout
-Etymology:The term comes from the French ragoûter, to revive the taste. The etymologically related Italian ragù is a sauce such as Bolognese used typically to dress pasta.-Preparation:...
,
hotpot
Lancashire Hotpot
Lancashire hotpot is a dish made traditionally from lamb or mutton and onion, topped with sliced potatoes, left to bake in the oven all day in a heavy pot and on a low heat. Originating in the days of heavy industrialisation in Lancashire in the North West of England, it requires a minimum of...
,
cassoulet
Cassoulet
Cassoulet is a rich, slow-cooked bean stew or casserole originating in the south of France, containing meat , pork skin and white haricot beans....
,
tajine
Tajine
A tajine, or tagine , is a dish from North Africa, that is named after the special earthenware pot in which it is cooked. A similar dish, known as tavvas, is found in the cuisine of Cyprus. The traditional tajine pot is formed entirely of a heavy clay, which is sometimes painted or glazed...
,
moussaka
Moussaka
Moussaka is an eggplant based dish of the Balkans, Eastern Mediterranean, and the Middle East. The best known variation outside the region is the Greek one.-Names and etymology:...
,
lasagna
Lasagna
Lasagna is a wide and flat type of pasta and possibly one of the oldest shapes. As with most other pasta shapes, the word is generally used in its plural form lasagne in Italy and the U.K. Traditionally, the dough was prepared in Southern Italy with semolina and water and in the northern regions,...
,
shepherd's pie
Shepherd's pie
Cottage pie or shepherd's pie is a meat pie with a crust of mashed potato.The term cottage pie is known to have been in use in 1791, when the potato was being introduced as an edible crop affordable for the poor Cottage pie or shepherd's pie is a meat pie with a crust of mashed potato.The term...
,
gratin
Gratin
Gratin is a widespread culinary technique in food preparation in which an ingredient is topped with a browned crust, often using breadcrumbs, grated cheese, egg and/or butter. Gratin originated in French cuisine and is usually prepared in a shallow dish of some kind...
, and carbonnade. A distinction can be made between casseroles and
stew
Stew
A stew is a combination of solid food ingredients that have been cooked in liquid and served in the resultant gravy. Ingredients in a stew can include any combination of vegetables , meat, especially tougher meats suitable for slow-cooking, such as beef. Poultry, sausages, and seafood are also used...
s: stewing is a cooking process whereby heat is applied to the bottom of the cooking vessel (typically over a fire or on a stove), whereas casserole cooking is generally done in an oven to bake where heat circulates all around the cooking vessel. Casseroles may be cooked covered or uncovered, while braises are typically covered to prevent evaporation.
History
The casseroles we know today are a relatively modern invention. Early 18th century casserole recipes consisted of
rice
Rice
Rice is the seed of the monocot plants Oryza sativa or Oryza glaberrima . As a cereal grain, it is the most important staple food for a large part of the world's human population, especially in East Asia, Southeast Asia, South Asia, the Middle East, and the West Indies...
that was pounded, pressed, and filled with a savoury mixture of meats such as chicken or
sweetbread
Sweetbread
Sweetbreads or ris are culinary names for the thymus or the pancreas especially of the calf and lamb...
s. Some time around the 1870s this sense of casserole seems to have slipped into its current sense. Cooking in
earthenware
Earthenware
Earthenware is a common ceramic material, which is used extensively for pottery tableware and decorative objects.-Types of earthenware:Although body formulations vary between countries and even between individual makers, a generic composition is 25% ball clay, 28% kaolin, 32% quartz, and 15%...
containers has always been common in most nations, but the idea of casserole cooking as a one-dish meal became popular in America in the twentieth century, especially in the 1950s when new forms of lightweight metal and glassware appeared on the market. By the 1970s casseroles took on a less-than sophisticated image.
Use of term in the US and Canada
A characteristic method of preparing casserole in the United States, particularly in the midwest and the south, and in parts of Canada, is to use condensed soup, especially
cream of mushroom soup
Cream of mushroom soup
Cream of mushroom soup is a simple type of soup where a basic roux is thinned with cream or milk and then mushrooms and/or mushroom broth are added. It is well known in North America as a common type of condensed canned soup. Cream of mushroom soup is often used as a base ingredient in casseroles...
. Examples of casseroles prepared in this manner are
tuna casserole
Tuna casserole
Tuna casserole is a casserole mainly composed of egg noodles and canned tuna fish, with canned peas and corn sometimes added. The casserole is often topped with potato chips, corn flakes or canned fried onions. It is a common dish in some parts of the United States of America...
(with canned tuna, cooked pasta, sometimes peas, and cream-of-mushroom soup) and
green bean casserole
Green bean casserole
Green bean casserole is a casserole consisting of green beans, cream of mushroom soup, and french fried onions. The recipe may also call for ground black pepper and soy sauce. It is a popular Thanksgiving side dish in the United States.-History of recipe:...
(
green bean
Green bean
Green beans , also known as French beans , are the unripe fruit of any kind of bean, including the yardlong bean, the hyacinth bean, the winged bean, and especially the common bean , whose pods are also usually called string beans in the northeastern and western United States, but can also be...
s with cream of mushroom soup, topped with french fried
onion
Onion
The onion , also known as the bulb onion, common onion and garden onion, is the most widely cultivated species of the genus Allium. The genus Allium also contains a number of other species variously referred to as onions and cultivated for food, such as the Japanese bunching onion The onion...
s). A similar staple food,
macaroni and cheese
Macaroni and cheese
Macaroni and cheese, also known as "mac and cheese", "macaroni cheese" in British English, or "macaroni pie" in Caribbean English, is a casserole consisting of cooked macaroni and cheese sauce...
, can also be prepared as a casserole.
Casseroles are a staple at
potluck
Potluck
A potluck is a gathering of people where each person or group of people contributes a dish of food prepared by the person or the group of people, to be shared among the group...
s and family gatherings.
In
Minnesota
Minnesota
Minnesota is a U.S. state located in the Midwestern United States. The twelfth largest state of the U.S., it is the twenty-first most populous, with 5.3 million residents. Minnesota was carved out of the eastern half of the Minnesota Territory and admitted to the Union as the thirty-second state...
and
the Dakotas
The Dakotas
The Dakotas is a collective term that refers to the U.S. states of North Dakota and South Dakota together. The term has been used historically to describe the Dakota Territory, and is continued to be used to describe the collective heritage, culture, geography, fauna, sociology, the economy, and...
, where they are one of the quintessential foods of the region, casseroles are called
hotdish
Hotdish
Hotdish is a variety of baked casserole that typically contains a starch, a meat or other protein, and a canned and/ or frozen vegetable, mixed together with canned soup. The dish is popular in Minnesota...
. The potato casserole
Janssons frestelse
Janssons frestelse
Janssons frestelse is a traditional Swedish casserole made of potatoes, onion, pickled sprats, bread crumbs and cream. It is commonly included in a Swedish julbord, but can be eaten on other occasions as well.-Preparation:...
is a legacy of the
Scandinavia
Scandinavia
Scandinavia is a cultural, historical and ethno-linguistic region in northern Europe that includes the three kingdoms of Denmark, Norway and Sweden, characterized by their common ethno-cultural heritage and language. Modern Norway and Sweden proper are situated on the Scandinavian Peninsula,...
n immigrants of the area.