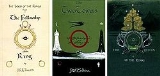 The Lord of the Rings
The Lord of the Rings
is a
high fantasy
High fantasy
High fantasy or epic fantasy is a subgenre of fantasy that is set in invented or parallel worlds. High fantasy was brought to fruition through the work of authors such as J. R. R. Tolkien and C. S. Lewis, whose major fantasy works were published in the 1950s...
epic
Epic (genre)
An epic is traditionally a genre of poetry, known as epic poetry. However in modern terms, epic is often extended to other art forms, such as novels, plays, films, and video games where the story is centered on heroic characters, and the action takes place on a grand scale, just as in epic poetry...
written by English
philologist
Philology
Philology is the study of language in written historical sources; it is a combination of literary studies, history and linguistics.Classical philology is the philology of Greek and Classical Latin...
and
University of Oxford
University of Oxford
The University of Oxford is a university located in Oxford, United Kingdom. It is the second-oldest surviving university in the world and the oldest in the English-speaking world. Although its exact date of foundation is unclear, there is evidence of teaching as far back as 1096...
professor
J. R. R. Tolkien
J. R. R. Tolkien
John Ronald Reuel Tolkien, CBE was an English writer, poet, philologist, and university professor, best known as the author of the classic high fantasy works The Hobbit, The Lord of the Rings, and The Silmarillion.Tolkien was Rawlinson and Bosworth Professor of Anglo-Saxon at Pembroke College,...
. The story began as a sequel to Tolkien's earlier, less complex children's fantasy novel
The Hobbit
The Hobbit
The Hobbit, or There and Back Again, better known by its abbreviated title The Hobbit, is a fantasy novel and children's book by J. R. R. Tolkien. It was published on 21 September 1937 to wide critical acclaim, being nominated for the Carnegie Medal and awarded a prize from the New York Herald...
(1937), but eventually developed into a much larger work. It was written in stages between 1937 and 1949, much of it during the Second World War. It is the third best-selling novel ever written, with over 150 million copies sold.
The prime motive was the desire of a tale-teller to try his hand at a really long story that would hold the attention of readers, amuse them, delight them, and at times maybe excite them or deeply move them.

Some who have read the book, or at any rate have reviewed it, have found it boring, absurd, or contemptible; and I have no cause to complain, since I have similar opinions of their works, or of the kinds of writing that they evidently prefer.

The most critical reader of all, myself, now finds many defects, minor and major, but being fortunately under no obligation either to review the book or to write it again, he will pass over these in silence, except one that has been noted by others: the book is too short.

I cordially dislike allegory in all its manifestations, and always have done so since I grew old and wary enough to detect its presence. I much prefer history, true or feigned, with its varied applicability to the thought and experience of readers. I think that many confuse 'applicability' with 'allegory'; but the one resides in the freedom of the reader, and the other in the purposed domination of the author.

J.R.R. Tolkien's epic trilogy remains the ultimate quest, the ultimate battle between good and evil, the ultimate chronicle of stewardship of the earth. Endlessly imitated, it never has been surpassed.

John Mark Eberhart and Matthew Schofield, "After half a century, The Lord of the Rings towers over fantasy fiction — and now the films loom," The Kansas City Star, 1 October 2000: J1.
I wonder how could he have been able to invent all this stuff. It feels more like Tolkien discovered some sort of long-lost scrolls.

Peter Jackson Morning Edition, National Public Radio, 17 December 2001